Luxurious 4 Bedroom Trappers Landing Sun Peaks Townhouse Available For Rent By Owner 
Trappers Landing Sun Peaks Townhouse - Family-Friendly Luxury
---
Welcome To Our Best Trappers Landing Sun Peaks Townhouse with 4 Bedrooms (sleeps12),Bonus Area,3.5 Bathrooms,Luxury Upgrades, Hot tub, BBQ, Sundeck with Beautiful Mountain Views, Easy Ski-in/Ski-out

---
Beautiful, spacious Trapper's Landing Townhouse
---
Trappers Landing Sun Peaks - Welcome to our beautiful, BestSunPeaks, conveniently located, luxurious, affordable and very family-friendly townhouse just minutes away from Sun Peaks Village at Canada's 2nd largest and four-season ski resort.
This beautifully upgraded four bedroom townhouse, new to the rental market in the fall of 2016, is perfect for families who wish to enjoy the many year-round activities available at Sun Peaks, or even for 2 families who wish to spend time together but also enjoy having their own space with our second kitchen and living/entertainment area on the lower floor.  p.s. - it's also a great area just to send the kids to hang out and play!!  Click to view our Trappers Landing Sun Peaks Reviews.
Unloading all your sports gear is easy with our private, heated garage, and chances are that once you are parked, you won't need your car for the rest of your Sun Peaks holiday.
We are easy ski-in/ski-out and this Trapper's Landing townhome is right across from from, and just a leisurely 5-7 minute along the lit valley trail into Sun Peaks village.
Feel relaxed and at home the instant you step through the front door  of our Trappers Landing Sun Peaks townhouse - soothing, heated tile floors welcome you, and the spacious, fully upgraded and luxurious kitchen, dining room and living room with soaring vaulted ceilings await.
The main floor includes plenty of storage, a 2 piece powder room with granite countertops and heated floors, a large, fully-stocked kitchen with over-sized granite countertops, see-through space to the dining area, heated tile floors, beautiful cabinetry, stainless steel appliances and a gas stove.  There is a large dining room with plenty of seats for at least 8 people at the table and 4 others at the counter, a comfortable living room with hardwood floors, a welcoming river rock gas fireplace, flatscreen tv with a PS3 gaming system and Netflix.  And if you want more space or just to admire the views, step out the sliding glass doors onto the large deck of this beautiful Trappers Landing Sun Peaks townhome with a propane BBQ and seating area.
The upper level includes 3 very comfortably-sized bedrooms and a 4 piece bathroom with granite countertops and heated tile floors.  Each room features a wardrobe unit to assist in organizing your clothes for the duration of your stay.
The master bedroom has beautiful hardwood floors, ceiling fan for year-round comfort, drawers, flatscreen tv, patio door to a peek-a-boo deck, plenty of windows, and a luxurious, upgraded 3 piece ensuite bathroom with a large glass-walled shower, heated tile floors, lovely etched glass dividing window and plenty of space to help pamper yourself and relax after a great day on the mountains.
The 2nd bedroom has a queen-size bed, fold-down desk/table and a wardrobe, and the third bedroom has a wardrobe, fold-down desk/table, and a large, log-themed bunk bed with a queen size bed on the bottom and a twin up top.
There is also a convenient drying area for your ski clothes between the Trappers Landing Sun Peaks townhouse and the garage, complete with a second washer and dryer.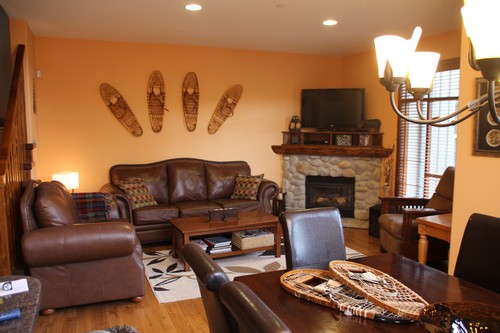 The Best Sun Peaks townhouse 'Bonus' room in the walk-out lower level is what makes this such a flexible and wonderful Sun Peaks rental property for your vacation.  It includes a storage area, 4 piece bathroom with granite counter-tops and heated tile floor, a bedroom with a queen-size bed, a river rock gas fireplace with tv and a second PS3/Netflix entertainment area as well as a second kitchen including a full-size fridge, stove, and a microwave, along with all the basics in terms of dishes, cooking utensils, pots, pans and more.
Step through the ground level door of this Trappers Landing Sun Peaks townhouse to the large, covered hot tub and deck area with bistro table, chairs, and the wonderful smell of the beautiful, fresh mountain air.
The owners of this Trappers Landing Sun Peaks townhouse also own a beautiful 2 bedroom plus private loft condo in Stone's Throw, and have proven with their 40 and counting five star reviews that they do their best to ensure their guests have a wonderful Sun Peaks vacation.
There is one small parking spot in the attached garage, one in front of the garage as long as the lane isn't blocked, and other guest parking available on a first-come first-served basis with a permit, either right beside our end unit townhouse or throughout the Trappers Landing Sun Peaks complex.
Click to read our Sun Peaks Trapper's Landing Guest Reviews.
Sorry but absolutely no pets and no smoking permitted in our Trappers Landing Sun Peaks townhouse for the convenience of other guests - fines will apply.
Click for Sun Peaks Trapper's Landing Guest Reviews
Click for Trapper's Landing Sun Peaks Photos
Click for Trapper's Landing Townhome Rates
Click for Sun Peaks Trappers Landing Availability Calendar



---
 Trappers Landing Sun Peaks Reviews - Our Best Sun Peaks Townhome
We do realize that you can't please all of the people all of the time, but we promise to do our very best to ensure you are happy.  We have tried to think of everything that you may need, and also listen carefully and respond to the feedback from our guests.
This luxurious Trappers Landing Sun Peaks Townhome is new to the rental market in the fall of 2016 and we have more Trapper's Landing Sun Peaks reviews now that our wonderful guests have began to enjoy this new Sun Peaks rental property.
Reviews from our BestSunPeaks condo can be found on our Stones Throw Condo Reviews page.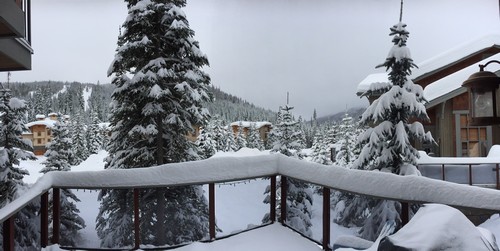 Sundeck view - Trapper's Landing Sun Peaks
"Great home and very comfy!  First time at Sun Peaks and the skiing and snowmobiling were great!!  Beautiful scenery!  Thanks for allowing us to enjoy your home to help make this such a great experience."  Cap A. - Dec, 2016


"When we came in to your beautiful  Trappers Landing Sun Peaks townhouse, my son just kept saying "SICK!!"  Such a very nice place.  Had a great time snowmobiling - a must do for everyone!!  Even at only 3 degrees fahrenheit!  We are already looking forward to our next time.  Oh yeah - saw a moose on the snowmobiling tour too!"  Dave O - Dec. 2016


"Dear Nancy and Paul - Thank you so much for sharing your beautiful home with us! Your thoughtful touch of adding the Christmas tree was the topic of conversation each evening.  We so admired the ways you furnished your home with everything one could hope for.  My sister and I could have easily stayed indoors throughout the whole trip because it was so comfortable in your home.....but the guys shamed us into going out.  Warmly, Nellie O" - Dec. 2016


"Thank you for the use of your beautiful house!  We had our first white Christmas ever and we loved it!  This house is perfect!  We went skiing everyday, and like you said the Sunburst cinnamon buns are The Bomb!!  We're already planning our next trip to Sun Peaks and we are very sad our week has already come to an end.  We'll take life-long memories back to Australia with us! Thanks again, Liz, Andy, Rach, Lea, Dave, Ezz and Azz, Australia. " Christmas, 2016
"What an amazing way to ring in the New Year!!  The townhouse was great for our large family, in a great ski-in/ski-out location, and a perfect walk to Sun Peaks village through the snow-covered trails. Thank you for opening up your home for us to celebrate an amazing year and usher in a new one!!" Cheers, The Bell House, Abbotsford, BC - New Year's 2016 


"We enjoyed five nights with two families including four children less than seven years of age at this excellent Trappers Landing Sun Peaks townhouse in Trapper's Landing. The location is excellent!  It's about a 10 minute walk to the village (with little ones). You can walk 30 seconds to the Valley trail then ski to the Mt. Morrisey lift. I was able to ski in at the end of the day. The kitchen is well stocked. There are plenty of rooms and beds. The extra room in the downstairs actually has a second bunk bed with twin over double I believe. The Coquihalla Highway had been closed off and on for days before we were set to arrive. The owners were on their way back to the Coast the same day we were planning to leave for Sun Peaks so they provided road reports and even a video clip as they drove the Highway. This was indicative of the care they show for their guests! This is our third February trip to Sun Peaks and we've found the place we'll rent again and again for sure! I will also be passing along my recommendation to other friends who frequent Sun Peaks.  5 stars!!" - Dale A, February, 2017
---
Sun Peaks Trapper's Landing - Sun Peaks Homeaway From Home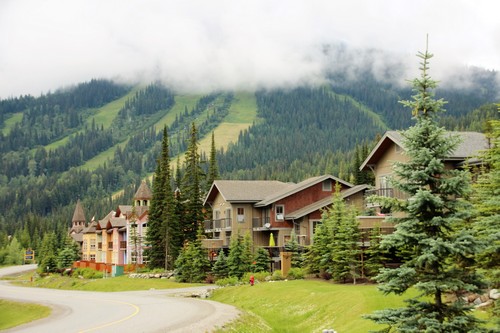 - Our Trappers Landing Sun Peaks townhouse is located directly across from Mt. Morrisey where you can begin your ski day and just minutes away from Sun Peaks Village with quick access to the main runs on Tod and Sundance Mountains 
- Always something to see, anytime of year. Watch the deer or the bears wander around, the horse drawn sleigh cruise by or the skiers head off for a fantastic day of skiing
- Beautiful views of Tod Mountain and Mt. Morissey through the large windows, the large Trappers Landing Sun Peaks patio or the peek-a-boo patio with access from the master bedroom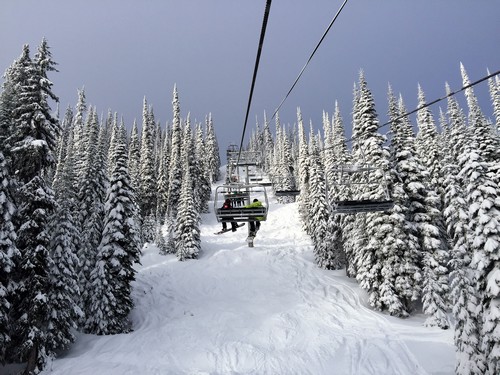 Seconds away from the Morrisey Express Chairlift
- Walk a few steps to the end of the Trapper's Landing complex or cross the road and walk around 100 feet, step into your skis or snowboard, and ski right down to the Morrisey Express chairlift, where the line-ups are minimal, and the skiing is wonderful
- At lunch or at the end of the day, head over to Sundance Mountain, follow Rambler to the East Village ski-way, hang a right at Carpe Diem, and ski right back to your wonderful Trapper's Landing townhome 
- Just around the corner is the free-to-uses toboggan hill for the kids, or even at the end of the Trapper's Landing Sun Peaks complex where the hill provides hours of fun
Beautiful views and vaulted ceiling over the dining room
- Also across the road is the Nordic skiing hut, the McGillivray Lake pathway for walking or biking, and easy-access to the Snowshoe trails, and access to the Valley Trail Network leading to and around the village.

- The view from inside is equally as beautiful, with 20 foot high vaulted ceilings and windows over the dining area with comfortable table seating for up to 8 guests and counter seating for an additional 4, hardwood floors, granite counter tops, luxurious upgrades and much more.
- The family room also has a gas fireplace, widescreen tv with a PS3, Netflix, Bluetooth speaker, books, games, puzzles, dvd's, video games, playing cards and cribbage board, and lots of Sun Peaks information brochures to help the whole family enjoy their downtime.


- The luxurious Trappers Landing Sun Peaks kitchen includes heated tile floors, expansive granite counter tops, stainless steel appliances, gas stovetop, coffee grinder and maker, crockpot/slow cooker, toaster, blender, spice rack, and plenty of pots, pans, cutlery, utensils, wine glasses, plates, and more - enough to prepare the simplest or the finest of meals
- see through to the vaulted ceiling over the dining area, the beautiful views through the many windows, and across to the river rock gas fireplace in the living room
- have no fear if you spill the sugar on the floor, there is a baseboard level vacuum slot for the built-in vacuum to help quickly clean the mess
- Or if you don't feel like cooking, you can arrange for gourmet, catered meals to be delivered and served by talented red seal chefs right to your Trapper's Landing Sun Peaks townhouse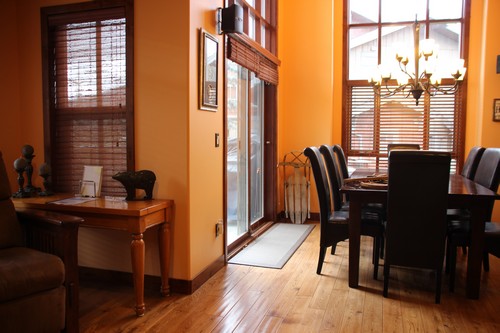 - Spacious great/family room with river rock gas fireplace, lots of windows and light, comfy seating, flatscreen tv with PS3 player and Netflix
- Sliding patio doors to the large sundeck where you can watch the skiers cruise down Morrisey in the winter and the bears foraging for berries in the warmer months
- Large propane barbeque for summer-time grilling and fun 
- Spacious master bedroom with queen-size, log themed bed and corner wardrobe
- Chest of drawers with flatscreen tv
- Ceiling fan for your comfort
- Sliding patio doors to your personal deck with beautiful views of Mt. Morrisey and Tod Mountain
- Hardwood floors
- Large ensuite with large tiled shower, custom etched glass window and heated slate floor tiles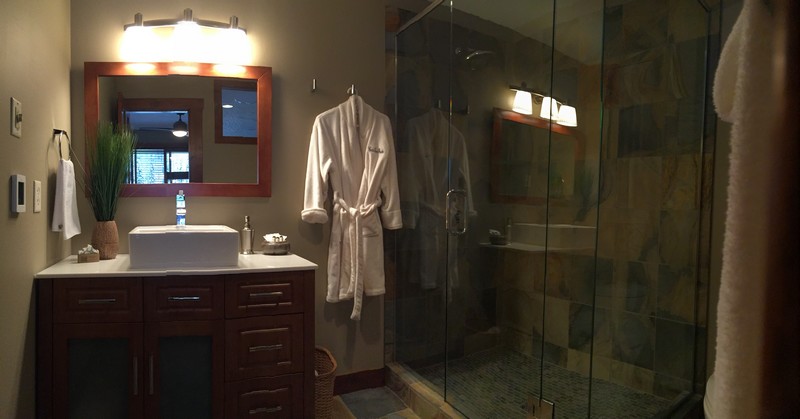 - spacious, newly renovated master bedroom ensuite
- beautiful, custom etched glass 'winter scene' inner window
- heated slate tile floor
- spacious, glass walled shower
- massaging waterfall shower head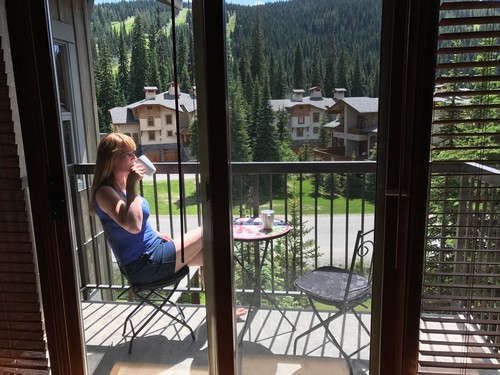 Enjoy coffee and beautiful views
- Lovely deck with bistro table from the master bedroom
- Enjoy morning coffee with beautiful views of Mt. Morrisey and Tod Mountain
- Watch the bears on the trails in the summer time and see the skiers heading down the mountain in the winter right from the master bedroom balcony
- spacious and comfortable 2nd bedroom on the upper floor, next to the 2nd full washroom
- queen-sized bed
- flat-screen television
- tall corner wardrobe and dresser unit for storage
- lovely mountain views through the windows
- folding desk/table for work (or play) platform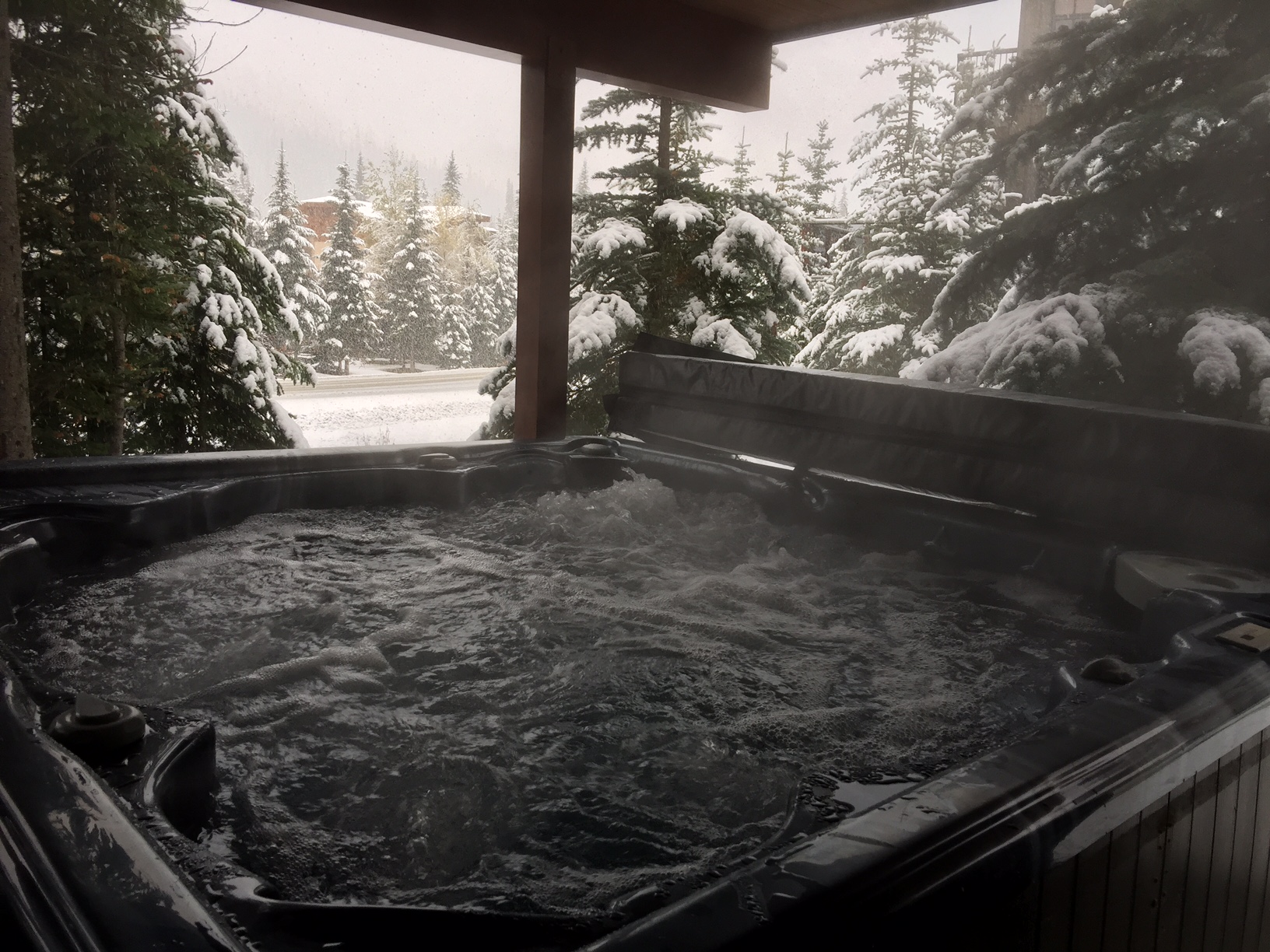 - Large hottub
- Covered from the elements
- Semi-private, surrounded by trees

- Locking safety cover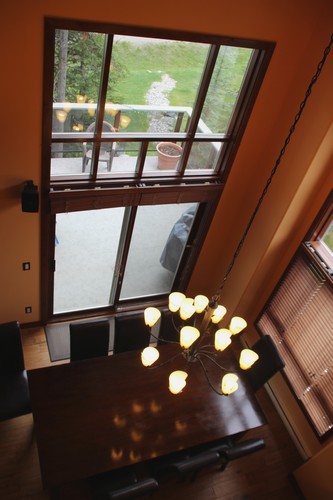 - The view from the top of the stairs is also beautiful, with lots of windows and the sliding patio doors onto the deck that can be opened or closed for airflow and comfort
- Ceiling fan over the hardwood stairs  
- Privacy blinds on the windows and patio door
- 3 spacious bedrooms and a 4 piece bathroom on the top floor of your Trappers Landing Sun Peaks home-away-from home
- Plenty of light and open  to the living and dining rooms below


- Spacious 2nd bedroom has an over-size log-themed comfortable twin over queen size bunk bed
- Large corner wardrobe
- fold-away desk or suitcase shelf
- flat-screen television

- across from second bathroom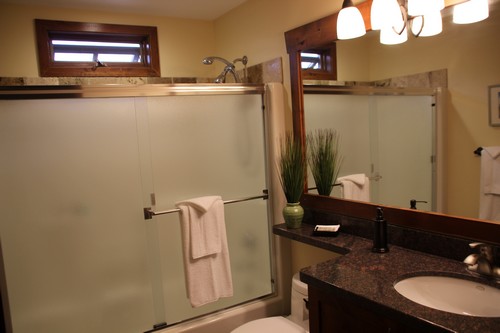 - 4 piece upstairs bathroom
- Granite counter-tops
- Custom woodwork
- Heated tile floors

- jetted bathtub


Bonus Recroom with 2nd kitchen, fireplace, tv, 4th bedroom and hottub access
- spacious lower floor
- second kitchen, river rock fireplace and entertainment area
- 4 piece bathroom
- 4th bedroom (and a 5th sleeping area)
- access to the lower level hot tub

---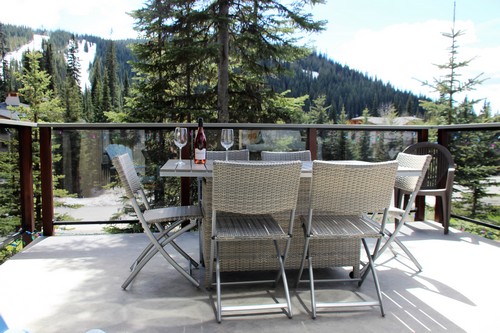 Spacious Sun Deck with BBQ & beautiful views
- spacious sundeck with plenty of sun
- propane barbeque
- direct access to the dining room and kitchen
- beautiful mountain views of Morrisey and Tod
- watch the skiers in the winter and the hikers (or bears) come down Morrisey in the summer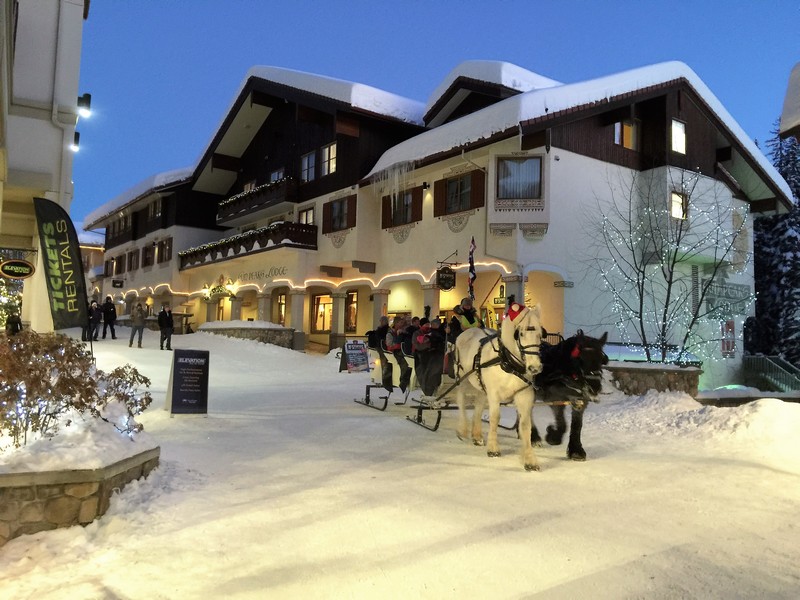 Wonderful, family-friendly ski-through village
- Beautiful, quaint European style Sun Peaks village just minutes away from our luxurious Trappers Landing Sun Peaks vacation rental property
- Ski-in/ski-out/ski-through pedestrian only village
- Affordable, family and dog-friendly village
- Four season recreational paradise
- shops, restaurants, pubs - all within easy walking distance from our Trappers Landing Sun Peaks, BestSunPeaks townhouse and condo
- very friendly locals and resort staff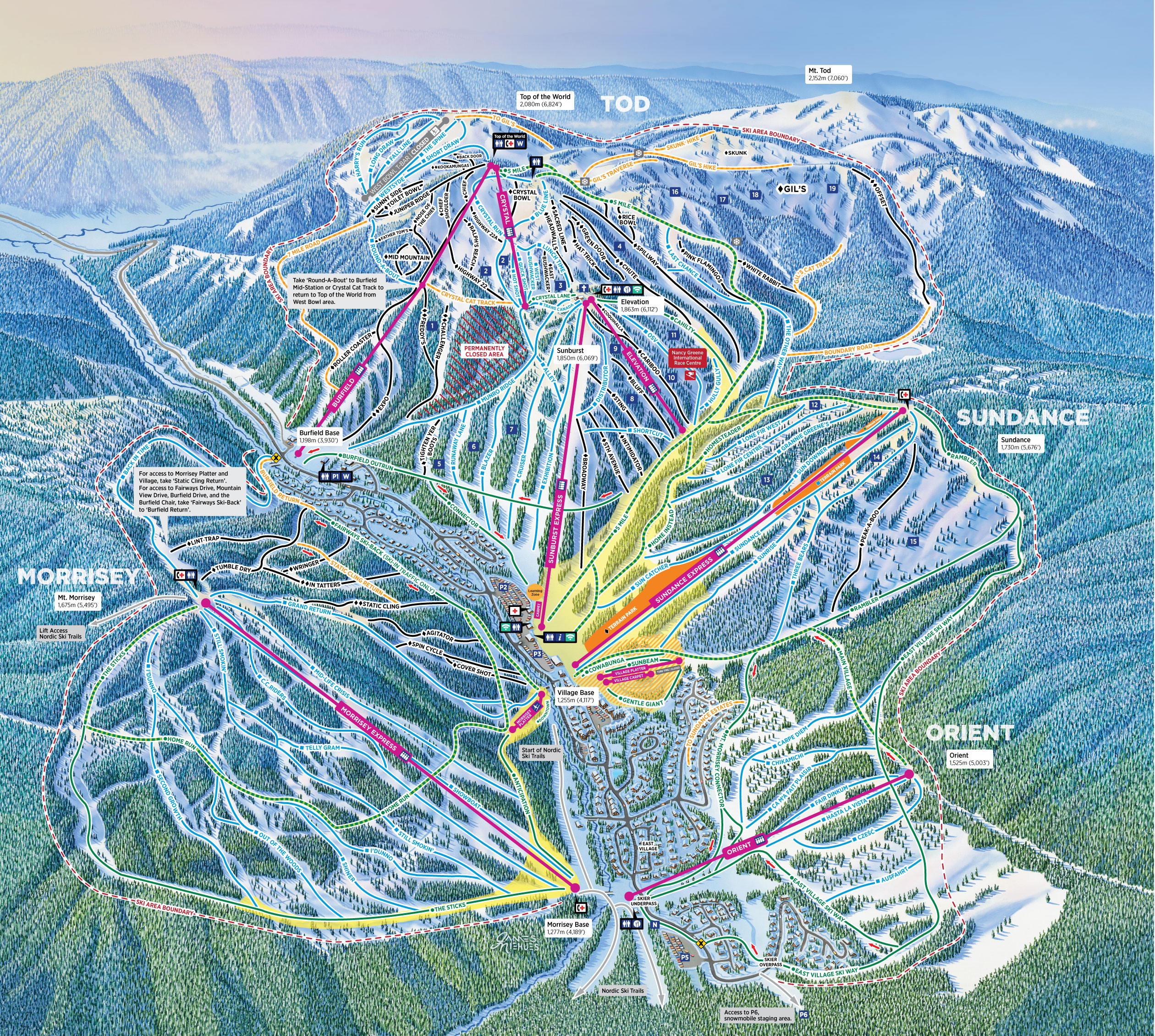 - 4,270 acres of skiable terrain, 2nd largest alpine ski area in Canada after beautiful Whistler, BC
- 2,800+ feet of vertical
- 2000+ hours of sunshine and 230+ inches of famous champagne powder each year
- affordable lift passes, multi-day passes and season tickets
- 135 trails and growing, including 16 gladed areas, 12 lifts, and minimal line-ups
- Many winter activities for all levels of skiers and for non-skiers with easy access to all mountains from our Trappers Landing Sun Peaks, family-friendly townhouse
- four season outdoor paradise with many spring, summer and fall activities as well
- Our BestSunPeaks townhouse in Trapper's Landing is just steps away from the 16th fairway (with the highest elevation tee) in British Columbia of the Sun Peaks Resort 18 hole golf course which is also the return-home route after a day of skiing.  It is also directly across from our BestSunPeaks condo in Stone's throw!
- Practice driving range by the village day lodge
- Many other popular golf courses just 45 minutes away in Kamloops
- Temperatures are around 10 degrees cooler than nearby Kamloops in summer making for a very comfortable holiday
- Weekly music events in summer, farmer's markets on Sundays, hiking, biking, gravity-fuelled mountain go carts, paddleboarding, fishing, winery tours, canoeing, photography experiences, wildlife viewing, and so much more for all ages and abilities
---
Current Trapper's Landing at Sun Peaks Nightly Rates
Our Sun Peaks Trappers Landing townhome rates are quoted in Canadian dollars and do not include any special pricing or promotions that may be in effect.  There is an additional 5% goods and services tax, and a fully refundable $500.00 damage deposit.  We will soon be listing on VRBO/Homeaway with rates that will include the online booking fee, or book direct with us (credit card via PayPal or etransfer) for best rates plus save the online booking fee.
Spring, Summer and Fall Family Vacation Time, Apr 18 - Nov 18, 2017
3 night min stay C$ 289 per night or $1,900 weekly
Start of 2017/18 Ski Season, November 19 - December 16, 2017
4 night min stay C$499 per night
Prime Holiday Season, December 17 - January 7, 2018
7 night min stay C$1,095 per night
Early Winter 2018 Ski Season, January 8 - February 10, 2018
4 night min stay C$639 per night
Presidential Period, February 11 - 24, 2018
4 night min stay C$739 per night
Late Winter 2018 Ski Season, February 25 - March 10, 2018
4 night min stay C$619 per night
Spring Break 2018 Ski Season, March 11 - March 31, 2018
4 night min stay C$699 per night
Spring Skiing at Sun Peaks, April 1 - 14, 2018
4 night min stay C$399 per night

NO OTHER SERVICE FEES APPLY (such as on VRBO, Homeaway and AirBnb)
For an exact quote or to check availability for our BestSunPeaks Trappers Landing Sun Peaks townhouse or other owner vacation rental options, please complete and submit the reservation quote form below, and we will be in touch as soon as possible.
---
Trapper's Landing at Sun Peaks
Calendar & Availabillity
---
---
Click to view another Sun Peaks Townhomes and vacation rental properties that are available to rent direct from the owners.

Click if your preferred dates are unavailable, or if you wish to look at other options where you can save up to 10% on other Sun Peaks rental condos, townhouses or chalets.
Return to Best Sun Peaks Vacation Rentals
Return to our Stone's Throw Condo information page
Return to our BestSunPeaks condo page
Return to Best Sun Peaks Home page