Enjoy A Wells Gray Day Trip from Sun Peaks
A Wells Gray day trip from Sun Peaks Resort is an easy and fantastic way to explore Wells Gray Provincial Park, a beautiful, protected wilderness park located about 120 km from the resort. Besides wilderness activities like hiking the many trials, camping, paddling on beautiful alpine lakes, whitewater rafting, fly-fishing, and much more, Wells Gray is also home to over 40 (and counting) named and unnamed waterfalls and a newly (2018) discovered unexplored cave.
Created by Fire & Ice, Water & Fury over hundreds of thousands of years, this beautiful area was first formed by nearby ancient volcanoes and fissures in the Cariboo Mountains that erupted lava that flowed over and over again.  And then came the Ice Age, with massive sheets of ice that compressed, melted, moved, scraped, and over time formed massive valleys and canyons, some as deep as 250 meters (820 feet).  And more recently, annual freezing temperatures, meters and meters of snow and rain, melting snow pack and raging rivers have worn the canyons and created many spectacular lakes, rivers, creeks and waterfalls in this area for you to explore.
        Wells Gray Day Trip - Directions From Sun Peaks Resort
Wells Gray Provincial Park is close enough that guests can easily visit the area and see some of the spectacular waterfalls in a single day trip.  It takes about an hour and a half to get down the hill and up to Clearwater (where there is a Visitor Information Centre) via the Yellowhead Highway 5 North, and then about 15 minutes to get to the park boundary where wilderness and waterfalls are yours to explore.
There are two ways to get onto the #5 highway from Sun Peaks.  Either head all the way down the hill, and then turn right at the husky and right onto the Yellowhead, or take a sharp right at Heffley Louis Creek Road as you're heading down the hill, left after 29 km onto Agate Bay Road, and then right onto highway #5.
At the Clearwater roundabout, take the 3rd exit and then stop at the Visitor Information Center to grab a map of all the waterfalls and hiking trails, or carry on up Clearwater valley Road if you know where you're going for your Wells Gray day trip.  Most of the more popular waterfalls have good signage pointing you to the parking areas.
For our Wells Gray day trip from Sun Peaks (after a wonderful week of hiking, mountain biking, golfing and other activities), we decided to first travel as far as Helmcken Falls, and to then stop at several other waterfalls on the way back towards Clearwater and Sun Peaks.
On the way to Helmcken Falls, you actually drive over a single-lane bridge over your first visible waterfall, the Mushbowl – located between Helmcken Falls and Dawson Falls.  There are pull-outs located before and after if you want a picture, so please don't stop in the middle of the bridge for a photo like the car we were waiting for decided to do!
Helmcken Falls
Helmcken Falls - 4th tallest waterfall in Canada
Helmcken Falls is ranked up there as one of the most beautiful waterfalls in Canada, and is the 4th largest, falling an initial 141 meters (462 feet) and then cascading a further 15 meters (50 feet) down into the canyon below before carrying on to more waterfalls.
The massive falls and surrounding deep canyon are beautiful – spectacular in fact!  In any season!  In spring through fall, the melting snow from the Cariboo Mountains and west-coast rainfalls create a powerful flow of water that pounds down into the bowl carved over time below. 
And in winter, the splashing water and mist create a spectacular frozen cone of water that can reach well over 50 meters up the canyon wall.  The roads and access trails are cleared in winter making it safe to view.
The turnoff to Helmcken Falls is well marked, the parking area is quite large, the access trail is quite short, and there is a long viewing area along the canyon wall as well as a large, raised viewing platform at the far end. 
For the more adventurous types on a Wells Gray day trip, there is also a one hour hike along the Rim Trail that provides even more impressive views.
It's just a wee bit bigger than our local Sun Peaks/Whitecroft waterfall!!
Helpful hint:  It can get very busy (in non-pandemic times) so plan to leave Sun Peaks early to avoid the crowds.  Given its natural beauty, carloads and busloads of visitors come to enjoy the falls during the summer.  And bring bug spray!!  You're welcome! 
Dawson Falls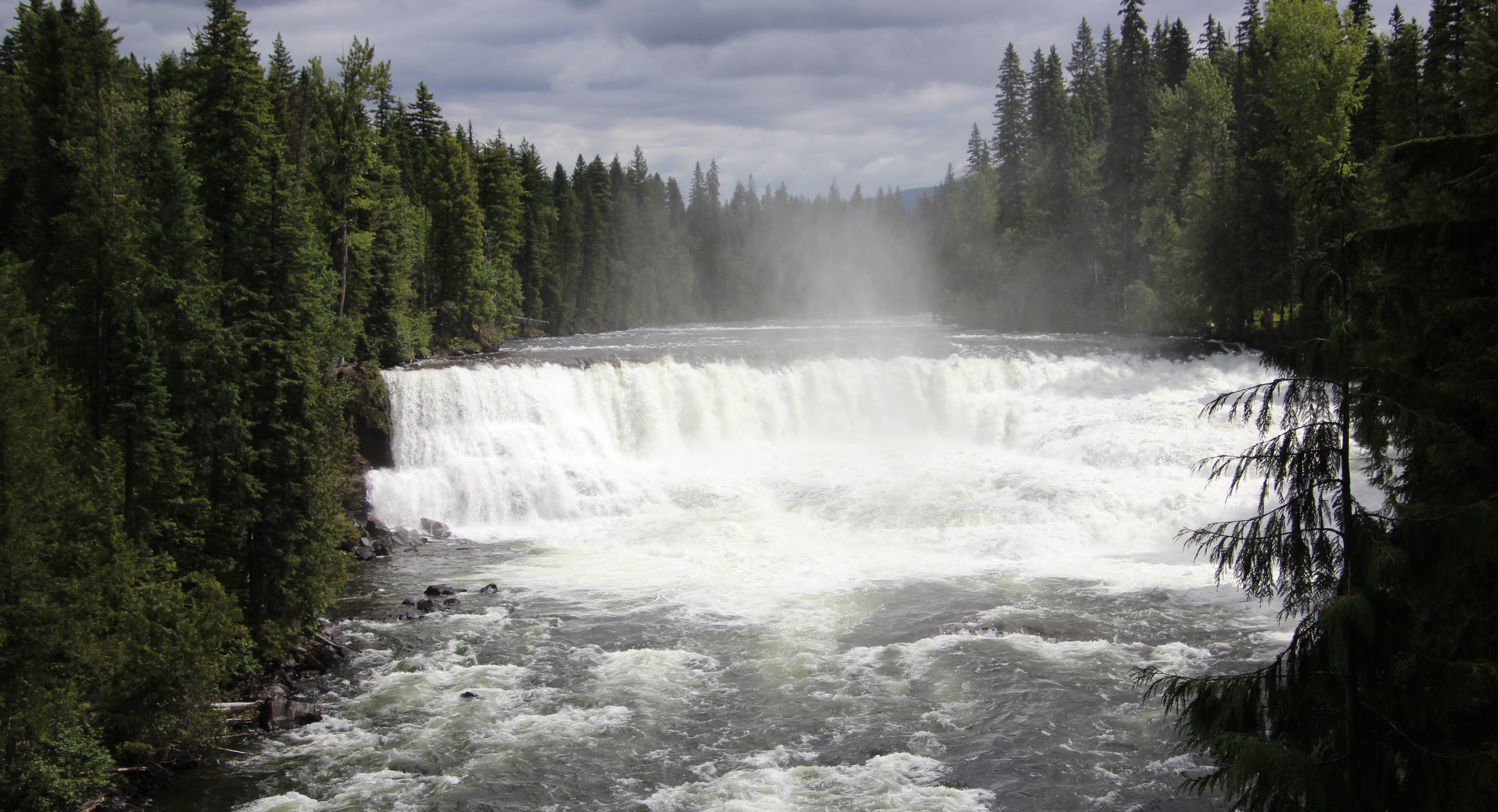 Dawson Falls cascading over 200,000 year old lava
Next stop on our Wells Gray day trip from Sun Peaks is a cross back over the single lane Mushbowl bridge on our way to visit was is dubbed a "mini-Niagara Falls." Dawson Falls.
Dawson Falls is another of the 7 along the Murtle River and is quite close to Helmcken Falls.  It is also simple to get through via a short 5-20 minute walk through the forest to a clearing/viewing area. 
Those with extra energy can carry-on a bit further along the trail for a closer look.
The falls spans 90 meters (245 feet) across a 200,000 year old lava field and creates a horseshoe-shaped veil similar (but much smaller) than that of Niagara Falls.
Moul Falls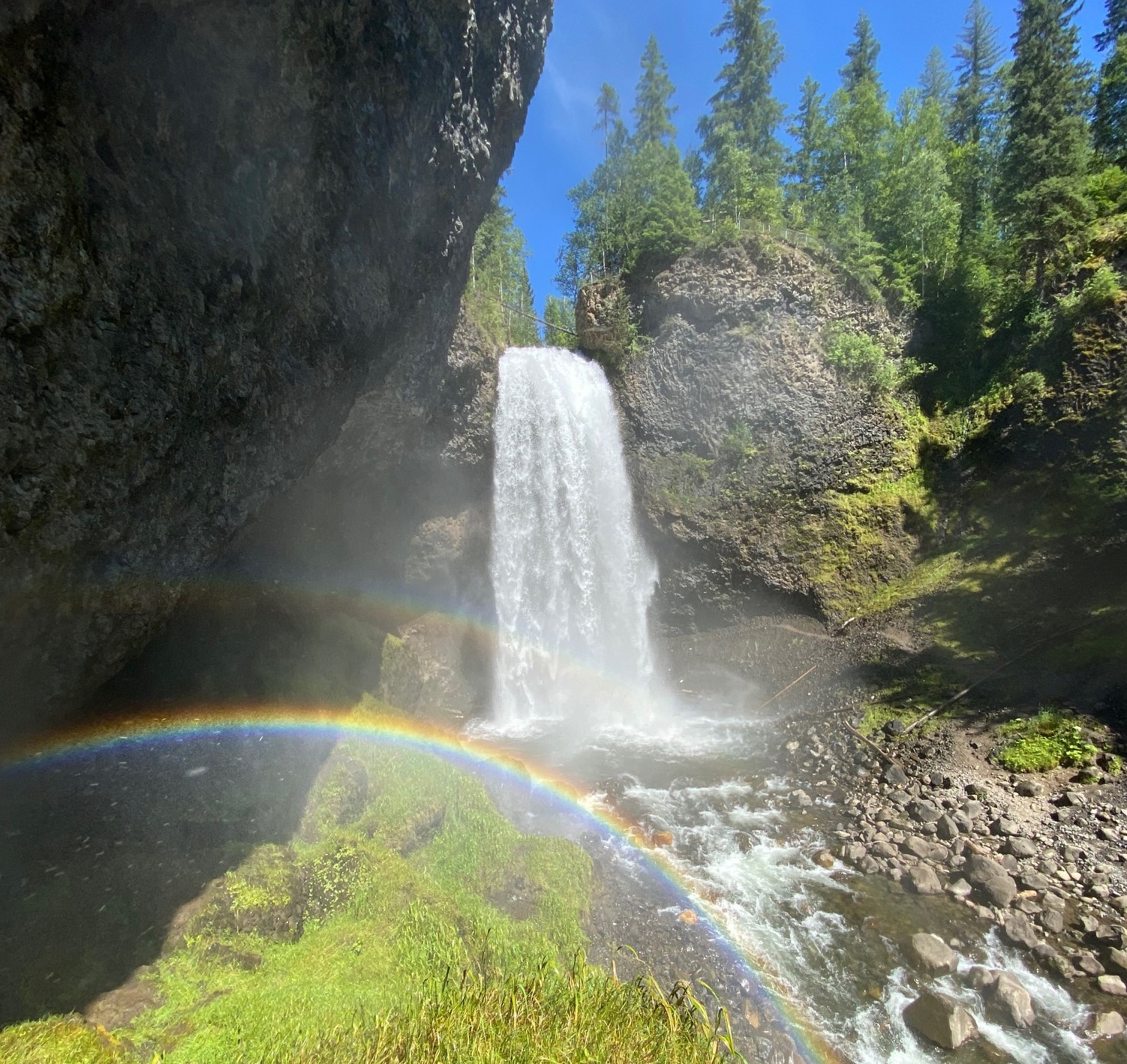 "Best experience ever" said the 17 year-old we took to experience this adventure.
As you continue down towards Clearwater and Sun Peaks, you will see the sign to Moul Falls,  This waterfall involves about a 30-45 minute hike through the forest to a very cool, 35 meter high waterfall, where the curious can even head down and go in behind the curtain of cascading water. 
Continue down to the bottom where you can walk behind the cascading waterfall - be very prepared to get wet if the run-off is strong.  We went on a hot summer day and it was so chilling and was enjoyed by all.  We highly recommend this on a summer day trip to Wells Grey Park!

Spahats (or Spahats Creek) Falls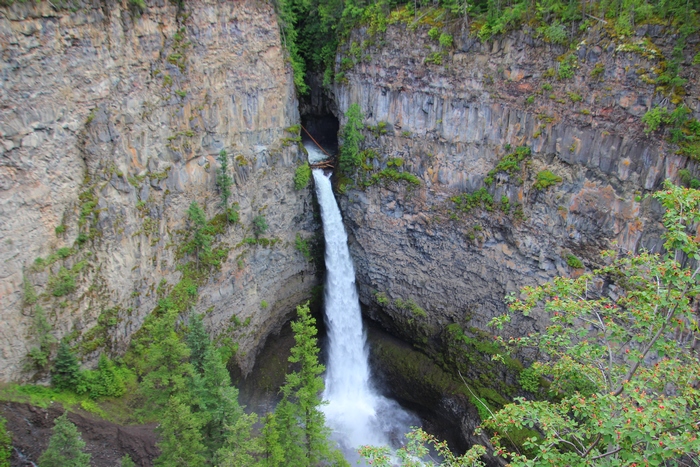 Beautiful Spahats Falls and 200,000 + years of erosion through volcanic rock
Spahats Falls, while not quite as stunning as Helmcken Falls, is certainly worth the short walk.  Spahats is also the result of hundreds of thousands of years of erupting volcanoes, flowing lava, relentless flows of water over the years, and the most recent ice age around 10,000 years ago. 
Here, the Spahats (First Nations term for bear) Creek has carved a hole in the deep layer of basalt and falls around 60 meters (197 feet) that is visible from the viewing area, and a further 15-20 meters on the 2nd tier.  It is very cool and worth a visit.
The final waterfalls for us on our first Wells Gray day trip is on some maps but isn't as popular given the short but steep hike to get to it (and a second falls, Candle Creek Falls, which is a 7 km hike).
Triple Decker Falls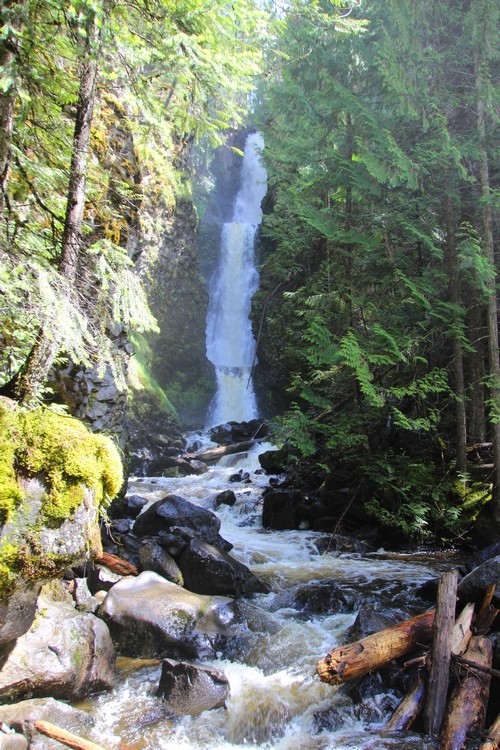 3 cascading tiers at Triple Decker Falls
Triple Decker Falls doesn't have a sign or paved parking area, but it is quite easy to find if you know what you're looking for.
As you head down further towards Clearwater/Sun Peaks, be on the lookout for a gravel parking area with cement barriers on either side of the road.  You'll also see a fairly large sign saying Wood Lot 301 (on the right hand side as you're heading down). 
Pull in and carefully park, and head to the trail at the balk of the parking area. A short way in, you'll see a sign offering to lend you hiking poles – we recommend borrowing some (please be sure to return them) as the hike down can be steep and slippery along a narrow mud trail.
Once you get down to the Clearwater River, you'll see the 60 meter (200 foot) tall, 3-tier waterfall that is carved into the Spahats Plateau. 
Not as massive or cool as Spahats or Helmcken, but worth the exercise. 
There are at least 35 other named waterfalls throughout the 5,250 square kilometer wilderness park (and surely many unnamed or undiscovered), but that was all we had time to visit on our first Wells Gray Day Trip from Sun Peaks.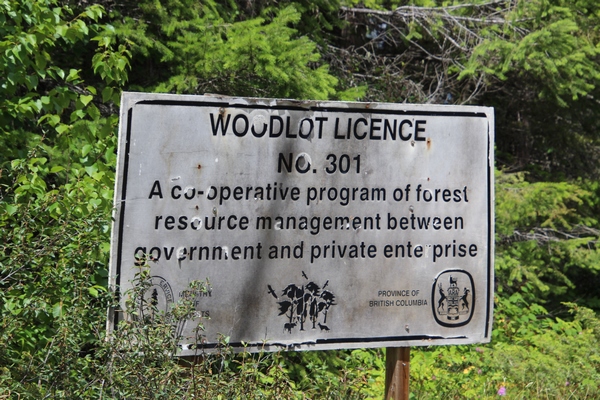 Watch for the sign to Triple Decker Falls
Next time we plan a Wells Gray day trip, we look forward to seeing more waterfalls, enjoying some beautiful hiking, and perhaps even trying some whitewater rafting through Wells Gray Park.

It is a beautiful, rugged wilderness park, so remember your bug spray and perhaps bear spray, take only photos and leave only footprints.
Visit the Tourism Wells Gray site
Return to Best Sun Peaks Summer Activities
Return to Best Sun Peaks Winter Activities
Return to best Sun Peaks Spring Activities
Return to Best Sun Peaks Fall Activities
Return to Best Sun Peaks Home page
Book Your Best Sun Peaks Vacation Rental