Sun Peaks Winter Activities - Fun For All Ages and Abilities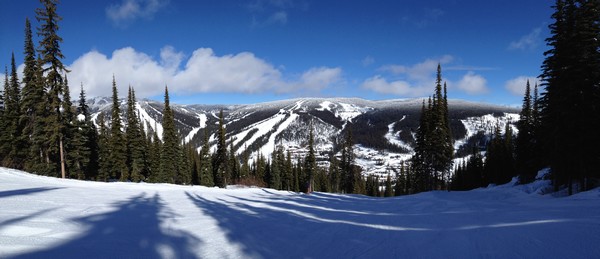 Best Sun Peaks winter activities - Fantastic Opening Nov. 18th, 2017
Although we love all seasons here, Sun Peaks winter activities are what Sun Peaks Resort is famous for!  
And with the earlier Sun Peaks improvements to west Mt. Morrissey and the Gil's on Tod Mountain, Sun Peaks has now become the second biggest ski resort in Canada in terms of skiable terrain!
Even though there is now over 4,270 acres of skiable terrain, 2000+ hours of sunshine, 337" of average annual snowfall (featuring Okanagan champagne powder), 137 trails (and growing) 3 unique mountains to ski and snowboard and minimal line-ups even during peak season, you don't have to be an alpine skier to love it here!
Sun Peaks also offers fantastic Nordic skiing opportunities, with over 37 kilometers (23 miles) of wonderfully groomed and track set runs, and a Nordic Centre hut where you can warm up, gear up, arrange rentals, or just get yourself ready to enjoy the experience
Click to save up to 40% on Snowboard, Nordic or Alpine ski passes and/or  equipment rentals.

Check out our winter driving to Sun Peaks tips for your safety and always be prepared for extreme winter driving conditions.


Sun Peaks has won awards for how family friendly it is, and there are Sun Peaks winter activities to suit all age levels and athletic abilities.  There are plenty of low-cost or free Sun Peaks activities as well.
And the best part is – they are all so close together that you can typically park your car once you arrive and not need it again until you leave.
With so many ski-in/ski-out hotels, condos, chalets and owner vacation rental properties, including our Best Sun Peaks vacation condo in the popular Stone's Throw development and our family-friendly Trapper's Landing Townhouse, there are also many great Sun Peaks accommodation options as well.
If you need quality equipment rentals, check out our Sun Peaks Equipment Rentals page.  
And you can save up to 40% on your Sun Peaks lift passes and equipment rental packages by booking online before you arrive.
Just a few of the many Best Sun Peaks winter activities include:


---
Sun Peaks Guided Winter Tours and Activities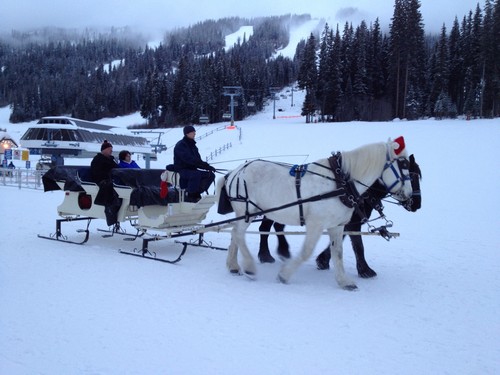 Sun Peaks winter sleigh rides
Snowmobile Tours
Dog sled tours – now you're barking up the right tree


Cat Trax Groomer Rides – groovy and cool!



Winery tours

or craft beer tours, with pickup/return from Sun Peaks (depends on availability)


---
Sun Peaks Winter Sports Activities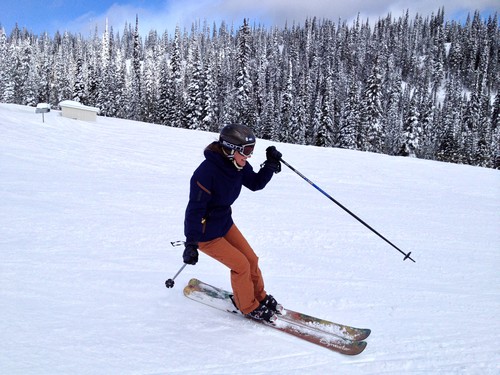 Nancy Brown looking like Nancy Greene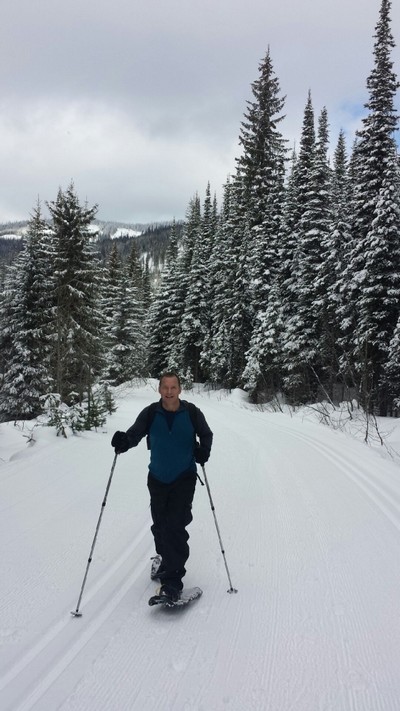 Snowshoeing at Sun Peaks
Bungyzone trampoline – what goes up…..


Sun Peaks Tube Park – awesome fun Sun Peaks winter activity for all


Skating rink – new and improved NHL size rink now open, located close to the village near the swimming pool.  Refrigerated base for prolonged and better ice conditions.


Toboggan hill – free and fun for the little ones (and right across from our Sun Peaks Stone's Throw rental condo and luxurious townhouse in Trapper's Landing!)


---
Sun Peaks Lessons - Enhance your skills with these other Best Sun Peaks Winter Activities and Lessons
General ski lessons for all abilities – group or private - highly recommended.


Gil's Glades Tours- learn where the best stashes of powder are and how to safely ski the gladed Gil's off-piste terrain.


All Mountain Skills Camp

 which focuses on off-piste safety and awareness of mountain hazards, including terrain assessment, hazard analysis, overnight survival, as well as companion rescue with transceiver, probe, and shovel techniques.  Our kids both thought this course was AWESOME!




Beyond the Groomers Camp allows you to explore over 500 acres of expanded terrain (with steeps, glades, moguls, and exceptional powder skiing) in this guided ski improvement camp with their top professional instructor. 


Helicat Warm Up Camp

 which allows skiers to properly warm-up and fine tune their powder skiing technique in the legendary Gil's terrain while developing the necessary backcountry skills prior to enjoying a spectacular nearby Helicopter or Cat skiing vacation. Learn or be reminded about avalanche awareness, companion rescue, tree wells and backcountry hazard recognition with this wonderful new course.




Fresh Tracks Private Lessons – learn in the freshest of POW


---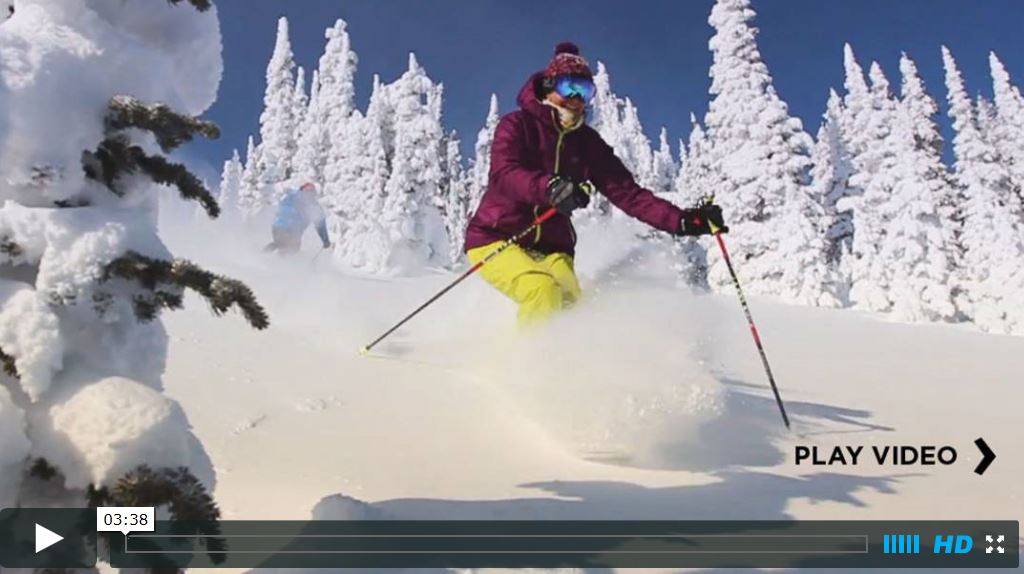 Sun Peaks Best Winter Activities video
Click to watch this Best Sun Peaks Winter Acvitivites video - Caution - may cause uncontrollable drooling!


---
Other Sun Peaks Winter Activities 
First Tracks ski and breakfast - be the first tracks in the POW!


Free mountain tours from the Sun Peaks Ski Hosts


Fondue dinner and nighttime descent - unique and we highly recommend trying it!


Kid's Craft Nights – Fun on Wednesdays


Family Fun Dual Races – fun Sun Peaks winter activity for all levels on Saturday nights


Family Fun Skating Night – Bonfires, games, and more.  Kids 12 and under free with an adult


---
---
Sun Peaks Winter Activities Schedule (2017/2018) Ski Season
November 17, 2017 "Get Stoked" film premiere with proceeds going to the local Bluebird Day Fund
November 18 Sun Peaks Annual Firefighters Charity Gala
November 18 Sun Peaks 2017/18 ski season begins
November 18 Apres & Ales events
December 4 High 5 Day where $5 and a non-perishable food donation gets you an alpine or Nordic day pass
December 9-10 Glenn Bond Nordic Ski Camp
December 15th Start of the Sun Peaks Friday Race Series; Family fun races happening most Fridays
December 15-17 Sun Peaks Christmas Holiday Kickoff Weekend
December 16 Sun Peaks Annual Holiday Artisan Market
December 22-24 Sun Peaks Christmas Family Fun activities with Santa
December 29 Starlight Nordic Ski Adventure to McGillivray Lake
December 30-31 Glenn Bond Nordic Ski Camp
December 31 Sun Peaks New Year's Eve Celebrations and events – 6 til 9 pm
January 5, 2018 Glenn Bond Nordic Ski Camp
January 6 Sun Peaks Family Cup Alpine Race
January 12-21 Sun Peaks 20th Annual Okanagan Wine Festival – very popular event!
January 12 Wine Crawl – part of the Sun Peaks 20th Annual Okanagan Wine Festival
January 13-14 Sun Peaks Nordic Festival
January 13 'Exposure Beyond Auto' photography workshop
January 13 The Spirited Apres, Iconic & Collectible Wines of British Columbia with John Schreiner and the                          Comforts of Grilled Cheese and Wine Events – part of the Sun Peaks 20th Annual Okanagan Wine                    Festival
January 14 'Exposure Beyond Auto' photography workshop
January 14 Starbucks Sparkling Brunch – part of the Sun Peaks 20th Annual Okanagan Wine Festival
January 15 Moonlight Snowshoe & Mulled Wine event
January 15 Blind Tasting - part of the Sun Peaks 20th Annual Okanagan Wine Festival
January 16 House Concert with Wine & Dinner with cheese - part of the Sun Peaks 20th Annual Okanagan                        Wine Festival
January 17 Taste of Sun Peaks - part of the Sun Peaks 20th Annual Okanagan Wine Festival
January 18 Explorer Series and 3 Elements Port Wine Night - part of the Sun Peaks 20th Annual Okanagan                       Wine Festival
January 19 Vin & Fromage – Les Deux Amis and the Progressivve Tasting Events - part of the Sun Peaks                         20th Annual Okanagan Wine Festival
January 20 Rocky Mountain Chocolate & BC Wines Annual Sequel, 20th Annual Wine Awards, Tutored                             Dinner,  and Mixology to Music - part of the Sun Peaks 20th Annual Okanagan Wine Festival
January 21 Voyageur Bistro Brunch
January 26-27 Telus Nancy Greene Alpine Classic Event
February 2 Friday Race Series (on most Fridays)
February 4 The Garden Rail Jam (sponsored by Oronge Boardshop)
February 12 BC Family Day – 50% off Nordic & alpine skiing day passes for BC residents
March 1-31 Sun Peaks March Music Madness with various free live music performances at various                                     restaurants
March 3-7 Sun Peaks Velocity Challenge and FIS Speed Ski World Cup events
March 3 North Face Dirty Feet Snowshoe Fun Run and Walk
March 10 7th Year of the Sun Peaks Blue Bird Banked Slalom 
March 16 Friday Race Series (on most Fridays)
March 23-24 Hub International Nancy Green Festival
April 1, 2018 Party in the Park – Oronge Boardshop Event
April 1 Sun Peaks Easter Extravaganza
April 5-9 Sun Peaks 2nd Annual Coors Light Snowbombing Canada Events
April 14-15 Annual Tod Mountain Days Spring Festivities
April 15th End of the Sun Peaks 2017/18 Ski Season

For more details, see the Sun Peaks Winter Calendar


Prepare for spring activities and summer activities 



Contact us to share your favorite Sun Peaks Winter Activity, or complete and submit the form below.
Return to our Stone's Throw condo page
Return to our Trapper's Landing Townhouse page
Return to Sun Peaks Vacation Rentals By Owners (save on winter accommodation)
Return to Sun Peaks Equipment Rentals
Return to Best Sun Peaks Skiing and Snowboarding

Return to Best Sun Peaks Fall activities
Return to Best Sun Peaks Home page