Sun Peaks Fall Activities - Another Best Sun Peaks Season
Sun Peaks fall activities - enjoy the fresh mountain air and beautiful fall colors
There are many Sun Peaks fall activities to enjoy, even though the summer visitors have gone and the winter activity visitors are (im)patiently awaiting the opening of the next ski season.
While Sun Peaks Resort (Canada's Alpine Village) is usually very peaceful between September 1 and the opening of ski season and some Sun Peaks restaurants and stores may be closed so the owner/operators can have a quick little break before winter arrives, but it is still an ideal (and low cost) time to head up for some wonderful outdoor recreational activities or some well-deserved 'chill time' with family and/or friends.
It can be a beautiful time of year – yes a little cooler, especially at night (private hot tubs helps with that), and yes there can be clouds and maybe rain, but there can also be some of those 2,000 wonderful hours of sunshine that Sun Peaks is famous for.
There are plenty of free or low cost fall activities to enjoy as well to keep your get-away affordable.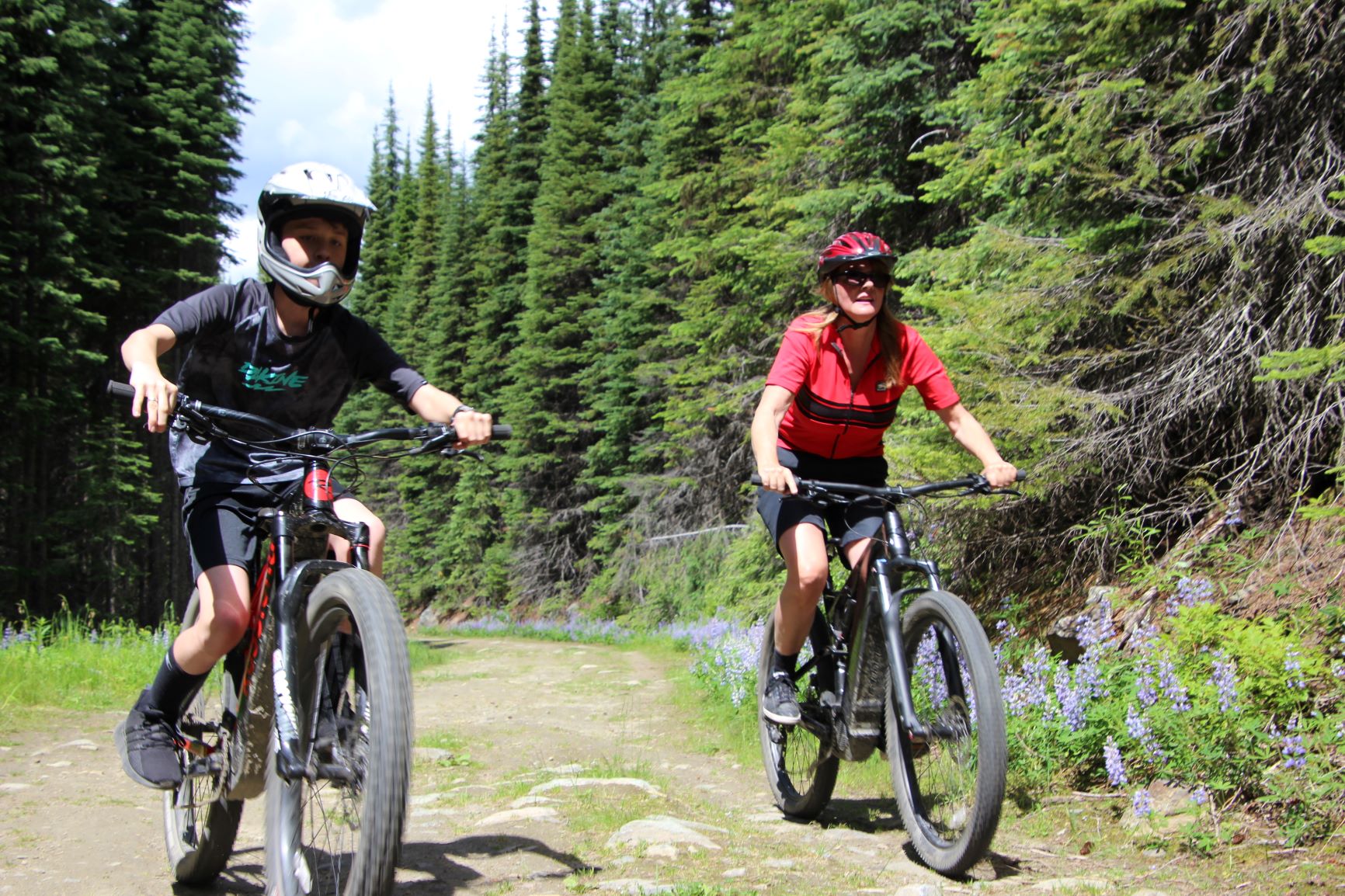 Save 10% on Sun Peaks fall eBike rentals from McSporties
See our Driving to Sun Peaks safety tips page before heading up, and remember the winter tire rules come info effect on October 1st.
Many Sun Peaks rental property owners, including ourselves with our Best Sun Peaks condo in Stones Throw and Best Sun Peaks townhouse in Trapper's Landing, are also offering low accommodation rates or discounts on Top of the Mountain accommodations to make it even more affordable to get away to Sun Peaks this fall.
Favorite Sun Peaks Fall Activities, so far....
Harvest time on the Kamloops wine trail
Some of our favorite Sun Peaks fall activities include: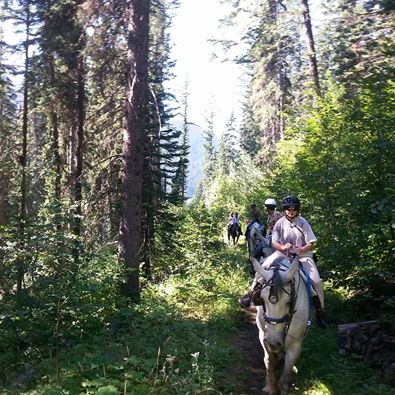 Fall horse trail rides at Sun Peaks Resort
SUPing!  Stand up

paddle boarding at Sun Peaks

is easy, fun, great exercise, accessible for most ages and abilities, and lessons, tours and/or rentals are generally available until Heffley freezes over.  You generally won't get wet unless you want to.  Click the paddleboard link or call 250 318-0722 to book






Kamloops and the Shuswap area have some wonderful wineries and craft beer makers , and with grape harvest time just around the corner, fall is an opportune time to enjoy some local fine wines and food items.  Self-drive (no drinking and driving!) and comfortable escorted group winery tours to the numerous nearby wineries can be arranged through us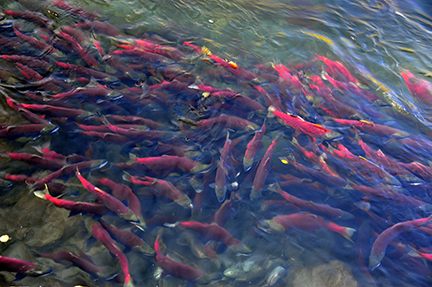 Adams River Sockeye Salmon Run - photo Jett Britnell
Salmon watching

!!  Between September and early November, millions and millions of Sockeye salmon will be enduring a life and death struggle to make their way back home to spawn through local rivers, such as the Shuswap and Adams Rivers.  Sun Peaks makes for a great central location to enjoy salmon watching as well as the many other Sun Peaks fall activities.  2022 will be a dominant year which should mean lots of salmon fighting their way upstream, and every 4 years from then.


The Sun Peaks horses still need exercise in the fall (before they start pulling the sleighs through the plentiful, wonderful powder!  Call the

Sun Peaks Adventure Centre

(250-578-5542) in advance to arrange for an escorted trail ride or a custom, private carriage ride through the village and surrounding areas


Fishing (with proper licenses), fly-fishing lessons and wildlife viewing and photography, along with canoeing, stand up paddleboarding and kayaking on the nearby lakes (such as McGillivray or Heffley) is still a wonderful way to enjoy a relax and enjoy a Sun Peaks fall day

Porcini mushrooms found in the fall
Mushroom picking anyone?  Boletus and porcini mushrooms are popular in the fall, and morels are popular in the spring.  Sun Peaks and Kamloops has some great mushroom picking spots - read more about it in this Sun Peaks News mushrooming article....


or perhaps, enjoying the slow pace, beautiful outdoor views, many amenities, reading a book or playing board games or cards that we provide in our Best Sun Peaks vacation rentals.


more to come.......
What is your favorite Sun Peaks fall activity?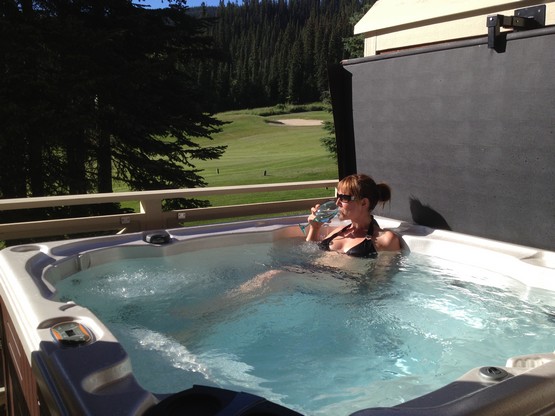 Best Sun Peaks condo and private hot tub
Contact us and let us know.

Book your luxurious Sun Peaks fall accommodation direct from owners
Return to Best Sun Peaks Summer activities
Return to Best Sun Peaks Winter activities
Return to Sun Peaks news and special offers
Return to Best Sun Peaks Home page.