Whistler and Sun Peaks - Which is Best For you?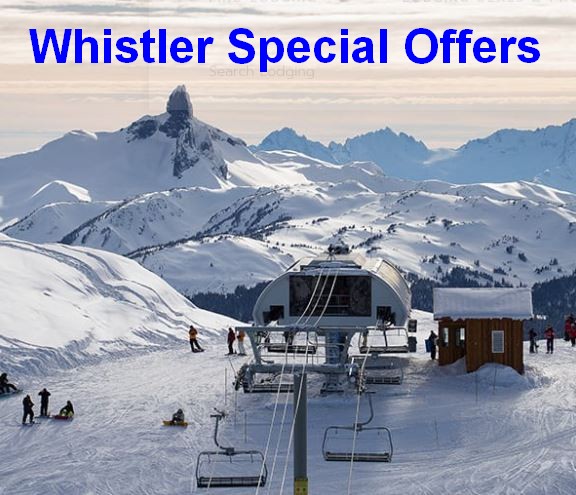 Enjoy our Best Sun Peaks Whistler Deals
Whistler and Sun Peaks are like brothers from similar mothers.  Besides Nippon Cable of Japan owning 100% of Sun Peaks Resort, it also owns 25% of Whistler/Blackcomb  while most of the remaining ownership of Whistler/Blackcomb was sold to the owners of the Vail ski resort in 2016/17. 
And if that wasn't enough of a relationship, Nancy Greene Raine (former Senator and  Olympic Gold Medalist) and her husband Al Raine (former ski racer, coach and resort hotel entrepreneur, now current Mayor of Sun Peaks) were both instrumental in 'raising' Whistler to its current level of popularity in earlier years, and are now helping to 'grow' Sun Peaks into another world-class ski resort.

Whistler/Blackcomb is like the big, popular brother on steroids, while Sun Peaks is like the smaller, friendlier little brother.  Both are wonderful, both are quite similar in terms of what they offer, but Sun Peaks is on a much more compact scale.
Click for Best Sun Peaks Whistler Special Offers and Accommodation Packages.
Our family loves the spectacular views at the top of Whistler!
- Whistler's skiable terrain is the largest in North America at over 8,100 acres, and Sun Peaks is a far second, being the 2nd largest in Canada with just under 4,300 acres
- Whistler/Blackcomb has 37 lifts plus the Peak 2 Peak sight-seeing gondala, servicing over 200 marked runs and almost 70,000 skiers/hour.  Sun Peaks has 13 lifts, servicing 137 marked trails and gladed areas and around 12,000 skiers/hour
- Whistler is so popular that it typically has long line-ups.  Sun Peaks doesn't!  Guests can spend up to 2 hours waiting at the bottom during peak times at Whistler (but it's worth it once you're up top), and about 12 minutes being the longest we have waited during the busy holidays at Sun Peaks. In fact, even on the busiest days at Sun Peaks, you could easily end up having the whole run to yourself, and you often will
- Whistler is actually two villages combined - Whistler and Blackcomb, and is more spread out and typically busy year-round.  It can easily take 30 minutes or more to walk from one side to the other.  And Whistler has many high-end art galleries, shops, and restaurants to choose from.  Sun Peaks offers a small, quaint, pedestrian and family-friendly, European style village.  It has a number of owner managed shops and family-friendly restaurants, a couple of realty offices, a cold beer and wine store, and a little market. It takes about 5-10 minutes to saunter through it. Sun Peaks is designed to be a ski-in/ski-out village too with lots of great, affordable vacation rentals.

Spectacular experience in any season
- People come from around the world to see and to be seen in Whistler, and to party - the "wild-child" brother is known for its' nightlife and great parties!!  People come from around the world to Sun Peaks to, well, ski, and enjoy the beautiful winter-wonderland and winter activities.  3 great mountains with runs for all levels, except very extreme steeps or cliffs.  Maybe stick to Whistler if you want heli-skiing or extreme runs and cliffs, or head to nearby Mike Wiegele Heli-skiing or Revelstoke from Sun Peaks.  Whistler also has a ton of activities in all seasons for families to enjoy.
- Whistler has lots of first-class and other types of Whistler accommodations spread over the two villages and beyond.  Sun Peaks offers a number of hotels and lots of family-friendly condos, hotels, townhouses and some luxury chalets, virtually all of which are ski-in and ski-out, or pretty close.  Sun Peaks is generally more affordable.  
- Both Whistler and Sun Peaks offer numerous activities in all seasons - spring, summer, winter and fall, for skiers and non-skiers alike.  Bring your car if you want to partake in extra activities in Whistler since they are spread out.  But virtually everything is available from your doorstep in Sun Peaks.  Both continue to enjoy record setting years  with 1.9 million skier visits to Whistler and 350,000 in Sun Peaks in 2015/16, 

- Popular Whistler gets big, huge, dumps of typically heavy, wet snow.  An average of 460 inches (38 feet) which is good because with the coastal conditions, it tends to melt and need that much snow to keep conditions favorable.  Sun Peaks gets over 2000 hours of sunshine a year and only around 240 inches (20 feet) of light, fluffy, Okanagan champagne powder that the interior of British Columbia is famous for.  Because of the cooler and steady interior, dryer climate and excellent pre-season trail preparation and great grooming, 240 inches is more than enough to provide fantastic winter ski conditions at Sun Peaks all season long
Whistler and Sun Peaks - They Get Along Very Well Together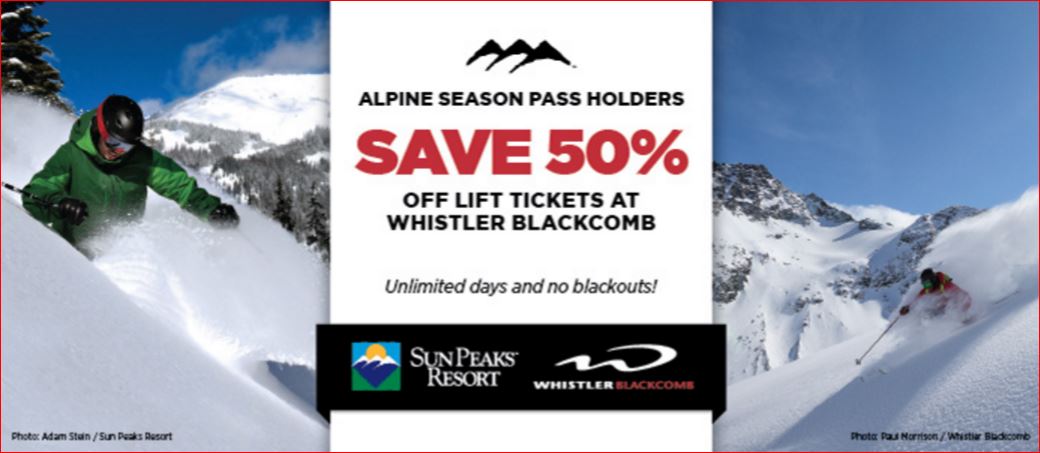 But while Whistler and Sun Peaks are different kinds of brothers, they get along just fine and work together often.
- There is a winter ski shuttle that runs between the two biggest and best ski resorts in Canada (click for Whistler and Sun Peaks ski shuttle information) as well as tour buses that run spring through fall bringing visitors from around the world to both ski resorts.
- There is also currently a Whistler and Sun Peaks reciprocal ski pass offer, where Season ticket holders of each resort get 50% off the daily lift pass at the other resort.  Most other BC resorts just offer a 25% discount.
- Both resorts are pretty easy to get to, but both can have challenging winter road conditions so be prepared.  Travel to Whistler/Blackcomb is around 2 hours from Vancouver; Sun Peaks is around 4 hours.  You can fly to YVR Vancouer Airport and drive to either resort, or you can connect/fly to YKA Kamloops airport and rent a car, book a Sun Peaks taxi or take a shuttle 45 minutes to Sun Peaks. The Sun Peaks shuttle operates most Sundays and Tuesdays, mid-December to the 3rd week in March, and costs around $180 plus taxes each way.

Both Whistler and Sun Peaks are different but great in their own ways.  We love both, but Sun Peaks won our hearts for the type of all-season ski resort we wish to buy in and thankfully we were able to invest in some Sun Peaks real estate.  It is just so much more relaxing - for us.
If you want the extremes - cliffs, extravagance, parties, and overall beautiful ski resort experience, have fun at Whistler - you won't be disappointed.  Whistler is spectacular and worth a visit for sure - click for Whistler package deals.
If you want a laid back, very friendly, affordable and family-friendly vacation, we will be happy to see you on the slopes at Sun Peaks.  If you want Sun Peaks but with some mildly extreme skiing, check out the Gil's off-piste ski area and the 'Laundromat' section over at Morrisey.  There are a number of other expert-only runs to enjoy.
---
Whistler vs Sun Peaks
Beautiful Whistler ice cave
We haven't found any Sun Peaks ice caves yet, but this Whistler ice cave is beautiful.
There isn't really a Whistler vs Sun Peaks.  They are both great, but different.  What do you prefer?

Both brothers are wonderful and very lovable, and we are so lucky to have them so close by us here in beautiful British Columbia, Canada.
But if you're coming to Sun Peaks and are looking for a luxurious yet affordable, ski-in/ski-out, family-friendly condo that is both on the mountains and on the Sun Peaks golf course, please check out our BestSunPeaks condo in Stones Throw, Trapper's Landing townhouse, or other Best Sun Peaks vacation rentals by owners.
We are pleased to be able to help you find great accommodation and activities in both Whistler and Sun Peaks. 
So if you are going to Whistler, be sure to book your accommodation and activities direct via Whistler.com 
Return to Best Sun Peaks Winter activities

Return to Best Sun Peaks Skiing
Return to Best Sun Peaks Winter Driving Conditions
Return to Best Sun Peaks Home page