Sun Peaks Spring Activities - What To Do For Fun in the Spring at Sun Peaks Resort
Spring biking at Sun Peaks
Sun Peaks spring activities burst to life even before the Sun Peaks ski lifts stop turning for Sun Peaks spring skiing and the final traces of snow disappear from view following another great winter season at Sun Peaks.
But while the village appears to slow down for a month or two before summer activities and music again fill the hills, life is bursting from every direction if you care to look close enough, with local wildlife such as deer, fox, bears, and even the birds and the bees welcoming new life to the hill, and new flora sprouting from the ground underfoot to the tips of the trees. 
New life, new colors, new fragrances, and new wonders abound with Sun Peaks Spring Activities.
And many of the Sun Peaks spring activities are low cost or free.
Our Favorite Sun Peaks Spring Activities
Canoes in the Spring at McGillivray Lake
It is true some of the Sun Peaks restaurants and businesses take a little downtime to rejuvenate also, but there is always somewhere to eat, somewhere to shop, and someone to smile and say hello as they pass you while enjoying the fresh mountain air and tranquility that we love at Sun Peaks any season of the year.
Besides enjoying some well-earned R&R up at Sun Peaks, and enjoying the views from your Sun Peaks accommodation with perhaps a private hot tub like  one of ours, here are some of our other favorite Sun Peaks Spring activities:

(Note: we offer discounted rates in the spring and summer - check out our Best Sun Peaks condo or Best Sun Peaks townhouse, or Sun Peaks Vacation Rentals) pages for more information.


---
Sun Peaks Area Winery or Craft Beer Tours: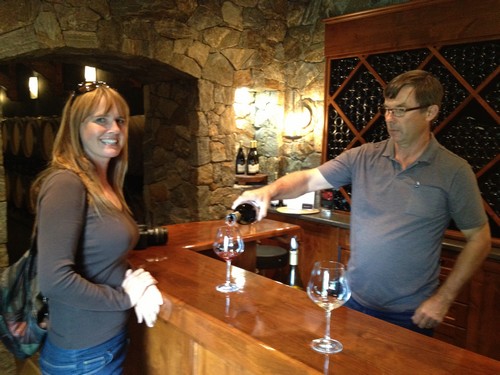 Over the past several years, a number of wineries have started up in the Kamloops area and the Kamloops Wine Trail was born. 
Sun Peaks Winery Tours and Tastings can be arranged at the four nearby Kamloops wineries, and group tours to these as well as other Okanagan wineries can be arranged with licensed tour operators that can pick you up and return you to Sun Peaks.  
Craft Beer Tasting Tours at up to 5 popular Kamloops Craft Beer facilities can also be arranged if wine isn't your thing, or you can combine and visit several wineries and craft beer merchants, with pick-up and drop-off in Sun Peaks.
A delightful and delicious Sun Peaks Spring sipping activity!  And starting in 2019, there is now a new craft cidery to enjoy on the tour too!


---
Sun Peaks Standup Paddleboarding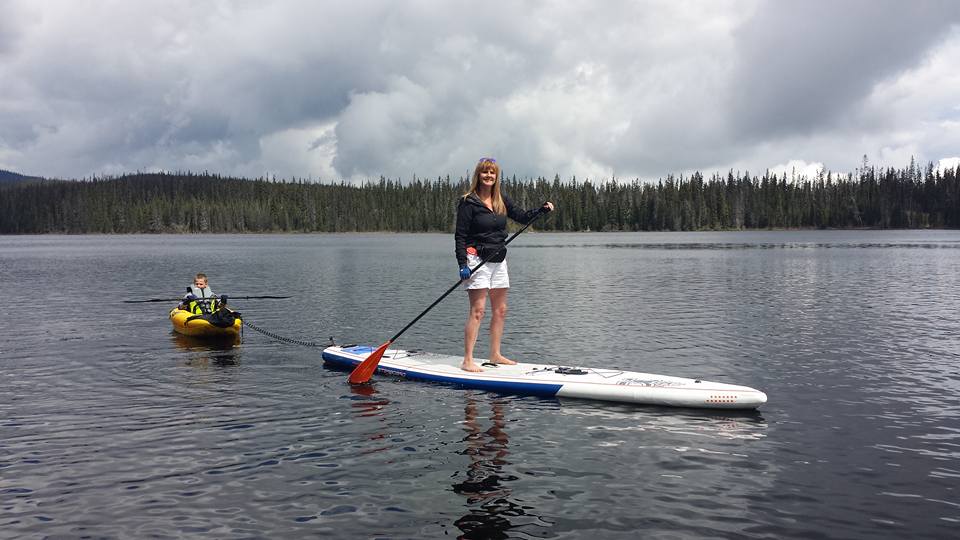 Standup Paddleboarding, or SUP, is one of the fastest growing watersports in the world, and is popular with people of all ages and physical abilities. And Bodie Shandro is a  terrific instructor!
Sun Peaks SUP lessons, tours, rentals and retail sales are available very near Sun Peaks starting in mid-April or early May (once the ice melts) by appointment, and make for a very fun activity.
Contact them directly to book and Sun Peaks Standup Paddleboarding may soon become one of your new favorite Sun Peaks Spring Activities - it is one of ours!


---
Fly Fishing Lessons and Guided Trout Fishing Charters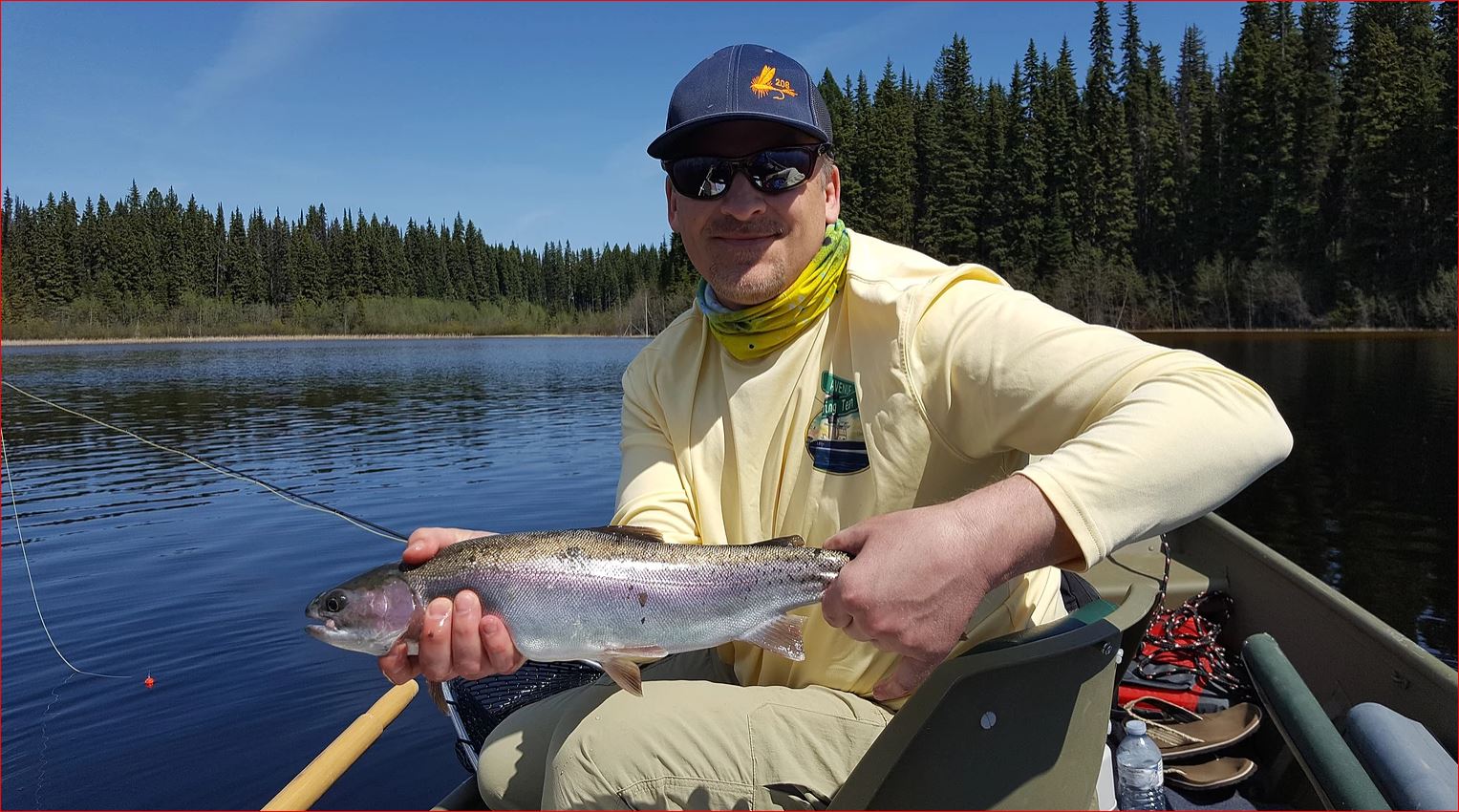 Sun Peaks and Kamloops area fly fishing lessons, guided fishing tours for individuals, families & groups, and corporate packages available with Fast Action Fishing Adventures from early spring when the ice melts through to October or when the nearby lakes begin to freeze.

---
Sun Peaks Horse Trail Rides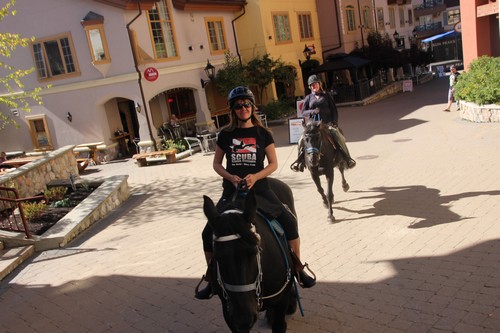 Sun Peaks horse trail rides, as well as private carriage rides for up to 9 guests, and 20 passenger horse-drawn trolley tours are available, subject to trail conditions and by appointment via Sun Peaks Stables.  Enjoy back-country tours, beautiful village views, or a trip to the McGillivray Lake Outpost.
Private or group horse riding lessons are also available near the village.
Maybe one of your Sun Peaks Spring Activities is a wedding?  If so think about booking a private carriage or trolley ride to/from your venue or around the resort.


---
Sun Peaks Nature, Flora & Fauna Walks and Photography Opportunities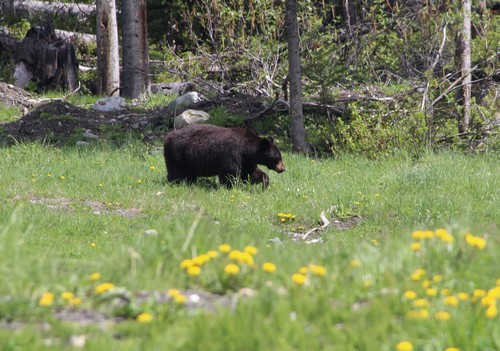 Perhaps you will spot local wildlife, such as one of the resident foxes with her pups, a deer with her new fawn, or perhaps a mama bear with her cubs.  Certain wildflowers will spring to life early, before the alpines burst into a kaleidoscope of colors in the summer, and the sound of birds will fill the air.  Bring your camera, take nothing but photos and leave nothing but footprints and wonderful memories, but also be aware you are in the wilderness and need to be Bear Aware and careful. 
Walk  the Valley Trail Network, or take the bike trails out to McGillivray Lake – the lower paths are usually in pretty good shape quite early on for these 'out-in-nature'  Sun Peaks Spring Activities. 


---
Sun Peaks Mountain Biking Trails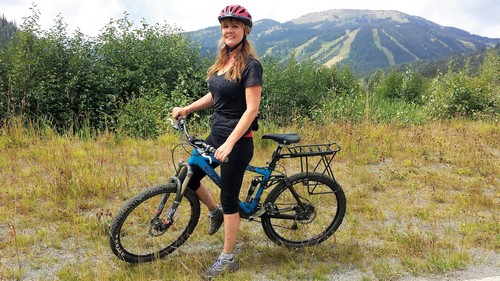 The lower, free-to-use cross country bike trails, such as the McGillivray Lake Trail which was a snowshoe or Nordic ski trail just weeks ago, generally dry out fairly quickly and are ok for leisurely rides out to popular stops such as McGillivray Lake or Morrisey Lake, followed of course by lunch and a refreshment or two back in the village. 
Sun Peaks now offers 'electric assist' eBikes that are tons of fun and allows beginner to expert bikers the ability to get out and explore more while having fun - use our discount offer to save 10% on rentals.

Remember to be Bear Aware though as you travel through these quiet, scenic wilderness areas. Lots of wildlife is waking up and roaming the area too.


---
Sun Peaks
Massages and Spa Treatments!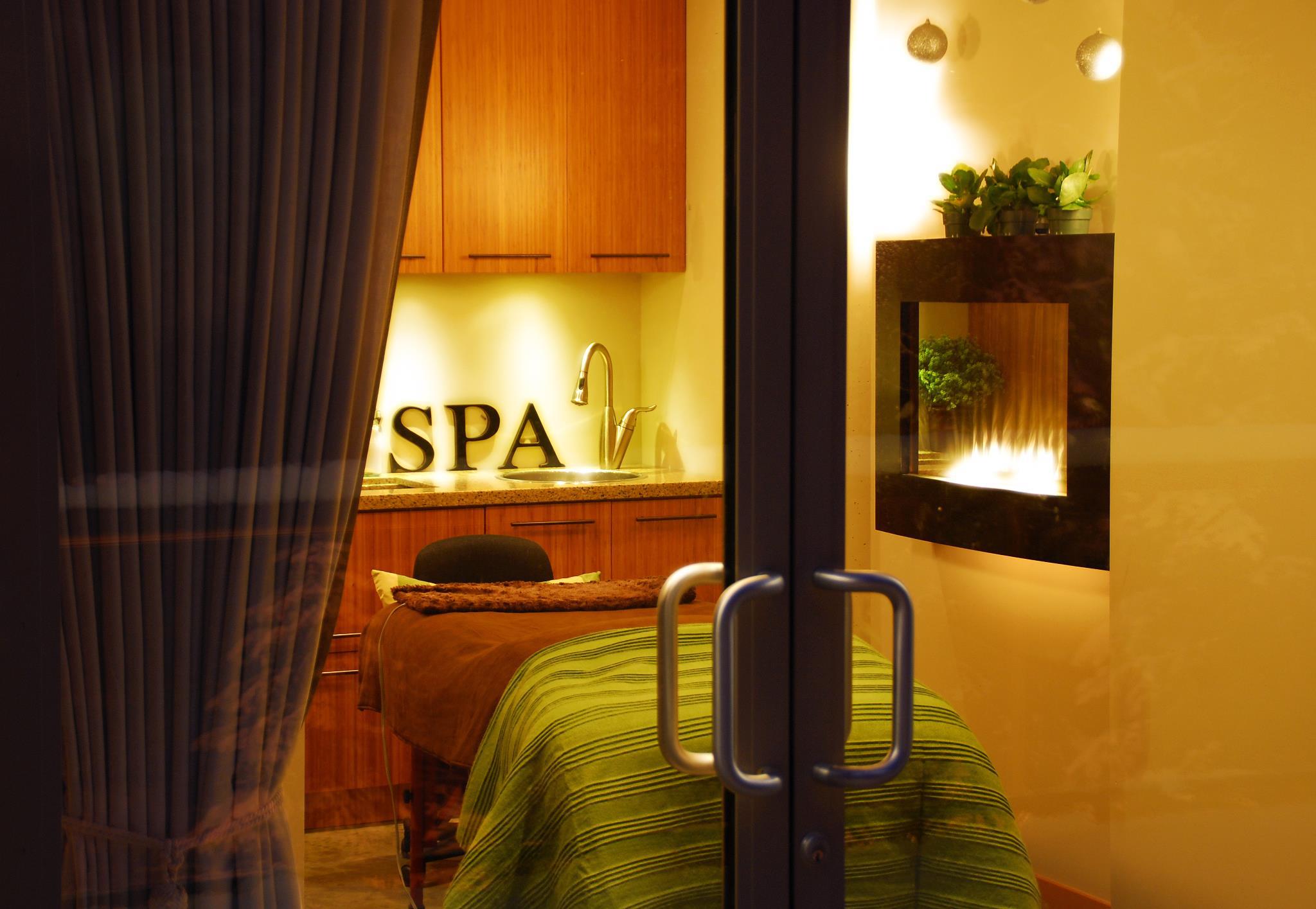 Visit the Sun Peaks Spa and enjoy a wonderful massage, manicure, pedicure or facial.
Lovely venue, wonderful staff, and a great spa experience.
Or, enjoy an in-suite mobile massage before, after, or as part of one of your Sun Peaks spring activities.


---
Sun Peaks Tennis & Pickleball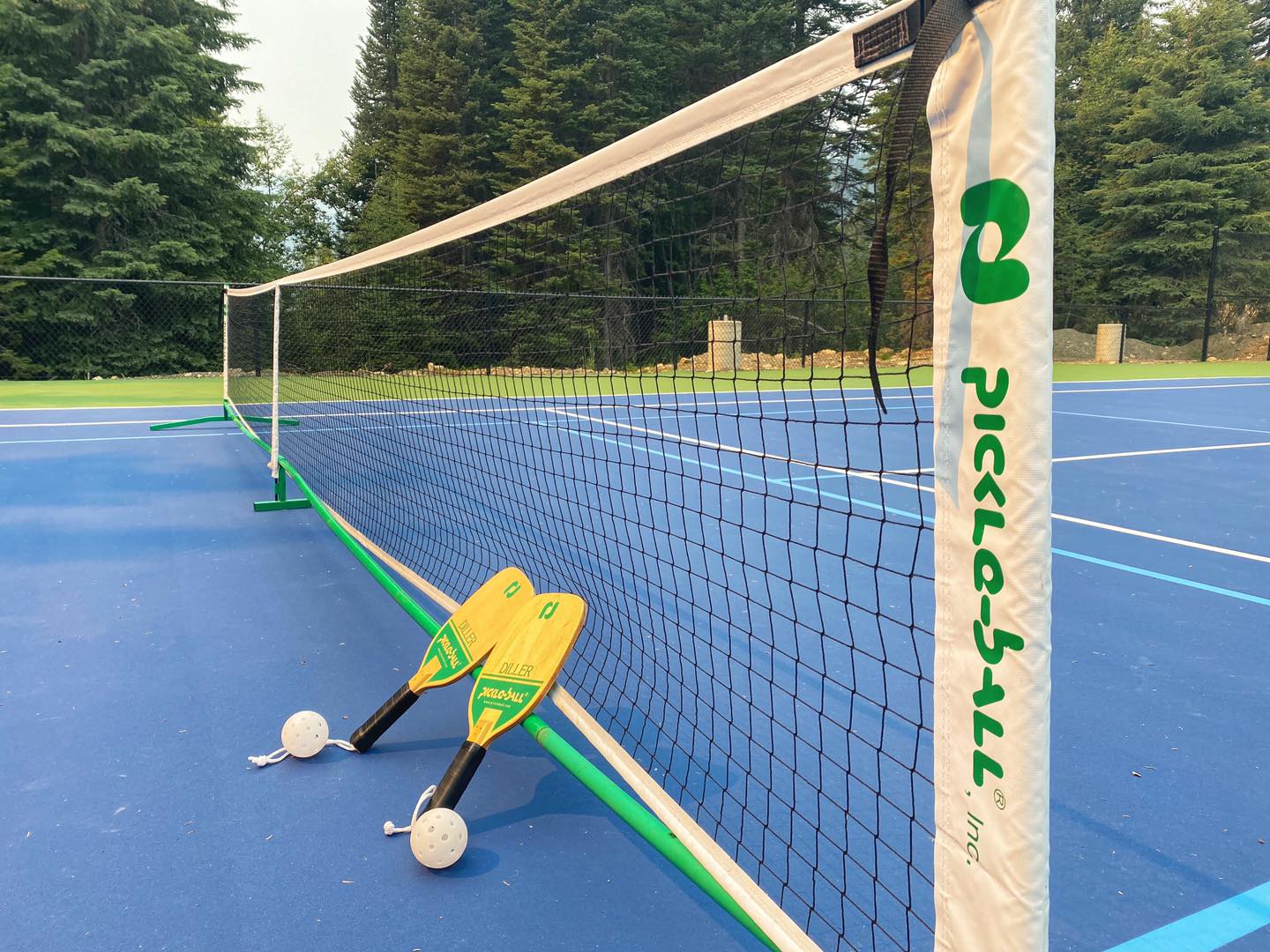 Once the snow melts, the tennis and pickleballs can fly!
Dust off the cobwebs and get out and get in shape for summer hiking and biking while enjoying the beautiful new Sun Peaks Tennis and Sun Peaks Pickleball Courts.
Free to use but you need to bring your own rackets and balls.  We do try to provide equipment for our guests to use in our Stone's Throw and Trapper's Landing vacation rentals.
---
Sun Peaks 5k Foam Fest Family Fun Race
The Foam Fest Family Fun Run is scheduled to be returning to Sun Peaks on June 11th, 2022 and the best time to book your Sun Peaks accommodation and buy entry tickets is now!!  Tickets are already moving fast and the price goes up every 1000 sold. If you want the best deal possible, now is the time to buy!
This is a fun Sun Peaks spring activity and 2022 will hopefully be the seventh year this fun filled day with over 22+ obstacles, gooey mud, and of course FOAM, 2.5 million cubic feet of foam to be exact, has come to Sun Peaks and is fun for all ages (8 and up) and all abilities as well as family friendly.


---
Whytecroft / Sun Peaks Waterfall Walk
Just a few minute drive outside of the resort is the Whitecroft Waterfall, which is about a 10-15 minute walk and is worth visiting any time of year. 
The scenery and amount of water flow changes with every season, and allows for a nice, tranquil walk and photo opportunity. 
Remember to be Bear (and maybe even cougar) Aware though as you travel through these quiet, wildlife-filled  areas.


---
Sun Peaks Resort Tennis and Pickleball Courts

Fancy a game or two of tennis before the summer crowds arrive?  Pickleball perhaps?
The free-to-use Sun Peaks tennis courts are available on a first-come first-served basis early on in the spring, and you can bring your own racket and tennis balls and begin to use the courts before the rec centre opens.  The tennis courts are right beside the community pool, new covered hockey rink and rec centre, and are now being managed by Alpine Fitness in the new Sports Centre ((250) 572-5136 for questions or reservations).
The pickleball lines are currently quite faded, and many locals are currently pushing the municipality to either repaint the lines or create a new dedicated pickleball court.
Tennis and pickleball rackets and balls are also available to rent from Alpine Fitness for a cost of $20 (2 rackets and a ball), and if you pay cash, $5 is returned to you once you bring back the equipment.  
You can also get slightly pickled on a Sun Peaks area winery tour or craft brewery tour and then play pickleball??

Enjoy the fresh mountain air, beautiful views and relaxed pace of life at the resort while enjoying your favorite Sun Peaks Spring Activities.


---
Sun Peaks Golf Course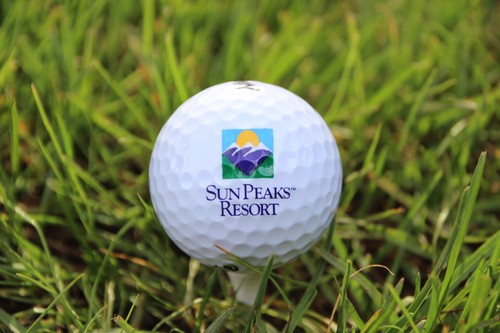 Even before the chairs stop turning and the lifties hang up their shovels and scanners, the hard working grounds crew are already hard at work clearing the remaining snow off the greens and prepping for another season of golf on the golf course with the highest elevation tee in BC. 
The front 9 of the Sun Peaks Golf Course typically open up around the end of May, earlier if possible, with the back 9 following as soon as possible after. 
Remember though, most of the Kamloops golf courses, such as the popular Tobiano course, open in March or April as soon as conditions permit so head on up to enjoy some Sun Peaks spring activities and bring your clubs along and book some time down the hill in Kamloops too.


---
Wells Gray Day Trip - 40+ Beautiful Waterfalls & More To Explore
A visit to Helmcken Falls is an easy day trip away from Sun Peaks
Fire & Ice - volcanoes and immense sheets of ice created Wells Gray Provincial Park and it is now a beautiful wilderness area with over 40 named waterfalls to view, including the world famouns Helmcken Falls pictured here.
The drive to Clearwater from Sun Peaks along the river is very scenic, and the park itself offers many lakes, hikes and other wilderness activities.
Many of the falls are located very near to the road which is kept clear year-round, and the run-off from all the rain and melting snow makes the waterfalls even more magnificent.  
Enjoy the waterfalls and then head back to your comfortable accommodation in the beautiful resort of Sun Peaks and enjoy the other spring activities that are available for guests.


---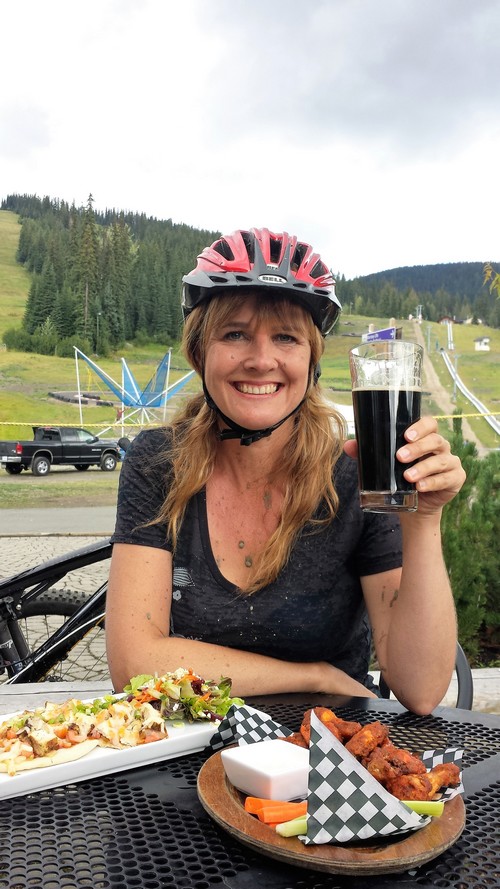 A little mud doesn't hurt - cheers to spring at Sun Peaks!
---
Or perhaps your preferred Sun Peaks Spring Activity is to just read, relax, and maybe even enjoy some Sun Peaks Spa activities or an RMT in-suite massage? 
That's cool too!
So is chillin' on the deck with refreshments and remember, a little mud from mountain biking on slightly muddy trails doesn't hurt anyone!
So whether you just walk the trails, enjoy the scenery, or participate in any of our favorite Sun Peaks spring activities, this is a perfect time to take advantage of low Sun Peaks accommodation rates and spectacular mountain life.
Let us know if we missed your favorite Sun Peaks Spring activity? 
Enjoy your Sun Peaks spring activities and start to plan out what to do for your Sun Peaks summer vacation!
Remember - Sun Peaks is a wonderful, 4 season resort!
Ask about our spring rates for our beautiful Stone's Throw condo or luxurious Trapper's Landing townhouse, or at these other Sun Peaks Vacation Rentals.




Choose your Best Sun Peaks spring accommodation
Return to Best Sun Peaks Summer Activities
Return to Best Sun Peaks Winter Activities
Return to Best Sun Peaks Fall Activities
Return to Best Sun Peaks Home page.