Best Sun Peaks News, Updates & Special Offers
Check this Best Sun Peaks News page often for updates about Sun Peaks Resort or for special offers and trip advice when planning a Sun Peak Resort vacation any time of year.
Special offers are also added regularly to our Best Sun Peaks Facebook page so please Like, Share, and contribute information to our interactive Best Sun Peaks website and Facebook page.
We are also @bestsunpeaks on twitter and #bestsunpeaks on Instagram - please follow along for up-to-date Sun Peaks News.
Also check out Sun Peaks Vacation Rentals Direct From Owners for best prices on Sun Peaks accommodation direct from owners or Top of the Mountain for 60+ managed properties with our special 10% affiliate discount.
---
        Spectacular Alpine Adventure from Paddle Surfit/Sun Peaks SUP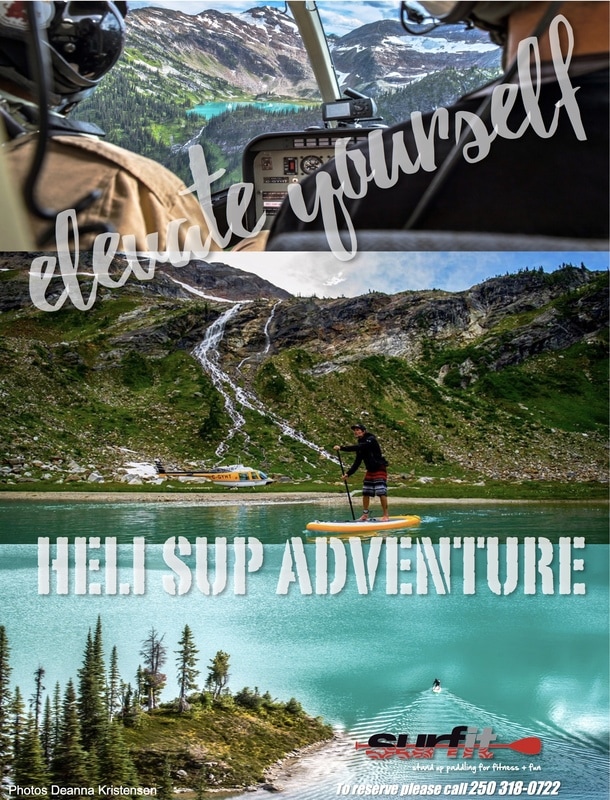 Heli-Sup Adventures for a trip of a lifetime
And now for something completely different!  A SPECTACULAR one or two day HELI SUP ADVENTURE & EXPERIENCE! All levels of paddlers welcome. Breath taking helicopter flights into remote alpine lakes with inflatable stand up paddleboards. Enjoy a scenic paddle in pristine glacial waters amongst majestic mountains and waterfalls! Hike, paddle, relax on lakes that are only ever accessed by a handful of people!
One day experiences only $599/person.  Add another day of paddling and an overnight in one of the worlds most remote and spectacular backcountry huts in the world, gourmet chef included, $1399/person. Dates to be announced once weather conditions permit.
Only 8 spots per trip with one guide. Contact Bodie from Sun Peaks Standup Paddleboarding to book the trip of a lifetime! ​
Trips are lead by a Professionally Certified SUP Instructor/Mountain Guide and include all equipment.
Discounts on Sun Peaks Accommodation to accompany this trip are also available through Best Sun Peaks. 
---
Summer Fun Is Here Now At Sun Peaks Resort
Next summer booking direct with us gets a free Segway tour for 2 (image courtesy Alpine Explorers)
It is time for summer fun at Sun Peaks Resort and we are offering a FREE 1 hour Segway Tour for 2 with Alpine Explorers to the next direct summer booking of our Stone's Throw condo or  Trapper's Landing townhouse. 
While the chairlifts for lift-accessed hiking, mountain biking and the Sun Peaks Bike Park don't start turning until June 22nd, there are already tons of Sun Peaks summer activities to enjoy:
- discount Sun Peaks hiking and biking lift passes are now available - save up to 30%
- Sun Peaks MCC Go Karts are operating weekends
- Sun Peaks Golf Course and driving range are open
- Sun Peaks Standup Paddleboarding tours and lessons are open
- Cross-country mountain bike trails to nearby Sun Peaks lakes are open
- Sun Peaks trail rides are available from Sun Peaks Stables
- Restaurant patios are open and summer menus are now out (and delicious!)
- Sun Peaks Spa summer specials are on
- Chase Zip Line Adventures are open
- Sun Peaks trout fly fishing lessons are catchin' fish
- and so many more Sun Peaks affordable and family-friendly activities for relaxing (or adventurous) summer-time fun.
Book your Sun Peaks summer accommodation direct from owners for best prices!
---
Best Sun Peaks Reasons For A Sun Peaks Golf Holiday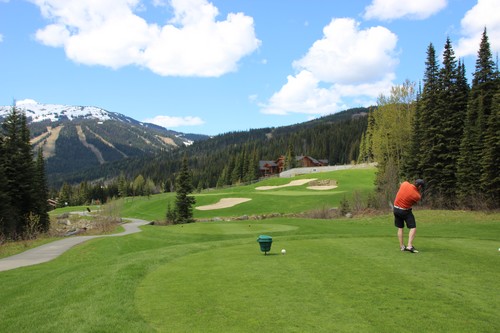 The Sun Peaks Resort Golf Course is Now Open, and here are our Best Sun Peaks reasons to come experience the Sun Peaks Golf Course this summer:
ACCOMMODATION SPECIALS: Our Trapper's Landing townhouse and Stone's Throw condo back onto the 16th fairway, the highest elevation tee in BC. Beautiful scenery, quiet location, and private hot tubs. Mention this post and we will give you 10% off our posted rates.
YOUR BALLS FLY FURTHER: Higher air means thinner air, so up here at BC's highest elevation golf course your ball will fly further with no extra effort on your part. Sure, the distance gains may only be temporary, but it's still a blast to let the big clubs rip at 1,200m above sea level.
COOL, COMFORTABLE TEMPERATURES: Sun Peaks is often up to ten degrees cooler than nearby Kamloops, where mid-summer temperatures regularly hit a scorching 35°C. Cool breezes, fresh mountain air, and an all-natural high.
HOLES FOR ALL LEVELS: The shorter, narrower front nine for the precision golfers (in reality or in their dreams), and the longer, wider fairways that curl around the East Village on the back nine. Something for everyone and a great 19th hole with amazing patio views for all.
BC'S HIGHEST ELEVATION TEE: Hole 16, surrounded by Stone's Throw and Trapper's Landing, is our favorite hole. The elevated tee deck is perched at 1,333m (or 4,353 ft for our American friends), earning it the honour of BC's highest hole, and provides commanding views of Mt Morrisey, the village, and right down the valley.
FRESH MOUNTAIN AIR AND VIEWS: The unique ski resort location means the Golf Course is surrounded by a stunning backdrop of thick, lush forests, meandering creeks, and plenty of wildlife, nestled right at the base of our three peaks: Tod, Morrisey, and Sundance. You gotta love those mountain views!
FAMILY GOLF PRICING SPECIALS: Great new offers to get the 'hole' family swinging together!
SUN PEAKS RESORT-STYLE SUMMER ACTIVITIES FOR ALL:Sun Peaks offers activities for all ages and athletic abilities. Cross-country trails or lift-accessed biking and hiking trails, kayak, canoe or stand-up paddling nearby, winery tours, Sun Peaks Craft Brewery tours, spa treatments, segway tours, trout fishing and free outdoor concerts are just some of the ways you can spend a day in Sun Peaks.
---
Village Walk Vacation Rental Now Available - Beautiful & Luxurious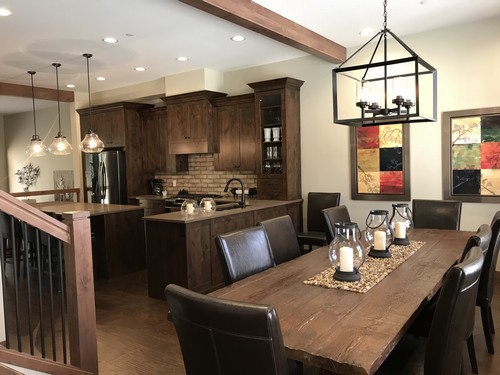 We are pleased to be adding this beautiful, brand new, 3 bedroom plus flex room, 3.5 bathroom, luxuriously upgraded Village Walk townhouse with hot tub, in the convenient and centrally located Village Walk complex to our list of available Sun Peaks Vacation Rentals By Owner.
Sleeps up to 10.
Book this beautiful Village Walk Vacation Rental direct with the owners, Lisa and Bill, and save.
  - Master bedroom with spacious ensuite and king size bed
  - 2nd bedroom with king size bed
  - 3rd bedroom with queen size bed
  - Flex room with queen size pull out couch, single size bunk bed, and a widescreen tv
  - Private garage
  - Large view windows facing green space and McGillivray Creek and mountain views of Tod Mountain as well as Mt. Morrisey
 - Barbeque and private hot tub.
Click for more information about booking this new and other Best Sun Peaks accommodation.
---
Best Buy Sun Peaks Season Pass Pricing Now Available!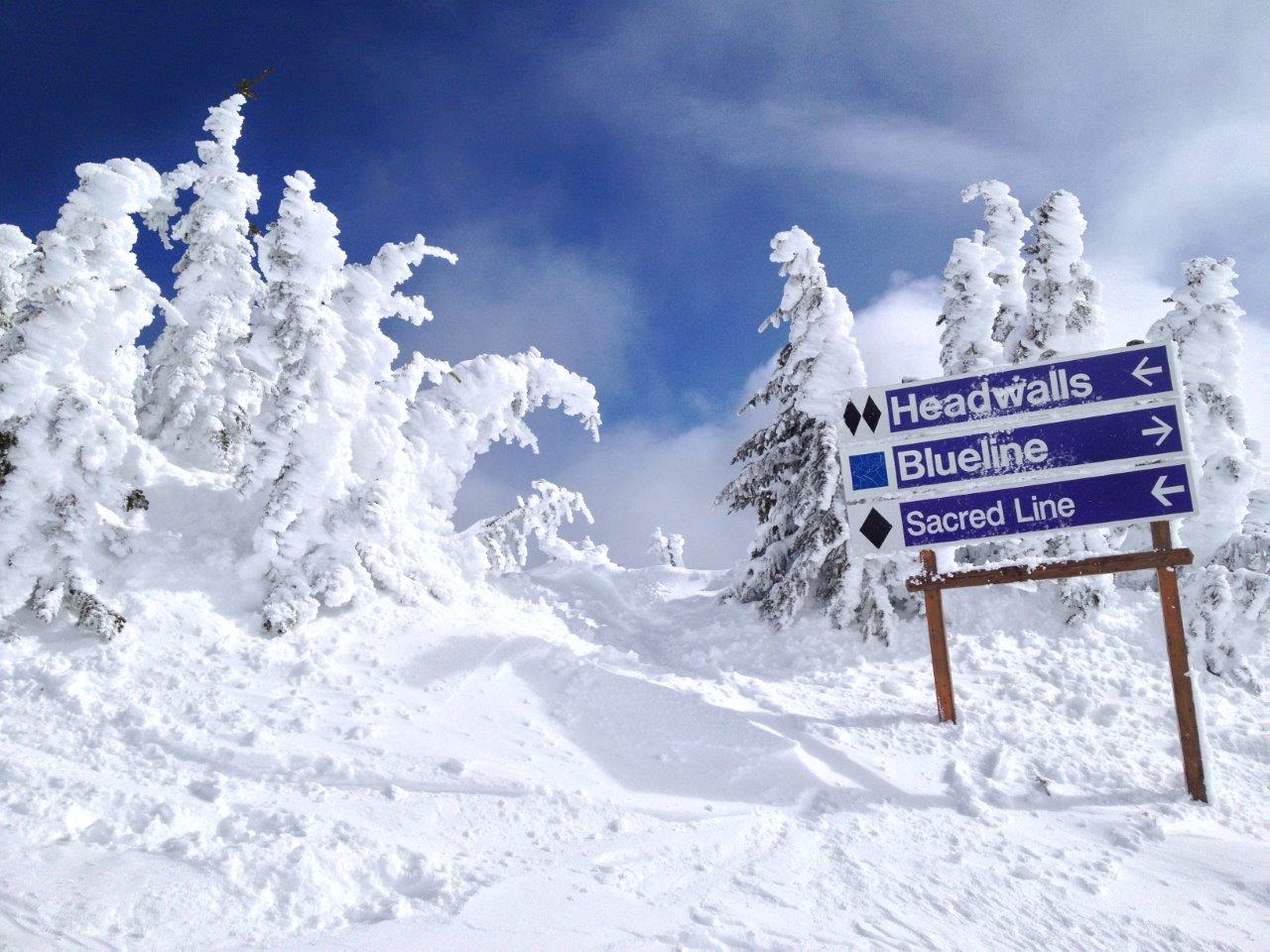 Buy before June 30th for Best Sun Peaks season pass pricing
There are many reasons to buy your Sun Peaks Season Lift Pass before June 30th during their BEST BUY spring sale period.
In addition to huge discounts from their regular Season Pass rates (takes around 10 days of skiing to make it beneficial) and the convenience of having a pass, Sun Peaks season ticket holders also enjoy:
- FREE Sun Peaks Nordic skiing season pass (new in 2018/19)
- Three Buddy passes - each entitling a friend to save 25%  off the price of a lift pass (but hey Sun Peaks, can't you save up to 40% by buying online?)
- discounts at Sun Peaks retail outlets and some corporate food & beverage outlets, rental gear, repairs & maintenance places, Tube Time and Bungee Zone discounts and more.
- reciprocal lift pass options (including Whistler)
- FREE summer alpine hiking pass, and discounts on Sun Peaks summer go karts
Lots of benefits to giving Sun Peaks your money early.  And then when it comes to holiday time, it seems like the holiday is almost free!
More details on our Sun Peaks Lift Pass page.
To buy, call Sun Peaks Guest Services at (250) 578-5474 or visit Sun Peaks Lift passes to book online.
---
Discounted Sun Peaks Summer Hiking and Biking Passes Now Available
With miles and miles of spectacular lift-accessed hiking and mountain biking trails, with access to alpine meadows exploding with colors from all the wildflowers and beautiful mountain vistas, Sun Peaks makes for a wonderful summer family resort vacation destination.

Make your summer vacation even more affordable by pre-purchasing your discounted Sun Peaks lift passes for hiking, mountain biking, or the Sun Peaks Bike Park ahead of time, and save up to 30% (click the Liftopia image on the lower left for packages and pricing).

There are also many free-to-use wilderness walking and mountain biking trails to some of the many lakes in the Sun Peaks area, as well as many other Sun Peaks Summer activities, festivals, free or low-cost activities, and free outdoor summer music concerts for all to enjoy.
Free-to-use trails are available as soon as the snow melts, and summer lifts start turning on June 22nd.

---
"May-Cation" Spring Sun Peaks Accommodation Special
Who needs a Spring "May-Cation"!?
Come and enjoy quiet season at Sun Peaks Resort where you can rest, enjoy the delightful fresh mountain air, tranquil walks, your own private hot-tub, beautiful scenery, standup paddleboarding, waterfall walks, wildlife viewing, as well as golfing, winery tours and craft brewery tours down in Kamloops.
Save 10% on beautiful Sun Peaks Vacation Rentals in Stone's Throw and Trapper's Landing for stays prior to June 15, 2018.
Or choose from over 60 other Sun Peaks vacation rental properties and save 10% with Top of the Mountain vacation rentals.
---
9th Annual Sun Peaks Retro Concert Weekend Returns
The 9th Annual Sun Peaks Summer Retro Concert Weekend featuring three days of serious retro rock and roll at beautiful Sun Peaks Resort returns August 10 - 12.  This weekend of outdoor tribute band performances is a favorite among local residents and guests and features exciting retro bands such as:
- AC/DC performed by BC/DC
- Elvis Presley performed by Ultimate Elvis Show
- The Rolling Stones performed by SteelWheels
- The Beatles performed by The Fab Fourever, and
- Buddy Holly performed by Buddy Holic
Book your Sun Peaks accommodation and come rock in the beautiful outdoor stage. 
Plan an extended stay and enjoy the many wonderful free or low cost and family-friendly summer activities while you're up at Sun Peaks.

---
New  Chairlift Announced For Sun Peaks Resort - Orient Express Coming Soon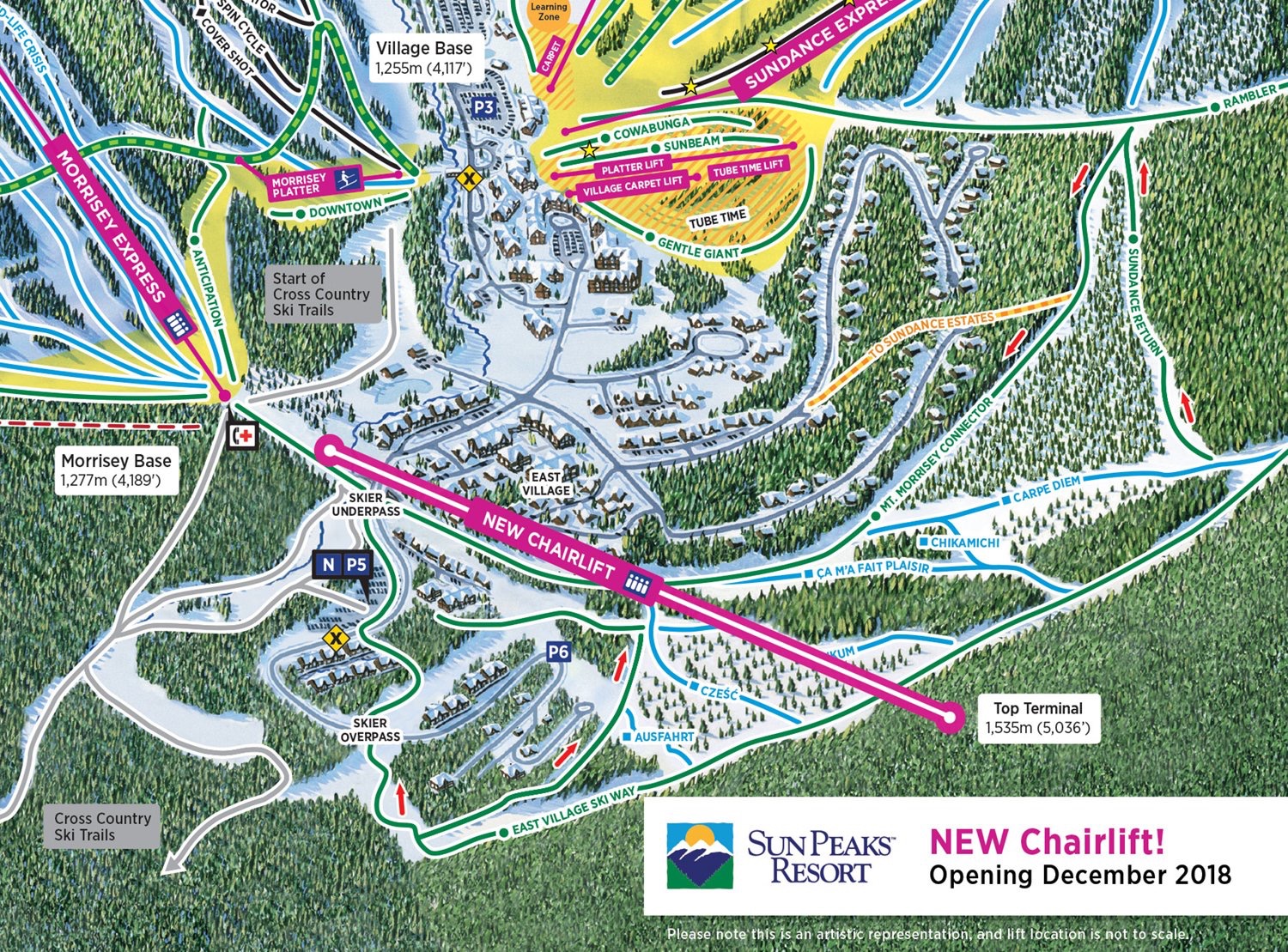 Exciting news for those waiting to see more Sun Peaks expansion and improved access from the Eastern areas of the resort, with the announcement on March 28, 2018 that the new Orient Express chairlift will be ready for use in December 2018.
This new fixed grip, quad lift will take skiers from an area near the existing Umbrella Café, up over the 16th Fairway (Morrisey Connector in winter) right in between our Stone's Throw condo and Trapper's Landing townhouse, up to a new arrival point just above the East Village Skiway. 
From there, skiers will have easy access to a number of runs including Carpe Diem, Chikamichi, Fair Dinkum, Czesc and Ausfahrt on Sundance Mountain, can ski down and then enjoy some runs on Morrisey, or have exciting new direct access back to the village via a green run that will lead to either Rambler or Sundance Return.
Engineers have already started mapping out the route for this new $4 million project, which will begin the anticipated expansion to the popular eastern areas of the resort.
Read more about the Sun Peaks 2018 and beyond expansion plans.

Exciting times ahead for Sun Peaks!
For more information, see the official Sun Peaks Orient Express Expansion announcement.
---
Sun Peaks Expansion Project #1 - Sports Centre Improvements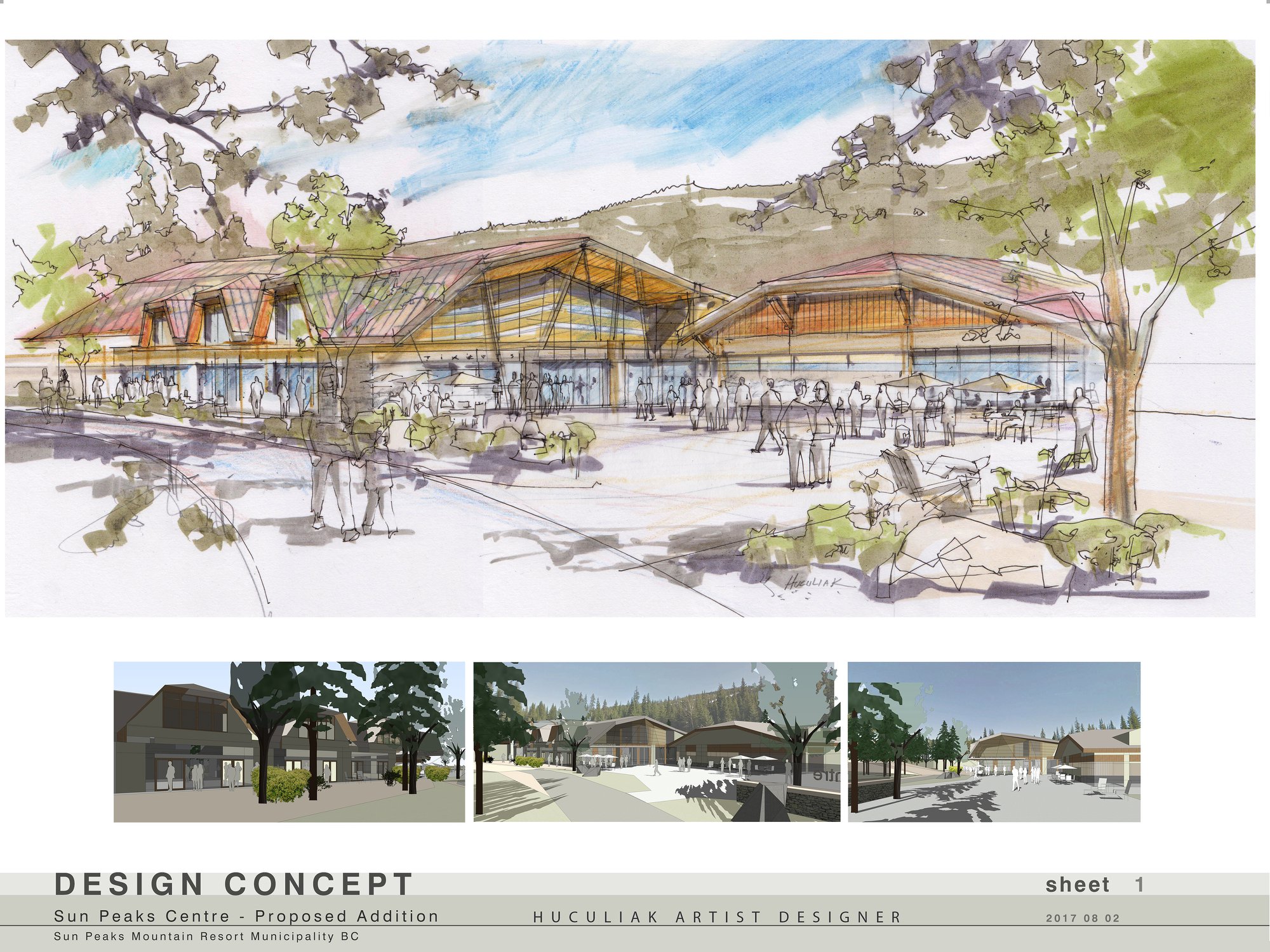 The first of the Sun Peaks 2018 Expansion plans was announced March 9, 2018 with the improvement and expansion of the existing Sun Peaks Sport Centre which incorporates the new NHL-sized ice rink installed recently. The expanded and improved, all-weather, multi-purpose facility will include a multi-purpose indoor facility capable of hosting up to 3,000 participants, enabling Sun Peaks to host additional concerts, large sporting and recreational events as well as corporate/association trade shows from May to November.
The improved centre will be constructed thanks to $6 million in Federal Gas Tax Funding and will also provide additional facilities for Sun Peaks' growing residential community.
There was also some talk by Chief Oliver Arnouse of the Little Shuswap Indian Band of the long-awaited road connecting to the Shuswap coming soon too - bring it on!

Click for more on the Sun Peaks 2018 Expansion plans.
---
$30 - $60 Million Allocated For Sun Peaks Expansion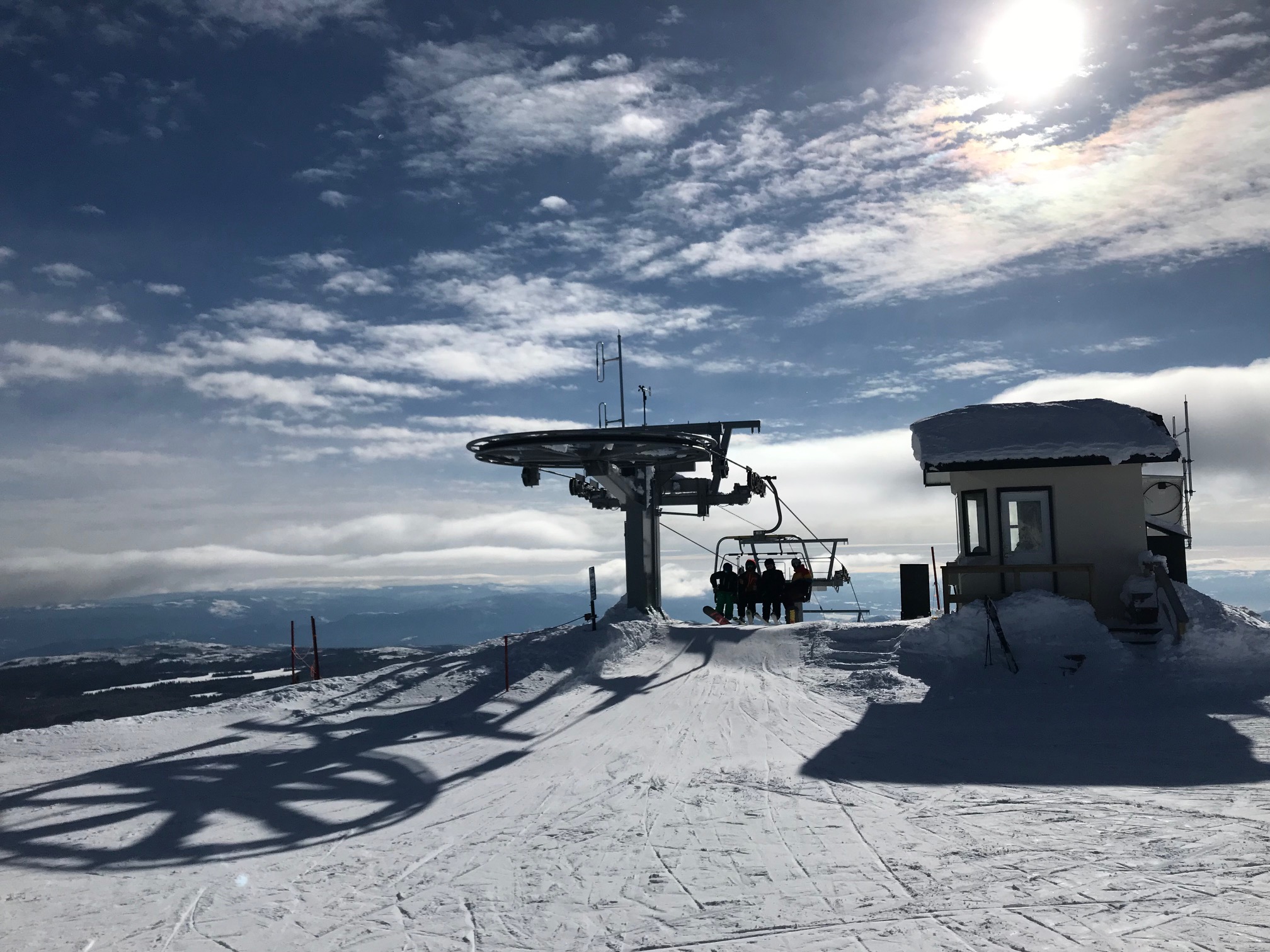 New lift expected soon to reach the Top of the World
Getting from the village base to the Top of the World may be easier soon when the first project of the $30 million in Sun Peaks Expansion begins.
With record skier visits continuing, Sun Peaks is looking to continue their steady growth over the next 5 years with these various projects:
  - the addition of between 1 and 3 new chairlifts (with the repositioning of other chairs)
  - expansion of the Sun Peaks Sports Centre

  - a new hotel/commercial building near the Village Day Lodge
  - renovations to the Sun Peaks Grand Hotel
  - making more land available for building new homes
  - the construction of a lodge at the base of Morrisey
  - more Sun Peaks real estate projects with single and multi-family properties, and other projects.
More growth details on our Sun Peaks Expansion 2018 page and announcements from Sun Peaks Resort are expected soon.
---
Timberline Village at Sun Peaks - Vacation Rental by Owner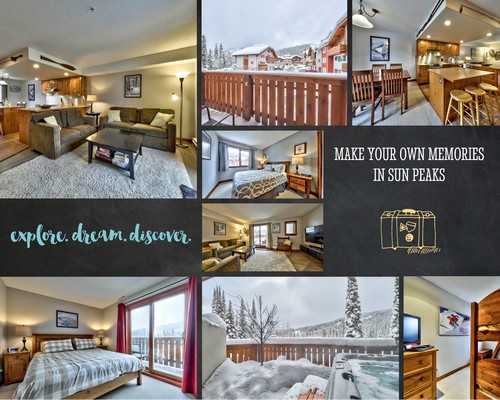 Conveniently Located Timberline Village Townhouse with 3 Bedrooms, Sleeps 8, 2 Bathrooms, 3 Patios, Private Hot Tub, Family-Friendly and Ski-in with Easy Ski-out.

Newly added to our list of Sun Peaks Vacation Rentals By Owners is this recently-updated 2 bedroom townhouse in Timberline Village. 
With a great location right by the Sun Peaks skating rink and Sun Peaks swimming pool and tennis courts, (open in summer) this is a great place for your Sun Peaks summer vacation.

Book direct with the owners and save even more on your Sun Peaks Vacation Rental!
---
Big Sugar - First of the Free Sun Peaks Summer Concert Series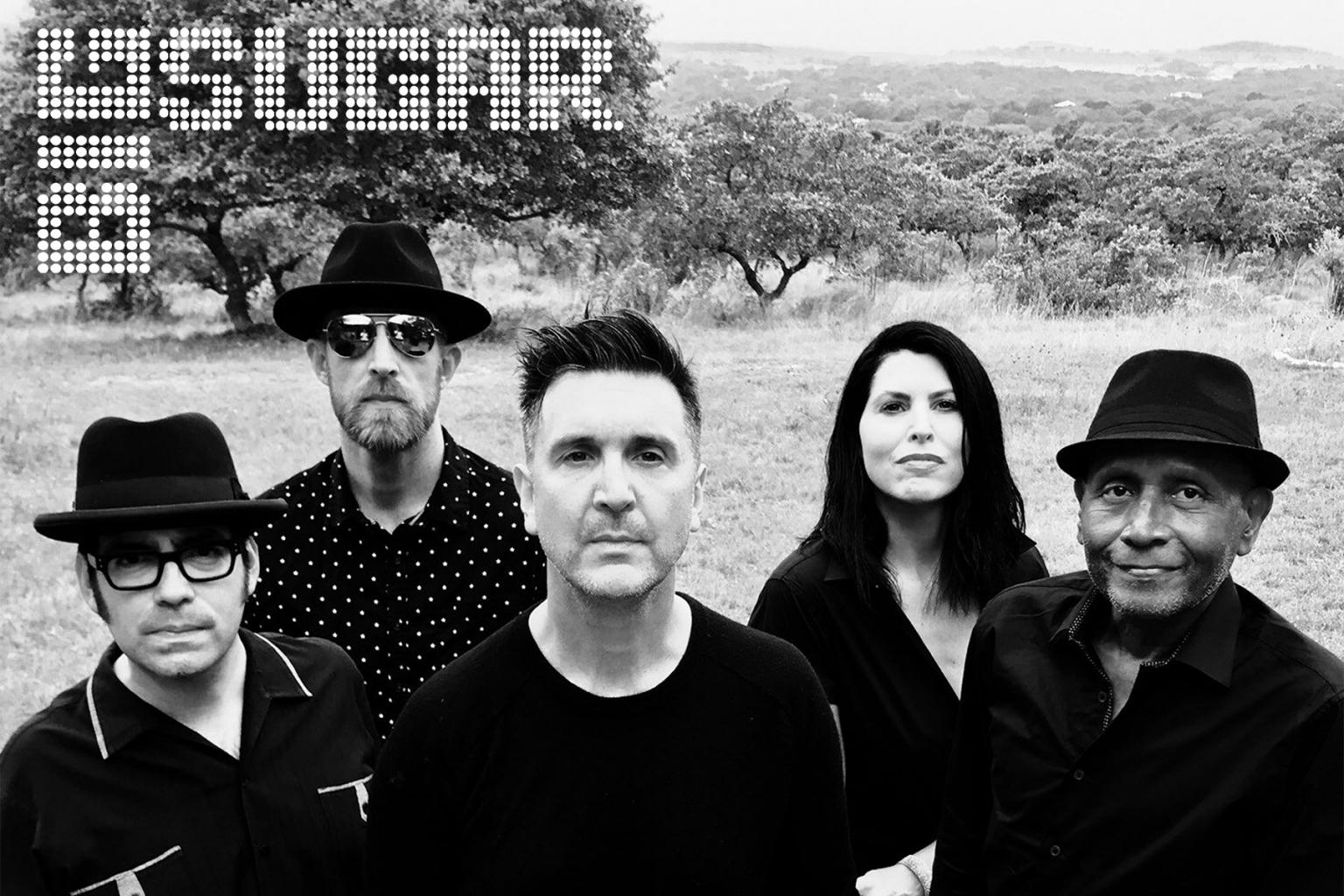 Big Sugar, a popular Canadian rock band, will fill the air at Sun Peaks when they take the stage at the first FREE Sun Peaks summer concert of the year. The JUNO nominated band is slated to hit Sun Peaks' open-air stage on Saturday, June 30, as part of the Canada Day weekend celebration.
Hailing from Toronto, Big Sugar's extensive catalogue of hits will bring the crowd to their feet as they groove along to signature songs including "Turn the Lights On", "Diggin a Hole" and "If I Had My Way". 
With access to over 69 Sun Peaks Vacation Rentals, now is the perfect time to start planning your Sun Peaks summer vacation with three mountains, many nearby lakes and many family-friendly activities for all to enjoy!
---
---
Gifts For Skiers and Snowboarders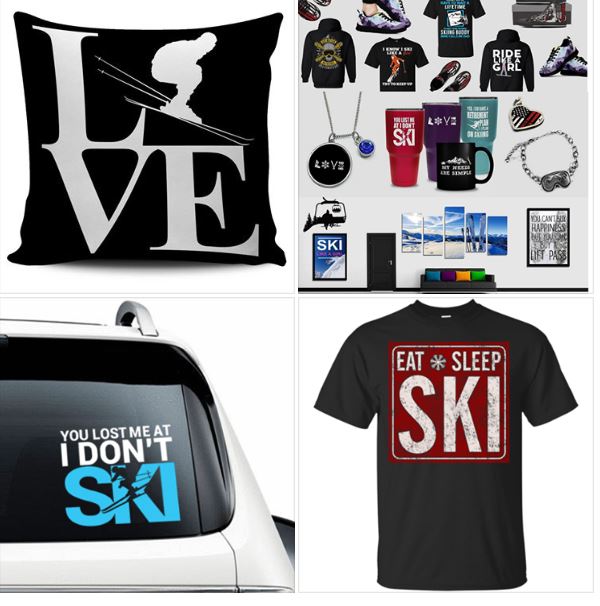 Giftware for ski and snowboard lovers
Just in time for the 2017/18 ski season and holiday gift-buying season is a huge selection of ski & snowboard gift related items, including:
- ski and snowboard hoodies, sweatshirts and jackets
- ski and snowboard t-shirts
- ski and snowboard wall decals
- ski and snowboard car window decals/stickers
- ski and snowboard jewelery
- ski and snowboard phone cases
- canvas wall signs and pictures
- ski and snowboard related glassware, coffee mugs, water bottles and more
- ski and snowboard related posters
- ski and snowboard cushion/pillow covers
and so much more!
Also available are custom metal signs & decor items, custom wood signs & decor items, custom vintage ski signs, custom ski and cabin decor items.
---
Introducing Echo Landing Condos & Townhouses at Sun Peaks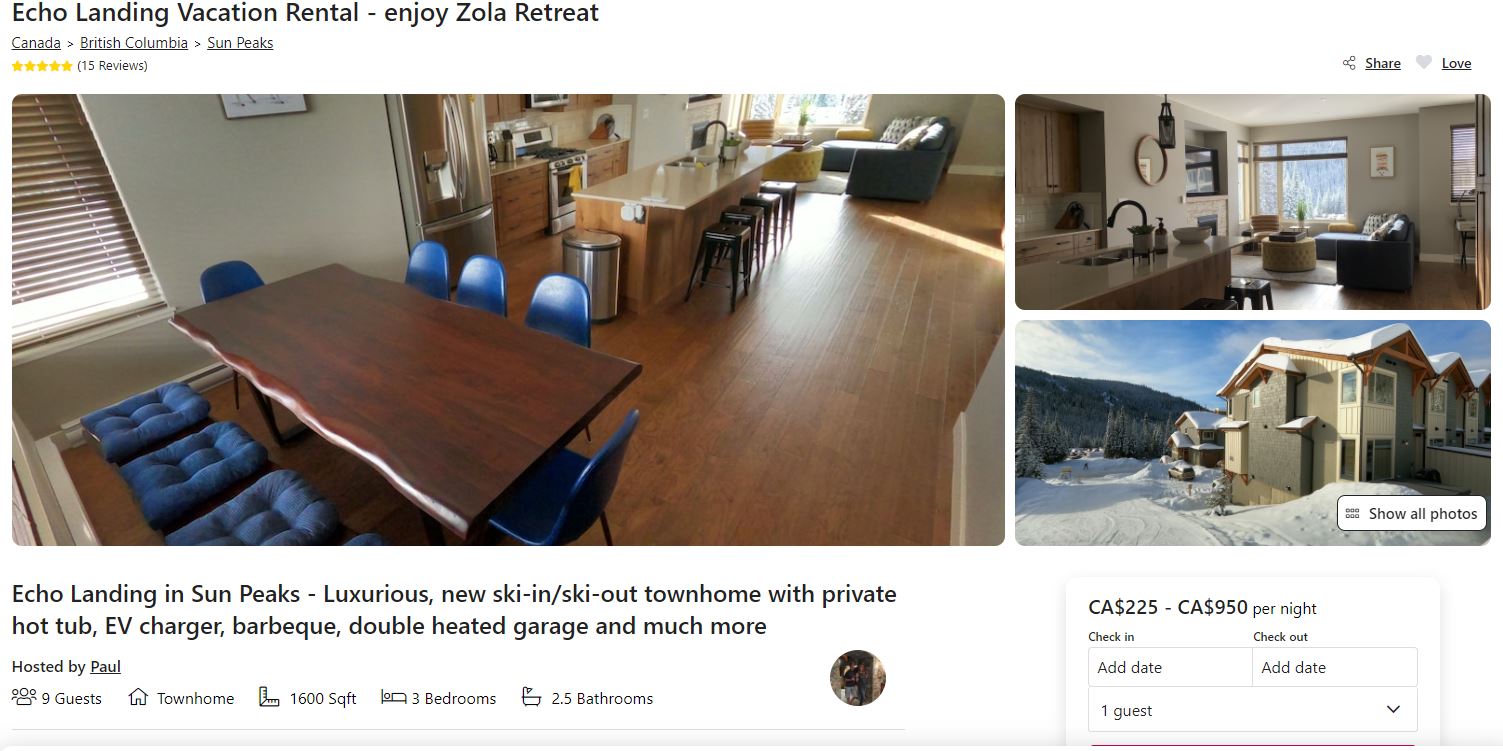 Echo Landing - new condos & townhouses coming to Sun Peaks
More exciting news for Sun Peaks Resort on August 24, 2017 when Echo Landing was announced – the newest collection of 2, 3 and 4 bedroom ski-in, ski-out mountain townhomes and condos to be nestled, along Valley Drive, between Settlers Crossing and Woodhaven.
Echo Landing offers ski-in ski-out direct access to your doorstep. Just steps from the cross-country ski and snowshoe trails, Echo Landing is a winter lover's dream. A limited number of Echo Landing homes will be offered for sale in the first release this fall - sign up now for early purchase opportunities.
The initial viewing of the floor plans and specs for this 48 condo and townhouse development located in Sun Peaks took place in November took place, with phase... 1, 2 and 3 (of 4) being  fully or partially sold out. within the first few hours.

Real estate prices continue to take off on existing homes too - for more info see our Sun Peaks Real Estate page.
---
Custom Wood Signs Created By Local Artist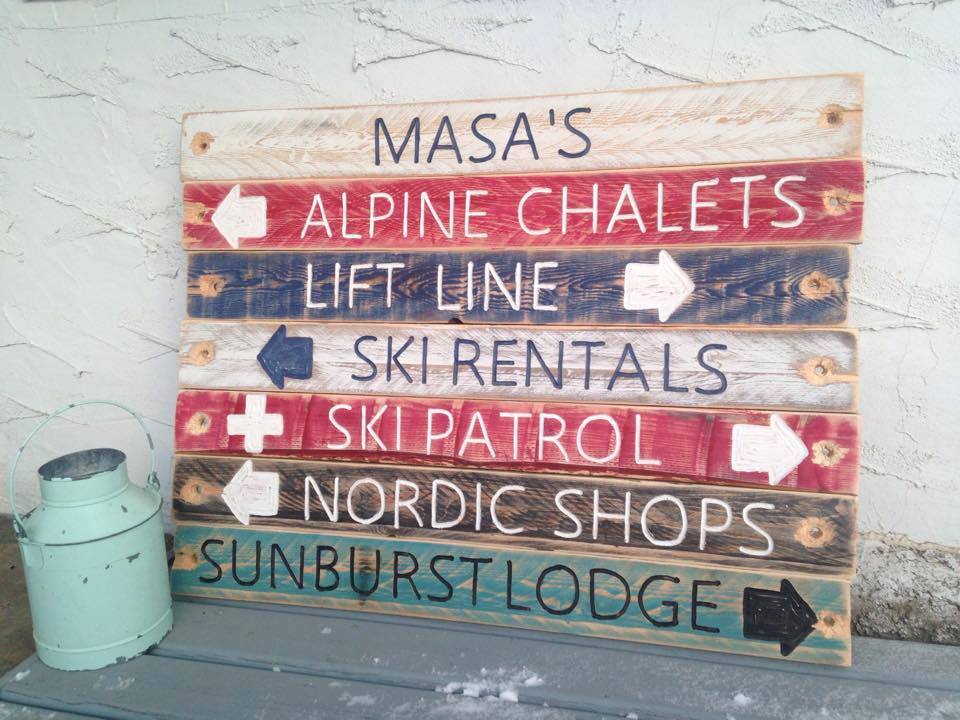 Introducing custom interior and exterior wood signage by local Sun Peaks area artist, Christie and Signed by C.
These custom signs and cabin décor are wonderful for your vacation rental property, home or business, and can be built using your own business logo or ideas, or Christie can help you design something creative.  Wood signage, business signs, memorial plaques, shelves, boxes and more can be created locally and shipped world-wide. 
Or better yet, come to Sun Peaks and pick up your new custom wood sign.
As part of our growing collection of artist paintings, creations and other lodge décor items, we have sourced an amazing custom metal signage and art maker as well, and a personalized custom rustic sign maker.
Promote your home, business or property while supporting talented artists or decorate using our growing list of creative decor suppliers.
---
Discover Where The Locals Go For Best Snow and Best Runs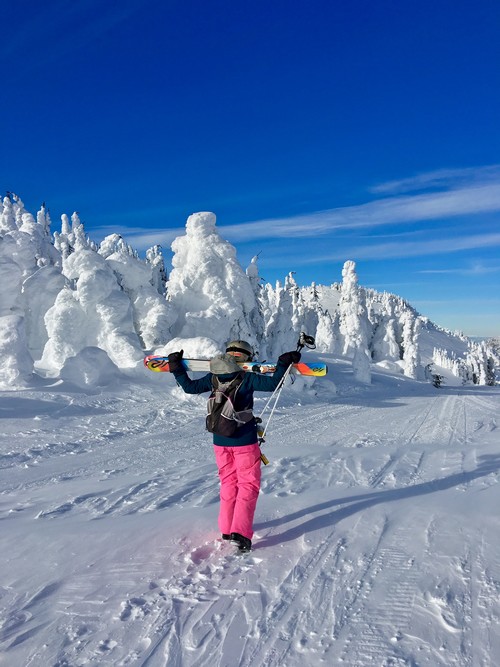 Hike to the best snow on Sun Peaks - photo @Putsky88
Discover where the locals go when they want to find the best stashes of fresh, untouched powder, gladed back-country trails, off-piste skiing, and beautiful terrain that is now avalanche controlled and patrolled.
Learn how to find the best runs, ski in delightful, Okanagan champagne powder, and prepare for some nearby cat skiing or spectacular heli-skiing.
Previously considered out of bounds, the Best Sun Peaks Powder and off-piste area was incorporated into the Sun Peaks Resort ski boundary area in 2014/15 which helped establish Sun Peaks as the second largest ski resort in Canada.
Long considered a secret stash by the locals, more and more intermediate to expert skiers are discovering that this short little hike leads you to some amazing back-country-like terrain, all within the patrolled boundary of Sun Peaks.
Guided tours and powder skiing/off-piste skiing single-day and multi-day lessons and camps are available.

---
Sun Peaks Real Estate Sales Breaking  Records
Record-breaking real estate sales (courtesy Sotheby's Sun Peaks)
Skier smiles and sales of properties at Sun Peaks have continued to increase with no end in sight.  Record skier visits to the resort as well as one of the strongest seller's markets in their history started in 2016 and shows no signs of slowing down in 2017. 
Even the new 24 unit luxury townhouse development, VillageWalk, with construction starting as soon as weather permits, is already 70% sold.  The final phase is now selling and first new residents are expected to arrive in late 2017.
Sun Peaks was also labeled as the fastest growing incorporated municipality in 2016, and it is a great time to be a part of this exciting, growing community!  We are so happy to be part of the growth.
Perhaps the only people not smiling are those that thought we were crazy back in 2013/14 when we said it was the best time to buy at Sun Peaks!?

See our Sun Peaks Real Estate page for more information, and come join the fun!
---
Great deals on Sun Peaks Vacation Rental Properties By Owner

We are building up our list of preferred Sun Peaks Vacation Rental properties and are currently able to offer best owner prices on these Sun Peaks condos, townhouses and full-house / luxurious chalets for rent:
- Our Best Sun Peaks condo in Stone's Throw - sleeps up to 8 - see our Stone's Throw reviews
- Our Best Sun Peaks Townhouse in Trapper's Landing - sleeps up to 12.  See our Trappers Landing Reviews

- Trail's Edge #15 Townhouse - sleeps up to 12
- Trail's Edge #4 Townhouse - sleeps up to 9

- Other vacation rental properties offered at Best Sun Peaks discounted prices by Top Of the Mountain including condos, townhouses and full-size Sun Peaks homes and chalets.
---
Paint Nights with Liz Derksen, A Unique Sun Peaks Experience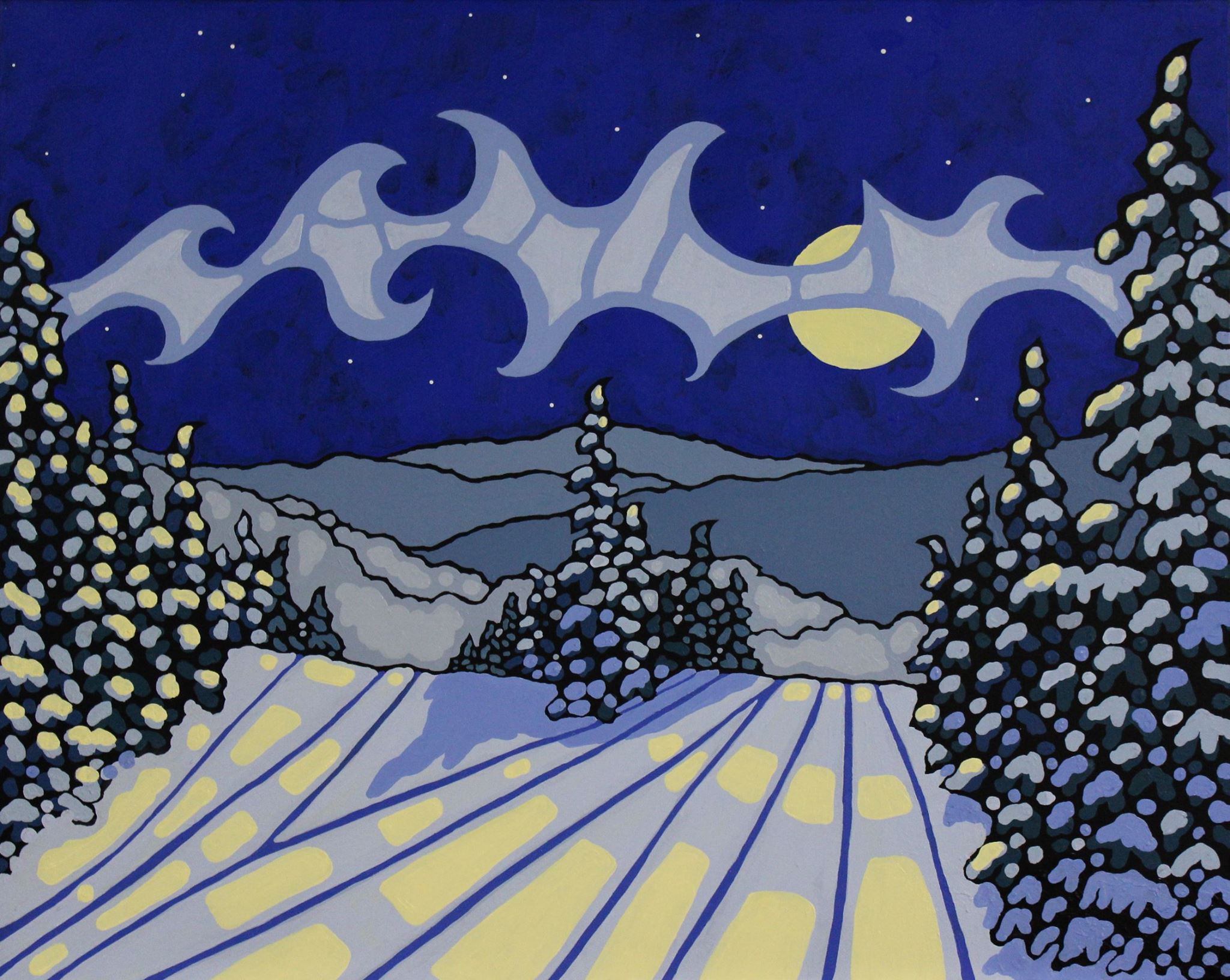 Experience Paint Night with a local Sun Peaks Artist
Here is something fun and a uniquely "Sun Peaks" experience - Sun Peaks Paint Nights with a very popular local Sun Peaks artist, Liz Derksen.
If you are in or close to Sun Peaks... here is something fun to do by either joining in with an existing group, or putting together your own group of friends or family members and arranging for a private paint party.
Group or custom/private, in-studio or in your Sun Peaks accommodation - Sun Peaks Paint nights are a fun way to create a beautiful memento of your Sun Peaks vacation.

Another "best" and unique Sun Peaks experience to try - the Sun Peaks Evening Fondue and Descent....


---
---
Craft Beer & Winery Tours Available From Sun Peaks Resort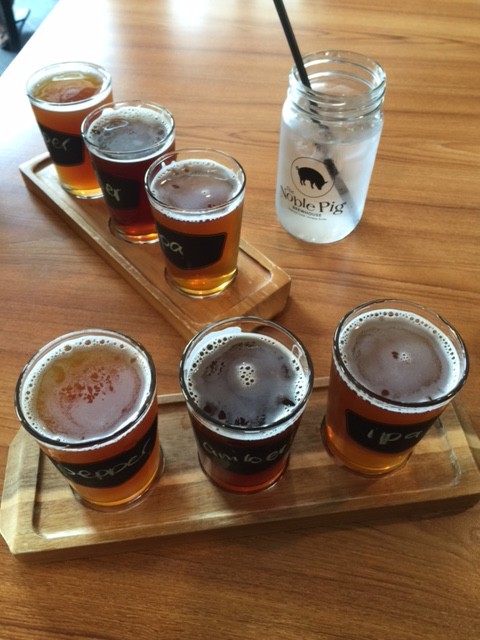 Sun Peaks craft beer & winery tours are for those who love wine.  Or beer.  Or better yet, both!
Divine Tours from Kamloops is offering a fall craft beer and local Kamloops winery tour, with pick-up and drop-off available in Kamloops or at your Sun Peaks Resort accommodation.
Put together your own group or join in an existing group, and enjoy some of the finest local wines around along the burgeoning Kamloops Winery Trail, and some tasty craft beer from two of the most popular local breweries in Kamloops - The Noble Pig and Red Collar Brewing.
Perhaps you will even experience the extraordinary Kamloops Hoodoos as you travel to Harper's Trail Winery, and then carry on to the beautiful Monte Creek Ranch and Winery, and your tasting fees for both are already included in your price.

Just one of many fun, fall activities to do while enjoying the beautiful outdoors at Sun Peaks Resort during the quiet, fall season.


---
---
Winter Driving Rules Start October 1st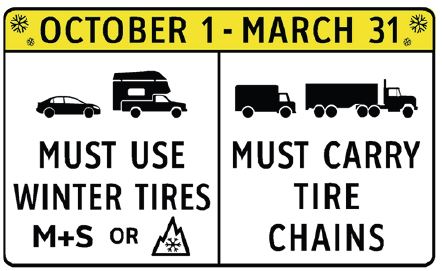 Remember if you're driving to Sun Peaks, make sure your car has proper tires with good tread, and possibly consider having chains in the trunk.
During the period October 1 through March 31, winter tires with the mountain snowflake logo or M+S tires with a tread depth of at least 3.5mm all over must be used when driving through the mountain passes. 
Drive to your comfort level, keep a safe distance behind the car in front, relax and arrive safe.
Have a wonderful, Best Sun Peaks vacation!
---
Wineries, Waterfalls & Sun Peaks - Spring through Fall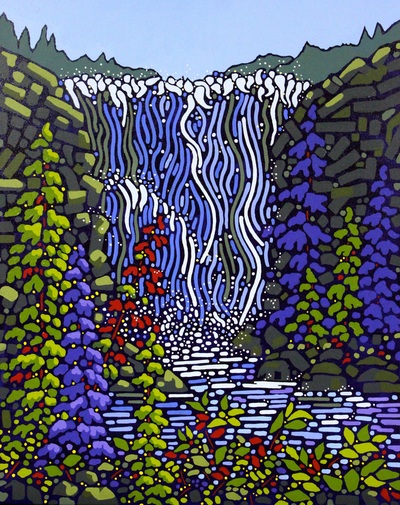 Sun Peaks Winery and Waterfall Tour
Like wine?
Like waterfalls?
Love Sun Peaks?
Enjoy all three with a custom Okanagan winery and waterfall tour with pickup and drop-off available right from your Sun Peaks accommodation.
Available Spring through fall subject to availability.
Great fun individually or as a group - explore local Kamloops wineries or travel further to the southern Okanagan.

Just one of many fun Spring Activities available now at Sun Peaks Resort.

Like beer?  How about a Craft Brewery tour instead or also?

---
Delightful, Delicious and no Dishes - In Home Catering Comes to Sun Peaks

In-Home Fine Dining & Catering - photo courtesy Bottoms
Make your Best Sun Peaks Vacation even more special with this new addition to Sun Peaks catering Services.

For groups of 8-25 people, the professionally trained chefs from Bottoms Sun Peaks Catering, who share a passion for fine dining, can customize a 5 course meal for your family and/or friends, and serve it to you in style wherever you are staying at Sun Peaks, whether it is our Best Sun Peaks condo in Stones Throw or not. 
All the details are taken care of, from discussing your needs and finalizing the menu, preparing and serving the food, to cleaning up and leaving you to just enjoy the rest of the evening.
The food is prepared to your specifications, beautifully presented, and full of incredible flavors.

You can even organize an après-dinner  Sun Peaks in-suite massage too if you want to really make it a memorable evening!
Or book a private, custom Kamloops or Southern Okanagan area winery tour with pick-up/drop-off from your Sun Peaks lodging, pick up some fine local wines, and return to an exquisite, gourmet dinner.



---
Things Are Heating Up At Sun Peaks Resort
Stones Throw in Winter at Sun Peaks
It's wintertime at Sun Peaks Resort but things are heating up.  Heating up in a good way, that is!
Fantastic early conditions at Sun Peaks Resort allowed the resort to open a day early this year, and also brought a record number of people to the resort on Monday, December 7th for Toonie Day!...
We were so happy to be able to take advantage of this fundraiser day for Sun Peaks, where $2 and a non-perishable food donation gave over 4,600 visitors a wonderful day on the slopes and a donation of over $8,500 and 3,500 pounds of food to the Kamloops Food Bank.
Despite the record numbers, the snow remained fantastic through the whole day, line-ups on the slopes were minimal and we didn't even notice how busy the resort was until the end of the day when we saw how many cars were parked here, there, and wherever they could by the local day-trippers!
With another record setting number of summer visitors last summer, this four-season resort is quietly growing into the Master Plan that was established for it a number of years ago. And with plans to double their size over the coming years, this resort will only keep getting better.
And perhaps the other Best Sun Peaks news, the real estate market at Sun Peaks is also heating up for some types of properties. With more and more families and retirees looking for the relaxed lifestyle with endless year-round recreational opportunities that Sun Peaks offers, sales of single family homes increased 63% over the same period last year. The average price was also up 32% to over $700,000.
So is this a good time to buy at Sun Peaks? We still think so and would love to add a Best Sun Peaks townhouse to our offerings!
We are already getting inquiries for our Best Sun Peaks condo for Christmas 2016, so if you are thinking about a wonderful Christmas family getaway to Sun Peaks - think about booking now!


---
---
Unique Experience at Sun Peaks - Evening Fondue and Descent
We celebrated Nancy's birthday last year with the Sun Peaks Evening Fondue & Descent and loved it!!
While everyone else headed back to their lodging at Sun Peaks, we strapped on our skis and headed up to the Sunburst Lodge for the unique Evening Fondue and Descent into darkness.  There, the staff and local volunteers treated us with tasty meats with a hot broth, and bread with melted cheese.  Live music played in the background while we chatted with new friends.  Then the plates were cleared and dessert was brought out - a big tray of fresh fruit and a pot of delicious dark melted chocolate. :)
Once we were done, we strapped on our headlamps, joined our guided group, and skied down the freshly groomed '5 Mile' ski run.   
The clouds parted, the stars led our way, and it was a beautiful, memorable, Best Sun Peaks winter experience.

Create your own memories with one of many fun winter activities at Sun Peaks this season.


---
Is this a good time to invest in real estate at Sun Peaks?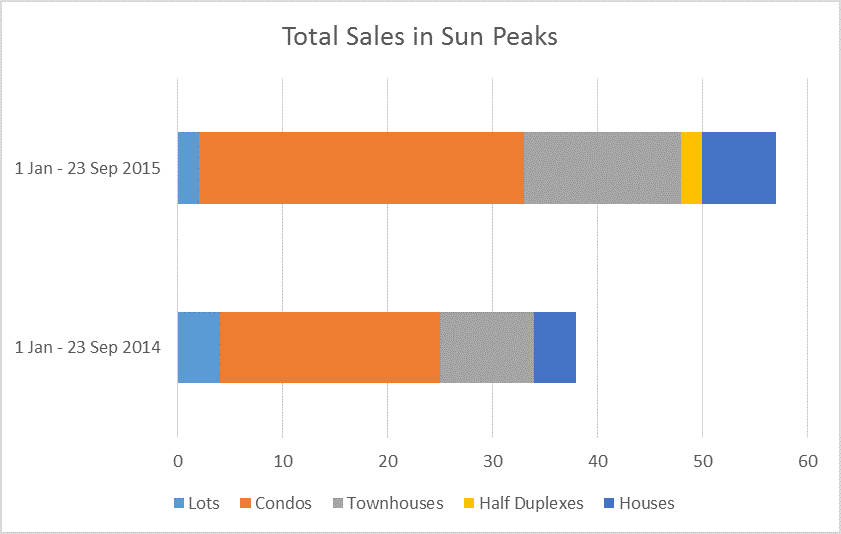 Property sales at Sun Peaks - courtesy Sothebys
We sure think so and are so glad we did!  In fact, we couldn't be happier with our decision to buy our Best Sun Peaks condo and are thrilled with the rental results so far (and all the wonderful guests we have met from around the world).
According to our friend Liz Forster from Sotheby's, Sun Peaks property sales as reported on the MLS system have seen a 50% increase over the same period last year.
After searching all the MLS sold listings at Sun Peaks Resort between 1 January and 23 September in both 2014 and 2015, they found there were 38 total sales between 1 January and 23 September 2014, compared to 57 total sales in the same period this year.   In particular, single family residential sales are up by 75%, townhouse sales increased by 67% and the number of condo sales rose 48% over the number of sales in 2014.
Do you love keeping fit year-round in the outdoors and want to invest in a Sun Peaks recreational property? 
We sure do and are thrilled with our investment at Sun Peaks, and love every visit and watching the resort grow!
We can recommend a great rec property mortgage broker too if you wish.
---
Monte Creek Winery and Kamloops Wine Trail Open For Business
Monte Creek Winery - Tours Available From Sun Peaks
Monte Creek Ranch Winery is the newest and perhaps largest entry into the new and exciting Kamloops Wine Trail, joining Privato Winery, Harper's Trail Winery and Sagewood Winery as one of the Kamloops area wineries available for tours from Sun Peaks.
These four wineries, with more expected to open in this emerging wine region in the future, each have something unique to offer and are well worth the visit.  Their wines are all earning awards and kudos from experts, locals and visitors to the Kamloops and Sun Peaks areas.
Join a pre-scheduled group winery tour or customize your own as part of a special celebration, group event, or corporate team building experience. 
Pick-ups and drop-offs are available from Kamloops or from your accommodation at Sun Peaks Resort. 
Click our Sun Peaks Winery Tour page for more details.  Craft beer tours are also available for those that prefer barley and hops, or combined tours can be arranged.
Cheers :)


---
What's New - Sun Peaks 2015/2016 Expansion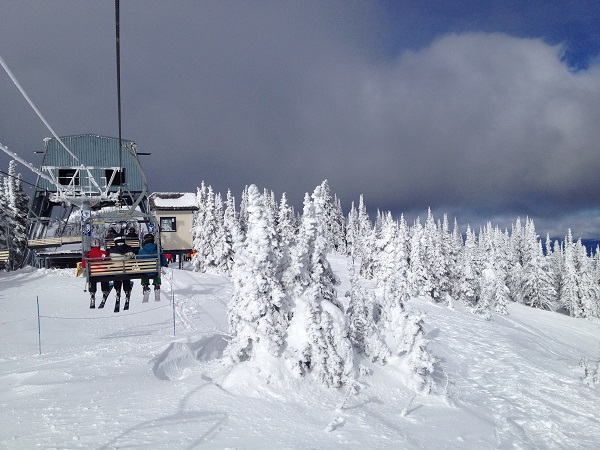 2015/16 Changes at Sun Peaks Resort
Summer 2015 at Sun Peaks saw the introduction of a new downhill go kart track which proved instantly popular, more  great concerts and events, and a 20% increase in hotel room reservations.

And while we were hiking, biking, SUPing, sipping, and hot-tubbing, the hard-working crew at Sun Peaks were busy with the following projects for the 2015/16 ski season:

- In conjunction with moving forward with their master development plan as well as dealing with beetle-killed wood (forestry management), they continued trail development in the 'Laundromat ' section on West Morrisey.  The problem remains that these new black and double-black trails result in a shuttle bus back to the village and we are still waiting for a new chairlift to be built to properly service this area.

- Best Sun Peaks powder??  Visitors won't know where to go to enjoy the best snow regardless of the conditions, but local experts do.  So now, in addition to the popular All Mountain Skills Camp that I put my son in (and he loved it!), there is a Private 'Best of Sun Peaks' tour where one of Sun Peak's best instructors will take guests to the best 'secret' spots that day, and ensure they are safe yet challenged and entertained.

- Last we heard, a new, Olympic-size skating rink was being built near Parking lot 5, which was going to include under-ice refrigeration which would help ensure better ice conditions in the warmer and/or shoulder season days.

- Consistent with being a very family-friendly resort, Sun Peaks will be expanding their learning area for newbies (3-7 year olds).  While they are already known for their excellent ski instructors, no matter your ski-abilities, they are adding an improved area next to the Sunburst chairlift.  It is a nice, gentle slope and will include a carpet lift.

- Too old and too cool for the tot section?  How about the new 'too cool for school' (our label – not theirs!) program for 13-18 year old teens?  Learn how to handle the powder-filled Gil's gladed areas, or learn how to be super cool in the Sun Peaks Terrain Park.

- Ski Sisters, with no brothers, offering programs designed just for women, will be doubling their sessions with programs 2x per day, 6 days/week.

- We're #2!! And love it!  Some may ask why Sun Peaks doesn't do 'this' like Whistler does?  But most say, I love Sun Peaks because it's not Whistler!!   Whatever your preference, enjoy the 50% off lift pass reciprocal agreement for season ticket holders by planning your Best Sun Peaks ski vacation around the expanded shuttle bus program which will now take you between the two resorts 3 times/week.  Leave Sun Peaks after a morning ski and arrive in time for dinner and a beer, or leave Whistler after early in the morning and arrive at Sun Peaks in time for an afternoon ski and then, well, another beer.

More to come but it's time to have a word with the 2015/2016 ski season snow gods……


---
        Perfect Condo For A Golf Getaway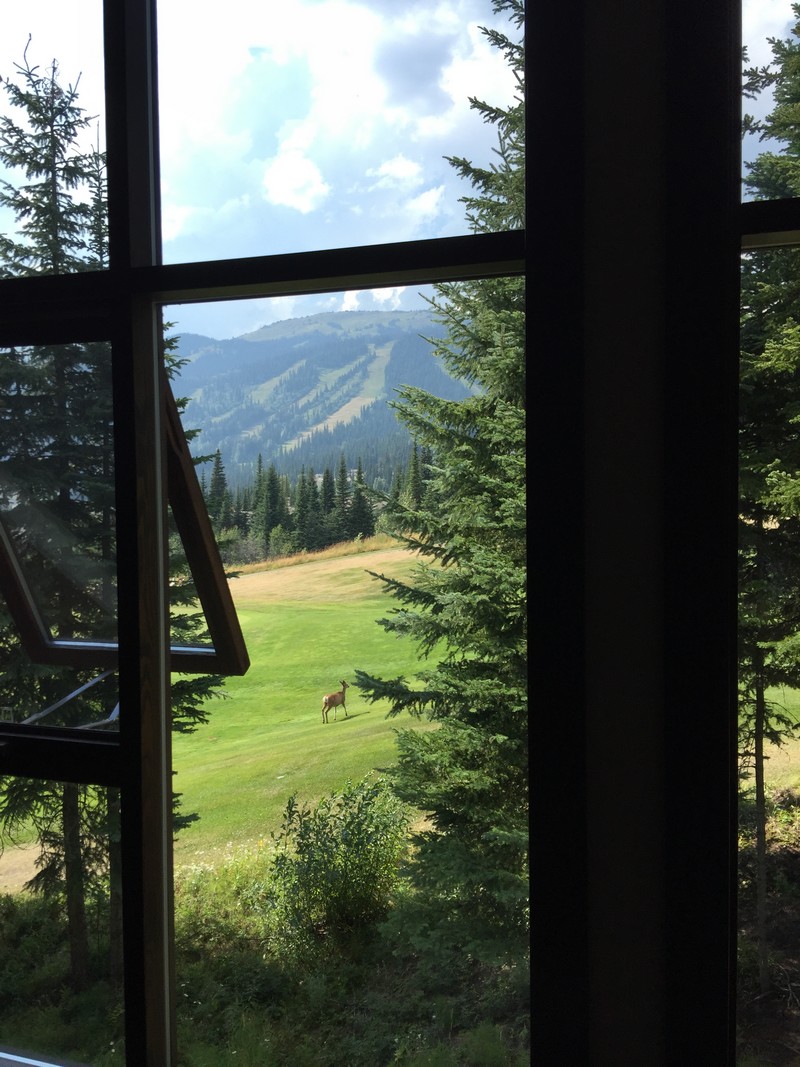 Deer on 16th fairway - view from Bestsunpeaks.com condo
Perfect condo for golf getaway at Sun Peaks (and for deer apparently too!)
This review was left in our guest book by our most recent guests - thank you very much to them for their comments and for staying at our BestSunPeaks condo in Stones Throw, overlooking the 16th fairway (highest elevation tee off in BC)..

Dear Nancy and Paul
Perfect condo for a golf getaway holiday!  The hot tub was a welcomed sight when we came back "Home" from 2 rounds of golf each day.
Your kitchen is very well stocked with spices and a variety of kitchen knives.  We too are 'foodies' and appreciate what you provide your guests.
Your restaurant reviews brought us to a great restaurant and the food was delicious!
We will highly recommend your condo to our family & friends.
Thanks,
Trevor & family, Burnaby, BC - July 2015
---
        Sun Peaks Go Karts are Instantly Popular!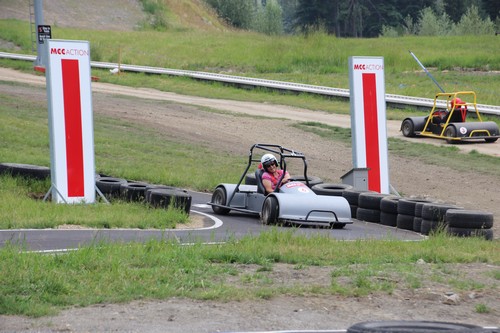 Race to the Finish Line and have a blast doing it!
"Wild" and "Awesome" were some of the initial comments as adventurous Sun Peaks staff were the first to try the new Sun Peaks Mountain Cross Go Carts and now all ages (over 14) are testing their skills.
These gravity-fuelled go karts are the first of their kind in North America and opened on June 26, 2015, just in time for the summer kick-off celebrations.
The rules have eased - Must be a minimum of 14 years of age AND 150cm tall to participate, but no drivers license required!

Lift accessed mountain bike trails, the Sun Peaks bike park, and lift accessed hiking trails also open inearly summer, just as a heat wave is expected to hit BC.
It is always cooler up at Sun Peaks so head up the hill to chill, and try the new go karts for a thrill!
---
Winery and Waterfall Tours from Sun Peaks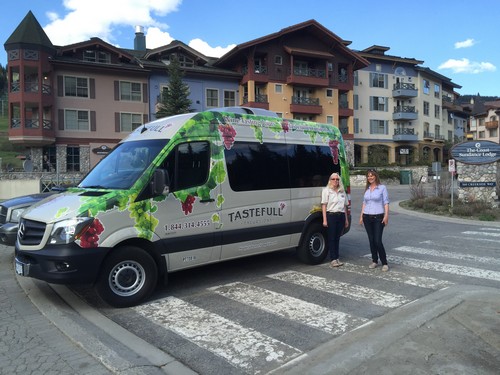 Pickup at Sun Peaks for Winery and Waterfall Tours
While there are no wineries at Sun Peaks Resort itself due to the elevation, certified and experienced tour operators from Kamloops can now arrange to meet in Kamloops or even pick up and return guests right from your Sun Peaks accommodation during late spring to early fall for Sun Peaks Winery and Waterfall Tours.
Our preferred tour operators can customize a tour to visit selected wineries, local waterfalls (there are two in the area) popular Kamloops brew pubs, a cider mill, and/or trendy café's and restaurants.
Half-day or full-day tour options are available from Kamloops or Sun Peaks, and visitors can experience popular or quickly-becoming popular wine producing areas.
Add on some golf, a massage, or other popular Sun Peaks Summer activities and have a wonderful Best Sun Peaks get-away.
Check out our luxurious Stone's Throw Condo or Trapper's Landing Townhouse or other Best Sun Peaks Vacation Rental By Owner options.

---
Sun Peaks Once Again A Top 10 Canadian Ski Destination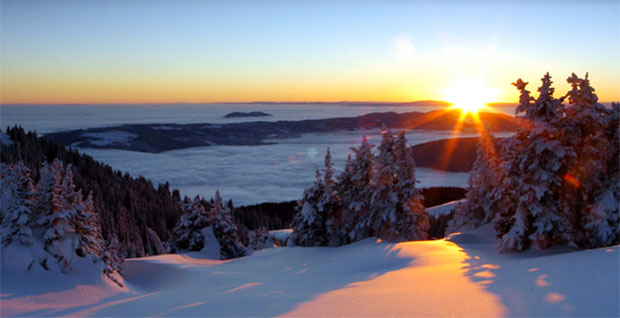 Award winning Sun Peaks - photo Sun Peaks/Adam Stein
Once again, Sun Peaks Resort is one of the Top 10 ski destinations in Canada as voted by Canadian Living.
Whistler Blackcomb, Fernie Alpine Resort, and Kicking Horse Mountain Resort also made it into the top 10.
And for those in the lower mainland or in Washington State who are looking for snow, we found lots at Sun Peaks!!
Save your ski season and save some money - head to beautiful Sun Peaks where the season has been extended until April 12th.
Head up the hill to chill at Sun Peaks Resort.


---
Sun Peaks Spa Express - New for those wanting pampering in a hurry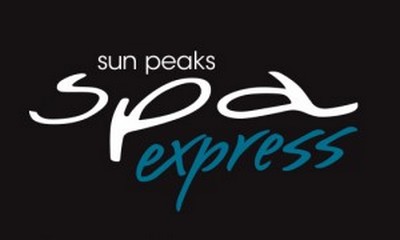 Sun Peaks Spa Express for pampering in a hurry
New for winter 2014 is the Sun Peaks Spa Express – located very conveniently in the heart of Sun Peaks Village in the Sun Peaks Grand Residences building on the ground floor.
Sister shop to the popular Sun Peaks Spa just around the corner in the Kookaburra Lodge, this express spa is for those who want some pampering but don't want to spend several hours in a spa, or to have a Sun Peaks mobile massage outfit like Hands on the Move come to their hotel room or vacation rental.


Quick, convenient and a treat for the body, this convenient Sun Peaks Express Spa location offers:
- Two hydro-massage beds
- Mini-manicure service (includes 10 minutes on a hydro massage bed)
- Mini-pedicure
- Express facial and
- Spa related retail products and gifts
Check them out in the village and pamper yourself - you're so worth it!!


---
Gil's Area Improvements at Sun Peaks Resort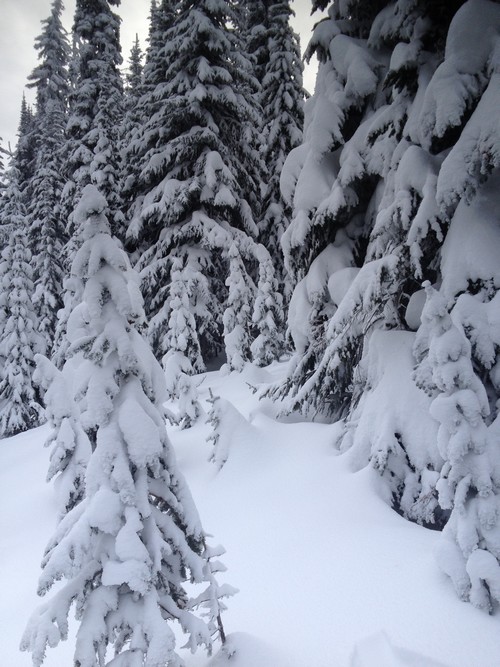 Gil's area improvements at Sun Peaks
With the Gils improvements and the expansion of the ski area in the western area of Mt. Morrissey, Sun Peaks has suddenly become the second largest ski resort in Canada in terms of skiable terrain.
We hiked back through the popular backcountry area known as Gil's during our summer hike to the summit of Mt. Tod, and could see that selective clearing was going on, and we are happy to announce the first changes to Gil's will be ready for the 2014/15 ski season upgrades.
Now it's not as if this is really 'new' skiable area, as many locals and adventure seekers have been slipping under the Sun Peaks ski boundary markers for years (most successfully, some not with search & rescue being called out several times a year to find lost skiers). 
This off-piste, gladed, powder filled Gil's ski area provides a wonderful ski experience for those skilled and trained, and a large section is now included within the patrolled ski area, which should help increase safety. It is considered by locals to b the best area for the freshest and deepest stashes of snow!
Things haven't changed in the Gil's too much, but the lower portion has been cleared to provide an additional 100 vertical metres which now connects to a new lower boundary trail. The new section isn't as steep as the upper Gil's, so boarders may need to work a bit to get to "The Other Way" (Blue run) which will take skiers back to the village.  Or you can also still exit the old way further up the hill to the main ski area.
By moving the patrolled ski area further out, Sun Peaks gets more varied in-bounds terrain, lost skiers will be minimized, and there is more fresh powder available for skiers that was previously also enjoyed by snowmobilers.
This new section is now called Inner Gil's Glades (closer to the resort) and the Main Face Glades (closer to the new ski boundary).
For those who want to try this exciting off-piste skiing out but don't have the necessary skills or safety training, Sun Peaks is offering two new courses this year – 'Beyond the Groomers Camp' (for steep terrain, glades, moguls and powder) and 'All Mountain Skills Camps' – check 'em out at Sun Peaks What's New.


---
Mt. Morrissey Expansion Update
Mt. Morrissey fall hike with view to Tod Mtn.
We just finished a fall hike on Mt. Morrissey and are pleased with the work accomplished this summer.
More work has been completed in this one short summer than since Mt. Morrissey opened in 2003 so well done everyone. We are thrilled to hear that our ski-in mountain just seconds away from our Best Sun Peaks condo and Trapper's Landing Townhouse, will be good to go with the new runs by the beginning of the 2014/2015 ski season. It's just too bad I'm not a Black/Double Black skier, yet.
The western face now features a new run known as 'Tumble Dry', which has been cut, cleared and smoothed from top to bottomand will be open for the beginning of the 2014/2015 ski season changes. It also now provides clear views of the Double blacks over on Mt. Tod (Burfield area) Freddy's Nightmare and Challenger.
You can either ski the full vertical and take the shuttle bus back to the village from Fairways/Mountain View Drive, or the connector further up and take Static Cling (Double Black) back to the Morrissey Express chairlift.
Another run, initially dubbed 'F', is now called 'Lint Trap' is being developed as well, but only the top part is ready for this season.

Two other runs, dubbed 'C' and 'D' will be partially ready for the 2014/15 season down to the Static Cling connector.
We can't wait to hear about the exciting new runs. But hopefully one day the new runs will be better serviced as the resort continues to grow.
Book your Sun Peaks winter ski holiday now and cross your fingers for the champagne Okanagan Pow to start falling.


---