Sun Peaks Ski Bikes - New Thrills For Going Downhill
Sun Peaks Ski Bikes are a new and exciting addition to the long list of winter activities at Sun Peaks.  They have been popular in Europe for years and are now quickly spreading to ski resorts throughout North America.
Also known as Sun Peaks snow bikes or Sun Peaks ski bobs, these unique-looking ski bikes combine the thrill & skill of alpine skiing with the movement of mountain biking.  They provide a cool way to enjoy the beauty of Sun Peaks and other ski resorts for those that can't ski, can no longer ski (the knees don't work like they used to!?), or just don't want to ski and prefer to give their muscles a break while challenging themselves and enjoying another exciting Sun Peaks winter sport.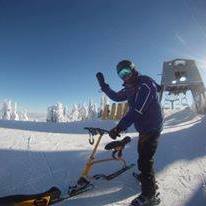 Snow-bikes - fun for all ages
The owner of these ski bikes, Lorne Bernstein, a gent in his mid-sixties, first tried ski biking in Europe while looking for something fun to do while his wife was skiing.  He had so much fun trying the ski bikes that he instantly began exploring the idea of bringing ski bikes to resorts throughout Canada.
Ski or snow-biking is fun for skiers, boarders, non-skiers, individuals, families, or small groups, with 8 ski bikes currently available for rent at Sun Peaks.
To ski-bike, you will need warm, winter clothes, a Sun Peaks lift pass, ski or snowboard boots (available for rent through Sun Peaks), and must be aprox. 12 or older due to the size of the bikes. 
We also strongly recommend using or renting a ski helmet for this and anytime you are on the hill.

Sun Peaks Ski Bikes Guided Lessons/Tour and Rentals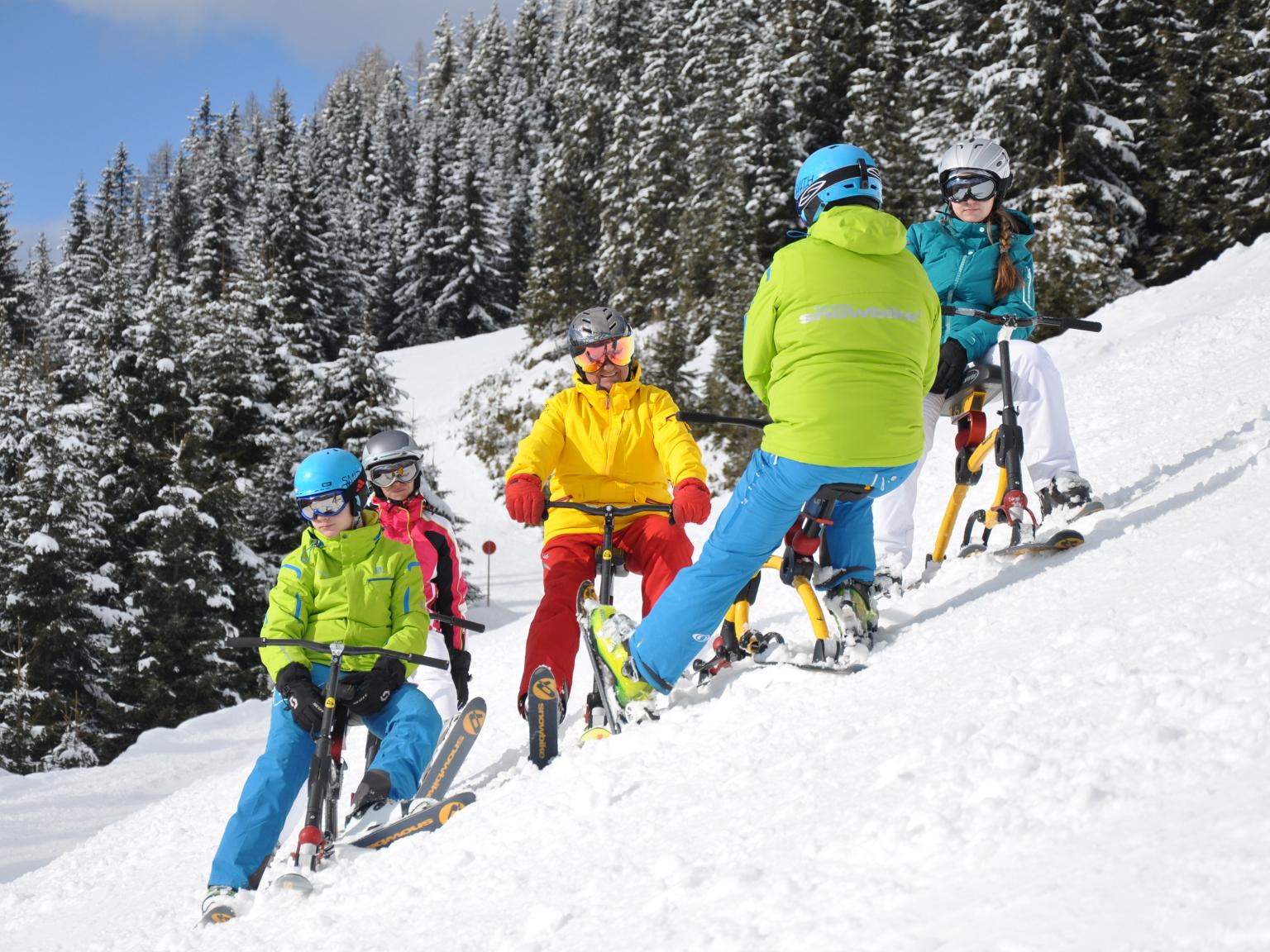 Sun Peaks Ski Bikes, Snow Bikes, Ski-Bobs for Downhill Thrills (photo Sun Peaks Resort)
Your ski bike experience and tour begins by watching a brief instructional video and then a practice session before hopping onto a chairlift with your ski-bike and your guide. The whole session lasts around 2 hours, and once completed, you are able to rent the ski-bikes without a lesson or guide for future fun.
And for those who are not able to ski bike but still wish to experience the thrill of skiing and explore the beautiful terrain and mountains, check out Sun Peaks Snow Limos where a trained guide will 'ski' you down the hill in style (non-skiers, individuals with physical disabilities, those that want to enjoy a Sun Peaks Evening Fondue & Descent but can't ski for whatever reason, etc.). 

For more information, or to make a reservation, visit the Sun Peaks Ski Bikes page, complete and submit the form below, or call 250-578-5399 ext 1, or 1-800-807-3257.



---
Enjoy Sun Peaks Snow Bikes
Return to Sun Peaks Winter Activities
Return to Sun Peaks Snow Limos
Book your discounted Sun Peaks lift pass
Book your Sun Peaks Vacation Rental