Sun Peaks Snow Limo Tours - Skiing for Non-Skiers - Returning for the 2022/23 ski season! 
Pampered and spoiled in a Sun Peaks Snow Limo
Sun Peaks snow limo tours - first class views and top-notch excitement for those who would love to experience the thrill of skiing the beautiful champagne-snow covered ski trails of Sun Peaks but can't for any number of reasons. After a 2 year hiatus due to covid, they are returning starting December 1, 2022.
No matter your age, athletic or physical ability, your professionally-trained chauffer will safely escort you up the chairlift, and then provide a guided, scenic tour along some beautiful vistas and down some wonderful, powder-covered ski runs.
You can literally sit back, relax, and enjoy the ride and amazing views!


---
        What is a Sun Peaks Snow Limo?
Experience the thrill of downhill skiing
It's not quite a luxury limo with snowmobile tracks or an over-stuffed recliner on skis, but it is a fun, comfortable, specially engineered sled/seat on skis that can provide a pampered ski adventure for just about anyone. 
Once you are snug under your warm cover (but you still need to dress appropriately for the weather and conditions) and securely buckled in, your professionally trained chauffer and guide will hop on the skis behind you, and as the snow-limo leans into turns just as skiers do, you will quickly experience why skiers are so passionate about their adrenaline-powered sport.
We recently met the owner of Sun Peaks Snow Limos, Robert Lueftner, while we were up enjoying the Sun Peaks Fondue and Evening Descent tour, and gathering information about the many winter activities and activities for non-skiers up at Sun Peaks.
Robert has owned the company since 2011, and has been working closely with inventor/engineer Tommy Chevrette who has been continually improving the look, feel and performance of the snow limo for a number of years to enhance the guest experience.  While Robert spends the winter season in beautiful Sun Peaks resort, his popular limo rides also operate in Big White near Kelowna and Grouse Mountain in Vancouver.


He is very excited about helping others to enjoy the thrill of skiing with his Sun Peaks Snow Limos, and also works closely with the wonderful, non-profit organization, Adaptive Sports at Sun Peaks, whose goal is to allow individuals with a wide range of disabilities to participate in adaptive snow sports and recreation programs at Sun Peaks Resort.
So skiers or non-skiers, able-bodied or disabled, young or old, can safely ski with their friends or family and experience the exhilaration of a gravity powered descent down some of the most beautiful spectacular trails around, right down to the base of the village.
Prices start at around $59 (prices to change seasonally) and the four following tours are available. Taxes (and tips) are extra and rides are subject to weather conditions and availability so be sure to book ahead and join in the fun: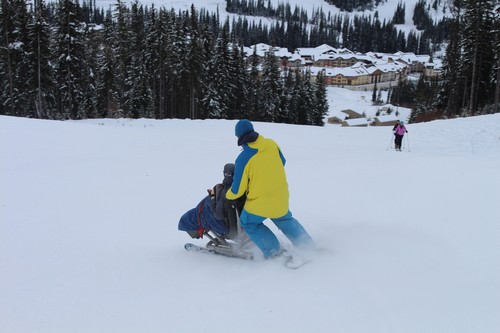 Sun Peaks Snow Limo right down to the village
Sundance Five Mile Saunter Tour                        $59.00
Depart from the Village Day Lodge, and you'll enjoy a ride up on the Sundance chair and then get to experience the breathtaking beauty of the Sun Peaks mountains by going on a scenic run down the Homesteader run, which later on will merge onto 5 Mile. It's a fun ride with an unbelievable view!

Hit the Slopes Sundance Explorer Tour                   $109.00
Depart from the Village Day Lodge and explore the mountain via the Sunburst chair for the first descent down the Cahilty/ 5 Mile trail. And then head up the Sundance chair and do various runs tailored to the level of your comfort and desire. This tour will be approximately 60 minutes long. Definitely bring your camera!
Otchuka's Secret Tour                $199
Otchuka's Secret gives you the possibility to discover most of the beginner and intermediate terrain on infamous Tod Mountain as well as Sundance Mountain over a two hour period. The tour features the similar terrain as Hit the Slopes Tour and also explores other great scenic areas of the resort. 
Fondue Dinner and Evening Descent    TBD

This is the ultimate combination of exhilaration, scenic beauty and a delicious fondue dinner and dessert, accompanied by live music. The Fondue Dinner and Night Descent takes you up by chairlift to the newly renovated Sunburst Bar + Eatery, where you will be treated with a delicious cheese, broth and chocolate fondue. After dinner you will be chauffeured down the lantern-lit 5 Mile Run back to the village in your own personal Sun Peaks Snow Limo.
Snow Ghost and Top of the World Tour - Beautiful 1.5 hour tour of the upper alpine area and the famous Sun Peaks Snowghosts - $159
To learn more about Sun Peaks Snow Limos, contact Robert or MIke by completing and submitting the form below, enquire at the Sun Peaks Activities Centre located in the Village Day Lodge, or call Sun Peaks at (250) 578-5542 to book.


---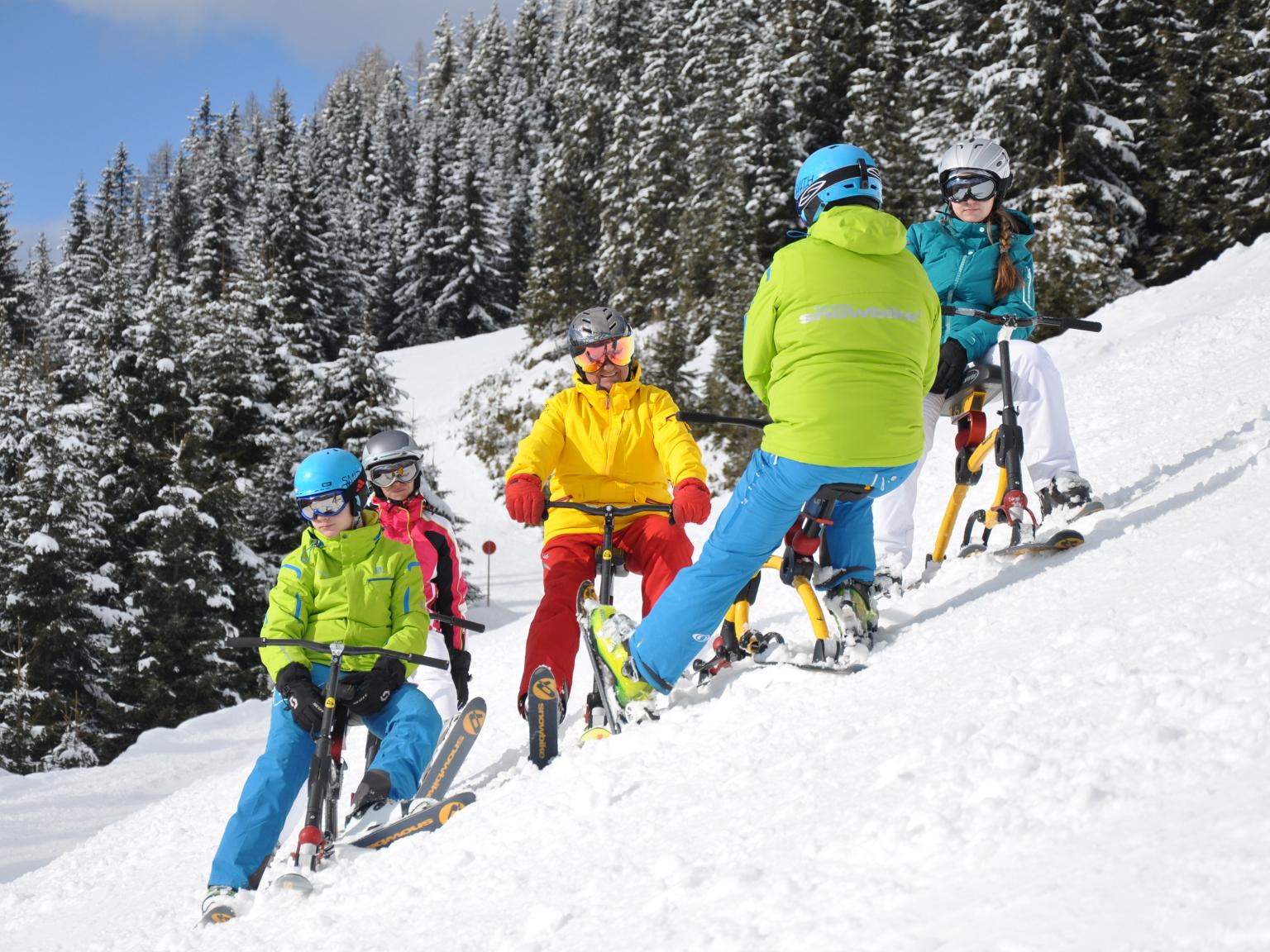 Try Sun Peaks Ski-Bikes for sit down skiing thrills (photo Sun Peaks Resort)
Another exciting exciting winter activity option now available at Sun Peaks that suits both skiers and non-skiers is Sun Peaks Ski-Biking.

Also known as snow-biking or bob-skiing, these bikes are a fantastic way to sit and ski while enjoying the thrill of the hill and the beautiful scenery in a new and exciting way.  Check it out!
---

Return to Best Sun Peaks Winter Activities
Return to Best Sun Peaks free and low-cost activities
Return to Sun Peaks Ski Bikes
Return to Best Sun Peaks Skiing and Snowboarding

Return to Best Sun Peaks Home page
Book your Best Sun Peaks Vacation Rentals
Snow Limo in Sun Peaks Resort from Snow Limo Tours on Vimeo.