Sun Peaks Tube Park - Awesome fun for all ages!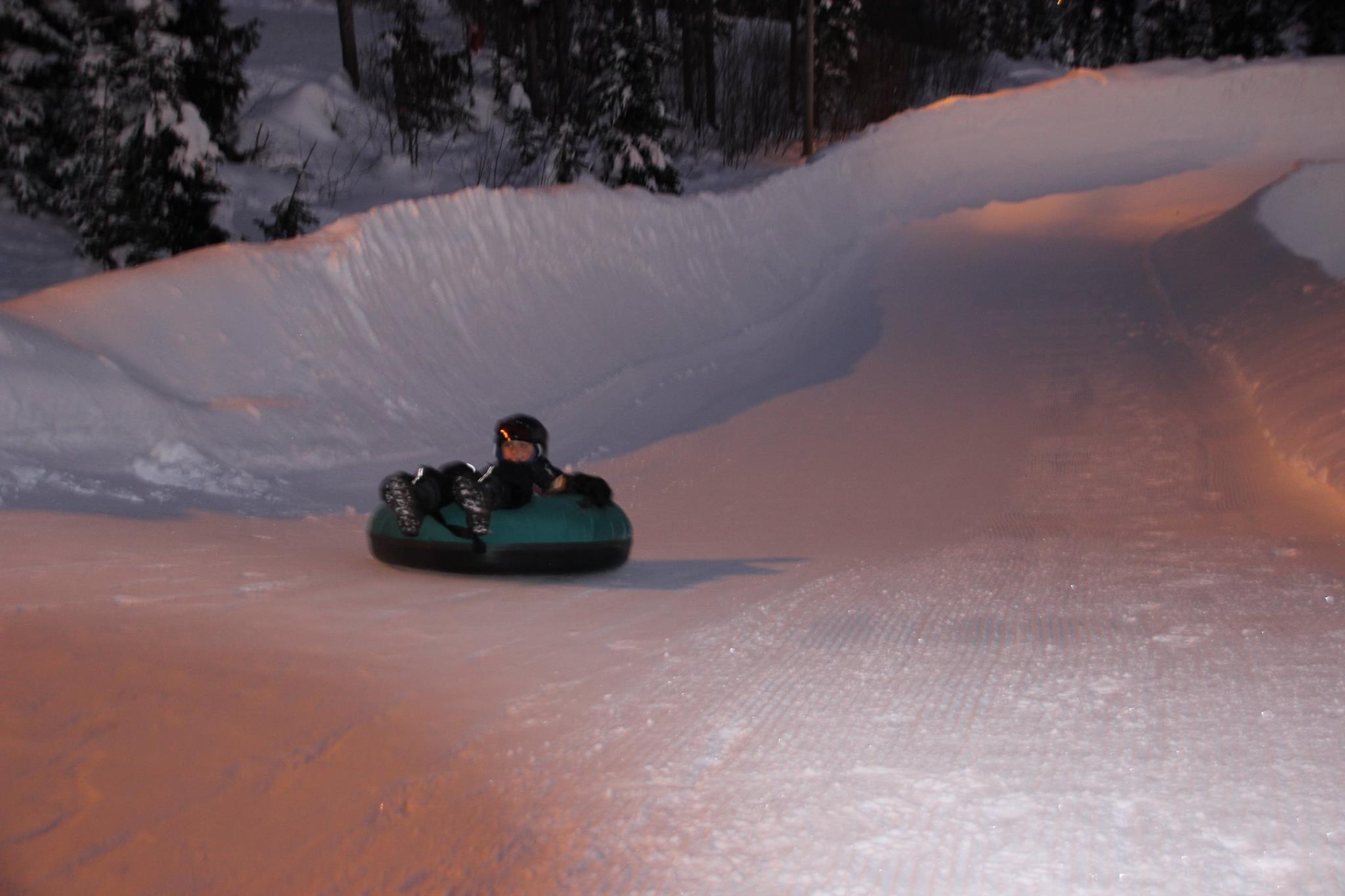 Liam Enjoying the Sun Peaks Tube Park
There is a cool little Sun Peaks Tube Park that many visitors don't seem to know about. 
We knew for years that they had one, but we never saw it during our Sun Peals travels.  So while up enjoying New Years at Sun Peaks, and with the urging of Nancy's 8 year-old, we went looking.
As it turns out, Tube Time is just up the hill from the village, and is accessed via the Village Carpet Lift at the base of Sundance Mountain, near the bunny hill (In between Cowabunga and Sunbeam Trails, and Gentle Giant).  
Once you get to the top of the first carpet lift, grab a tube if there is one lying around, and then continue up the Tube Time Carpet Lift.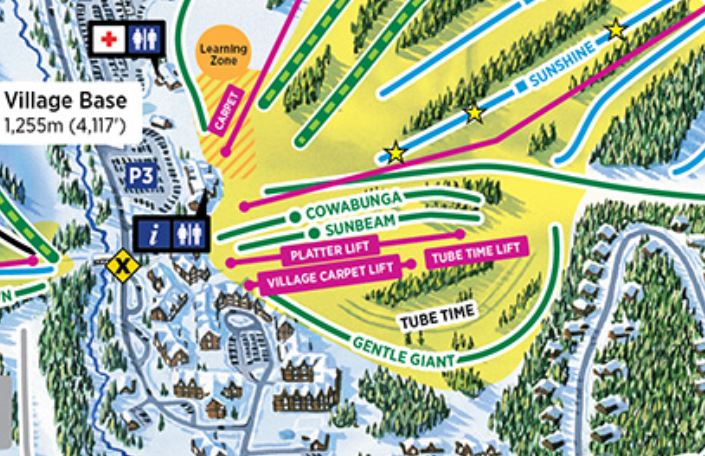 Location of the Sun Peaks Tube Park
The Park isn't big by any means, and is much smaller than the ones we've experienced at Whistler and Big White. 
But it is super fun! 
Even after a full day of skiing, we had to literally drag Liam away, much to his disappointment and that of all the new friends of all ages that he met while waiting in line.
In the words of Liam and the other kids and adults we talked to, it is "awesome!!" 
This family video we came across will give you a general idea of how fun it is:


How Fun is the Sun Peaks Tube Park?  Watch this and see...
There are two curved tracks with high berms, and the hard-bottom tubes get going at a pretty good clip. 
Tots to teens and even parents and grandparents seem to love it and we will be trying it next time we are there. 
It is lit at night so visitors can play after the ski runs close, and there is music playing and a nice wood burning fire pit at the top to keep you warm in between runs.
It is open daily from noon til 7 pm as long as the weather is acceptable, and you need to buy your pass from Guest Services, a lift ticket window, or Elevation Equipment rentals ahead of time.  
Adults can go up the carpet lifts to accompany their kids without needing a pass – they just have to watch the fun instead of participating.
Note to adults - the carpet lifts can be a little 'interesting' after a few drinks and can sometimes come to a quick stop - be careful!!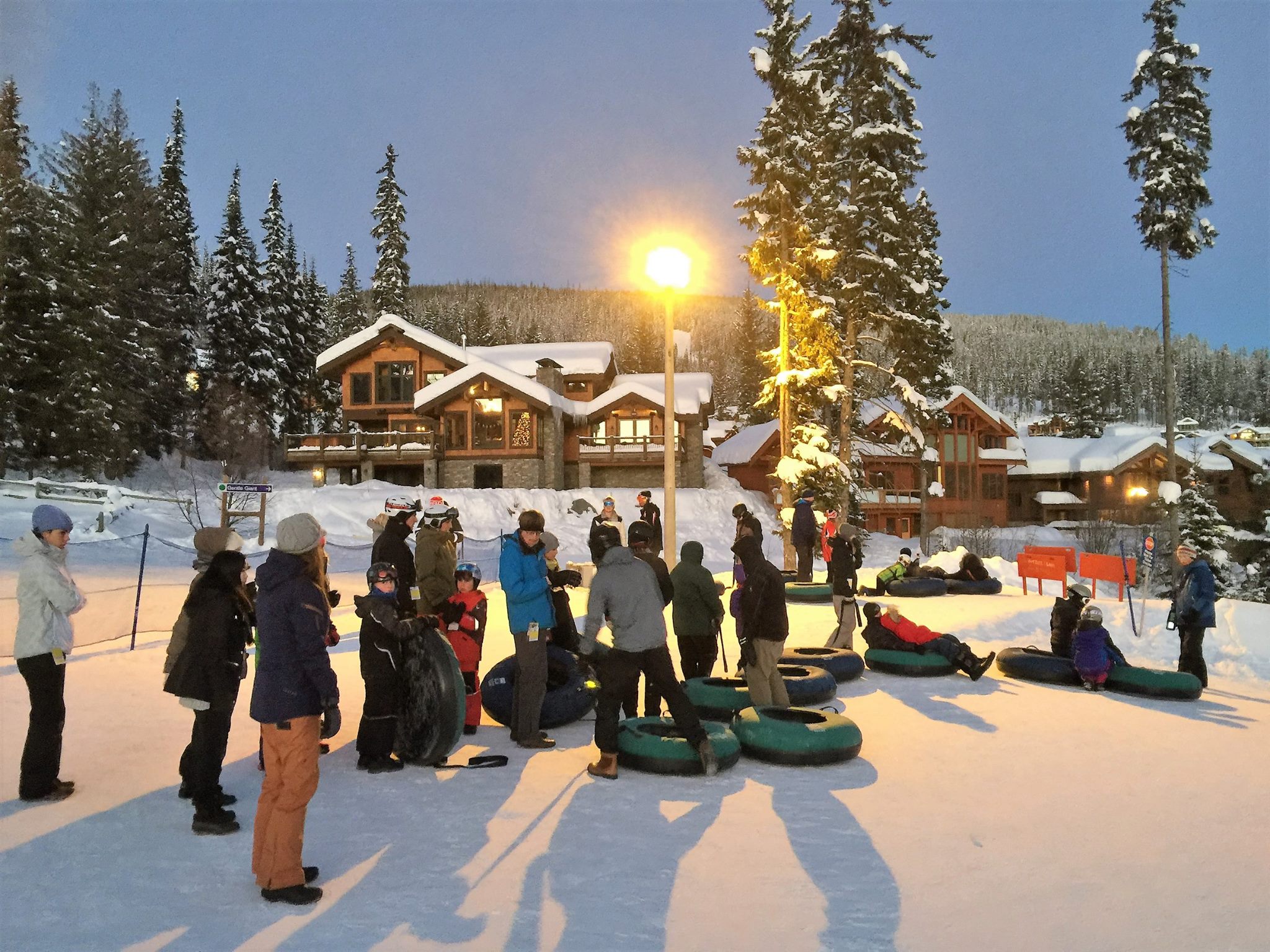 Line up for the Tube Park

Click for more information about the Sun Peaks Tube Park – another Best Sun Peaks winter activity!
After a full day of skiing and then two hours of tubing, we can't wait to hit the hot tub!!


Return to Best Sun Peaks Winter Activities
Return to Best Sun Peaks home page
Book our Stone's Throw condo - we think one of the best in Sun Peaks