BestSunPeaks Condo, Stone's Throw - Sun Peaks, 3 Bedroom - Awesome Ski-in/Ski-out Location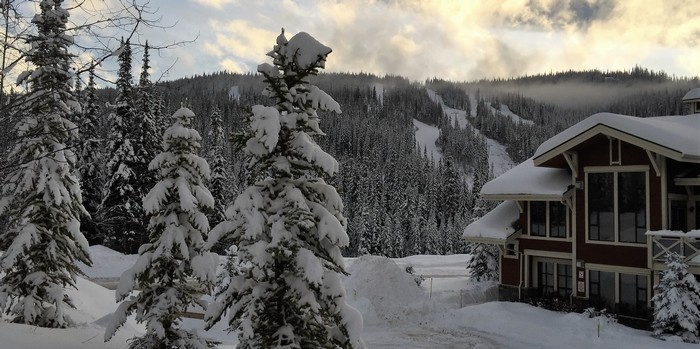 ---
Welcome To Our BestSunPeaks Condo in Stone's Throw with 3 Bedrooms, Sleeps 8 (max), with 2 Bathrooms, Luxury Upgrades & Private Hot Tub with Spectacular & Private Mountain Views and Easy Ski-in/Ski-out


---
Stone's Throw living room window view of the new Orient chairlift (zoomed)
Welcome to our wonderful Sun Peaks Vacation Rental condo in the popular Stone's Throw condo complex at Sun Peaks Resort.
Beautiful and luxurious with spectacular views, we believe this is one of the best Sun Peaks condos in one of the best ski-in AND ski-out locations at Sun Peaks Resort, and thankfully our guests all agree. 
Especially after the new Orient chairlift started turning December 2018, which will provide even easier access to Sun Peaks Village.
Our two level condo offers a large, open living room with a 20 foot high vaulted ceiling, 2 comfortable bedrooms plus an upstairs private enclosed loft, 2 full bathrooms, a fully equipped and upgraded kitchen with heated slate floors and stainless steel appliances, along with amazing private views of the golf course and both Tod and Sundance Mountains, and an upper deck with a private hot tub. 
The layout of this BestSunPeaks condo is perfect for couples, families, or perhaps even two families with young children, and the upstairs loft is a huge hit with both parents and kids who love having the room to hang out and read, watch movies or play video games on the PS3 gaming system that we provide.
---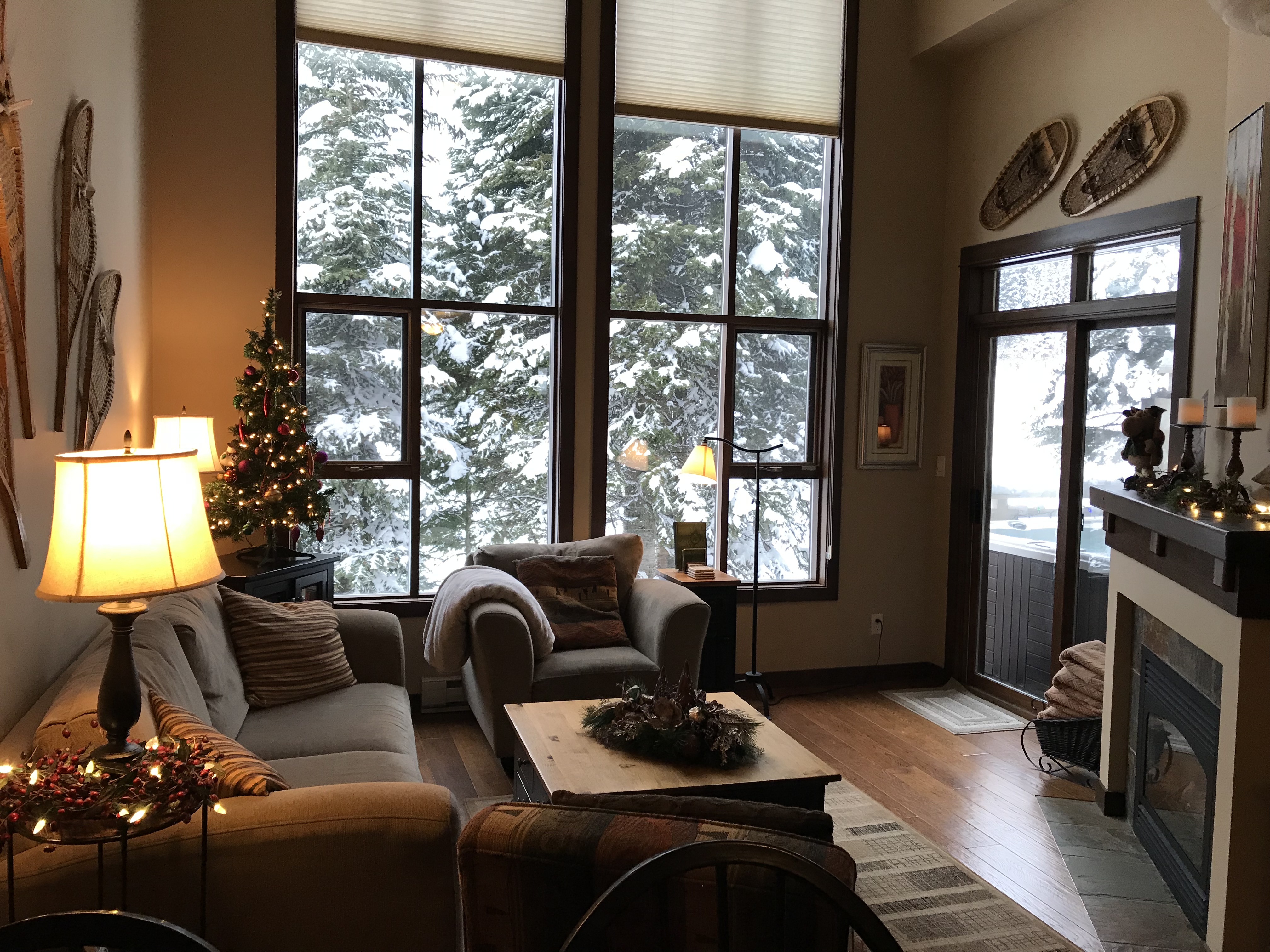 Holiday time in our Stone's Throw condo in Sun peaks
The condo backs onto the 16th fairway of the Sun Peaks Resort Golf Course, which is considered to be the highest elevation tee in British Columbia.  In winter, the fairway right behind our BestSunPeaks condo becomes a one minute ski down to the Morrisey Express chairlift that will whisk you up Mt. Morrisey to begin your day on the slopes or to the new Orient Express chair.  The complimentary toboggan hill is right across the street too and we supply the toboggans.
It is very affordable and is just minutes away from the quaint, European style Sun Peaks village, and includes 2 reserved parking spots in the heated, underground parking area (one Stone's Throw garage door is 6'8", and the other door is 7'6" - plenty of room for most vehicles, including trucks/SUV's with ski carriers on top).
Overall, a great experience.  Everything is so close and convenient to our Stone's Throw BestSunPeaks condo, so you can easily park your car and not need it until your Best Sun Peaks vacation comes to an end.
For a quote for our Stone's Throw condo, complete the form below: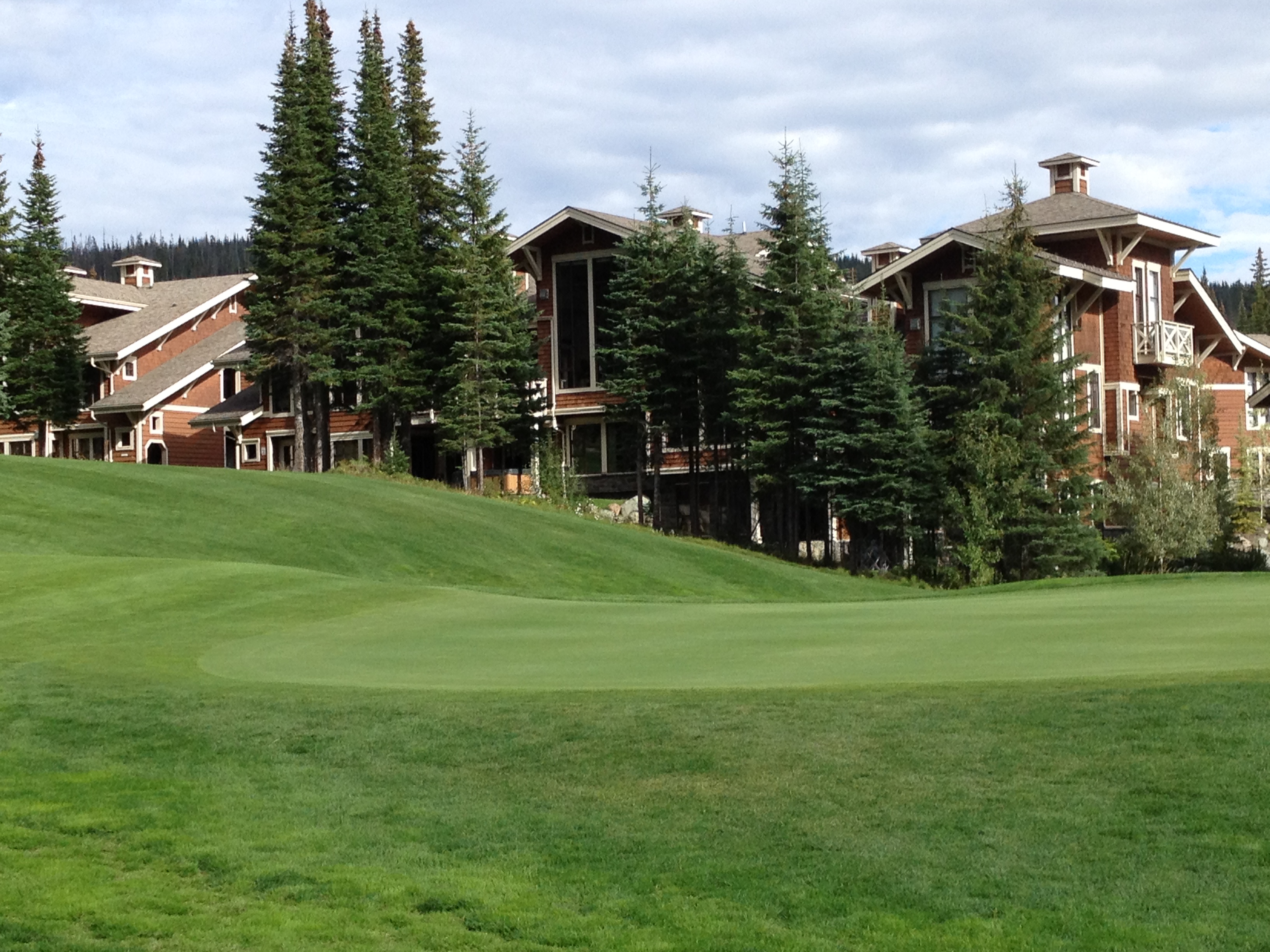 Stone's Throw condo backing onto the 16th Fairway - highest elevation tee in BC!
Click to see the Top 10 reasons people love our Sun Peaks condo.
Click for BestSunPeaks Condo Guest Reviews
Click for Stone's Throw Condo Photos
Click for Stone's Throw Condo Rates
Click for Stone's Throw Condo Calendar
Click to review our Houfy Sun Peaks condo listing

---
 BestSunPeaks Condo Reviews
We do realize that you can't please all of the people all of the time, but we promise to do our very best to ensure you are happy.  We have tried to think of everything that you may need, and also listen carefully and respond to the feedback from our guests. Thankfully, as a result, we have over 60, and climbing, Five Star reviews from our satisfied guests.
A few excerpts follow, and full, detailed reviews can be found on our Stones Throw Condo Reviews page.


One of the Best Places for Families to Stay at Sun Peaks!   Thank you for a wonderful stay at Sun Peaks. Last year we skied at Silver Star and the year prior to that we spent a week at Big White. We like to try a new ski area each year and Sun Peaks came highly recommended to us.   We loved every minute of our time there. Your condo was perfect - we think you have one of the best units there - amazing views and so private. We settled in quickly and felt very much at home.   We will definitely be in touch for our next Sun Peaks trip.   Nicole D. March, 2018


We spent five nights here for a family ski vacation at Sun Peaks. The condo is indeed Spectacular. We enjoyed waking up to the view of Mount Tod in the morning through the huge windows and ending each day with a soak in the private hot tub. Being able to ski-in/ski-out meant everyone in the family was able to start and end his/her time on the slopes independently. The BestSunPeaks condo in Stone's Throw was clean, quiet, comfortable, well decorated and very well equipped for cooking and relaxing with books, games, and movies. We had a fantastic stay!  

Daniel B., March 2017




Thank you both for sharing your beautiful & cozy get-away home in Sun Peaks Stone's Throw with us! The view and location is amazing, and the high ceilings and huge windows are amazing, and the easy ski-in/ski-out to the Morrisey chairlift make this the perfect place!  Alain & Jean-Pierre, April 2016


Thank you for sharing your BestSunPeaks condo with our family.  We had the best time ever!!  The condo had everything we needed and is very well equipped.  We also loved the hot tub after a great day of skiing!  This was one of our best holidays we have ever had!  We Love Sun Peaks and look forward to coming back again soon.  Thanks again!!  Troy and Marg V.  March 2016


This was so much fun!  The condo is gorgeous, the village is so cute, and the stores are great.  My favorite things are the huge windows and tall ceilings, and the kids room upstairs was super nice.  By the way, Sun Peaks is way, way better than Big White and Silver Star!!  The Kings (from Kelowna) - February 2016


---
     BestSunPeaks Condo Photos - Sun Peaks Homeaway From Home
Click the image below to view our Best Sun Peaks Stone's Throw photo album.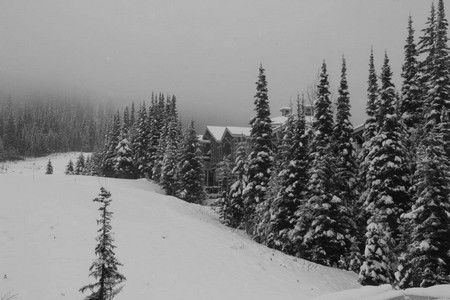 - Trees separate our BestSunPeaks condo from the golf course/ski run and provide beautiful views and privacy
- Always something to see, anytime of year. Watch the deer or the bears, watch the Sun Peaks golfers or watch the Sun Peaks skiers head off for a fantastic day of skiing
- Spectacular views of Tod Mountain through the 20 foot high windows and from the private hot tub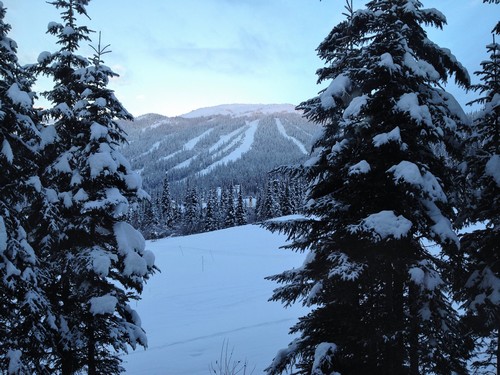 - Step right behind the building, step into your skis or snowboard, and ski right down to the Morrisey Express chairlift or the new Orient Chairlift, where the line-ups are minimal, and the skiing is wonderful
- At lunch or at the end of the day, head over to Sundance Mountain, follow Rambler to the East Village ski-way, hang a right at Fair Dinkum, and ski right back to your BestSunPeaks condo backyard where you started 
- Directly across the road is the free-to-use toboggan hill for the kids, which also makes for a cool little bike park for the little ones in the summer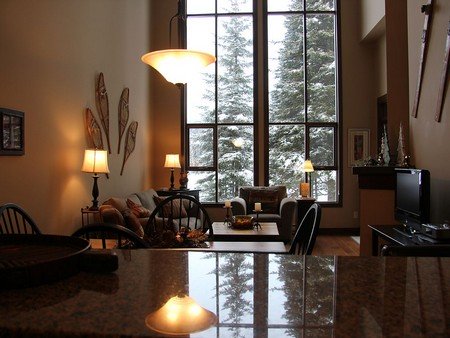 - Also across the road is the Nordic skiing hut, the McGillivray Lake pathway for walking or biking, and easy-access to the Snowshoe trails.

- The view from inside is equally as beautiful, with 20 foot high vaulted ceilings and windows, hardwood floors, granite counter tops, access to the private hot tub, and comfortable seating for up to 8 guests.
- The family room also has a gas fireplace, widescreen tv with a PS3, Netflix, stereo docking station, books, games, puzzles, dvd's, video games, playing cards and cribbage board, and lots of Sun Peaks information brochures to help the whole family enjoy their downtime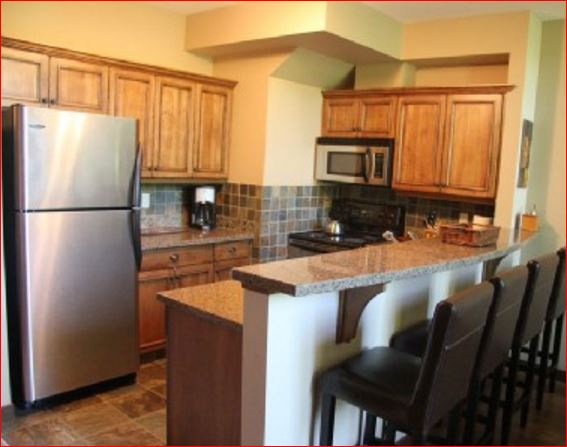 - The kitchen includes heated slate floors, raised bar top and granite counter tops, stainless steel appliances, coffee grinder and maker, George Foreman indoor grill, crockpot/slow cooker, toaster, blender, hand mixer, martini shaker and glasses, chocolate fondue set, champagne bucket and glasses, waffle maker, popcorn maker, spice rack, and plenty of pots, pans, cutlery, utensils, wine glasses, plates, and more - enough to prepare the simplest or the finest of meals
- Or if you don't feel like cooking, you can arrange for gourmet, catered meals to be delivered and served by talented red seal chefs, or you can arrange to have your Sun Peaks groceries delivered right to your door. 


- The deck features a wonderful hot tub with spectacular golf course and mountain views, yet offers treed privacy from the skiers and/or golfers below
- Access is via the living room or the master bedroom (which also has two very comfortable BestSunPeaks bathrobes waiting to smother you in coziness) and towels for the hot tub are also provided
- Relax after a fantastic day on the slopes, golf course, or a day of just taking in all the natural beauty that surrounds you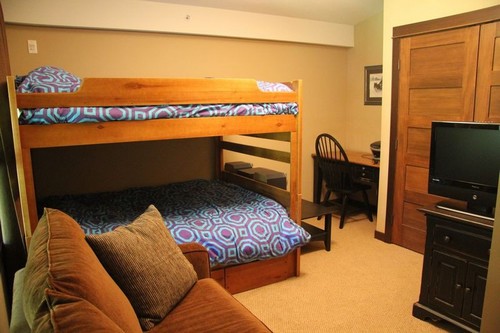 - The BestSunPeaks condo loft is a huge hit with kids of all ages (and for parents who love having the main floor area all to themselves
- Double-size bunk beds, widescreen tv, a second PS3 gaming system, loads of dvd's and video games for all ages, Netflix, a work station and printer, board games, kids books, windows to the main level below, and a door to provide privacy and quietness for all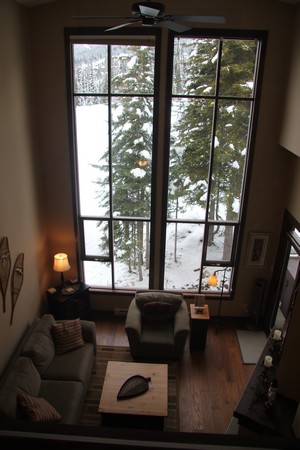 - The view from the loft is also beautiful, and the internal windows to the loft can be opened or closed for noise dampening
- Ceiling fan on the vaulted living room ceiling keeps the air moving 
- Black-out curtains to keep the light out
- Great games area for the kids to hang out or as a third bedroom for another couple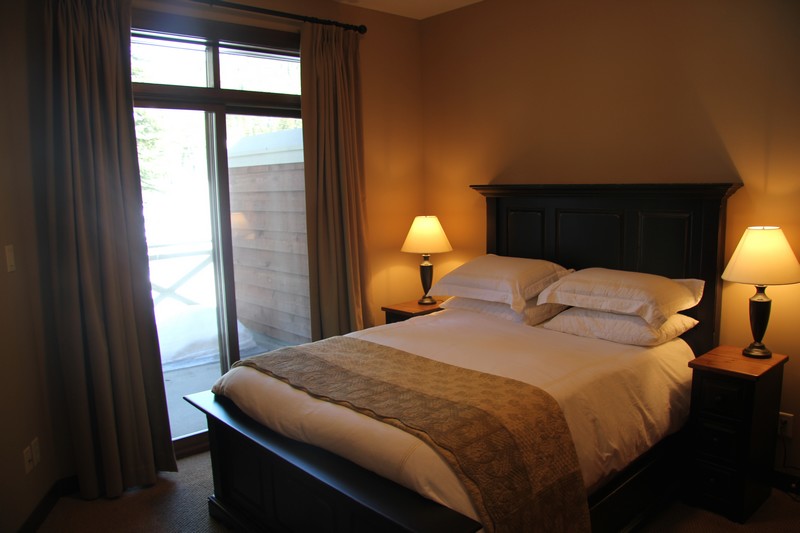 - Master bedroom has a comfortable queen size bed and full-size cupboard
- Sliding, screened patio door to the hot tub with blackout curtains
- Wall mounted flatscreen tv
- 4 piece ensuite bathroom with heated slate floors and stacked washer/dryer
- Second bedroom has a very comfortable double/full mattress
- Flat screen television
- 4 piece bathroom opposite
- Full-size cupboard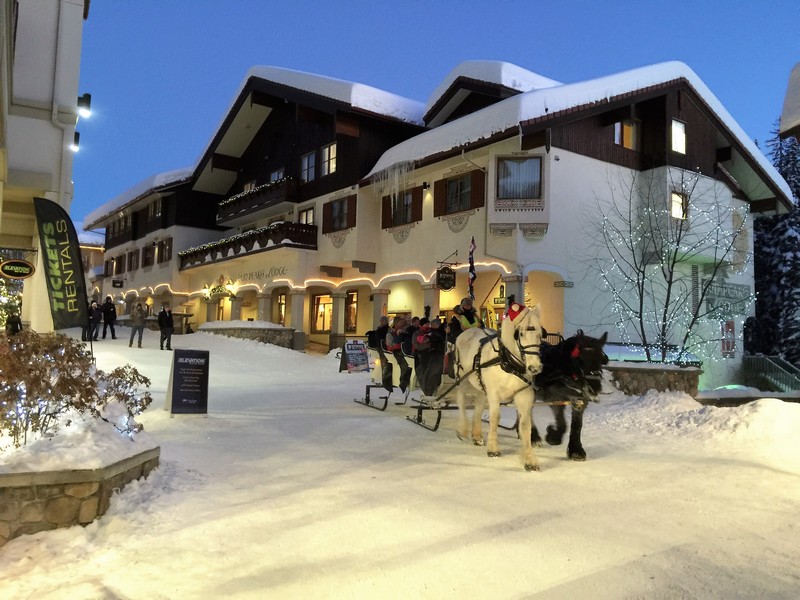 - Beautiful, quaint European style village
- Ski-in/ski-out/ski-through pedestrian only village
- Affordable, family and dog-friendly village
- Four season recreational paradise
- shops, restaurants, pubs - all within easy walking distance from our BestSunPeaks condo
- very friendly locals and resort staff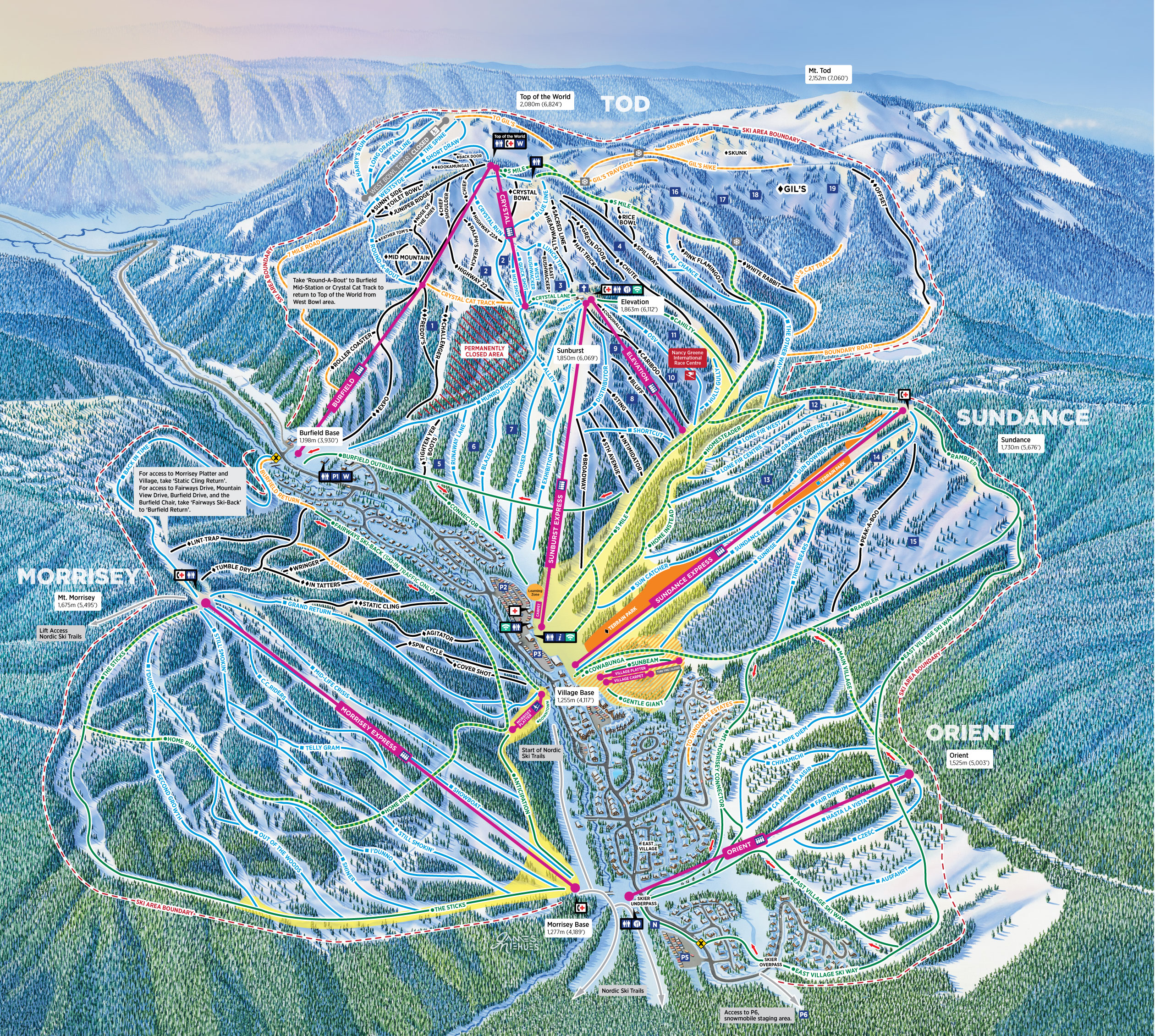 Morrisey Express or Orient for ski-out - perfect location for access to both!
- ski out via the Morrisey Express or the new Orient chairlift - just seconds away from our Stone's Throw condo
- 4,270 acres of skiable terrain, 2nd largest alpine ski area in Canada
- 2,800+ feet of vertical
- 2000+ hours of sunshine and 230+ inches of famous champagne powder each year
- affordable lift passes, multi-day passes and season tickets
- 138 trails and growing, including 19 gladed areas, 13 lifts, 2 alpine bowls and minimal line-ups
- Many winter activities for all levels of skiers and for non-skiers
- four season outdoor paradise with many spring, summer and fall activities as well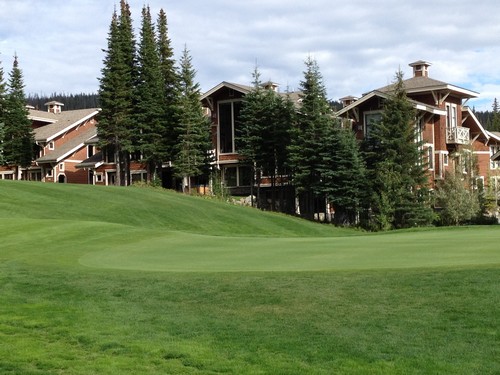 - Our BestSunPeaks condo backs onto the 16th fairway (with the highest elevation tee) in British Columbia of the Sun Peaks Resort 18 hole golf course
- Many other popular golf courses just 45 minutes away in Kamloops

- Temperatures are around 10 degrees cooler in summer making for a very comfortable holiday
- Weekly music events in summer, farmer's markets on Sundays, hiking, biking, gravity-fuelled mountain go carts, paddleboarding, fishing, winery tours, canoeing, photography experiences, wildlife viewing, and so much more for all ages and abilities
---
Current BestSunPeaks Condo Rates
Our BestSunPeaks condo in Stone's Throw rates are quoted in Canadian dollars and do not include any special pricing or promotions that may be in effect.  Applicable taxes will be added as well as a fully refundable $750.00 damage deposit.  A cleaning fee may also apply.  Guests may book direct with us (credit card via PayPal or etransfer) for best rates plus to save the online booking fee.
2023 Apres Holiday Fun, January 8 - February 16, 2023

4 night min stay C$525 per night
2023 Presidential BC Family Days, February 17 - February 25, 2023 
5 night min stay C$799 per night
2023 Prime Ski Season, February 26 - March 9, 2023 
4 night min stay C$519 per night
2023 Spring Break, March 10 - Mar.25, 2023
5 night min stay C$589 per night
2023 End of Season, Mar.26 - April 9, 2023 
4 night min stay C$399 per night
2023 Spring thru Fall Leisure, April 10 - Nov 16, 2023
3 night min stay C$229 per night
2023 Early Ski Season, Nov 17 - Dec 7, 2023

4 night min stay C$319 per night
2023 Early Holiday Season, Dec 8-15, 2023
4 night min stay C$399 per night

2023/24 - Christmas Holiday Season, December 16 - January 5, 2024

7 night min stay C$899 per night

2024 Apres Holiday Fun, January 6 - February 15, 2024

4 night min stay C$549 per night

2024 Presidential BC Family Days, February 16 - February 24, 2024

5 night min stay C$899 per night

2024 Prime Ski Season, February 25 - March 15, 2024

4 night min stay C$519 per night

2024 Spring Break, March 16 - Mar.31, 2024

5 night min stay C$629 per night

2024 End of Season, Apr 1 - April 7, 2024
4 night min stay C$389 per night

2024 Spring thru Fall Leisure, April 8 - Nov 14, 2024
3 night min stay C$249 per night
NO OTHER SERVICE FEES APPLY (such as on VRBO, Homeaway and AirBnb - SAVES YOU 15%)


For an exact quote or to check for special offers and availability for our BestSunPeaks condo or other properties, please complete and submit the reservation quote form below, and we will be in touch as soon as possible.
If your desired dates are not available, complete the form anyways as we know many other wonderful Sun Peaks vacation rental owners and will do our best to try and help you.
---
Calendar & Availability
---
Houfy and Sun Peaks Vacation Rentals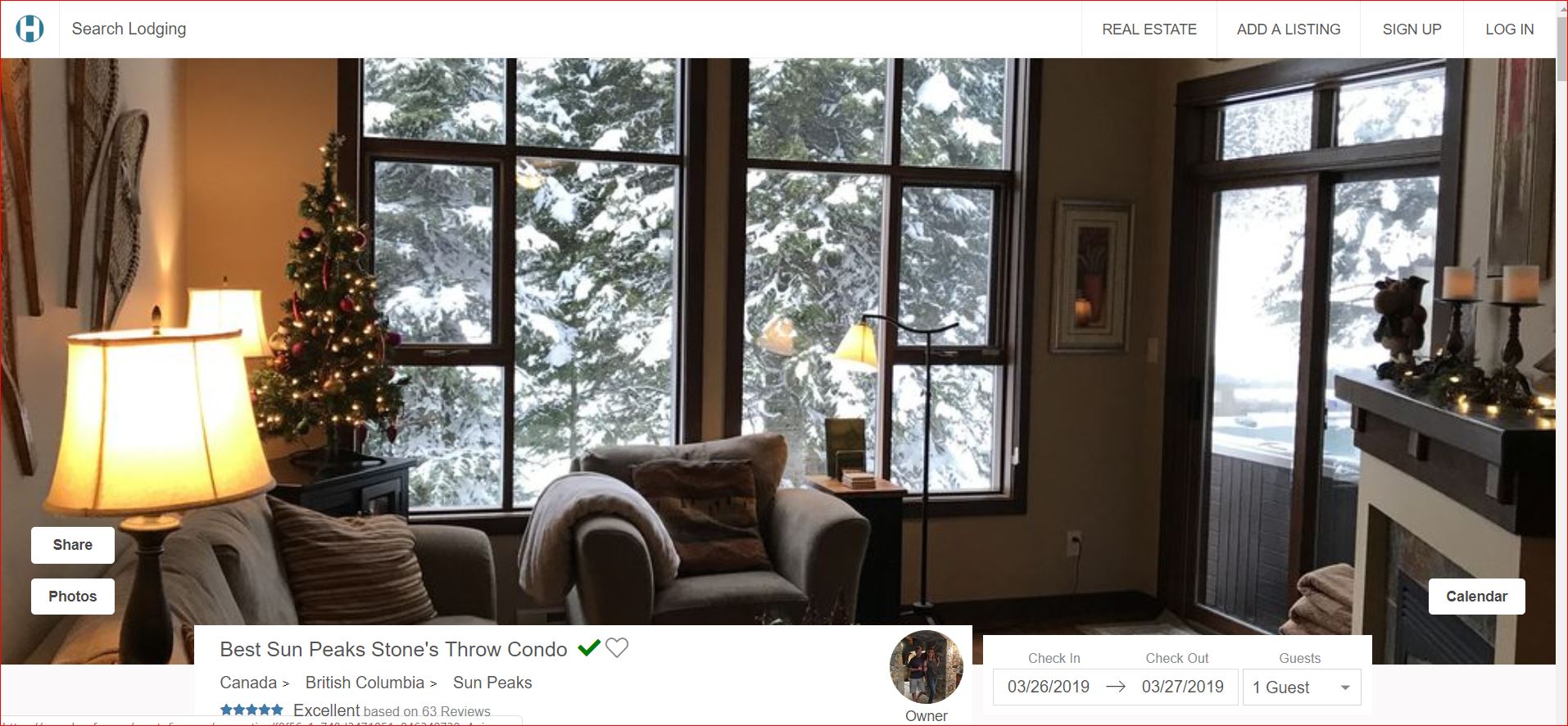 Houfy for Sun Peaks Vacation Rentals and thousands of other accommodation world-wide
We are pleased to have our Stone's Throw condo listed on a new site called HouFY (House For You), which provides an easy to use, unique and enhanced experience to list or find vacation rental properties.  It is similar to VRBO/Homeaway and Airbnb, except better since there are no booking fees or communication restrictions, which will save you 10% or more.  Houfy is easy to use and you can save money on many properties around the world and book your vacation rental direct with the verified owners using this growing rental community platform.

Contact us directly for information on this condo and dozens of other properties using the form above, or for a quick quote and availability check, complete the Houfy form below:
---
Do you need something a little bigger than our BestSunPeaks condo but equally as nice, perhaps something that could easily accommodate a large family or two smaller families?
If so check out our Best Sun Peaks Townhouse in Trapper's Landing - new to the rental pool in the fall of 2016.
Click if your preferred dates are unavailable, or if you wish to look at other options where you can save up to 10% on dozens of other Sun Peaks rental condos, townhouses or chalets managed by Top of the Mountain.
We work with other Sun Peaks Vacation Rental by Owners as well - contact us with your accommodation needs by filling out the form above.

Consider this 2 bedroom Stone's throw condo
Return to Best Sun Peaks Vacation Rentals
Return to Stone's Throw Condos information page
Return to our Best Sun Peaks Condo Reviews page
View our Trapper's Landing Townhouse rental page

Return to Best Sun Peaks Home page