Night standup paddleboard tours – an amazing experience near Sun Peaks (no longer being offered at Sun Peaks)
Awesome fun - SUP in the dark
Night standup paddleboard tours are very exciting and new to the Sun Peaks Resort area, and are offered as a fall activity when darkness descends on beautiful Heffley Lake a little earlier.
After recently trying this exciting new Sun Peaks fall activity, we have to say it is an absolutely amazing experience (SUPerb in fact) and we highly recommend it for anyone who has given stand up paddleboarding a try already.
You don't need to be an expert, and if you haven't tried stand up paddleboarding yet, contact Bodie Shandro, owner of Paddle Surfit and give SUP a try.  You'll be glad you did. 
We took our first lesson with Bodie while up at Sun Peaks a few weeks earlier, and felt totally comfortable alone in the darkness (and in awe).
Bodie has very successfully instructed thousands of first timers like ourselves, aspiring and elite enthusiasts and even extreme athletes how to SUP from his home on beautiful Heffley Lake BC, in California, Australia and the Caribbean.
Read our Paddle Surfit Review here.
Read our Sun Peaks Stand Up Paddleboarding Tour info page here.


       Night standup paddleboard tours – what to expect?
Bodie prepping for the Best Sun Peaks Night SUP Tour
The custom Night Standup Paddleboard tour is only $25 per person and is an incredible and intimate experience. 
At dusk, guests hop on specially equipped stand up paddleboards, with LED light bars secured to the underside of each board.  Each session can be varied depending on the weather, water conditions, and experience of the paddlers. 
On our tour, the conditions were absolutely perfect!
Heffley Lake was perfectly flat, the weather SUPerb, and the overall experience surreal.
Looking down as we crossed the lake to find the sheltered bay we explored in the daytime a few weeks earlier, the eerie glow initially allowed us to see the lake bottom. But that quickly just turned into a glow that seemed to envelop the paddleboard as we went deeper and slowly paddled across.
But it is when you look up and try to focus on the previously familiar surroundings that the true experience begins.  The shoreline is now just full of shapes and shadows, with the occasional brief reflection off the eyes of an animal of some sort.  Sunken trees appear out of nowhere and disappear back into the darkness as it stretches beyond the reach of the 2000 lumen lights.
Large trout suddenly appear right below your feet in the light and then disappear just as quickly, or sometimes just hover on the bottom as you stop paddling and scan the lake bottom.  We saw baby frogs and big frogs on the surface and then watched as they swam to the bottom to escape the sudden brightness.
Nancy at dusk - Best Sun Peaks Night Paddleboard tours
And looking up even further, the experience becomes even more surreal.
The sky - pitch black.  The Milky Way clearly visible above our heads with a mysterious, creamy and purple aura.  Millions and millions of stars filled the sky.  Satellites could be seen streaking across the blackness, as could falling stars or space debris, leaving a trail of orange sparks as they suddenly vanished into nothingness.
While there were a few cabin lights on sporadically along the shore, it still appeared that you were completely alone amongst the universe. 
It was completely intimate, surreal and tranquil (but of course we were being carefully watched by Bodie!)!
We glanced down occasionally to watch the water swirl following our slow paddle strokes, but then had to gaze up at the sky again.
The hour long session sadly came to an end but we will be back to try it again.
What a beautiful and amazing experience!!  Try a Night Standup Paddleboard tour before Heffley Lake freezes over.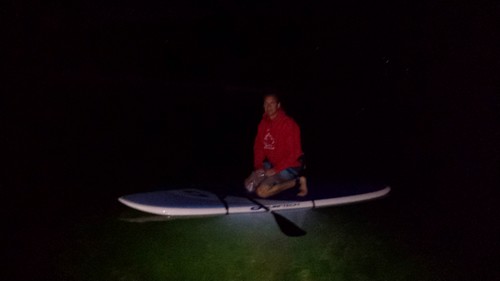 Paul watching the trout while Night time Stand Up Paddleboarding near Sun Peaks
Paddle Surfit is about 15 minutes away from our Best Sun Peaks rental condo and luxurious Trapper's Landing townhouse, and the resort, and fall accommodation discounts may be available – just ask us!

Visit the Paddle Surfit website for Sun Peaks Night standup paddleboard tours, or for paddleboard lessons, SUP rentals or purchases, or call 250.318.0722 to book.
Return to Sun Peaks Fall Activities page
Return to our Paddle Surfit Review page
Return to Sun Peaks Paddleboard Lessons and rental page.