Heffley Lake - lake to swim in near Sun Peaks Resort
Heffley Lake - Exceptionally low water level when this was taken - there isn't really a beach area here
For a swimming lake near Sun Peaks, Heffley Lake is really the only place to go. Located just about 15-20 minutes down the hill from the resort on the main road to/from Sun Peaks, Heffley is a nice, clean lake that offers many recreational activities for all ages to enjoy, including:
- stand up paddleboarding
- fishing (all seasons including ice fishing) for the elusive Kamloops Rainbow Trout
- a few picnic tables, day camping sites and 28 nearby overnight camping for tents, trailers, and rv's
- canoeing and kayaking
- boating and water skiing (with a gravel boat launch in between the two large boulders as shown above))
- and even some nice nearby hikes (such as the Embleton Mountain hike which is directly across from the lake)
For the 'Nicest' sandy beach and park area near Sun Peaks, see our Riverside Park page which is near Kamloops.

Another nearby lake for most of these activities (not swimming or water skiing though) is McGillivray Lake.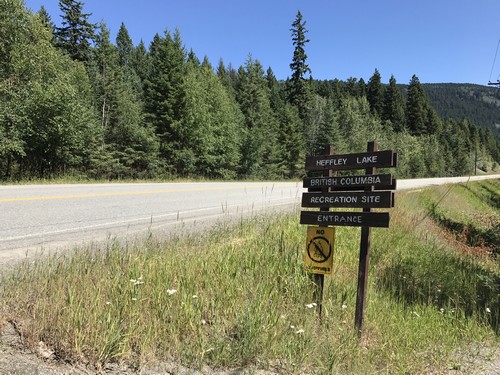 Entry sign to Heffley Lake
Heffley Lake is easily accessible from the main paved road up from Kamloops/Heffley to Sun Peaks Resort. There is a gravel road leading from the main paved road, parking and a gravel, beach-like area at the main recreation/boat launch area, several picnic tables as well as a couple of outhouses at the northern end of the lake closest to Sun Peaks, and is one of the few lakes near Sun Peaks that is suitable for launching small water-ski boats and jet skis.
The lake is home to a number of rustic summer cottages and beautiful year-round homes, as well as sensitive breeding grounds on the shore for many types of wildlife and water fowl, so courtesy, adhering to posted signs and regulations, and wake control are expected.
The beach area and campground area is maintained by a local contractor who comes around often to ensure the rules are all being enforced.

The lake is a reservoir lake, meaning that it was created when a dam was built (causing two lakes to become one) to be able to store and provide water for irrigating the surrounding ranches and farms.  There is also a smaller lake that may appear to be separate, just a little further down the hill - Little Heffley Lake.
During dry summers, such as the long, dry summer of 2017, the lake is drained well below normal as water is used for the ranches, and larger boats need to be removed from the lake.  There may also be times when it is very difficult to exit the launch area and go through the narrow channels to the larger lake area due to the low water levels.
The now combined lake is aproximately 7 km (4.5 miles) long, and has a maximum depth of around 27 meters (90 feet).  There are several shoals and bays which offer great conditions for fly fishing, and if paddling or boating, you need to be aware of fallen trees and other hazards near the shoreline.

---
Heffley Lake for Sun Peaks Standup Paddleboarding (SUP)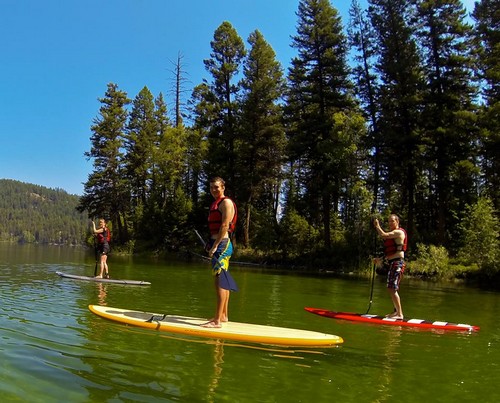 Standup Paddleboarding on Heffley Lake Family Fun
Heffley Lake is the home of Sun Peaks standup paddleboarding lessons, rentals, and retail sales.  The gravel parking area is a great spot to launch your own SUP if you have one, or just a few hundred meters further past the parking area entrance is Paddle Surfit - the professional standup paddleboard operator that first taught us how to SUP and whom we highly recommend. 
Bodie Shandro is the owner/instructor and is great to deal with and highly knowledgeable. In the winter, he is also an expert ski instructor at Sun Peaks and heli-ski guide for Mike Wiegele Heli-skiing in nearby Blue River.
---
Heffley Lake - Other Sun Peaks Water Sports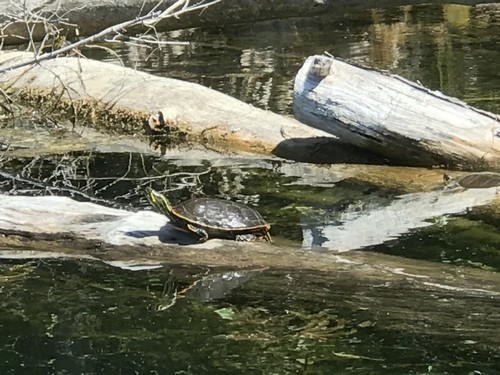 The Painted Turtles are a protected species
As mentioned, this is one of the few lakes in the Sun Peaks area that is suitable for wading/paddling/swimming, and where car-top boats as well as trailered boats can easily launch via the gravel boat launch area.  Water skiing and tubing are popular activities (subject to speed & wake regulations, etc). 
Many others enjoy peacefully canoeing or kayaking around the lake, watching out for resident wildlife such as frogs, painted turtles, or even possibly bears, deer, moose, fox, cougars, osprey, loons, eagles, and more - you never know what might appear.  You can pretty much always hear the cry of the loon echoing across the lake though.

Check out nearby McGillivray Lake for Sun Peaks canoe rentals, kayak rentals, guided canoe tours, camping and more.

For more information about Lakes near Sun Peaks - click here.
---
Heffley Lake Fishing - Kamloops Rainbow Trout
Heffley is a popular fishing spot near Sun Peaks, with several thousand Kamloops rainbow trout being added each spring.  Trolling and fly fishing are both common in the warmer seasons, and people can often be seen ice fishing in the winter.
Sun Peaks fishing guides and lessons (fly-fishing and/or ice-fishing) are available through Sun Peaks Resort, and anyone fishing should ensure they have the proper license.
---
Heffley Provincial Recreation Site - Camping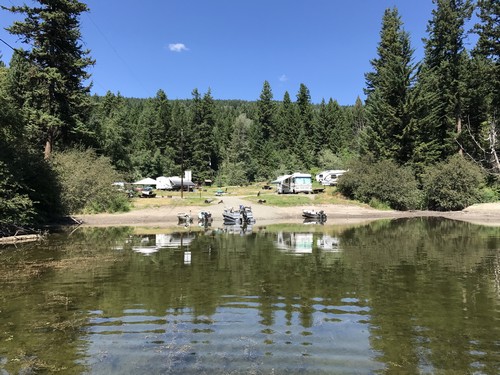 Heffley Lake camping area with space for 28 rv's, trailers or tents
As mentioned on our Sun Peaks Camping page, Heffley has a good gravel road leading down to the day parking/boat launch/small beach area, as well as to a 28 (19 plus 9 new sites added in 2018)  site campground with another small, car-top boat launch area (but quite shallow). 
They provide tables at each site, there are outhouses, and the contractors do a good job of maintaining the site. 
There is a small nightly charge from May to October.
Sites are on a first-come, first-served basis.
---
Travel to Heffley Lake
The lake is located on the way up the main road to Sun Peaks, and is around 40 km (27 miles) or 30-40 minutes northeast of Kamloops.  Drive north on Highway 5 from Kamloops, and follow the signs to Sun Peaks.  Turn right off the highway and then a quick left at the Heffley Store/Husky gas station (no other gas station near Sun Peaks) to head up the hill. 
You will see the Hitch 'n' Rail Resort/campground on your right, and soon after you will see the turnoff for Heffley Lake Provincial Recreation area on your right.  As you take the exit and head down the hill on the gravel road, you either veer off to the launch/parking area on your right, or carry along to the camping area.
On the way down the road from Sun Peaks, watch out for the brown, wooden signs on your left at around the 15k mark.  You will initially see the exit sign first, and then can prepare for the next sign and sharp turn-off on your left.  If you go past the Hitch 'n' Rail Resort, you have gone too far and need to turn around.
Return to Sun Peaks Summer Activities
Return to Sun Peaks Winter Activities

Return to Sun Peaks StandupPaddleboarding
Return to Sun Peaks Camping
Return to Best Sun Peaks Vacation Rentals by Owners for great Sun Peaks accommodation
Return to Lakes near Sun Peaks 
Return to Best Sun Peaks Home page