Sun Peaks Paddleboarding - Stand Up Family Fun
Sun Peaks Paddleboarding with amazing cloud formation on Heffley Lake
Sun Peaks paddleboarding is another 'SUPerb' fun-for-all summer Sun Peaks activity , which is available from when the ice melts on the Sun Peaks lakes in the spring, to when they freeze back over in the winter.
What is Stand Up Paddle Boarding?
Standup Paddle boarding (known as SUP) is a combination of kayaking and surfing and is one of the fastest growing watersports in the world, and after our recent Sun Peaks Paddleboarding lesson and session on beautiful Heffley Lake, it is easy to see why:
• Fun for everyone – all ages and physical abilities can safely 'walk on water' with stand up paddleboarding
• Great social activity or solitude activity (easy to social distance) if that's your thing – just be safe!
• Fantastic for low-to-no impact physical conditioning that improves balance, core and overall strength and endurance
• Relatively low cost and minimal maintenance
• Can easily be enjoyed on the ocean, lakes, streams – pretty much anywhere there is fairly flat water (again, as with any water sport, be safe and keep weather, tides and currents in mind)


Where is Sun Peaks Paddleboarding?
Heffley Lake Stand Up Paddle Boarding near Sun Peaks Resort
Sun Peaks paddleboarding lessons and rentals are operated by professionally certified instructor and International SUP competitor, Bodie Shandro, through his company Paddle Surfit.
He is a terrific teacher and has taught people from 4 to 88 years of age at his beautiful, tranquil location on Heffley Lake just minutes away from Sun Peaks Resort (30-40 minutes from Kamloops).
And nearby Heffley Lake is such a perfect spot for Sun Peaks Paddleboarding!
Surrounded by scenic mountains and forests and with many undeveloped areas, this 7.2 km (4.5 mile) long lake is stocked with trout which you may see under your board, or see wildlife like moose, deer, fox, muskrat, or perhaps bears along the shore, while loons cry hauntingly before ducking under the peaceful surface and eagles and ospreys fly overhead.
There are also lots of hiking and biking trails nearby, but SUP on the calm waters is where it's at!  You can even rent your SUP and take it to explore other beautiful lakes near Sun Peaks, such as Johnson Lake or McGillivray Lake.
We were first-timers and loved it – read our Sun Peaks Paddle boarding review here.
Interested in Standup Paddleboard Lessons, lunch and a guided hike/tour of the Top of the World at Sun Peaks?  Check out the Lake to Peak Adventure Package.
Paul walking on water after one short SUP lesson
What to remember about your Sun Peaks Stand Up Paddle Boarding experience:
• Easy and safe thanks to the excellent, professional instruction you receive ahead of time
• Chances are very good that you will only get wet if you choose to (which we did and the water was so refreshing!)
• Dress in layers and appropriately for the weather conditions (typically 5-10 degrees cooler than in Kamloops)
• Have a towel and spare clothes just in case you decide to fall in
• Bring the basics for summer enjoyment – water, sunscreen, sun glasses, hat, etc. and be prepared to love being on top of the water!

For more information about lessons, group SUP sessions, rentals or stand up paddleboard sales, visit the Paddle Surfit webpage.  If you just have general questions, complete the form below and Bodie will be in touch.  To inquire about renting a Sun Peaks standup paddleboard or Sun Peaks standup paddleboard lessons, call Bodie at either 250 578-8979 or 250 318-0722.




---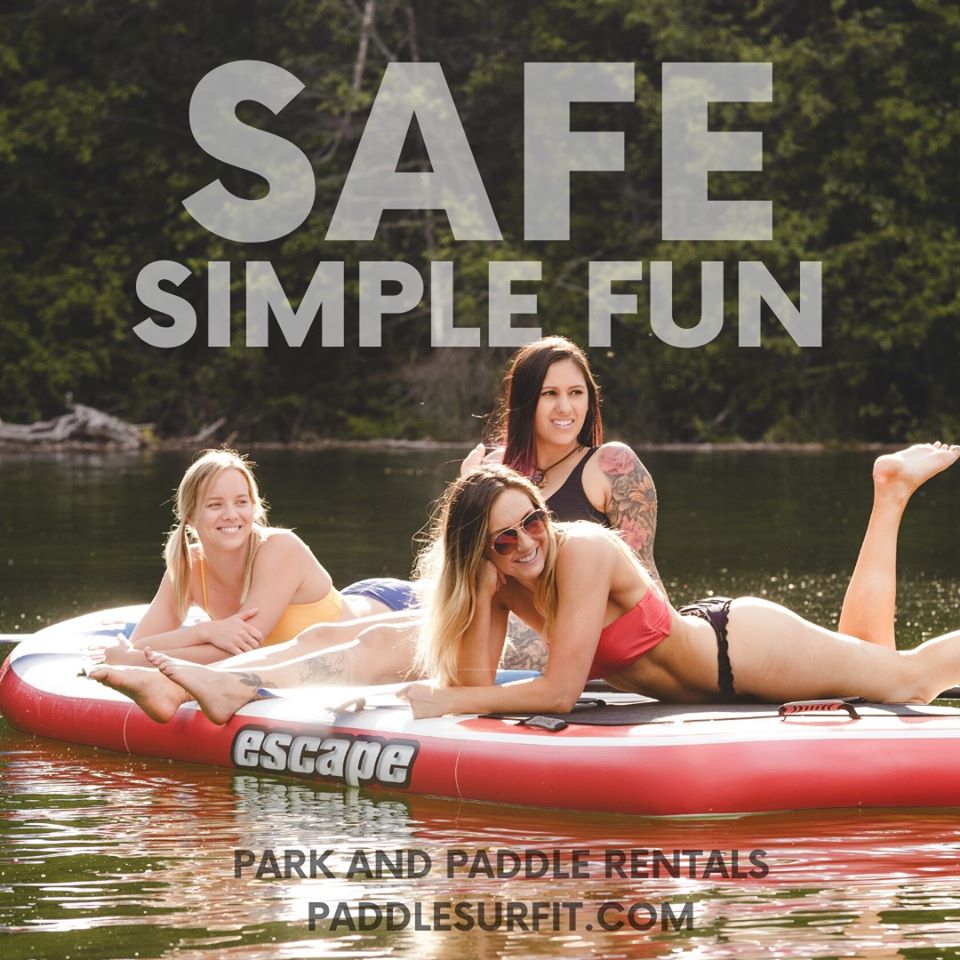 Standup Paddleboard fun with Paddle Surfit at Sun Peaks Resort

Return to Sun Peaks/Kamloops Stand Up Paddleboarding Review
Return to Best Sun Peaks condo or Best Sun Peaks townhouse or vacation rental accommodation
Return to Best Sun Peaks Summer Activities
Return to Best Sun Peaks home page.