Best Sun Peaks Beer - Who Offers The Best Selection?
Best Sun Peaks Beer selection at newly renovated Cahilty Creek Kitchen & Taproom with 16 varieties of draft beer (photo Cahilty Creek Kitchen & Taproom)
Where to enjoy the Best Sun Peaks beer is a matter of personal preference – do you like IPA's, Porters, Pale Ales, Winter Ales, Blondes, Dubles, Tripels…..?
We love craft beers and sampling different types of local brewed favorites, but there is not currently a Sun Peaks Craft Brew Pub at the resort. And while there are Sun Peaks craft beer tours that will pick you up in Sun Peaks and escort you around one or more of the popular brew pubs down in Kamloops, where in Sun Peaks can you go to enjoy a nice frosty beer?
With more than 20 Sun Peaks restaurants to choose from and over 75 draft beer taps located throughout the village serving various beers, including from some of our favorite Kamloops brew pub, there is something for everyone.  
Click for more Best Sun Peaks Restaurant options too.
The resort wine cellars have a fine selection of reds and whites from over 40 BC wineries (including our local Kamloops wineries) as well as ciders from our local cideries.
Apres-ski Best Sun Peaks Beer
There are two main apres-ski pubs located across from each other, right at the village base; Bottom's and Masa's.
Visit our Best Sun Peaks Bar, Patio and Apres-ski page for more info on Sun Peaks bars.
Both are good and offer a great selection of beer, but our favorite beer-sipping deck in any season, with the best Sun Peaks view while enjoying a bevvie or two, is Bottoms Bar & Grill.
On tap, Bottoms mainly offers different varieties of BC brews from Sleeman and Okanagan Springs, such as 1516, Honey Brown, Pale Ale, Pabst, etc.  But for those who enjoy choosing from a great variety of bottled craft beers, they have the infamous craft beer fridge with selections from many popular British Columbia craft breweries – check it out.  Their food is also some of our personal favorite and the mix of locals and visitors always makes for a fun place to hang-out.  Bottom's is located across from the Sundance chairlift at the end of the Coast Sundance Lodge.
Iron Road Brewing is served at Masa's
Masa's Bar & Grill, corporate-owned by Sun Peaks and located in the Village Day Lodge, is currently tied as having the Best Sun Peaks beer selection of draft on tap, with 16 taps (according to the 2021 Sun Peaks Improvements page, they now have 20 taps - can't wait to check them out!). Besides the basics from BC brewers like Okanagan Springs, they also offer rotating taps from local Kamloops craft breweries like Red Collar, the Noble Pig and Iron Road Brewing.  They also have a patio in the area between them and Bottoms, and offer a pretty extensive food menu as well.
Tied for the Best Sun Peaks beer selection, along with Masa's, was the Cahilty Creek Kitchen & Tap Room. They are located in the popular Nancy Greene's Cahilty Hotel & Suites, and after their extensive remodeling in 2017, also offer 16 taps of various types (12 beer, 2 cider and red/white wine), as well as a selection of locally distilled spirits from the Okanagan Spirits Craft Distillery.  
However the Okanagan Spirits people generally have a tasting tent set up during the summer Farmer's & Artisan's Market on Sundays and we very much enjoyed their various spirits.
---
Morrisey's Public House, located at the far end of the Sun Peaks Grand Hotel building, is also owned and operated by Sun Peaks and is another favorite.  There is an out-of-the-way back room with a pool table, and in summer a ping pong table may be found by their front door waiting for a challenger to pick up the paddle.  Inside is a good selection of beer, including rotating taps from local BC craft breweries, as well as a good food menu. 
They added a nice wood feature to their outdoor patio during the summer of 2017 which makes it a great place to sit in the evening, and there are often fun events like Open Mic Nights, live bands and more.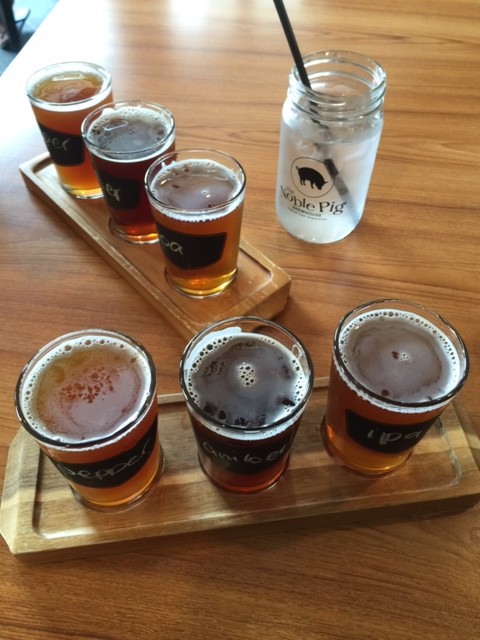 Our favorite Sun Peaks Restaurant, the Voyageur Bistro, located just across from the village in the Kookaburra Lodge, is popular with many of our guests and also with the locals.  And of course, they also offer some nice draft beers as well as an extensive wine list at reasonable prices. 
Poutine, Tortierre, and other popular French-Canadian inspired dishes are complimented with a nice IPA from Four Winds Brewing down here in the lower mainland (where they have amazing tacos to enjoy while enjoying flights of their craft beer!) or one of a variety of other great traditional or local craft beers.
And of course, Powderhounds!  A favorite with locals and visitors alike with their varieties of home-style schnitzel and other popular food items, has a long bar where you can hang out and enjoy a beer or two. 
Or in the summer, enjoy their patio located mid-village in the Fireside Lodge.  They are one of the longest-running independent restaurants and their owner may even surprise you when he takes to the stage as part of a popular and well-known local Sun Peaks rock band.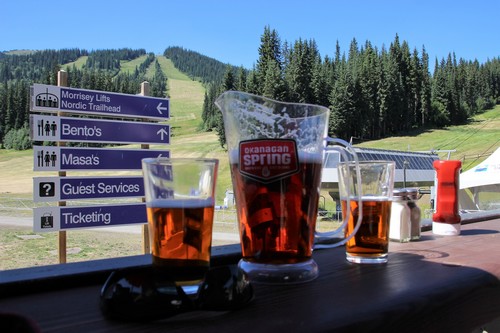 Bottoms Patio - best Sun Peaks beers with a view
And finally, Mantles Restaurant & Lounge in the Sun Peaks Grand, 5Forty Café & Grill in the Fireside Lodge, Oya Japanese Restaurant in the Hearthstone Lodge, the Steak House in the Sun Peaks Lodge, Bella Italia Mediterranean Kitchen in the Hearthstone Lodge all offer their own selection of beer and all provide the Best of something for someone at Sun Peaks, so we suggest giving them all a try.
Who do you think offers the Best Sun Peaks beer selection - let us know your Sun Peaks favorite.
Always remember to drink responsibly and do not drink and drive.  If you really want to enjoy the best of local Sun Peaks area beer and wines - join a tour!
The Sundance Liquor Store also has a fine selection of beer, wine, cider and hard liquor to enjoy, or you can even have some picked up and delivered right to your door by Sun Peaks Cargo.
For more information about joining or organizing your own group Sun Peaks Craft Beer Tour or a Winery Tour, complete and submit the form below:

Return to Best Sun Peaks Home page
Return to Best Sun Peaks Restaurants
Return to Best Sun Peaks Brew Pub page
Return to Best Sun Peaks Craft Brewery Tours
More about Best Sun Peaks beer tours