The Best Sun Peaks Bar, Patio or Après-Ski destination 
And the winner of the Best Sun Peaks Bar Patio and Après-Ski destination is, well, up to you. 
There are a number of great pubs and patios to hang out year-round, and our advice is to try them all to see which is the best eating and drinking place for you!
Give them each a try and let us know which your fave was and why.
Here are our favorite Sun Peaks bars or restaurants with bars– each being a little different.  Also click to view our Best Sun Peaks Restaurants or Best Sun Peaks Coffee options....
Best Sun Peaks Bar, Patio, and More – Bottoms Bar & Grill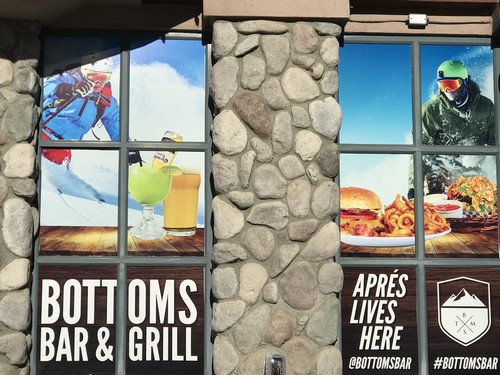 Where is the Best Sun Peaks Bar, patio and Apres-ski for you?
We have tried them all, and our favorite Sun Peaks Bar & Patio is Bottoms Bar & Grill.   And judging by the line-ups during ski season, others think so too.  It has the most authentic après-ski atmosphere, a fantastic location at the entry to the village and the base of Sundance and Tod Mountains with great views no matter the season. 
Watch skiers and boarders in the winter and local Sun Peaks bears meandering or mountain bikers ripping on the upper trails in the summer.  Their new meat smoker will probably drive you wild at times when they are smoking up some delicious meat, as will their outdoor BBQ when they have it fired up on weekends.
They were also winners in the following categories of the inaugural SPIN (Sun Peaks independent News) Best of Sun Peaks awards in 2019:
-          Favorite Bartender
-          Best Hangover Busting Caesar, and
-          Best Patio for Full Send Après-ski 
Given the vibe, food, location and notoriety, Bottoms is popular with locals (referred to as the local's living room) and visitors.  Kids are welcome til 9pm when it turns a little rowdier.  Line-ups are common and we were happy to recently see the introduction of an electronic notification system that sends you a text when your table is ready. 
Make sure to check in and put your name on the waiting list.
---
Morrisey's Public House - Winner Best Live Tunes Venue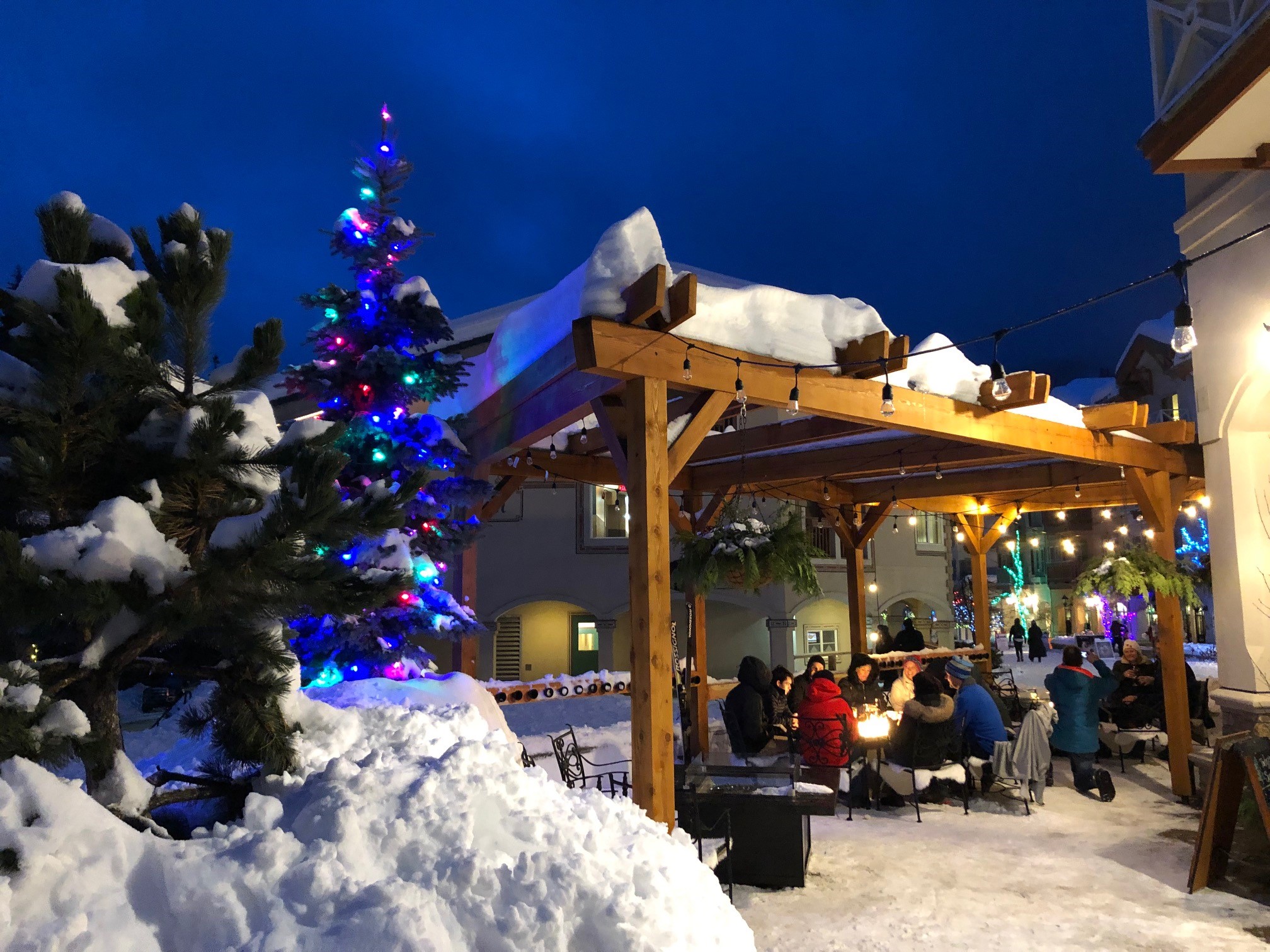 Firepit tables at Morrisey's
Another favorite is Morrisey's - Sun Peaks Resort owner and located in and ran by Sun Peaks Grand Hotel people.  It is a brief walk to an area near the top of the village and is easily recognizable by the beautiful new wood patio structure and outdoor table-top fireplaces, along with amazing flower basket displays in the summer.
Morrisey's offers a good selection of beer and Irish style pub food, TV's for watching sports, pool tables out back, and a fun, casual atmosphere. 
During certain times of the year they host Open Mic Nights, and were the 2019 winners of the SPIN Best Live Tunes Venue, and frequently have great music on the weekends.
So if you're a live music lover, this may be the Best Sun Peaks Bar for you.
---
Cahilty Creek Kitchen & Taproom - Best Selection of Draft!?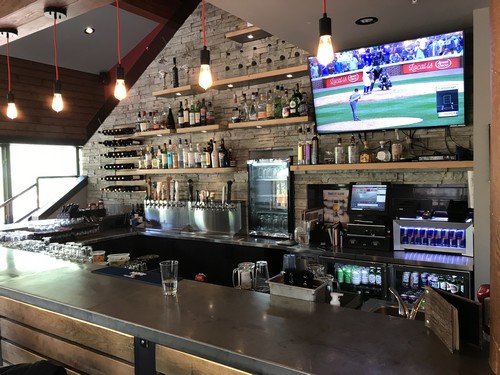 Cahilty Creek Kitchen + Taproom - great selection of craft beer
The 'Cahilty' is another popular Sun Peaks bar and restaurant with a great ski-in/ski-out location slope-side in the Nancy Greene's Cahilty Hotel and Suites building.  It is independently owned and operated by Sun Peaks locals, and recently underwent some very nice renovations by the new owners.  There is a small outdoor patio out back during the warmer months.
The Cahilty has one of the Best Sun Peaks selections of craft beer, offering 12 different taps of draft, 2 taps of cider, a red & white wine on tap, and a varied selection of food for breakfast, lunch, après-ski and dinner.
They also have $5.50 après-ski appetizer specials daily from 3 til 5 – just head down Gentle Giant and stop in for some fun. 
---
Masa's Bar + Grill - Thanks Masayoshi!
It is probably no coincidence that the popular Sun Peaks Resort owned bar and restaurant, Masa's, is named Masa's, when the resort owner's (via Nippon Cable's President & CEO) name is Masayoshi Ohkubo.  Huge kudos to Mr. Ohkubo for getting Sun Peaks where it is today!
Masa's is in the Village Day Lodge, at the base of Tod and Sundance Mountains.  They are pretty much right across from Bottom's, and is typically our 2nd choice if the line-up for lunch at Bottom's is too long.  Like the Cahilty, they also have a great selection of Sun Peaks craft beer, with 16 taps of various beverages available.  The restaurant has nice mountain views if you can get close to the windows, and they have a patio in the summer but the views aren't as good as Bottoms. 
They offer standard pub fare for lunch and dinners, host a Monday night Trivia night, and have various DJ's in from time to time.  Is Masa's your Best Sun Peaks bar, and if so, why? Let us know.
---
5Forty Café & Grill - Did Someone Say Cheap Beer?
Picture some hard-working local skateboarders and snowboarders opening up a bar/restaurant to serve good, basic food at good prices, with cheap beer along with some good craft beer, and you have the 5Forty Café. 
Located in the Fireside Lodge at the top of the village across from the Nancy Greene's Cahilty hotel, you can grab breakfast, lunch, après or dinner.
Some changes may be coming too with new owners taking over in Feb, 2019.

---
Voyageur Bistro - Our Favorite Restaurant So Far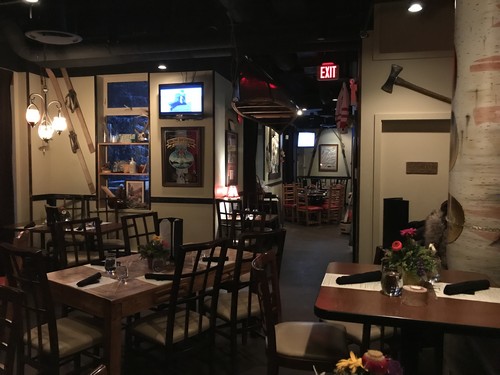 Voyageur Bistro - great food and atmosphere
While not a Best Sun Peaks Bar per se, the Voyageur Bistro is our favorite restaurant (all of our Best Sun Peaks guests have loved it too) and does have a long bar that is often filled with locals regaling stories of days gone by.
It is located in the Kookaburra Lodge, and offers a great atmosphere, authentic Voyageur (French Canadian fur traders and explorers) décor, and great food.
---
Another cool après-ski idea, really après-ski, is the Sun Peaks Evening Fondue & Starlight Descent - unique and fun.
While the Best Sun Peaks bars, patios, bistros, nightclubs, etc. may not compare to the size of those you can enjoy in Whistler, they are all different and worth checking out to see which is best for your taste.  Let us know which Sun Peaks bar was your favorite.

Oh and for nightlife, Sun Peaks does not currently have nightclubs or discos like Garfinkle's , Buffalo Bills or the others – it is a family resort after-all. 
They aren't as big or as crazy, but Bottom's and Masa's can sure get some fun happening if that is what you're looking for.
We hope this helps you find the Best Sun Peaks Bar and patio to suit your taste!  Cheers!!
And after a night of fun, you may need to find the Best Sun Peaks Coffee!?
Submit your review for Best Sun Peaks Bar, Patio, and Apres-ski fun below:

Return to Best Sun Peaks Accommodation
Return to Best Sun Peaks Restaurants
Return to Best Sun Peaks home page
Return to Best Sun Peaks Craft Beer
Book a Kamloops Craft Brewery tour with pick-up/drop-off in Sun Peaks
Book a Kamloops Winery Tour with pick-up/drop-off in Sun Peaks