The Sun Peaks Skating Rink - New & Improved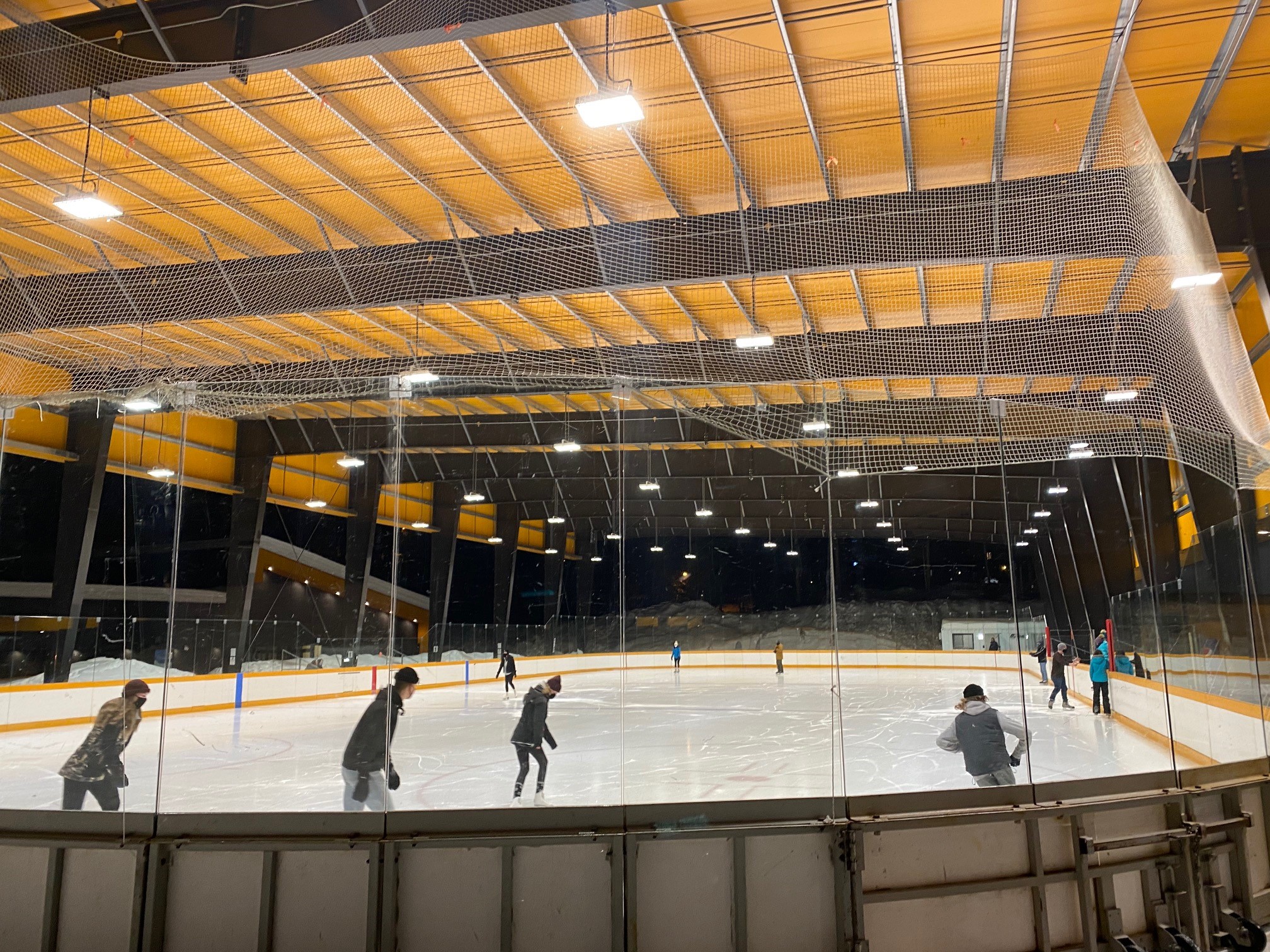 The new NHL size, covered Sun Peaks Skating Rink
The new Sun Peaks skating rink was completed and opened during the 2020/21 ski season.  It is a wonderful addition to the long list of Sun Peaks winter activities, and even though the modern design and bright color is a little controversial amongst community members (love/hate sort of thing), it is considered by some to be one of the best skating rinks in a mountain resort community.
While there has been a Sun Peaks ice rink here for years, the new, NHL size hockey rink, complete with boards, glass, netting and an under-ice refrigeration system, was moved from its' old location near the red barn and Sun Peaks golf course to the new location closer to the village and across from Timberline Village and the Village Walk complexes in 2017, and then as part of the 2019 Sun Peaks multi-million dollar expansion program, underwent a renovation where a new roof was erected and a public fitness facility (Alpine Fitness), washrooms/change rooms, and other building areas were added. 
This has greatly extended the skating and hockey season, and will also allow for covered all-season events in the future.
---
Sun Peaks Skating Rink Details: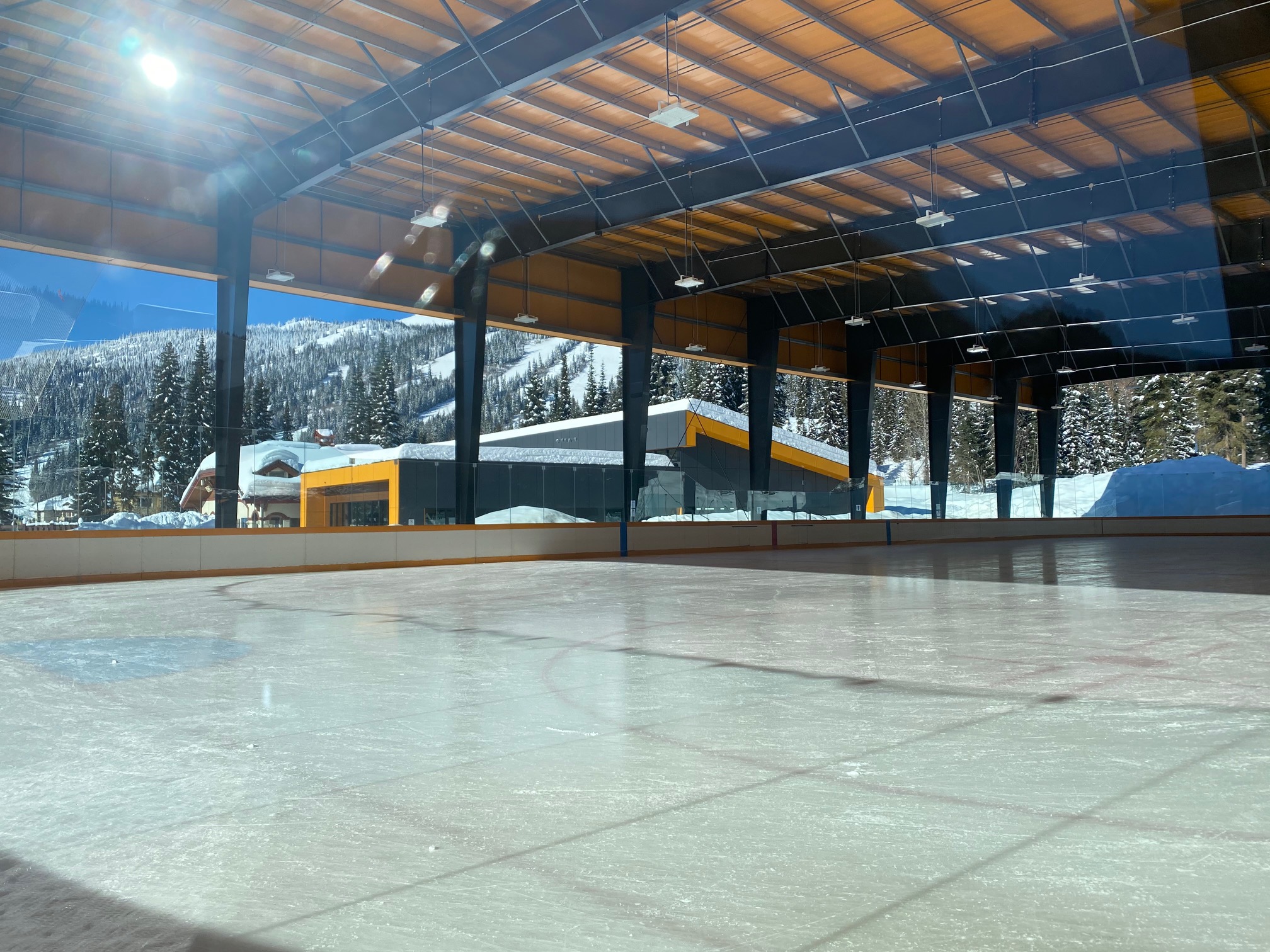 Sun Peaks ice rink & Alpine Fitness
In normal times, the skating rink will be able to facilitate hockey games & tournaments, drop-in hockey, public skating and private functions in the winter, and conventions, meetings and even music concerts and other events in the summer and shoulder seasons.  Skate rentals and skate sharpening are also usually available. 
Cost is around $7 for adults and children 5 and under are free.  Skate rentals (when available) are around $6.
Due to Covid-19, however, certain changes are currently in effect:
- Guests need to pre-register with the Municipality to use the Sun Peaks Skating Rink
- Stick & Puck time is not permitted 
- The recreational hockey league has been cancelled
- Skate rentals/sharpening are not available
- The number of guests using the skating rink at any time is limited and no spectators are permitted
- Users must sign a waiver at check-in (a parent/guardian must sign for guests under 19) and guests under 14 must be accompanied by an adult
- Face coverings/masks must be worn at all times and social distance rules must be observed
- Users must come ready to skate – the change rooms can only be used to put on/take off skates and for washroom use only
- All other posted rules and signage must be followed
Come and have fun - enjoy this bright, new recreational facility, and enjoy the beautiful outdoors on a wonderful new ice surface that is protected from the snowfall.
Click to make reservations or enquire about private functions via the municipality for the Sun Peaks Skating Rink.

Return to Best Sun Peaks Winter Activities
Return to Best Sun Peaks Summer Activities
Return to Best Sun Peaks 2019 Expansion Plans
Book your Best Sun Peaks Accommodation near the Sun Peaks Skating Rink