Harpers Trail Winery, near Kamloops, British Columbia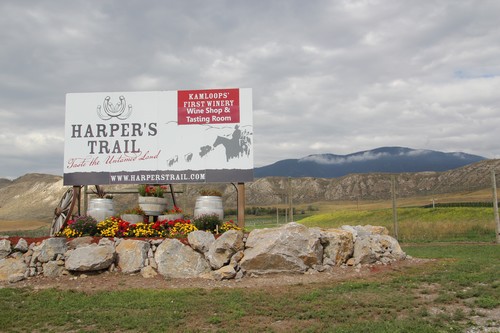 Welcome to Harper's Trail Winery
Harpers Trail Winery became Kamloop's first official winery in 2008 and, like a fine wine, has been improving with age as well as growing ever since.
As part of our best Sun Peaks summer activities, Sun Peaks winery tour and Kamloops winery tour, this 24 acre riverfront vineyard makes for a wonderful place to enjoy the view, a snack, and of course some fine wines (many of them!).
They also comprise the founders of the Kamloops Wine Trail, along with Privato winery, Sagewood Winery and Monte Creek Ranch Winery.

We first visited Harper's Trail Winery in 2013 just as a large wedding party was getting ready to have their ceremony on the beautiful winery property.  Co-owner Vicki Collett casually helped the many arriving guests and the panicking wedding party get settled, and then graciously explained the history of Harper's Trail Winery while pouring us the first of many enjoyable samples.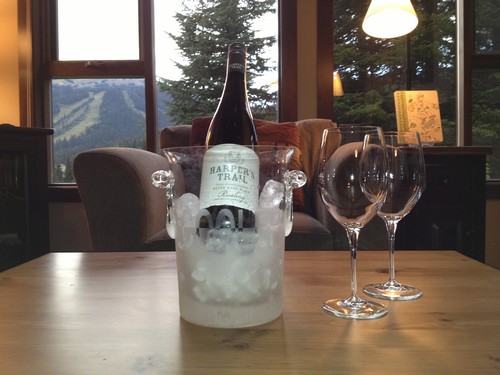 Harper's Trail wine at our Best Sun Peaks condo
Our first experience there in 2013 was in a pretty basic portable building, but a brand new wine tasting room and wine making area opened in the summer of 2014, just in time for the popular Kamloops summer winery tours.
Unlike Privato Winery who currently source their grapes from the Naramata Bench in the southern Okanagan and make their wonderful wines at their Kamloops area winery, Harper's Trail grows all of their own grapes here near Kamloops but has been using the Crush facilities near Summerland to make their wines.  However now that their new building is complete, everything will be done in-house. 
Nearby Sagewood Winery, also part of the Kamloops Wine Trail, also does everything onsite.

And with big expansion plans in mind, this Kamloops area winery is certainly one to watch.
As you enjoy your wines and snacks at Harpers Trail Winery, be on the lookout for local wildlife, such as bears or Big Horn Sheep who are known to frequent the area.


Harper's Trail Winery - big selection of wines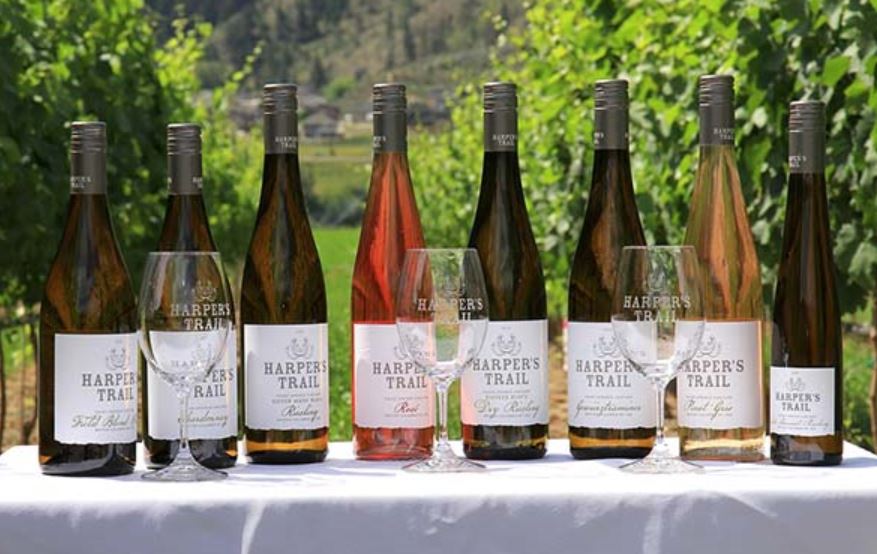 Big selection of wines at Harper's Trail
Harper's Trail wines were the inspiration for a Globe & Mail reporter to make a return trip for a Kamloops and Shuswap winery tour after sampling their wines at the 2014 Sun Peaks Winter Wine Festival.
With almost a dozen different wines to sample, we won't go into tasting detail here, but suggest you plan a Kamloops winery tour and experience their wines for yourself (plan a safe ride - do not drink and drive - arrange a Sun Peaks or Kamloops Winery Tour!).
Their wines are predominantly white varietals that grow successfully onsite  in the 'up and coming' Thompson wine country area soils and climate.  We personally found their wines a little young (well, they are quite young so I guess we are right) and we thought they had a unique 'mineral' flavour which apparently comes from the veins of limestone and other minerals running through the soils on their vineyard.
They offered us generous pours and gracious hospitality for the $5 tasting fee which isn't refunded with your purchase of wines, but half does go to local non-profit organizations.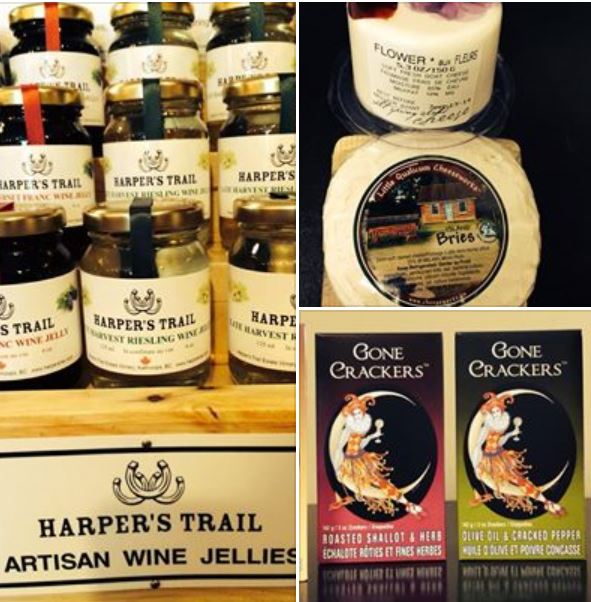 Custom Harpers Trail winery tours and tasting sessions can be organized from Kamloops or winery tour pickup from Sun Peaks, and they also have facilities for large groups, special events, etc.
And more information about operating hours can be found on the Harpers Trail website.
Be safe and have fun as part of a luxurious, escorted winery tour with one of our preferred winery tour operators, or book a romantic getaway at our Best Sun Peaks condo and perhaps even add on some spa treatments or some fun at the Kamloops and Sun Peaks Resort Golf Courses while enjoying the quaint Sun Peaks village in the summer.
If you have questions about a custom Kamloops winery tour, just complete and submit the form at the bottom.



        Directions From Sun Peaks to Harpers Trail Winery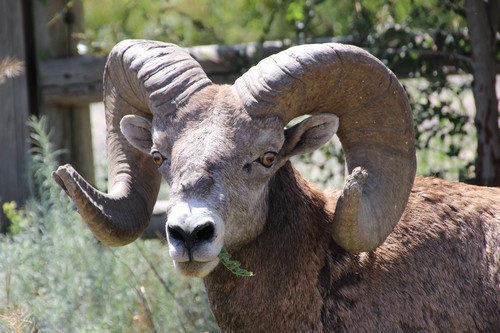 Big horn sheep and hoodos seen on the way
Harper's Trail Winery is located at 2720 Shuswap Road East, Kamloops for those with a GPS.  Once you are at the bottom of the hill, it is a straight forward drive to some enjoyable wines.
For others, follow the road down the hill from Sun Peaks to the highway:
turn right briefly onto Old Highway 5
turn left onto the Southern Yellowhead Highway and follow it for about 22.5 km
turn left at the lights onto Shuswap Road East
and then turn left at Shuswap road and you will see the Harpers Trail Winery sign on your left.
To join in a pre-scheduled group tour, or to plan your own custom winery tour from Sun Peaks Resort , complete the form below and we can help put something together.

Return to Best Sun Peaks Winery Tours
Return to Privato Winery Page
Return to Sagewood Winery page
Return to Monte Creek Ranch Winery page

Return to Best Sun Peaks home page.