Monte Creek Ranch Winery - historical part of the New Kamloops Wine Trail
Monte Creek Winery new, modern winery and tasting bar
While Monte Creek Ranch Winery may be the last to open of the initial four wineries that established the Kamloops Wine Trail in 2015, it certainly isn't the least. 
In fact, it's probably the most!

Their beautiful, modern wine tasting and sales room, with a long tasting bar, beautiful views, spacious outdoor deck, and large selection of giftware and food products, which opened in the summer of 2015, is situated on an almost one thousand acre working ranch.

And while enjoying the wine and the views of the flowing Thompson River and railroad tracks below, let your mind drift back to the year 1906 when the notorious and legendary train robber, Billy Miner, also known as "The Gentleman Bandit" for his 'Canadian-like' politeness despite being American, committed the first train robbery in British Columbia right here.  Rumour has it some of his loot may even still be buried in the area. Hmmm…..



Old style images meet new style architecture
They use this claim to fame in their marketing, with historical pictures of Billy Miner and trains on the walls, wine names such as "Hands Up" and more.  It has an old style ranch theme in a very modern new building.

And while each of the other initial Kamloops Wine Trail wineries claim a first in something:

Privato Vineyard and Winery – second winery in Kamloops but first to crush grapes and produce wine in Kamloops

Harper's Trail Winery – first winery to open in Kamloops and second to crush and produce wine in Kamloops

Sagewood Winery – first commercial vineyard in Kamloops,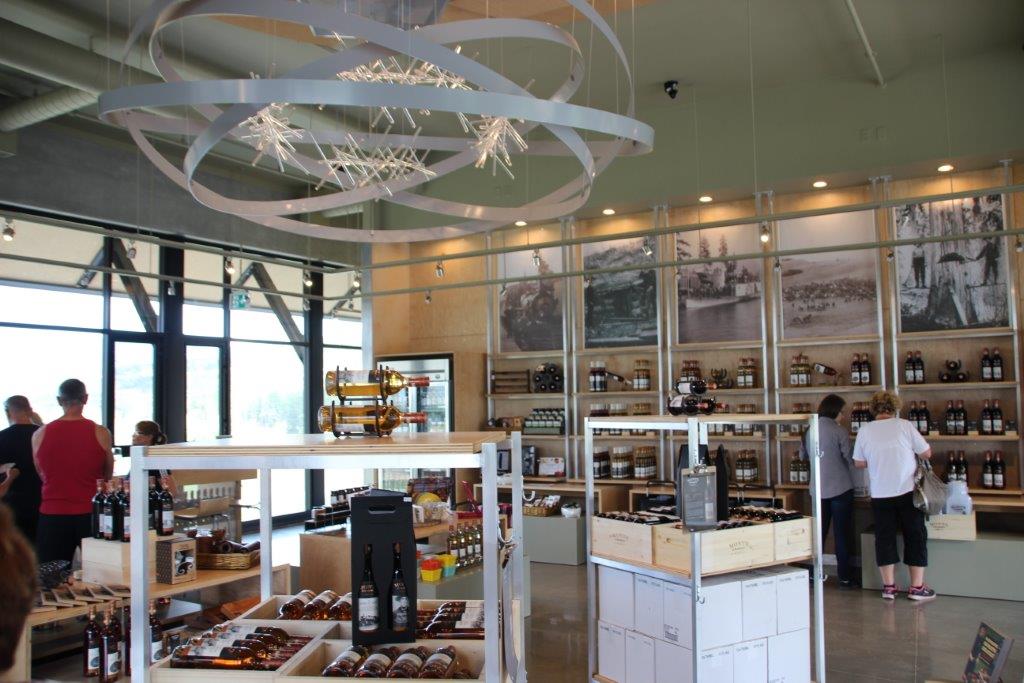 Monte Creek Winery gift store
Monte Creek Ranch winery can claim to be the first in British Columbia to be successfully growing a number of grape varietals that were developed in the cooler climates of Minnesota and Wisconsin and which have also been successful growing in Quebec.  With their own grapes such as Marquette, La Crescent, and Frontenac, and traditional BC favorites like Riesling, Pinot Gris, Gewurztraminer, Cabernet, Merlot and Marechal Foch, with some grapes coming from the south Okanagan, Monte Creek sells around a dozen different types of wine. 

Some are still young and some have a different taste from what we are used to given the particular terroir of their two vineyards and the different varietals, but they have already started to rack up some awards and kudos for their wines.  Come and try for yourself!

A $5 tasting fee allows you to sample 4 of their wines, and is refunded with a purchase of wine.   We also found the price-point of their wines to be very reasonable for what you get!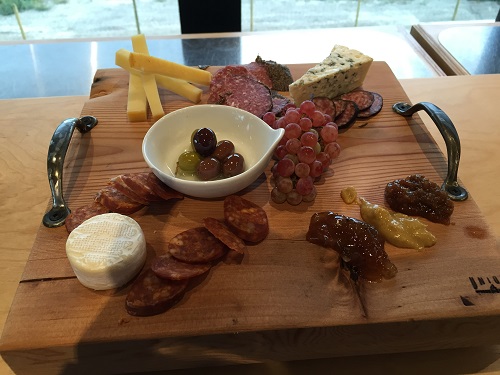 Monte Creek Charcuterie cheese platter (Photo Terri Axani)

And as mentioned, they are a working ranch, focusing on raising healthy and natural cattle, producing natural honey, and growing Haskap berries (considered to be very tasty, very good for you, and sweet and tangy, tasting like a cross between blueberries, raspberries and black currants).

Monte Creek Ranch Winery has a number of these fresh products available for sale and for taking out to enjoy on their deck, and also offer fresh local breads, cheeses, jellies and spreads, and of course, wines to enjoy while relaxing and picnicking outside.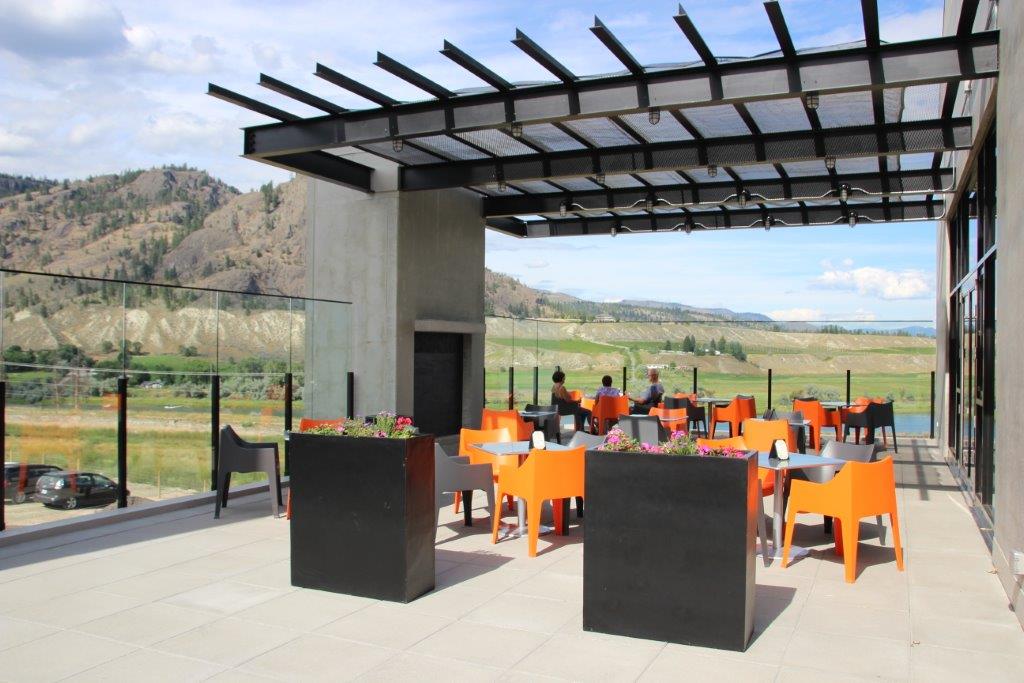 Beautiful Monte Creek Patio
Directions to Monte Creek Ranch Winery
Monte Creek Ranch Winery is typically the final winery of the four that make up the Kamloops Wine Trail, particularly if you are enjoying an escorted Kamloops and Sun Peaks Winery Tour. 
Complete the form at the bottom for more information or to join a tour or plan your own private group tour.

The winery is about 20 minutes east of Kamloops, just off the Trans Canada Highway.  The address is 2420 Miner's Bluff Road but some GPS's may not be able to get you there yet so either book a tour, follow the general Kamloops Wine Trail directions from Sagewood below, or check out the Monte Creek Ranch Winery website where they have a map.

From Sagewood Winery, turn right on the corner of Meadowcreek Road and turn right after about 2km at the bridge at the Lafarge plant.  Take the exit towards Vernon/Salmon Arm and then follow the signage for about 5km past the Highway 97 turnoff.  You'll see the Monte Creek Ranch tasting building up on the right hand side and just follow the signs.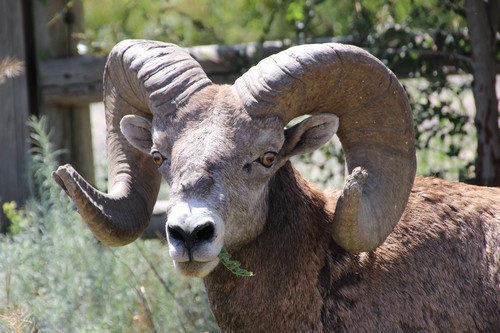 Hoodoos and Big Horn Sheep on the Kamloops Winery Trail
Remember to drive responsibly - don't drink and drive!

These Sun Peaks winery tours are a nice way to take a time out from the many activities at Sun Peaks, and experience some of the unique local scenery (hoodoos), wildlife (big horn sheep may be seen along the way) and enjoy British Columbia's newest wine region.


Need somewhere to stay at Sun Peaks with a private hot tub, great views, fantastic set up for kids, ski-in/ski-out, and set up nicely for enjoying your wine purchases?  Check out our Best Sun Peaks condo or our Best Sun Peaks Trapper's Landing Townhouse.
Want to add on some Sun Peaks Services like Sun Peaks spa treatments or in-suite massages - why not!?

Complete the form below for more wine tour information:



Return to Harper's Trail Winery

Return to Privato Winery

Return to Sagewood Winery

Return to Kamloops Wine Tours

Return to Sun Peaks winery tours

Return to Best Sun Peaks Home page