Best Sun Peaks Mobile Massage Services - RMT Available

Sun Peaks Mobile Massage Services - You're in great hands while at Sun Peaks
Book a Sun Peaks mobile massage and feel the stresses of everyday life or the aches and pains of a fantastic day of alpine skiing, Nordic skiing, snowshoeing, or hiking, biking, or golfing slip blissfully away.
Or perhaps you are participating in a business conference at Sun Peaks, or are one of the many excited (or nervous) brides or grooms (or wedding party members) that come to Sun Peaks year-round for their special day?
Pamper yourself and your body – you deserve it!  
If you want to get away from the family back in your accommodation, you can visit the wonderful Sun Peaks Spa for an excellent spa experience and they do have an RMT on hand at times but book well ahead.
We also recommend the newest Registered Massage Therapist (RMT) at Sun Peaks and he offers mobile services too.
Sun Peaks Mobile Massage Services (Massage Therapists)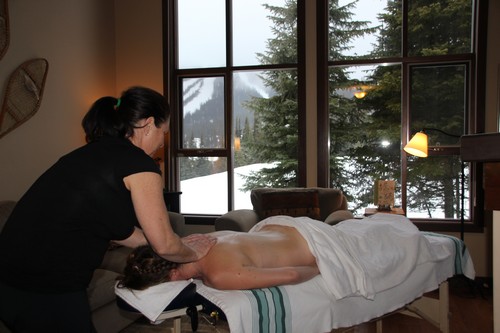 Being pampered in our Best Sun Peaks condo
After a fantastic review from a recent guest at our Best Sun Peaks condo, who enjoyed an amazing in-suite couples massage in our front room with the private, soaring 20 foot high windows out to Mt. Tod and Sundance Mountain, we gave 'Hands on the Move' Mobile Massage Services a try and it was wonderful!
And after each of us enjoyed a wonderful in-suite massage from Natalie recently, we are pleased to recommend her mobile massage services.
Hands on the Move is a strictly professional in-suite mobile massage service that will bring the pampering and luxurious feel of a soothing spa right to your Sun Peaks hotel room or other Sun Peaks rental accommodation. 

How easy and awesome is that! 
We even had to plan a return visit for Natalie at our new Trapper's Landing Townhouse.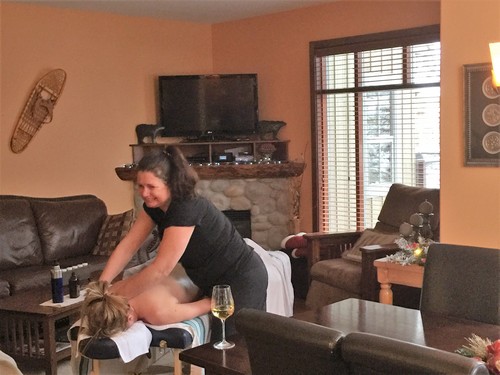 Go from the private hot tub, to the massage table, to the privacy of your own bathroom. 
What a perfect addition to your Best Sun Peaks Vacation!
Hands on the Move is operated by Natalie Klimmer, a professional certified and trained masseuse.  She is not registered as an RMT in British Columbia, however other Sun Peaks RMT's are now also available.
She has been helping others for many years and at many great ski resorts around the world, and lives nearby with her husband who also loves and enjoys the beautiful surroundings of Sun Peaks and area and neighboring heli-skiing mountains!




Sun Peaks Registered Massage Services
Ski injury massage - you bet!!
There are several Registered Massage Therapists (RMT's) operating at Sun Peaks or in the surrounding areas, as well as professionally trained masseuses who are perhaps trained elsewhere and do not have their B.C. RMT license.  One of our new Sun Peaks RMT's, Eric Wyatt also offers Sun Peaks mobile massage services.
All can provide wonderful treatments including massages for:
- Sports injury related massages
- Therapeutic massages
- Deep tissue massages for those aching muscles or
- Simple relaxation, rejuvenation and pampering massages

Cost and availability for this professional in-suite massage service varies by operator and location, so if you're interested complete and submit the form below and we will check availability and put you in touch with the appropriate massage therapist.  
Spoil yourself or pamper someone else.  Gift certificates are available.
Submit the form below with your questions or to be able to book a Sun Peaks Mobile Massage on line. 
You're in great hands with the various operators of Sun Peaks massage services.
But if you need a little more pampering but don't have time, how about a Sun Peaks Spa Express - for hydro massages, and quick facials, mani and pedicure services.  Want the full spa experience?  Visit the Sun Peaks Spa.
More in-house pleasure can be had with a gourmet, catered dinner party.  Or perhaps relax by enjoying a Sun Peaks area winery or craft brewery tour!?

Return to Best Sun Peaks Services
Return to Best Sun Peaks Home page
Book your luxurious Sun Peaks Vacation Rental Accommodation
View Eric Wyatt's online massage page - tell him Best Sun Peaks sent you.