Silver Stag Chalet Vacation Rental in Sun Peaks -  Luxurious Accommodation for up to 16 Guests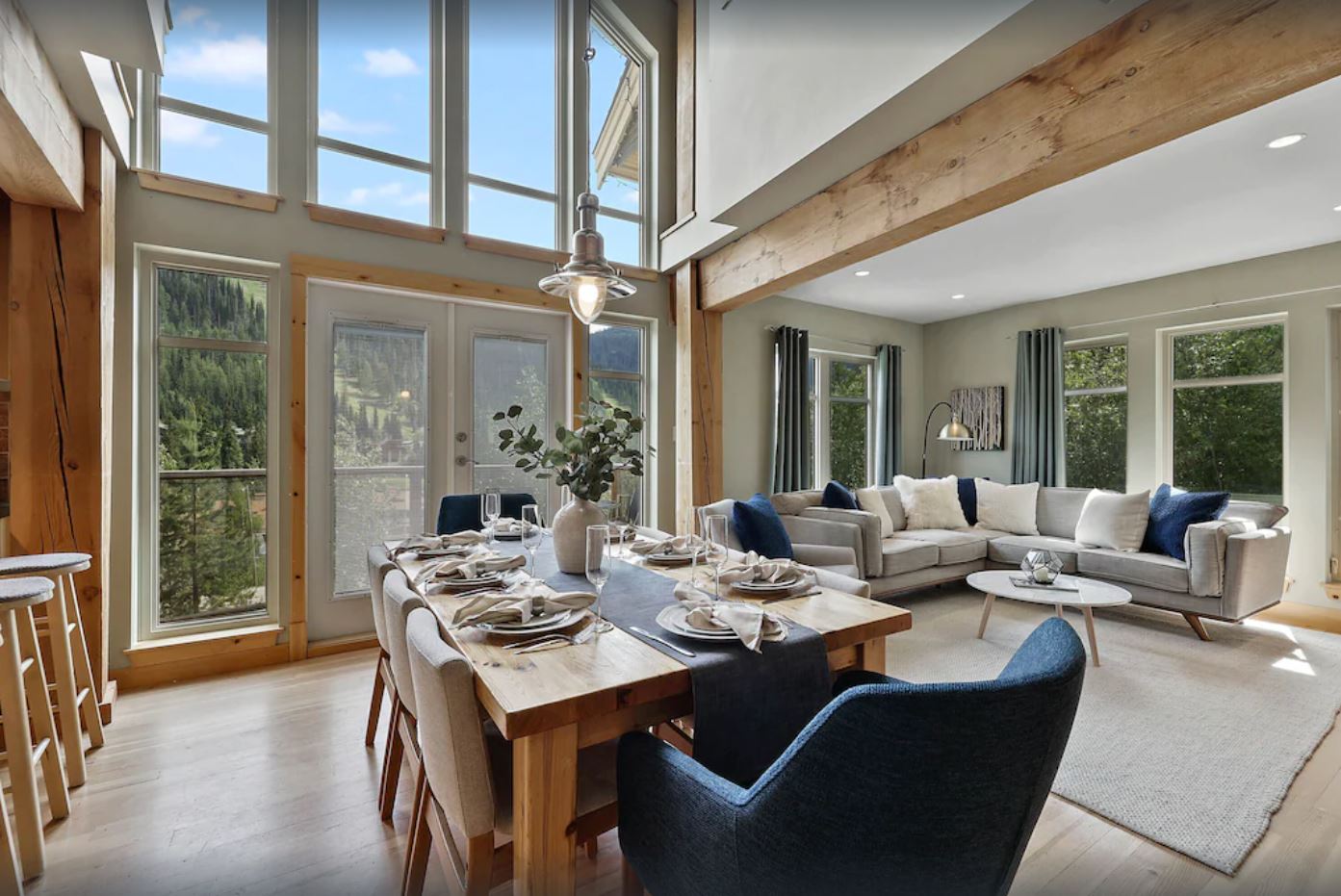 Beautiful and Luxurious Family & Pet Friendly Silver Stag Chalet with Spectacular Mountain Views
---
Exquisite Silver Stag Chalet With 6 bedrooms (Sleeps up to 16), Den/Entertainment Area, 4 Bathrooms, 2 Car Garage, Private Hot Tub, Barbeque & Entertainment Area, Mountain Views & Pet-Friendly


---
Bring your friends, colleagues or your extended family (and even your small dog) to Silver Stag in Sun Peaks and enjoy a luxurious vacation in this beautiful 'cozy cabin-feel' Sun Peaks slope-side chalet.
This unique and wonderful family and pet-friendly chalet is centrally located just steps from Sun Peaks Village but close to everything.
This is a gorgeous & luxurious, well-stocked family-friendly chalet with wonderful, accommodating hosts, Sara and Cameron, who also try their best to ensure you have a 'Best Sun Peaks' vacation!

The chalet offers beautiful mountain views, a double garage with plenty of additional parking spaces, a barbeque and outdoor dining area and of course a large, 8 person hot tub.
Since Silver Stag Chalet is designed and stocked with families in mind, they also have a high chair, packable crib, hiking toddler backpack, and a selection of toys that are available upon request.
Cherish your family-time together in the bright, open-concept living area that offers vaulted ceilings and a cabin-like feel that is bathed in light through the doors and many windows.  There is a beautiful dining room table with plenty of room for 8, as well as 3 more seats at the island, a well-equipped kitchen, large patios, barbeque area, and so much more.  This is such a beautiful home and you are sure to create many family memories at Silver Stag Chalet.
Luxury cabin-style kitchen and dining room with vaulted ceilings and speactcular views
The main floor master with a luxurious queen bed as well as a sofa bed with spacious ensuite also has a flatscreen television as well as a gas fireplace.  Oh yeah, it also has a great little kitchenette so you can have coffee (or champagne) without having to leave the bedroom! 
The 2nd and 3rd bedrooms on the upper floor have queen beds, and the 4th bedroom offers two twin size bunk beds.  There is also a spacious 4 piece bathroom.
The main floor den/tv area also offers a sofa bed and a widescreen television, and there are a couple of Super Nintendo consoles throughout the house to keep the little and the big kids happy.
The lower 2 bedroom suite offers a queen size bed in one bedroom and a twin over double size bunk bed in the second room, as well as a small but well-stocked kitchen and another bathroom.
With a combined 6 bedrooms and den, there is plenty  of space throughout for up to 16 guests to spread out and make themselves at home at the spectacular Silver Stag Chalet.
A list of rates and additional fees is below.  Please complete and submit the contact form for a full Silver Stag Chalet quote and availability status, and Sara or Cameron will be in touch as soon as possible.
One small pet may be permitted with owner's prior consent.  However no large parties and no smoking are permitted.
Book direct with the owners through BestSunPeaks for Best Silver Stag Pricing on this luxurious family-friendly Vacation Rental - see the Silver Stag contact form below.
---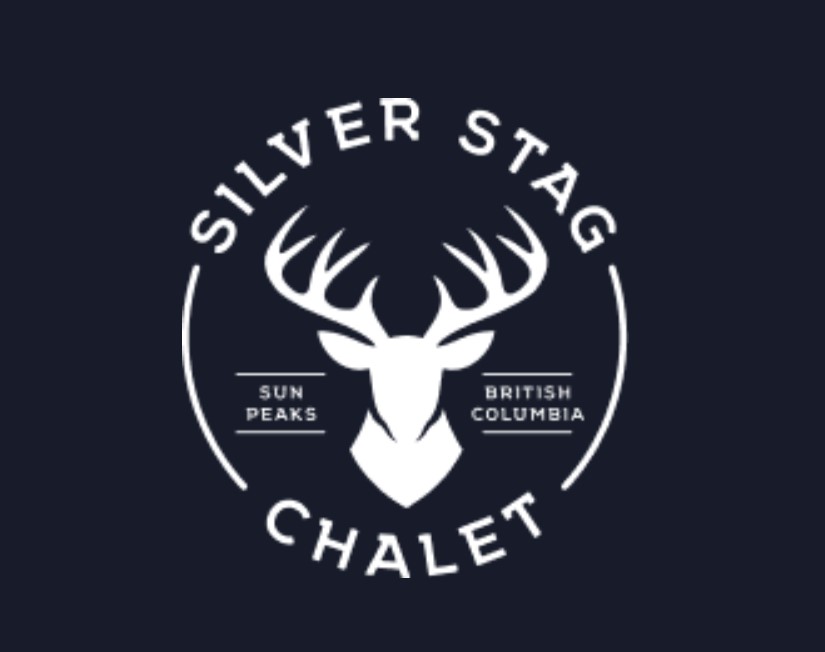 Silver Stag Luxury Chalet - Sun Peaks
---
  Silver Stag Chalet Sun Peaks - Guest Reviews
Excellent space and lots of rooms
5/5 Stayed Oct. 2021 Corey F.
House was gorgeous. Very cozy. Nice views. Plenty of room for big gathering.
Great place, Great location!
5/5 Stayed Sep. 2021
Wonderful time staying at Silver Stag Chalet! Sara was quick to respond with any inquiries we had. Location is ideal with access to the multi use valley trail just steps from the end of the driveway. For a bit more of a challenging trail, try the ever-developing network of tree covered single track trails right next door! I'll be sure to stay here in the winter to try the private ski in trail directly to the hot tub!
Outstanding experience!
5/5 Stayed Jul. 2021  Karen L.
This property was better than advertised. We are seasoned vacay renters and have seen the best and the worst. This was definitely at the top of the list of great rentals. Very clean and extremely well organized with everything you need, especially in the kitchen! Great small appliances, great cutlery and dishes, all in good order. The owners have thought of everything. Great communication - super fast response time and very helpful. I can't say enough about how perfect this experience was for us! Thank you Sara!!
HIGHLY recommend!
5/5 Stayed Aug. 2021  Amy M.
We LOVED our stay. Absolutely gorgeous property with loads of natural light in the living space. Plenty of space for all of us with space for the kids to have their own area so the adults could relax. Location was amazing, close to the trees when enjoying the outdoor space, and a quick/short walk to the village. It had everything we needed. We will DEFINITELY be back in the winter.
Amazing Location and View
5/5 Stayed Aug. 2021  Nicole M.
We had such a wonderful time in Sun Peaks and the home we rented was perfect. Sara was a pleasure to deal with. Amazing communication throughout the reservation process, and was more than happy to answer any questions we had prior to and during our visit. The home is located within a short distance to the village. The walk into the village was quick and easy. Even our littlest kids managed it without complaining! The house has everything you will need, and has probably the most equipped kitchen I have ever seen in a vacation rental. Even the knives were sharp! The kids all loved the big hot tub on the back deck, and we loved being able to sit and enjoy a glass of wine while they were splashing about. On our last night we got to sit at the dining table and enjoyed an amazing lightning storm over the mountains. The view from the house is beautiful! Highly recommend this home if you are visiting Sun Peaks with a larger group or family. It's a winner for sure!
---
---
Silver Stag Ski Chalet - Photos
Click on the area below to view the full Best Sun Peaks Silver Stag Vacation Rental photo album, or scroll down to see additional photos of this beautiful home.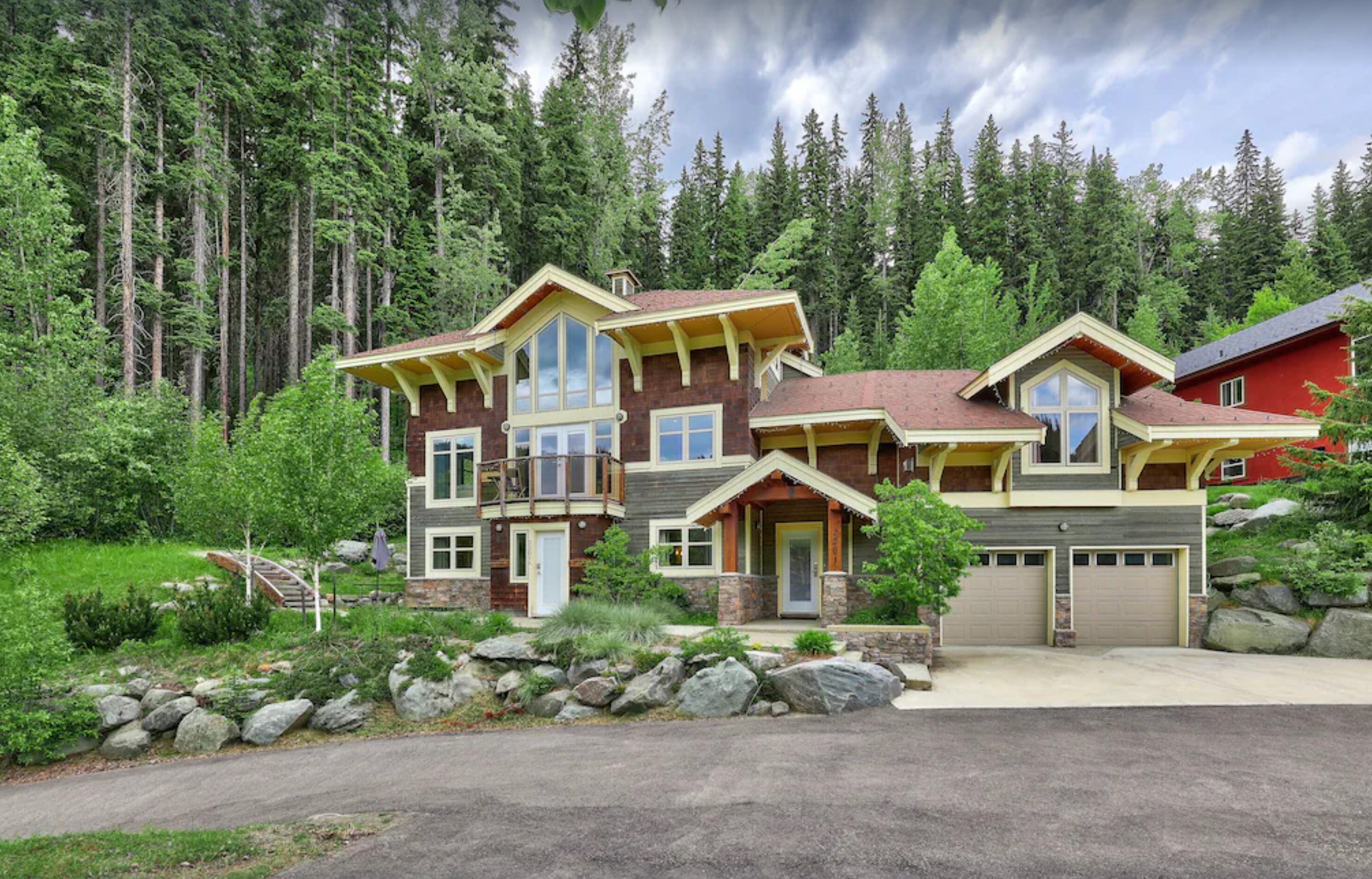 Beautiful, spacious & bright open concept home with stunning architecture
- beautiful, luxurious open-concept cabin-feel chalet
- beautiful views overlooking Mt. Morrisey 
- 2 car garage and plenty of free parking outside
- private backyard just steps from the slopes and mountain bike trails
- private rear entertainment area, barbeque and hot tub
- Just steps from the village but close to everything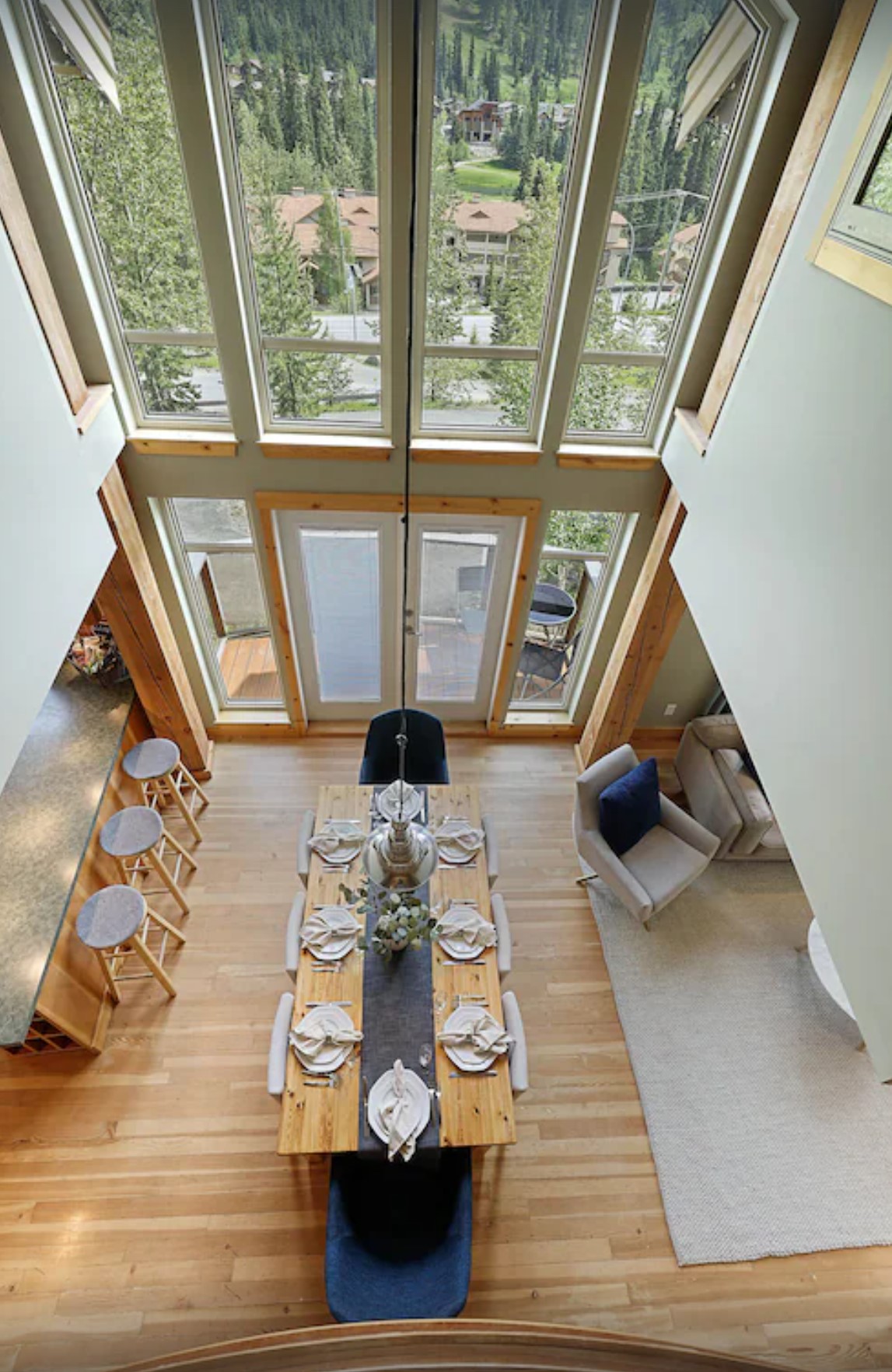 Bright, comfortable & spacious dining area with souring arched ceilings
- wonderful dining room table with plenty of room for 8 at the table
- 3 additional seats at the kitchen counter
- luxurious upgrades
- warm light through the many windows
- patio and beautiful views
- pantry and plenty of beautiful wood cabinets
- open concept family room and kitchen area
- well stocked cupboards with lots of various appliances
Luxurious Silver Stag kitchen - a foodies delight!
- beautiful modern kitchen with plenty of cupboard space
- large peninsula with 3 stools
- well stocked with all you need to prepare amazing meals
- lovely mountain views
- open concept with vaulted ceilings in the dining area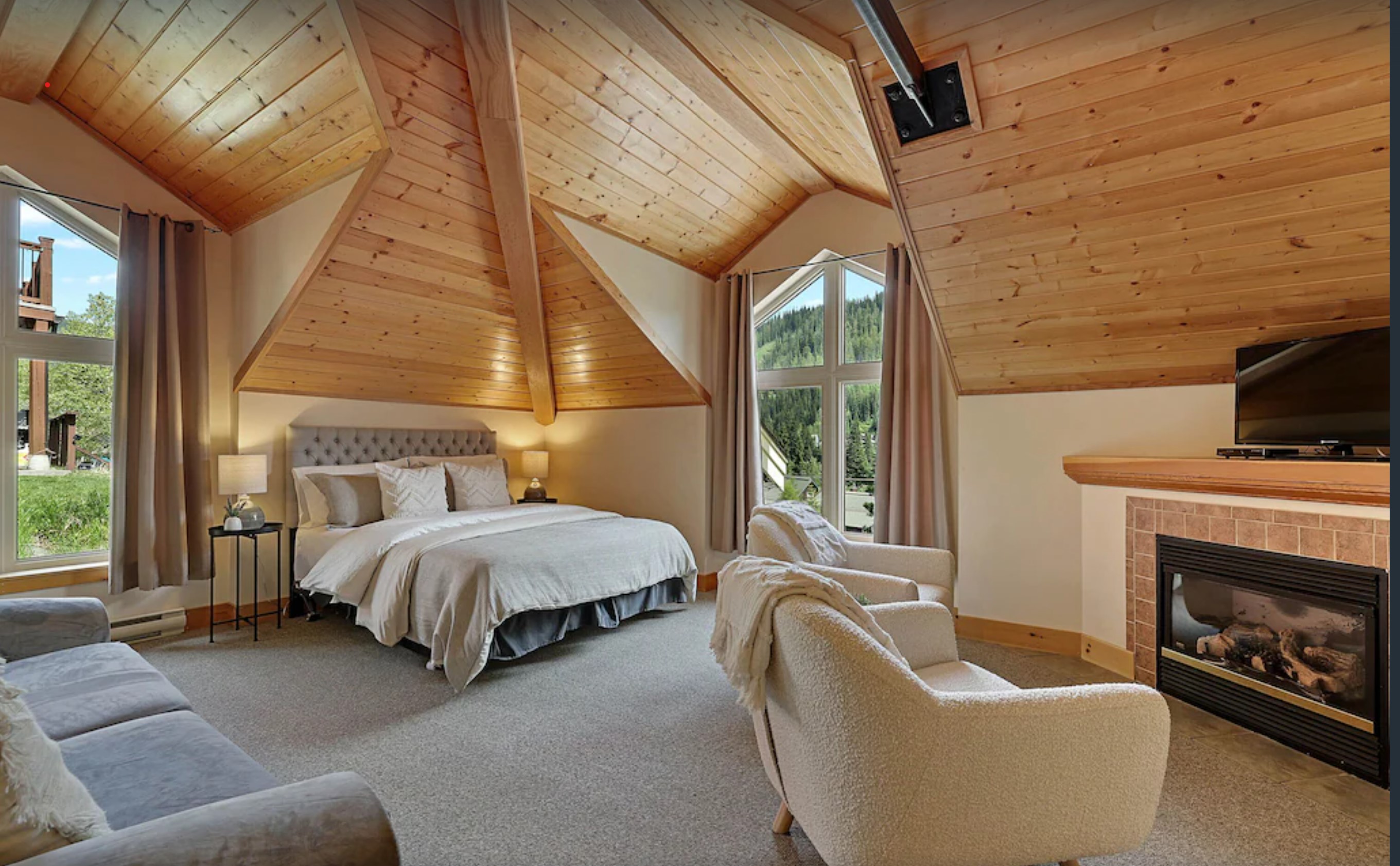 Spacious and luxurious master bedroom with private fireplace
- spacious master bedroom with queen size bed and sofabed if needed
- comfy mattresses & pillows with high-quality linens
- beautiful wood-covered vaulted ceilings
- warm lighting with wonderful views
- in-room kitchenette with coffee maker and microwave for your own little escape
- luxurious and spacious 3 piece ensuite bathroom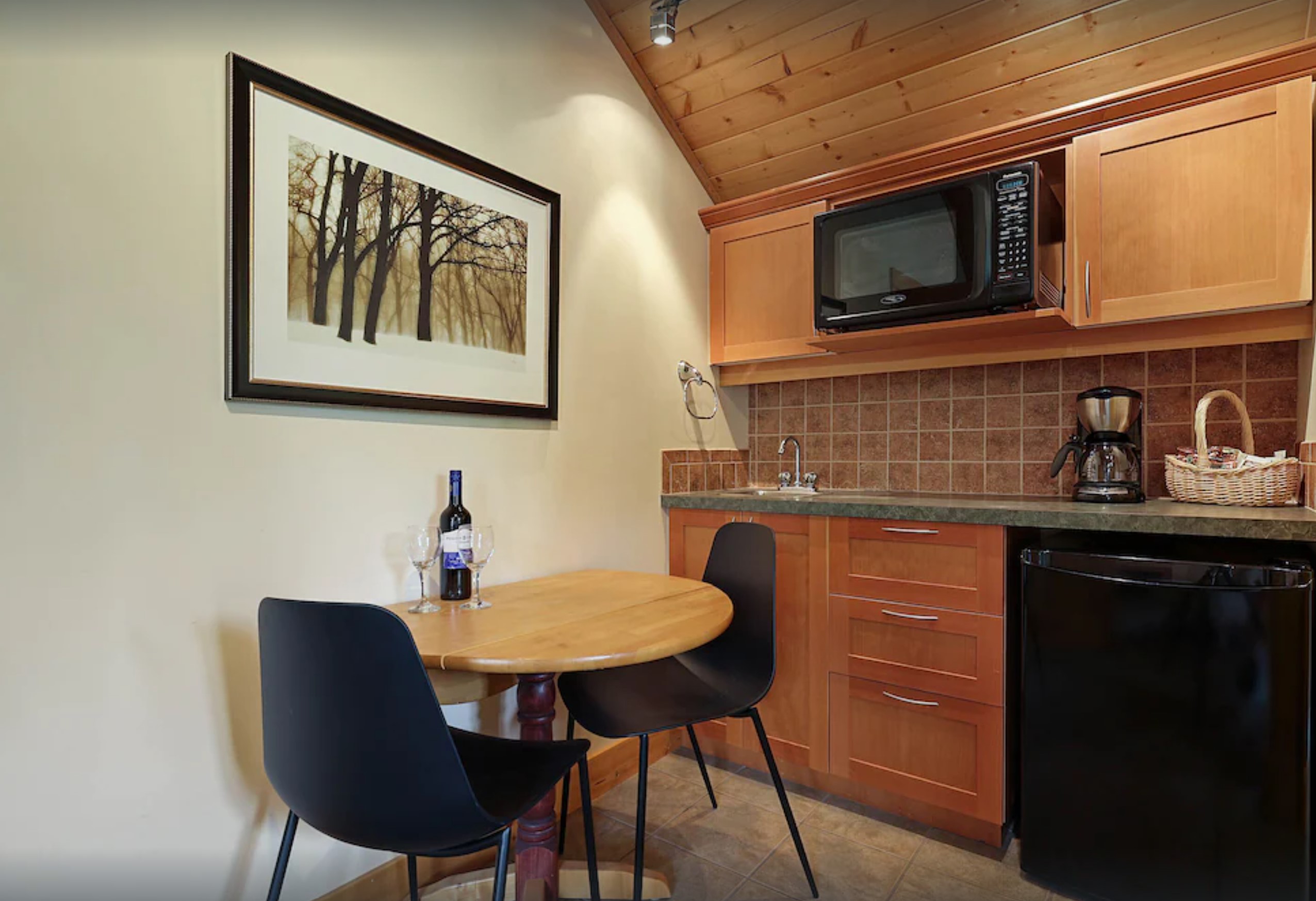 Bonus 'in-room' master bedroom kitchenette
- lovely master bedroom kitchenette

- coffee maker
- microwave
- dishwasher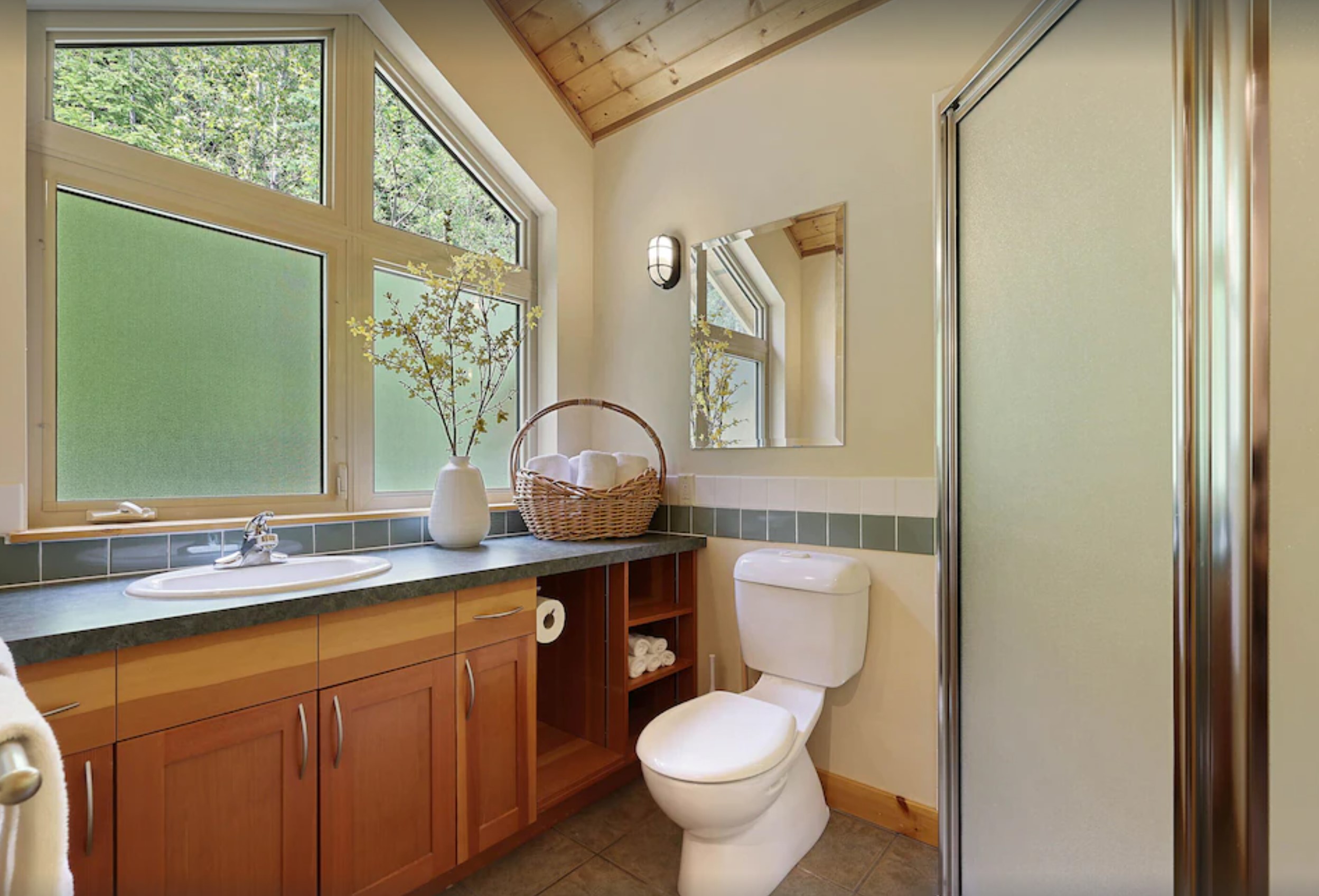 Master bedroom ensuite
- ensuite bathroom
- vaulted wood ceiling
Spacious and comfortable 2nd & 3rd bedroom with queen bed
- comfortable and spacious similar 2nd & 3rd bedrooms with queen size bed
- soft carpeting
- nearby 4 piece bathroom
- comfortable mattress and pillows with luxurious new linens
- lots of natural light and wonderful views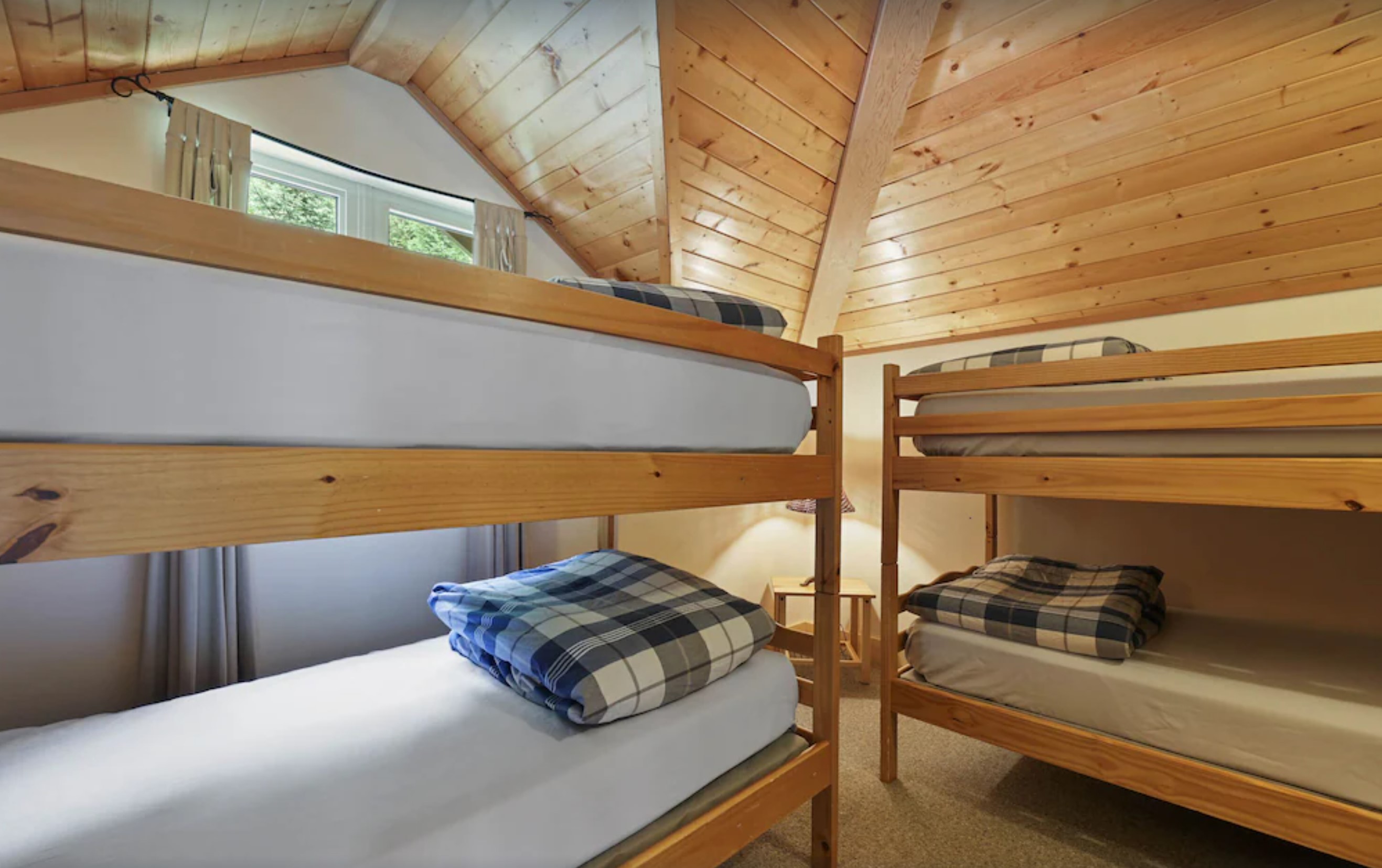 2 sets of bunk beds for the kids
- fourth upper bedroom with 2 sets of twin bunk beds to keep the kids together
- soft carpeting for those cold, wintery days
- comfortable mattresses, pillows & linens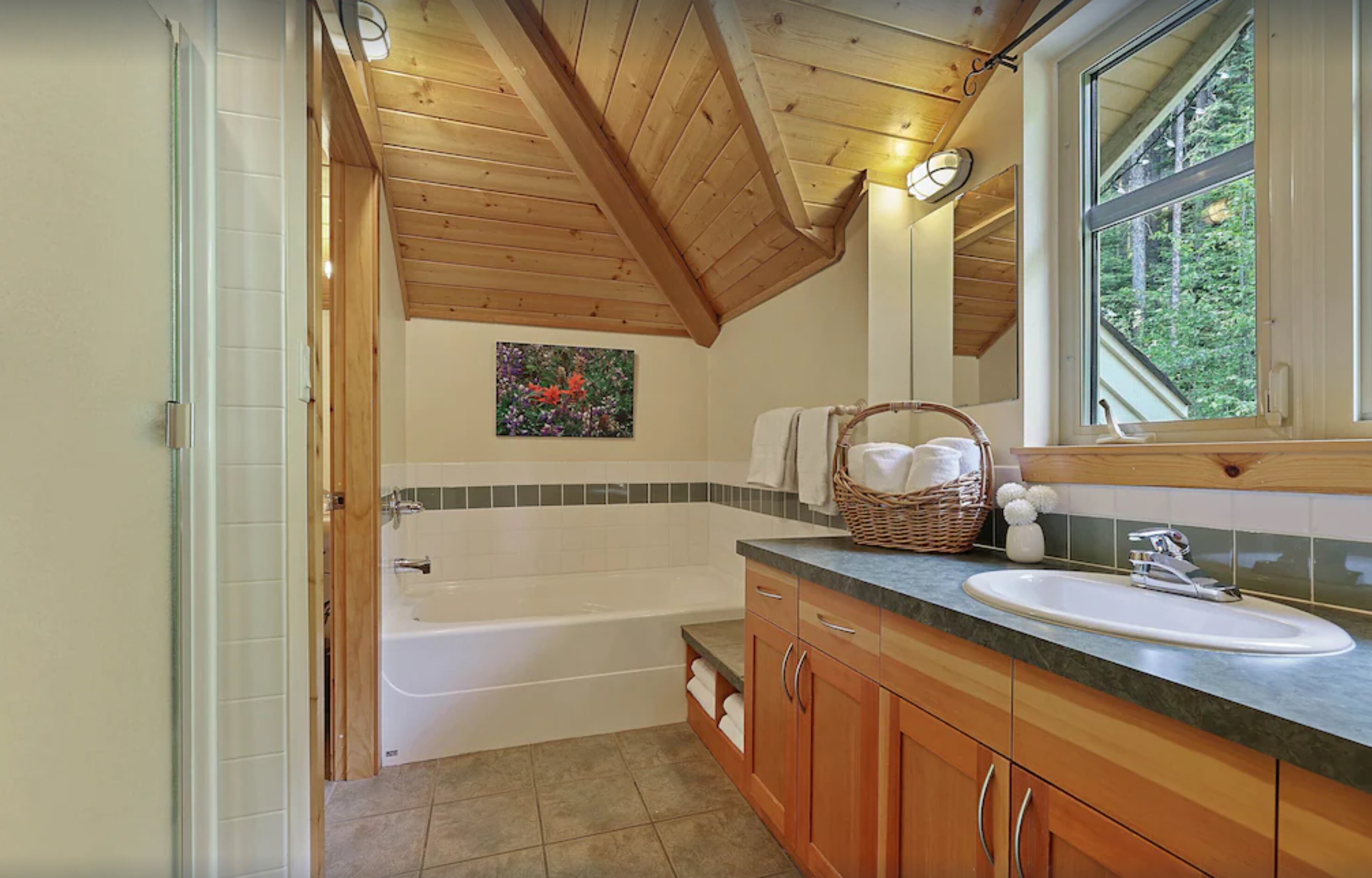 Spacious 4 piece bathroom on the upper floor
- beautiful 4 piece bathroom on the upper bedroom floor
- vaulted ceilings throughout Silver Stag Chalet
- window views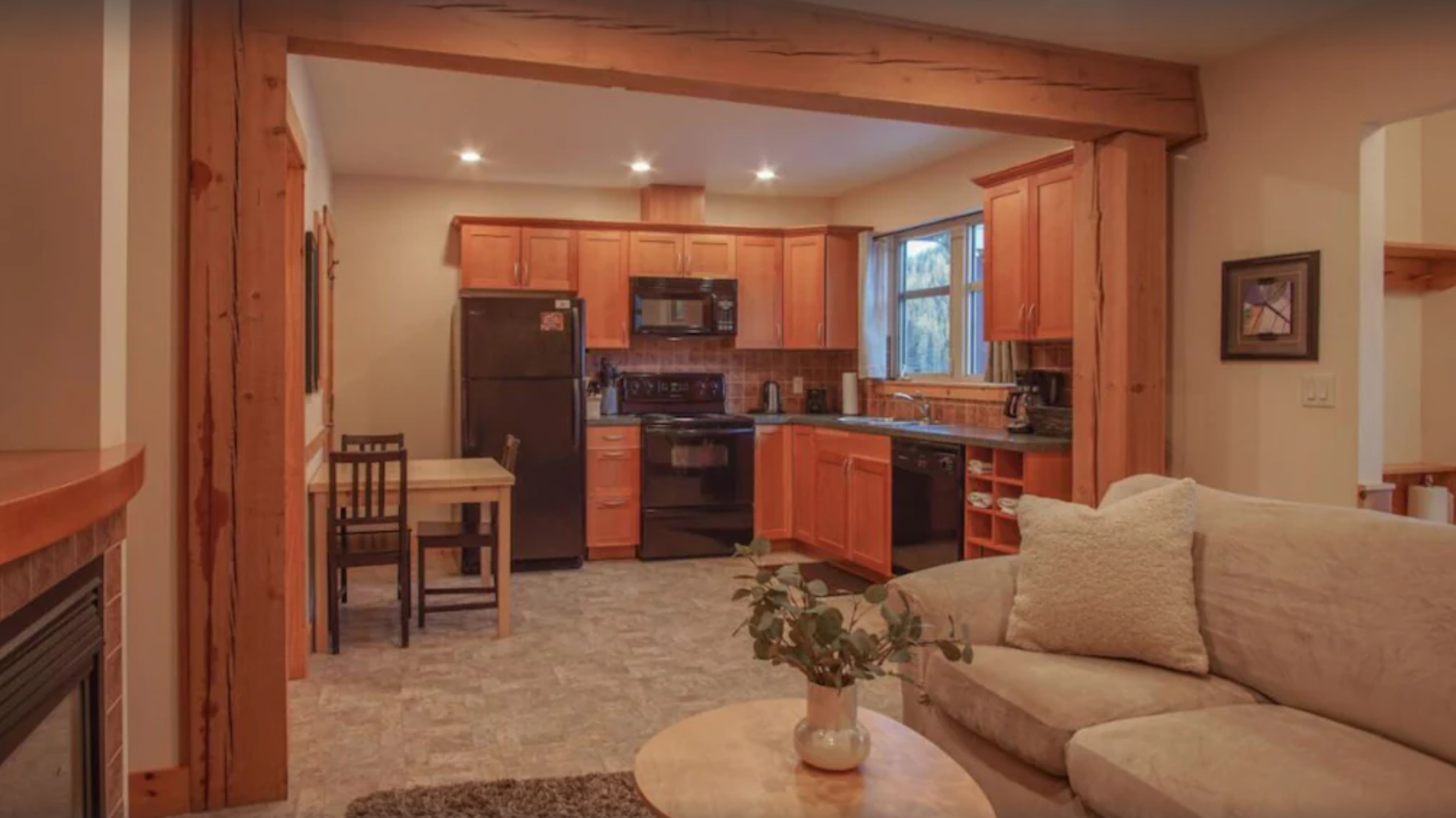 Silver Stag 2 bedroom suite with kitchen
- convenient lower 2 bedroom suite that can be rented along with the whole upper suite

- well-stocked kitchen
- 2 bedrooms (one with queen bed, one with twin over double bunkbed) plus a pull-out couch
- gas fireplace

- sleeps 4-5 additional guests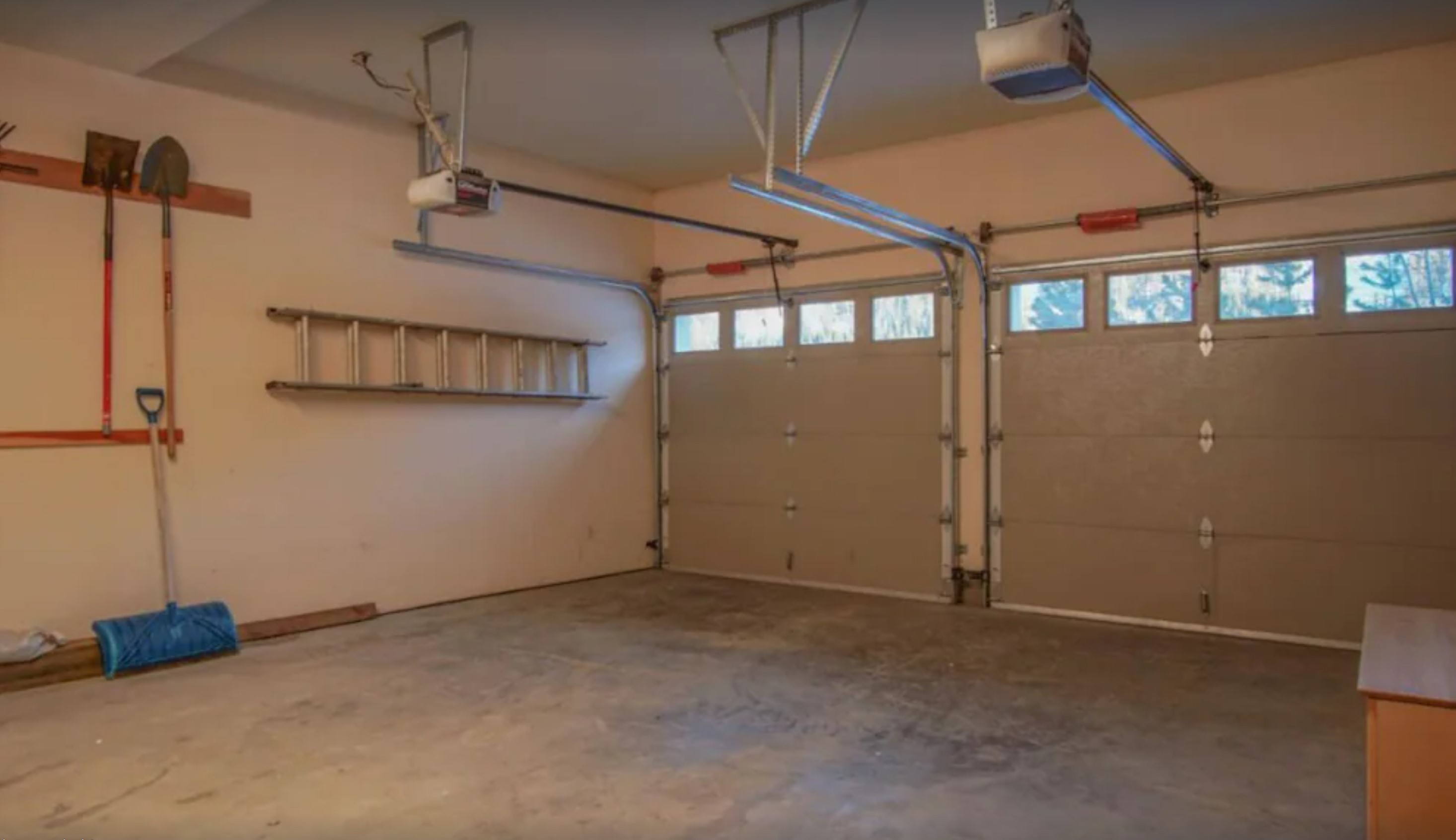 Space for two cars and more in your Silver Stag Chalet garage
- spacious and bright two car garage

- plenty of external parking too!
- ski racks for all your winter gear and space for your summer bikes, kayaks, paddleboards and more
Private backyard, barbeque, entertaining area and hot tub
- private Silver Stag hot tub

- private exterior dining area

- propane grill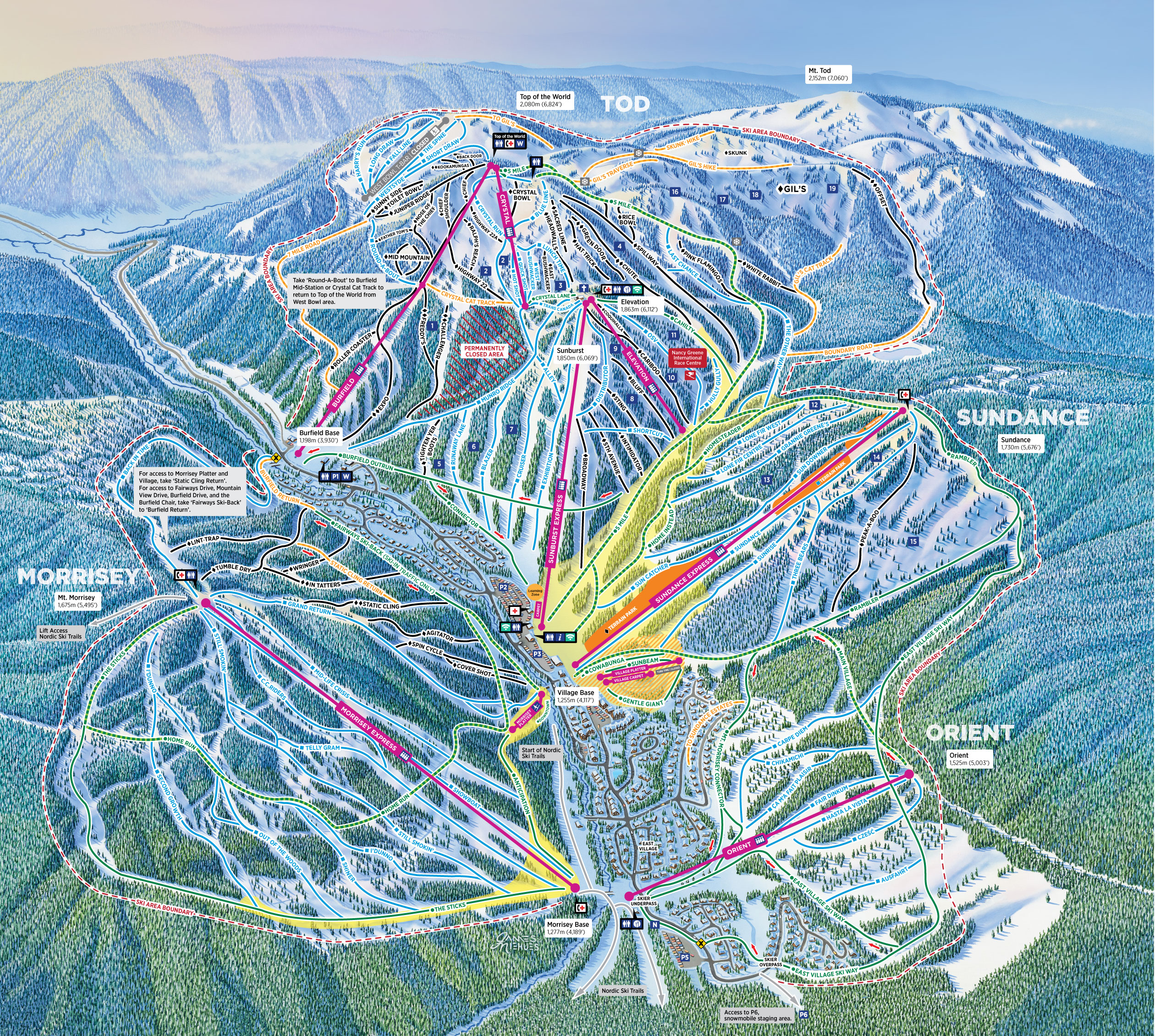 - easy access to ski-in/ski out routes (ski right to the back yard at the end of the day)
- 4,270 acres of skiable terrain, 2nd largest alpine ski area in Canada
- 2,800+ feet of vertical
- 2000+ hours of sunshine and 230+ inches of famous champagne powder each year
- affordable lift passes, multi-day passes and season tickets
- 138 trails and growing, including 19 gladed areas, 13 lifts, and minimal line-ups at any time!
- Many winter activities for all levels of skiers and for non-skiers
- four season outdoor paradise with many spring, summer and fall activities as well
---
Silver Stag Chalet Nightly Rates
Guests may book direct with the owners for best rates and will avoid having to pay the hidden VRBO and AirBnb booking fees. 
Rates for this beautiful chalet vary from $650/night to $2,000/night depending on the season.  A sample of the rates appears below:
Jan 9 - Feb 17, 2023 -  $1,600/night -3 night min
Feb 18-25, 2023 -  $1,800/night - 6 night min
Feb 26-Mar 10, 2023 $1,600/night -3 night min
Mar 11- Mar 25, 2023 -  $1,700/night - 6 night min
Mar 27 - Apr 1, 2023 -  $1,200/night -3 night min
Apr 2 - Nov 23, 2023 $800/night for Sun to Thurs and $1000/night for Fri/Sat -3 night min
Nov 24 - Dec 14, 2023 -  $1,200/night -3 night min
Dec 15 - Jan 7, 2024 - $2000/night - 6 night min
Jan 8 - Feb 15, 2024 -  $1,600/night -3 night min
Feb 16-24, 2024 -  $1,800/night - 6 night min
Feb 25-Mar 8, 2024 $1,600/night -3 night min
Mar 9- Mar 23, 2024 -  $1,700/night - 6 night min
Mar 24 - Mar 30, 2024 -  $1,200/night -3 night min
Mar 31 - Nov 15, 2024 $800/night for Sun to Thurs and $1000/night for Fri/Sat -3 night min
Nov 16 - Dec 13, 2024 -  $1,200/night -3 night min
Dec 14 - Jan 4, 2025 - $2000/night - 6 night min
For a full quote, complete and submit the Silver Stag Chalet contact form below for best pricing and availability inquiries direct from the owners of this beautiful chalet.

50% down payment is due upon booking and the balance is due 1 week prior to arrival.  
A $500 Cleaning Fee will be added - inquire below for best pricing.
A $50 pet fee will apply if your pet is approved to stay.
A refundable security deposit of $3,500 will be collected at time of full payment. This will be returned to you after inspection of the property. 
Pets subject to owner approval, no smoking, no large gatherings or parties.
Full refund if cancelled 30 days or more before your stay, 50% between 14 and 30 days, less than14 days no refund.
NO OTHER SERVICE FEES APPLY  FOR THIS SILVER STAG CHALET VACATION RENTAL (such as on VRBO and AirBnb)

For an estimate - complete the quote form below and click Silver Stag Chalet in the top box.  
---
---
---
---
---
Silver Stag Chalet 
Calendar & Availability
---
Silver Stag -  Houfy Vacation Rental Site
We are pleased to have this beautiful Echo Landing Vacation Rental listed on a new site called HouFY (House For You), which provides an easy to use, unique and enhanced experience to list or find vacation rental properties.  It is similar to VRBO/Homeaway and Airbnb, except better since there are no booking fees or communication restrictions, which will save you 10% or more. 
Houfy is easy to use and you can save money on many properties around the world and book your vacation rental direct with the verified owners using this growing rental community platform.

Contact the owners directly for information on this townhouse and dozens of other properties using the form above, or for a quick Echo Landing quote and availability check, complete the contact form:


Contact us if your preferred dates are unavailable, or if you wish to look at other options where you can save up to 10% on dozens of other Sun Peaks rental condos, townhouses or chalets managed by Top of the Mountain.
We work with other Sun Peaks Vacation Rental by Owners as well - contact us with your accommodation needs by filling out the Silver Stag Chalet contact form above.

Return to Best Sun Peaks Vacation Rentals
Return to Best Sun Peaks Home page