Sun Peaks Skiing and Snowboarding - 3 Unique Mountains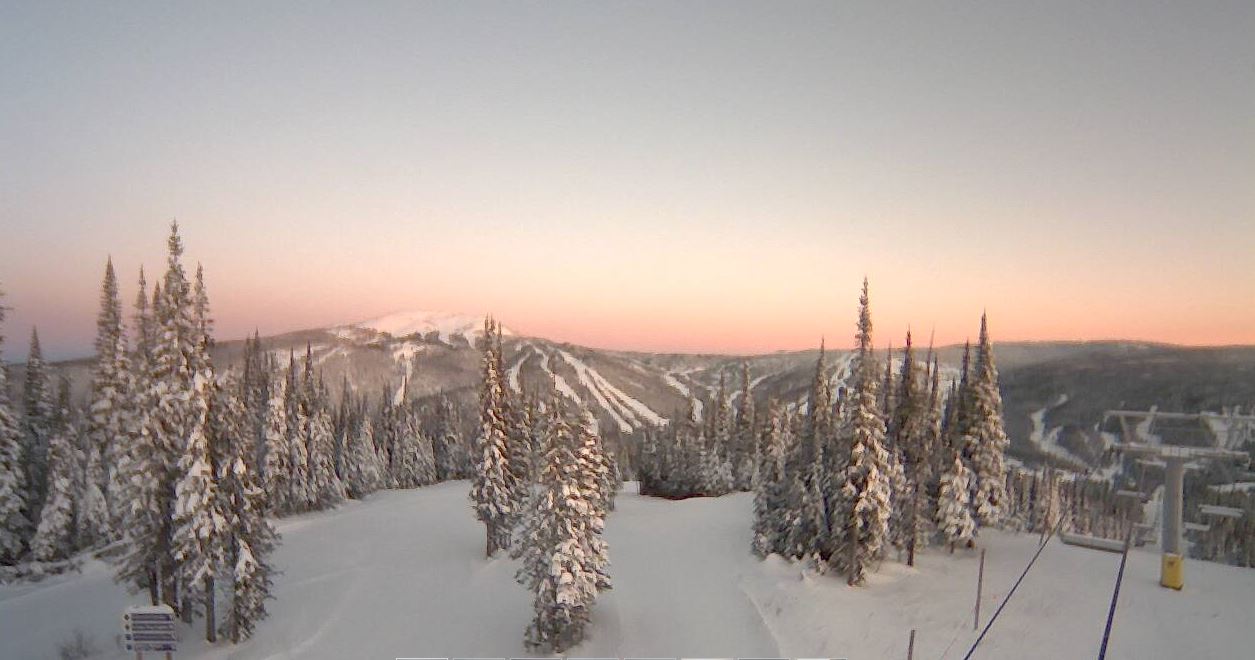 Three unique Sun Peaks skiing and Snowboarding Mountains and one cool ski-through village
Sun Peaks skiing and snowboarding at Canada's second largest ski resort is considered to be the best Sun Peaks winter activity by most visitors. But there are also many other Sun Peaks winter activities for skiers and non-skiers to enjoy there, as well as free or low-cost activities.
Lifts started turning for the 2022/23 ski season on November 19th, 2022.
With three mountains (Tod, Sundance and Morrisey), all conveniently leading down to the quaint, ski-through European-style village, Sun Peaks offers trails to keep everyone happy over their 138 (and still growing) trails spread out over 4,270 acres of terrain with 13 lifts.

There may not be the extreme cliffs or as many steeps that some other nearby resorts offer, but there is a maximum 882 meter/2,894 feet of vertical, two alpine bowls, 19 gladed areas and a cool 10 acre terrain park for skiers and boarders.  
For those that do want great off-piste skiing, check out the Sun Peaks Gil's area or perhaps book a Sun Peaks Cat Skiing or backcountry adventure.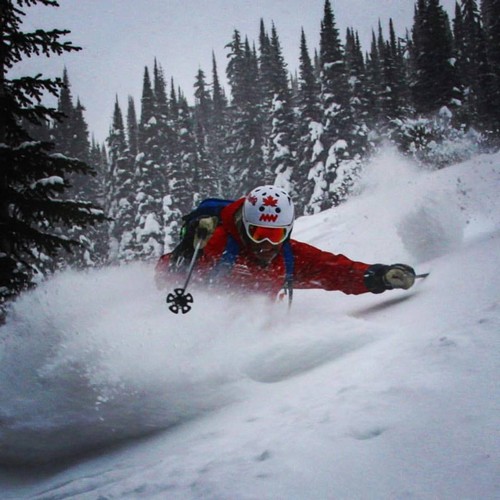 Ski runs for all levels and abilities
4 high speed quads, 2 regular quads, 1 triple and 6 surface lifts can easily get up to 12,000 riders/hour up one of the three mountains, where you quite often will have some runs to yourself.  December 2018 included the introduction of the newest quad lift, currently referred to as the Orient, and the Sun Peaks 2019/20 expansion plan includes the removal of the 40 year-old Crystal chair and installation of a new chair which will now end at the Top of the World.

There is also some fantastic off-piste, back-country-like but now in bounds, gladed skiing in the Gil's ski area for intermediate to expert skiers to explore and enjoy.  Professionally certified Canadian Ski Guides hold daily Introduction to Back-country ski camps in the Gil's area at Sun Peaks. 
While this is not a certification type of course, it is highly recommended as students learn the basics of avalanche gear, partner rescue, reading the terrain, and snow science.  Click to learn more about Gil's and back-country courses.
Click here for Best Sun Peaks ski equipment rental options.
Book Best Sun Peaks ski-in/ski-out vacation rentals direct with the owners and save an average of 10%, all with great ski-in/ski-out access.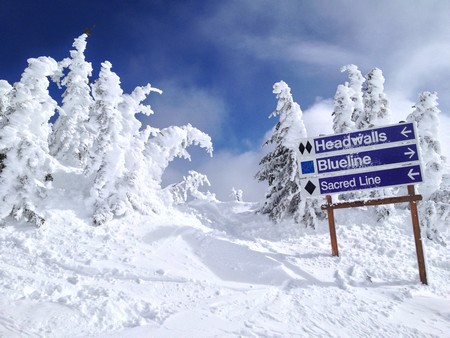 Snow Ghosts - Tod Mountain at Sun Peaks
Line-ups are virtually non-existent, the lifties and groomers all do a fantastic job, there are many bluebird days with over 2,000 hours of sunshine each year, and Sun Peaks is consistently ranked as one of the Best Family Friendly Ski Resorts in North America.

Ski/board season at Sun Peaks typically runs from the third weekend in November until the end of the second week of April, and there is typically over 6 meters or 237 inches of famous, light, fluffy, dry champagne powder to enjoy.  It frequently falls overnight so you will want to rise early each day and have a peek.

There are excellent instructors/lessons for skiers and boarders of virtually any age or ability, from tots and beginners to experts who want to learn snow safety and survival skills or learn from local experts where the best Sun Peaks ski runs and powder stashes are.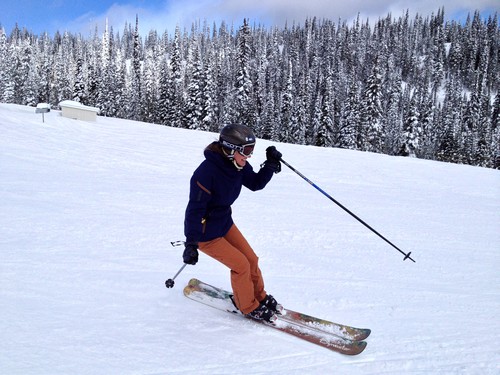 Fancy skiing with fine form
Excellent childcare services are available at the base of the mountain, and Sun Peaks snow-limos are even available for those who would love to feel the thrill and excitement of skiing but are unable to for any number of reasons.

Sun Peaks is an excellent family/intermediate resort, with 10% of the runs being green, 58% blue, and 32% black or double-black diamond. 
The longest cruiser is 5 Mile, and yes it is 5 miles long, home of the popular Sun Peaks Evening Fondue and Descent nights, and all three mountains have a mix of runs that would suit any skier.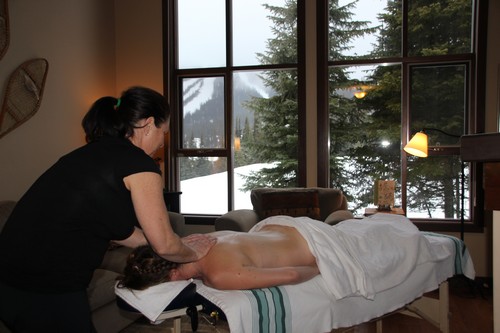 In Suite Mobile Massage at Sun Peaks
Some locals (who want non-local skiers to stay away from their Burf turf with all the best Sun Peaks powder) will suggest visitors head to the village and do a few warm-up runs on the groomed Sundance Mountain trails first, followed by some great runs and wide open bowls up in the Crystal and Top of the World area of Tod Mountain.

Head to the village for some lunch, and then head up and/or over to Morrisey where the decorated pine trees and afternoon sunshine on typically 'still-fresh snow' await skiers and boarders. 
Finish off a fantastic day of skiing by either heading back to the village for some apres-ski fun, or ski out to your wonderful Sun Peaks accommodation and hop into the waiting hot tub, or book an in-suite massage.
Enjoy a leisurely stroll back to the village after dinner and enjoy a wonderful horse drawn sleigh ride around the village.

Other Sun Peaks Skiing and Boarding Activities
Some other popular Sun Peaks ski and snowboard options to consider include:


Excellent ski and snowboard lessons: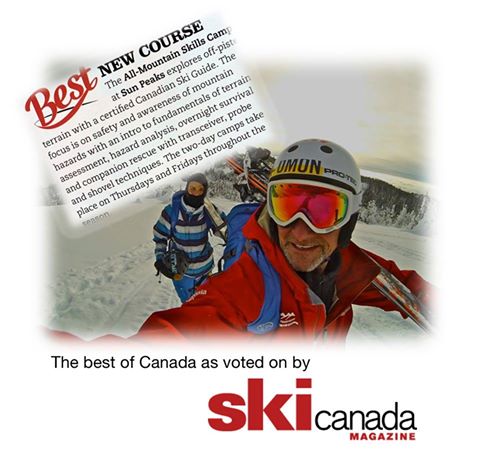 Best New Course - Ski Canada Magazine 2015
Many excellent ski lesson options for tots through to experts with fantastic instructors at all levels.
The 2015/16 season included adding a new training area for tots, and a special camp tailored to keep teens interested and improving.
The Sun Peaks instructors are always receiving kudos for the fantastic job they do with the students of all ages and abilities.

And with the addition of the popular Gil's ski area into the resort boundary and the new guided Gil's Tour, came the introduction of a number of excellent new courses from Sun Peaks Resort and local professional ski guide/instructor, Bodie Shandro:

- All Mountain Skills Camp which focuses on off-piste safety and awareness of mountain hazards, including terrain assessment, hazard analysis, overnight survival, as well as companion rescue with transceiver, probe, and shovel techniques.  Our kids both thought this course was AWESOME!

- Beyond the Groomers Camp allows you to explore over 500 acres of expanded terrain (with steeps, glades, moguls, and exceptional powder skiing) in this guided ski improvement camp with their top professional instructor. 

- Helicat Warm Up Camp which allows skiers to properly warm-up and fine tune their powder skiing technique in the legendary Gil's terrain while developing the necessary backcountry skills prior to enjoying a spectacular nearby Helicopter or Cat skiing vacation. Learn or be reminded about avalanche awareness, companion rescue, tree wells and backcountry hazard recognition with this wonderful new course.
- Sun Peaks Cat Skiing day trips are available for a limited number of dates starting in 2020. Luxury shuttle buses whisk you away to join K3 Cat Ski with an unforgettable day of back country cat skiing.

To learn more about these and other Sun Peaks Resort guided tours and camps, contact the Sun Peaks Sports School or simply complete and submit the form below and a sports school expert will be in touch. 
f you prefer to have Bodie as your instructor/guide if he is available, please specify in your comments so the ski school knows to check his availability.
Reason for recommendation: "We booked a private ski lesson with Bodie  Shandro and had a spectacular time. He was really informative and took us to lots of nice hidden gems on the mountain. Really easy to connect with and great man! Highly recommend!"  Ana and Chris, Langley, BC.  December, 2019
Remember to ask for Bodie by name when requesting a ski guide/private ski lesson or tour.
Ski with Nancy Greene Raine:
Olympic Champion, Canadian Senator, and Director of Skiing, Nancy Greene Raine makes her winter home at Sun Peaks and enjoys skiing with resort guests on weekends and holidays whenever possible.  Generally tours depart most Saturdays and Sundays at 1:00pm from the top of the Sunburst Express chairlift. 
Signs indicating if Nancy is skiing that day are posted at the bottom and top of the Sunburst and Sundance chairs and everyone is welcome, no matter what ability level you are!


Free Sun Peaks Mountain Tours:
Sun Peaks Snow Hosts offer very popular and FREE daily tours of the mountains for virtually all skier levels, departing from an area between the day lodge and the Sunburst Express daily at around 9:15 am and 1:00 pm – look for their trademark bright orange jackets about 10 minutes before scheduled departure times.


Three Mountain Tour of Sun Peaks: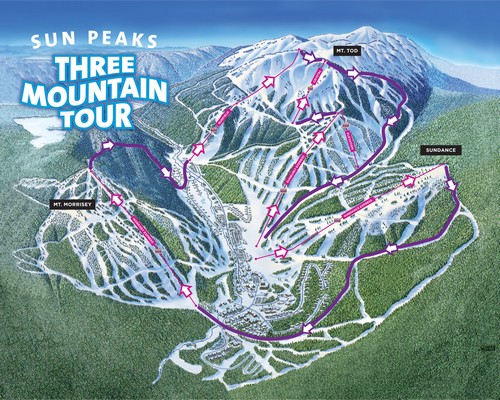 Three Mountain Tour at Sun Peaks Resort

While even most experts can`t try all the 133+ runs in one trip, you can explore and enjoy the diverse and vast skiable terrain by picking up a Sun Peaks Three Mountain Tour trail map at Guest Services.
The suggested route will cover almost 27 kilometers and 2,735 vertical metres, and takes you on some of the best runs on all three mountains.



Nordic Skiing:
Enjoy over 34 kilometers of scenic, well-groomed and track-set cross-country ski trails right from the village and most accommodation. Better yet, use your lift pass to ride the Morrisey Express Chairlift for access to wonderful backcountry terrain and scenic mountain views off the Holy Cow trail.
You can even bring your dog along on the Sun Peaks Skiing pet-friendly route to the McGillivray Lake Outpost warming hut.


Sun Peaks Evening Fondue and Descent: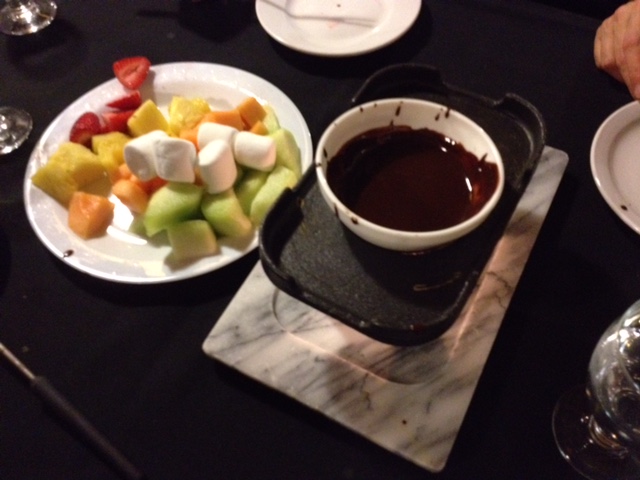 Sun Peaks Chocolate Fondue
The Sun Peaks Evening Fondue and Torchlight Descent down the 5 Mile run is another truly unique Sun Peaks skiing experience that we totally enjoyed and recommend to others. 
Great food, times and evening skiing by torchlight. 
You need to be quite comfortable on green runs and please remember to remove your ski goggles at night!! 
Tons of fun enjoying Sun Peaks Skiing at night!!




Many Other Winter Activities for Skiers and Non-Skiers:
There are so many fun-filled winter activities, for free or to purchase. 
Please see our Best Sun Peaks winter activities page, and let us know what your favorite trail or activity was.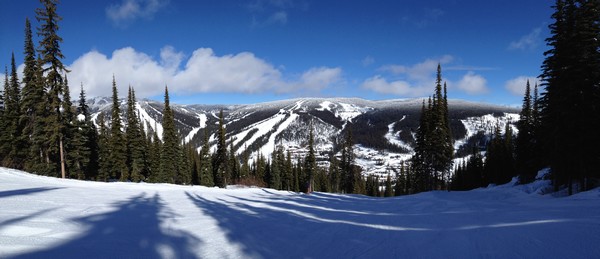 Another beauty day at Sun Peaks Resort
Best Sun Peaks Lift Ticket Prices
Due to COVID-19 related ski season changes, we are unable to offer the discounted lift passes through Liftopia this year.  Day passes need to be ordered online and ahead of time directly from Sun Peaks.


Return to Best Sun Peaks Home page
Book a wonderful Sun Peaks Vacation Rental property from owners

Return to Best Sun Peaks Winter Activities
Return to Sun Peaks Cat Skiing