Sun Peaks Snowshoeing Trails - exercise, sight-seeing and awesome family fun!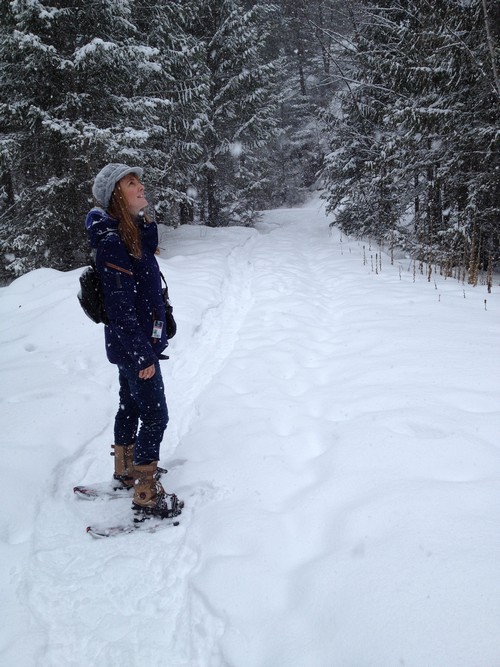 Nancy snowshoeing to the Sun Peaks waterfall
Sun Peaks snowshoeing is an excellent way for non-skiers and Sun Peaks skiers of all ages and fitness levels to enjoy the beautiful Sun Peaks Resort winter wonderland surroundings, breath in some wonderful fresh mountain air, and get a fantastic, low impact workout.
While stand up paddleboarding is an excellent summer and fall Sun Peaks activity that allows you to 'walk on water,' snowshoeing is a popular Sun Peaks winter activity that allows you to safely and easily walk on top of the spectacular champagne powder snow that blankets the resort and surrounding area each winter season.
Sun Peaks offers five lower, marked snowshoe trails departing from the village base area, covering over 15 kilometers (8.5 miles) as well as a number of higher elevation, lift accessed trails that are only accessible with a Sun Peaks Snowshoeing guide as part of a group or private snowshoe tour.
The traditional, long, bent wood, leather, and animal gut snowshoes are still in use by some, but are typically mounted to the wall as a decoration like in our Best Sun Peaks condo or Sun Peaks townhouse.  And new, light-weight, easy-to-use, aluminum frame snowshoes can now be seen in use by people of all ages and athletic abilities.


Sun Peaks Snowshoe Trails
McGillivray Lake Warming Hut - Beautiful snowshoe tour - photo by @putsky88
Such a beautiful winter wonderland just outside of the village on the Morrisey Ridge Snowshoe Trail. So near yet seems like such a peaceful snow-covered world away.
There are 5 well-marked snowshoe trails to explore, covering over 15 km., for people of all levels of skills and abilities.
If you can walk you will probably enjoy the Valley Interpretative trail or even the Morrisey Ridge Trail, and more experienced or fit people will enjoy the Valley View Loop or the McGillivray Lake Cabin Trail.
And experts who want a fantastic workout will enjoy the McGillivray Lake Cabin Return Trail.
Buy your pass and explore yourself or join a popular guided tour with Sun Peaks Adventures. A snowshoe guide/snowshoe trail map comes with the purchase of either.

You can also drive a few kilometers down the hill and snowshoe to the Sun Peaks Waterfall.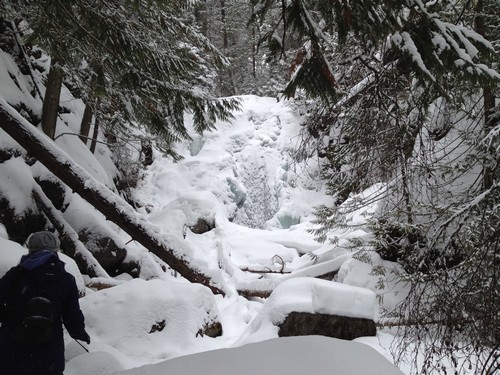 Frozen Sun Peaks Waterfall
Snowshoe Rentals are available from the Adventure Centre for between $18-$22/day depending on age, and discounted rates are available for 2 or 3 day rentals.  Your rental cost includes the necessary Sun Peaks Snowshoeing pass (costs $5 if you have your own snowshoes) which is needed to use the trails, as well as an exclusive detailed snowshoe trail guide and a regular Sun Peaks Nordic Trail map which has basic trail information.
The Snowshoe trail pass can be obtained from Guest Services or at the Activities Desk in the Village Day Lodge.
Many wonderful daytime and evening scenic, guided snowshoe tours are available at Sun Peaks (see below) and your pass, snowshoe rental, exclusive map and pant protectors are all included in the cost.
A Sun Peaks Snowshoeing Guide Booklet and Trail Map is also included with rentals or with a guided tour.
Health and Fitness Benefits of Sun Peaks Snowshoeing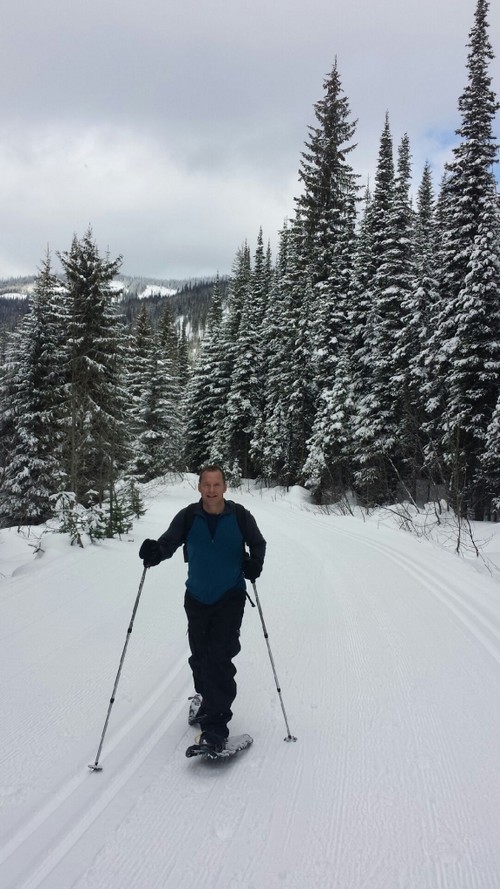 Paul enjoying the fresh air

Enjoying the beautiful outdoors can give you a whole new love of life during the cold, wet and dark winter.  You don't need to be a skier to fight the winter blues by enjoying a beautiful Sun Peaks bluebird day and soak up the natural vitamin D!
Snowshoeing is a low impact winter activity that is easy and fun for the whole family!  The snow cushions your step and makes it easy on your knees and other joints.
Get a good cardio workout and build muscles, with your quads, hamstrings, and calf muscles getting the primary benefit, and if you include poles, your arms, shoulders and back also benefit.
Burn those calories – potentially more than you will from popular Sun Peaks Summer activities like hiking, biking and even running!  By lifting your legs (and snowshoes) higher than normal, and by naturally trying to keep warm in the beautiful winter wonderland, you will burn calories, improve your fitness, and have fun doing it!

You may also get to encounter some Sun Peaks wildlife while enjoying the trails.
---
Popular Sun Peaks Snowshoeing Guided Tours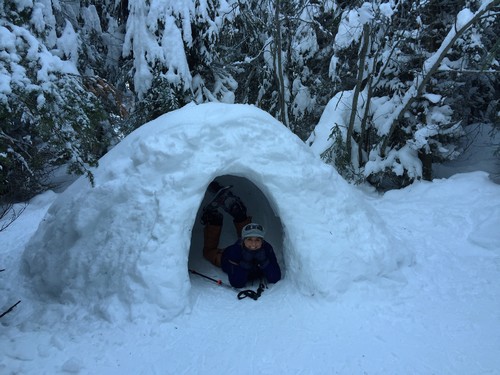 Sun Peaks Snow Cave
While we love just strapping on our snowshoes and heading out from our Stone's Throw condo or Trapper's Landing townhouse into the beautiful Sun Peaks resort area, there is so much more to gain by joining a Sun Peaks Snowshoe Group Tour or by arranging your own custom snowshoe tour with a local snowshoe and wilderness expert.
And of course, our Sun Peaks condo or townhouse guests can always finish their day of snowshoeing at Sun Peaks with a wonderful, private hot tub, and perhaps even arrange for their own private in-suite massage.
The Sun Peaks guided snowshoe tours, organized by Discover Sun Peaks Adventures, include the use of snowshoes at no extra cost as well as the required trail pass & pant protectors, and there are many different and scenic tour options to suit your needs:



---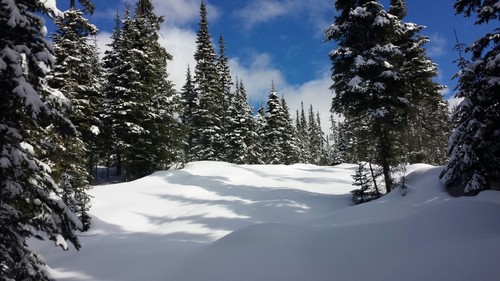 Make the first set of snowshoe tracks and enjoy the beautiful scenery
Sun Peaks Evening Snowshoe & Fondue Tour - Fun & Delicious!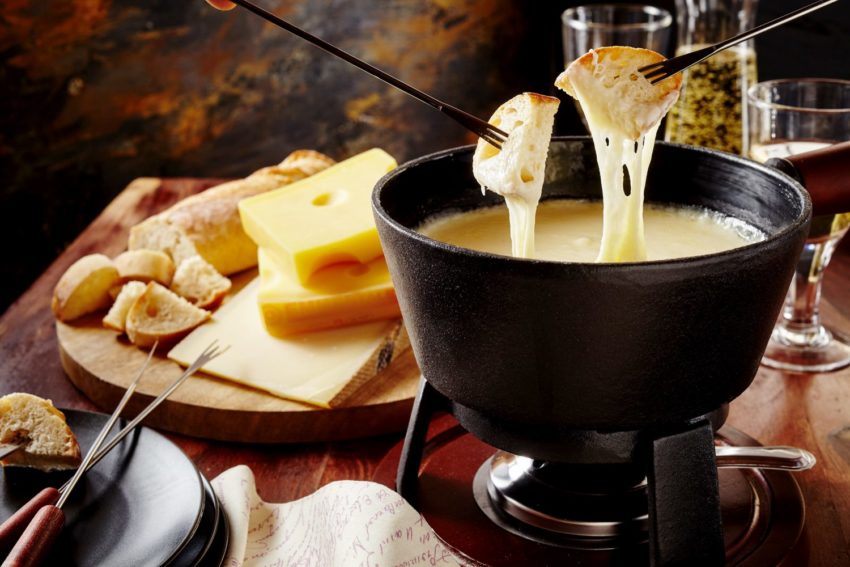 New to Sun Peaks for the 2019/2020 winter season is the Sun Peaks Evening Snowshoe & Fondue tour - not to be confused with the delightful Sun Peaks Evening Fondue and Evening Ski Descent.
This new Sun Peaks snowshoe adventure combines a fun evening of snowshoeing followed by a delicious cheese and chocolate fondue at the new Sun Peaks restaurant - Fondue Stube.
Enjoy an exciting, guided evening snowshoe restaurant - tour under the stars, traveling through the forest on beautiful snow covered trails out to their cozy winter camp, where you can enjoy a hot drink relaxing around a roaring campfire. The return journey offers wonderful views overlooking the village, and finishes off at Fondue Stube, for a delicious traditional cheese and chocolate fondue.

Tours begin Tuesdays at 6:00 pm from early January through to the end of March, weather dependent.

There is a minimum 7 day advance booking required and the Snowshoe/Fondue adventure is an adult oriented evening, but youth 13 and over may be welcome on request.
The cost is around $95 plus taxes per person, and private tours are available on request for private group bookings of 10 or more.

For more information, submit the form below or at the Activities Desk at the Village Day Lodge.
McGillivray Lake Full Day Snowshoe Tour
We started this once but didn't have time to finish (since we had an appointment to check out more Sun Peaks Real Estate), but plan to conquer it this year.  It is a 5 hour, 12 km, 500 foot elevation gain, scenic hike to the McGillivray Lake warming hut, where a picnic lunch and hot apple cider await.  This is an excellent workout just for adults and you need a good level of fitness to partake.  Cost is around $350 for a group of 3 and aprox. $95 for each extra person (subject to change each year).  Advanced reservations are required (see contact form on bottom of page).


Sun Peaks Snowshoeing

-

Winter Wonderland Tour




Wonderful introduction to the popular sport of snowshoeing as well as to the network of snowshoe trails at Sun Peaks.  This two hour afternoon guided tour provides great fun, interesting information and beautiful views of the resort, as well as a hot apple cider drink and warm delicious treat.  Regular tours depart Friday, Saturday and Monday at 1:30.  Cost $32- $57 depending on age (5 – 105).


Moonlight Snowshoe and S'More Experience
Spend a wonderful Sun Peaks snowshoeing winter evening under the moonlight, traverse through the snow-covered forest, and enjoy beautiful views as you head off on a beautiful hour long tour to the trapper's camp where a roaring campfire, hot chocolate and delicious s'mores await. 
Family fun for kids over 8, with a cost of $32-57 depending on age (8-108). Moonlight tours generally depart from the Village Day Lodge, Friday, Saturday and Monday evenings at 6 pm.


High Up Alpine Snowshoe Experience
Ride the chairlift and head up to the sub-alpine area of Tod Mountain with a professional guide to enjoy beautiful Sun Peaks views and family fun.  Enjoy a hot apple cider and delicious treat along the way, and extend your tour with a stay at the mid-mountain station if you wish.  Tours depart Sundays at 10:00 am and prices include your lift pass as well as snowshoe rentals.  Cost $42 - $67 depending on age (5 and up) and are discounted by $10 if you already have a lift pass.


Valley of the Lynx Snowshoe Tour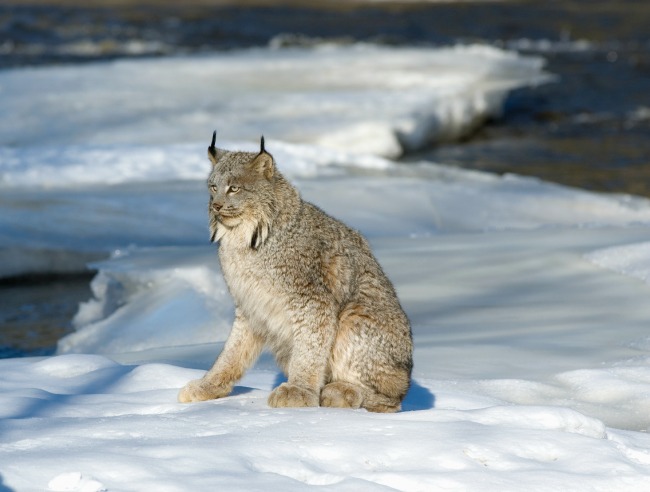 Valley of the Lynx Snowshoe Tour at Sun Peaks Resort
Soak up the abundant fresh air and get some low impact exercise while enjoying the East Valley area of Sun Peaks where plenty of local Sun Peaks fauna, including the elusive Canadian Lynx (we saw one!!) call home.  Great for newbies and experienced snowshoe folks alike, and a visit to a snow cave, and winter camp with treats are included.  Tours for this 2 hour long Lynx Snowshoe tour depart from the Nordic Centre (across from Stone's Throw  ) Sundays at 1:00, but you need to pre-register and check in at the Adventure Centre in the village first.  Cost is $42 - $67 depending on age (5 – 105).  Tours on other days can be arranged for groups of 10 or more.


Custom Sun Peaks Snowshoeing Tours
Local Sun Peaks snowshoeing experts love to show off their area, and custom snowshoe tours and experiences can be arranged for groups of all sizes and abilities with sufficient notice. 
Contact Discover Sun Peaks Adventures directly via their website, or the Sun Peaks Adventure Centre located in the Village Day Lodge, or get in touch with Sun Peaks Activities about any of the Sun Peaks snowshoe tours or to arrange your own private group snowshoe tour.
Prices and Sun Peaks Snowshoeing tour availability are subject to change - complete and submit the form below for more information:

Do you have the need for more speed!?  How about a Sun Peaks Snowmobile tour, Ski Bike tour or Snow Limo tour?
Return to Best Sun Peaks Winter Activities
Return to Sun Peaks Skiing and Snowboarding

Return to Best Sun Peaks condo or Best Sun Peaks townhouse
Visit the official Sun Peaks Snowshoeing Page

What is your favorite Sun Peaks tour or activity?
Was there a tour or service provider that was exceptional - let us know by submitting our Sun Peaks review form below: