Sun Peaks Free Activities For Families In All Seasons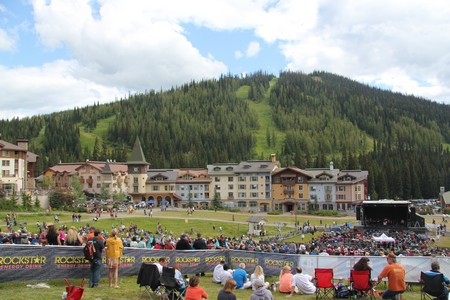 Free Sun Peaks Summer Outdoor Concerts
There are various Sun Peaks free activities (and low-cost activities) available year-round to help you enjoy a wonderful resort-style vacation without costing your family a fortune.
And you don't need to be a skier, snowboarder, avid hiker or risk-taking mountain biker to be able to enjoy these free or low-cost resort activities, since there are activities that people of all interests and physical abilities can experience and enjoy.  Sun Peaks is truly a wonderful, low-cost vacation staycation or destination resort location.
Remember, no matter what season it is, save 30-40% on Sun Peaks lift passes for hiking and biking in the summer, or skiing and boarding in the winter by buying from the resort online ahead of time.
---
Sun Peaks Free Activities – Winter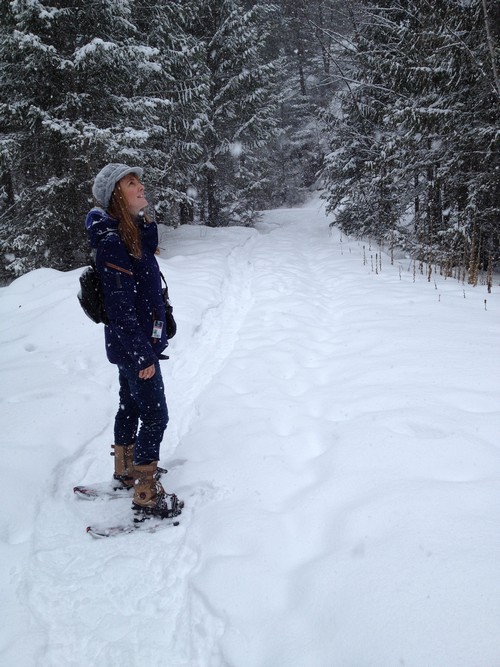 Scenic easy-access snowshoe trails
Winter at Sun Peaks is certainly the most expensive time of year – it is a ski resort after all!  Winter-based activities typically all require lots of warm clothes and ski wear, ski or snowboard equipment, and lift passes to enjoy the hills.  Even with renting the necessary equipment, it certainly isn't cheap.  However, you can always enjoy these Sun Peaks free activities:
- People-watch at a ski resort is always a hoot!  From the little kids taking their very first ski lessons, the 'rad-est' of dudes with wild ski wear and GoPro's perched on their helmets, to the most respectful of seniors (some with crazy retro ski gear) who have been skiing for 50+ years, there is always something interesting to see.
- Snowshoeing on the peaceful and scenic backcountry (seems like back country but are right near the village) trails is not free, but it is a very affordable, family-friendly way to enjoy the beautiful nature that surrounds Sun Peaks.  For just $5, you get access to the 5 snowshoe trails if you have your own snowshoes already, or snowshoe rentals include pant protectors and your trail pass and are also very affordable.
- Walking through the snow-covered, pedestrian only village is always fun too.  See the smiles, hear the laughter, and see people of all ages from around the world enjoying the snow and beautiful views in Canada's Alpine Village.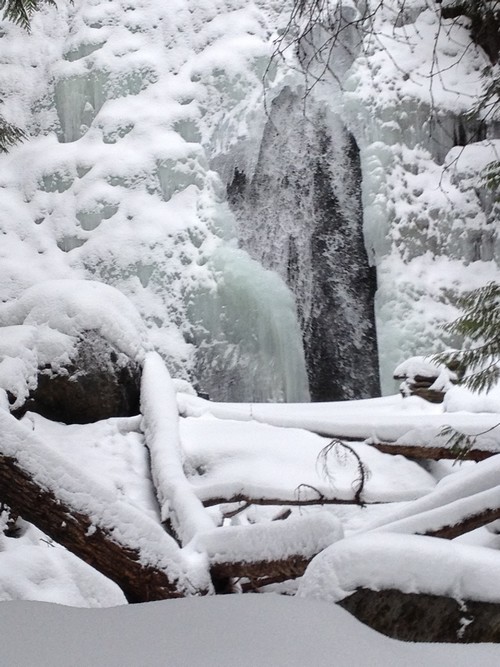 Sun Peaks frozen waterfall
- Just a 15 minute drive down the hill by Whitecroft are several trails that lead to the Sun Peaks waterfall.  You can park on the side of the road near Whitecroft for a longer walk (about 20 minutes each way) along the flowing stream, or park a little closer and walk about 10-15 minutes each way to the waterfall which looks different every time we visit.  In winter, it is typically covered in ice with flowing water visible behind the ice.  It is tranquil and a beautiful little waterfall.
- There is a Sun Peaks toboggan hill over near the Morrisey Express and Orient chairlifts (between Trapper's Landing and Stone's Throw) that kids of all ages can use for free.  They do need their own toboggan though (unless you're staying with us) so you will need to pick up a cheap toboggan or sliding carpet before you come to Sun Peaks.
- There is a skating rink and tube park that are pretty low-cost too.  Skate rentals are available near the ice rink.
- If you are at Sun Peaks to ski, meet up with the free 'Sun Guides' – local experts that will find out what your ski level is and what you are interested in, and will take you to explore any of the three hills that make up Sun Peaks Resort. Their time and experience is free but you do need your own gear and lift pass.
- Remember to buy your lift passes online and in advance to save up to 40%.


---
Sun Peaks Spring and Fall Free Activities
Sun Peaks Free Bike Trails
Spring and fall in Sun Peaks are the slow months in-between all the winter ski excitement and the summer recreational outdoor paradise.  However there is always something to do for free or very low cost - check out these Sun Peaks free activities:
- Drive then walk to the Sun Peaks waterfall which is enjoyable in any season
- Walk, jog or bike ride on the free-to use lower access Sun Peaks hiking and biking trails.  Take your camera and capture some scenic shots on the way out to McGillivray Lake, or explore the lower trails with lovely views of the village.  Enjoy the fresh mountain air and see all the beautiful flora and fauna (wildlife and plant life) that surrounds the resort.  Always be BEAR AWARE though – this is their home too.  Make lots of noise and consider taking bear spray with you.
- the free-to-use gravel hill over near P5 and Stone's Throw makes for a fun bike park for the little ones, with a hill, jumps and bumps to enjoy.
- Depending on the weather, the free-to-use tennis courts (basketball hoops are typically available too) may be available for use.  Bring your own rackets (or rent some from Alpine Fitness) and come play for fun on the recently renewed tennis court surface.
- Remember to book your Sun Peaks accommodation direct from owners for best prices.


---
Sun Peaks Summer Free Activities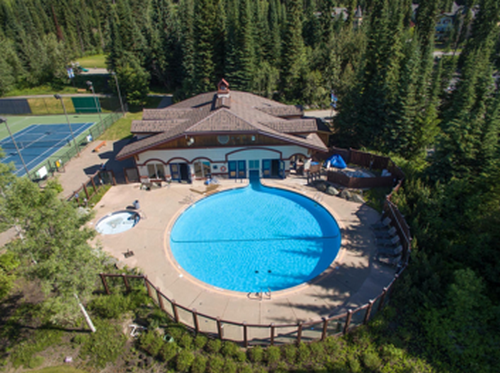 Low cost fun in the Sun Peaks pool - returns in 2024
Sun Peaks is a wonderful place to spend your summer vacation.
The Sun Peaks accommodation rates are drastically reduced from the winter rates, the whole resort is very family-friendly, there are plenty of outdoor recreational activities to suit all interest, activity levels and abilities, and budgets. 
To help bring families up to Sun Peaks in the summer, the resort adds numerous Sun Peaks free activities and low-cost activities:
- The FREE outdoor summer concert series are always huge hits!!  Two main concert weekends with bands like 54-40, Trooper, Burton Cummings, the Arkells, Lou Gramm (from Foreigner fame) Colin James, Barney Bentall and more are the main draws, with additional weekends of free music with retro tribute bands and other musicians playing throughout the village
- The free-to-use lower hiking and cross-country mountain biking trails are available to explore the village area or the routes out to the McGillivray Lake warming hut or Morrisey Lake camping areas.  Lift-accessed hiking and biking passes are also quite affordable – even more so when you save 40% by buying lift passes online ahead of time.
- The free-to-use Sun Peaks Tennis Courts and new Sun Peaks Pickleball courts - lots of active fun for the whole family in a nice, mountain environment.
- the free-to-use gravel hill over near P5 and Stone's Throw and Settler's Crossing makes for a fun bike park for the little ones, with a hill, jumps and bumps to enjoy.

- Hike the main trails starting from the village – no lift passes to worry about and plenty of exercise to be enjoyed!  This includes the 0.6km, 15 minute round-trip, Shuswap Medicine Trail where you can enjoy a leisurely stroll while also learning about local flora, fauna, and First Nations traditional herbal medicines along the way.  Free Sun Peaks hiking trail maps available from hotels, restaurants and Sun Peaks Guest Services areas throughout the village
Free-to-use Sun Peaks tennis and pickleball courts
- The ball hockey rink and basketball hoops inside the ice rink are Sun Peaks free activities available for affordable family playtime. There are also 2 small playgrounds (one by the Sundance Daycare Centre and one by the soccer fields behind the rink, as well as the soccer field, to run around on.  There is also a new community plaza and accessible play area coming in 2023 coming over near the skating rink and activity center.
- There is also a small community Sun Peaks swimming pool that may open for the summer months once again starting in 2024 (after renovations and repairs).  Not free but just a few bucks and lots of cool fun. 
- There is a giant chess board, bean bag toss, and ping pong table available for use near the Tourism Sun Peaks office at the upper entry to the village. Free-to-use bouncy castles for the little ones are typically set up summer weekends as well, as well as the Kids Zone where chalk and hula hoops are available for the little ones to enjoy. There are lots of Sun Peaks free activities to help young enjoy the resort without leaving an arm and a leg behind.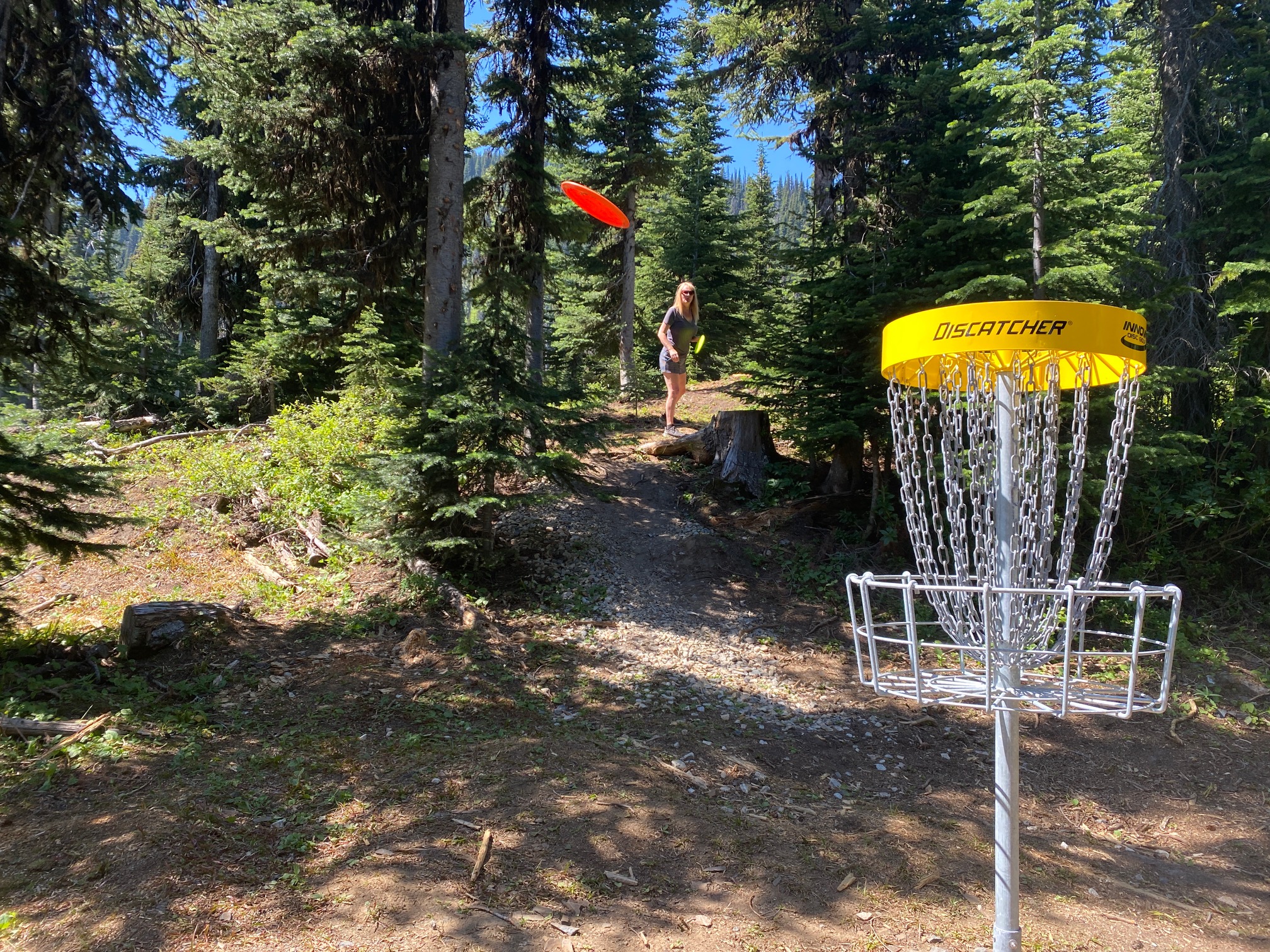 Play Disc Golf in the forest
- a new Sun Peaks Disc Golf course opened in the summer of 2023.  There will be 9 holes initially and it is free to use, however you need an alpine lift pass to access it since it is up at the top of the Sunburst Express chairlift.  Discs (drivers, mid-range and putters) are available to borrow from the activities desk.  They are essentially free to rent but you need to leave a credit card or $20 per disc as a deposit which is returned once you bring the discs back (unless you lose them of course).
- Juniors golf free* Junior golfers (ages 18 and younger) play for free on the Sun Peaks Golf Course when accompanied by a paying adult. Valid Monday to Thursday after 10:00am, excluding holidays.
Offer is limited to one junior per paying adult green fee, not available to members
- Summer weeks include a selection of rotating Sun Peaks free activities for kids over a 4 week period – check out the Sun Peaks Resort Summer website for up-to-date details.  
- Sun Peaks Farmer and Artisan Markets – free to stroll each Sunday from late June to early September
- In any season, a visit to the McGillivray Creek waterfall is always enjoyable (and free!)
No matter the season, Sun Peaks is family-friendly and affordable, and there is always something to do or nothing to do – your choice.  
We will be adding more Sun Peaks free activities as we become aware of them.
See more Sun Peaks Summer activities
See more Sun Peaks Winter activities
See more Sun Peaks Spring activities
See more Sun Peaks Fall activities
Return to Best Sun Peaks Home page
Save 10% or more by booking your Sun Peaks Vacation Rentals direct from owners (no booking or service fees)
Save 40% on Sun Peaks lift passes
Contact us with your Sun Peaks free activities details