Johnson Lake BC - Beautiful Caribbean of the North

Beautiful Johnson Lake, BC (photo BestSunPeaks.com)
As per our official Johnson Lake page, we no longer recommend or promote visiting Johnson Lake due to the overcrowding issues and inability to social-distance during the covid crisis. There are a number of much closer lakes near Sun Peaks to enjoy.

The lake is just over an hour away from Best Sun Peaks, and is an isolated, wilderness lake that must be treated with respect.  There are no beach areas, no parking lot, rough logging roads to drive in, very few areas to camp, no access for large RV's or fast motor boats, and all visitors must leave only footprints and take only photos and memories.
With runoff from the nearby melting snow on the mountains, and the underground, spring-fed water being filtered by limestone, it is easy to see why Johnson Lake is referred to as the "Caribbean of the North".  With some areas of Big Johnson Lake (there is an adjoining Little Johnson Lake too) having limestone sand, you would swear you were in the Caribbean with the crystal clear water and various shades of blue, turquoise and greens in the deeper areas. 


PLEASE NOTE JOHNSON LAKE HAS VERY LIMITED SPACE AND AMENITIES, AND THE CAMPGROUND IS CONSTANTLY FULL.  PLAN A DAY TRIP FROM SUN PEAKS RESORT FOR OPTIMAL ENJOYMENT.
SUN PEAKS SKI RESORT IS ABOUT 70-90 MINUTES AWAY AND HAS MANY SUMMER ACTIVITIES, ACCOMMODATION OPTIONS, RESTAURANTS, PUBS, CONCERTS AND EVENTS TO ENJOY.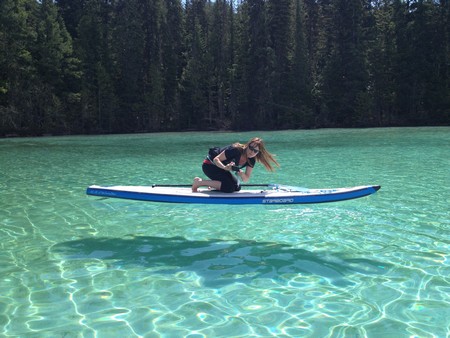 Johnson Lake crystal clear waters - spectacular! (photo bestsunpeaks.com)

Big Johnson Lake BC is around 5 kilometers (3 miles) in length and around 200 feet (60 meters) at the maximum depth, with the visibility being around 50-60 feet in places.
At one end of Big Johnson Lake BC, there is a short, gravel lined channel connecting it to Little Johnson Lake which is perfect for spawning Kamloops Rainbow Trout.  Soon after the ice melts in the spring, hundreds or perhaps thousands of 2-3 pound (or even perhaps 5+ pounders) Kamloops Rainbow Trout spawn in this channel.  Go past at the right time and the stream will be alive with trout.  
And after a summer spent feeding and growing in the channel, the fry head back to the depths of Big Johnson Lake via specially built fish ladders.


Johnson Lake BC Activities
Canoeing on Johnson Lake (photo BestSunPeaks.com)
There is not much else around, but there are some fun, water-based activities to enjoy at Johnson Lake.  You can:
• Fish for trout (in season and with valid fishing licenses)
• Canoe or kayak
• Swim, snorkel or even scuba dive - a little cool but refreshing
• Our favorite – stand up paddleboard (SUP) – rentals can be arranged at Sun Peaks before your trip.
• Motor around in your car-top boat or inflatable dinghy
• Float, splash or paddle in the summer heat
• Enjoy some bird and wildlife viewing, with a chance of seeing moose, deer, black bears, Canadian Lynx or bobcats, bald eagles, osprey, loons, wood peckers, steller jays, and more…
Please note - there is nothing fancy there - it is a beautiful, isolated, wilderness lake worth seeing and enjoying but it is not set up to be a big campground type location.


---
Travel to Johnson Lake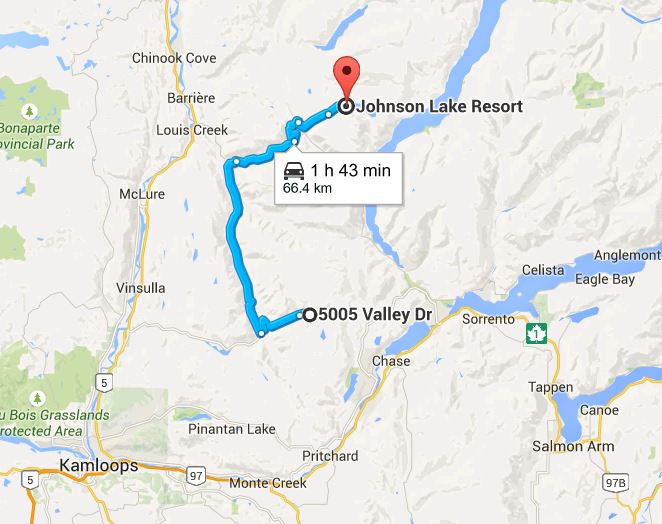 Map to Johnson Lake from BestSunPeaks.com (Googlemaps)
Note: Remember your fluids, sunscreen and some bug spray…..
Getting to Johnson Lake is about 70-90 minutes away from Sun Peaks, Kamloops or the Shuswap.  
The routes are a combination of paved, graded, and not-so-graded gravel roads. Watch out for cows (yes, cows) and logging trucks on various parts of the journey.  Be respectful of slow-moving farm vehicles.
They involve a fairly gradual climb to an elevation of 3,800 feet (1160 meters) so most trucks and perhaps cars can get there safely in the summer.  It is just the last leg that is quite dusty and subject to very large potholes.  There also isn't any room to turn around for large rigs.



Directions from our Best Sun Peaks Accommodations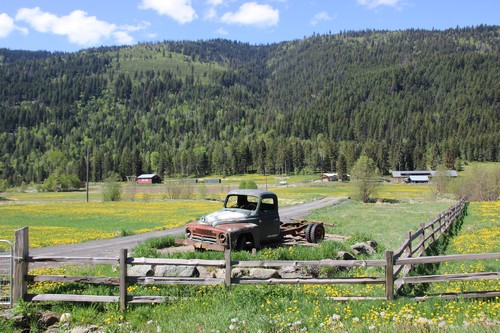 Scenic ranches enroute to Johnson Lake
• Leave our Best Sun Peaks vacation rentals and head out past Sun Peaks village and around 9km down the hill on Sun Peaks Road
• Watch out for Heffley Louis Creek Road on your right and take a very sharp turn up the hill
• Travel past scenic farms, pastures and ranches about 29 km to Agate Bay Road
• Turn right on Agate Bay Road and travel about 11 km to Minnova Road
• Turn left and follow along this forestry road around 16 km to the entrance to Johnson Lake Resort, and then a further 6 km past several small pull-out day camp areas, to the Ministry of Forests campground at the other end of Big Johnson Lake BC.
Here there is room to park your vehicle, or drive into the small Ministry of Forests campsite and set up your tent or small trailer on a first-come, first-served basis. (it has an outhouse but that's it!).  It is a very small area and very rustic.
The campground is also very small and the sites are also small and close together.  If you want a little more privacy, consider camping at or near Sun Peaks Resort.  Or better yet, stay at Sun Peaks and enjoy the whole resort area.

The area is busy with dirtbikes and quads in the summer so be careful.  There is a small ramp into the lake for carrying your floats or car-top boats into the lake.  Large blocks are in place to prevent larger boats from entering the lake.

Directions from Kamloops
Watch out for cows on the road to Johnson Lake

• Drive 60 km north on Highway 5 to the Agate Bay Road turnoff
• Turn right and drive around 22 km to Minova Road
• Turn left and travel around 16 km to the Johnson Lake Resort and then about 6 km past to get to the campground







    Directions from the Shuswap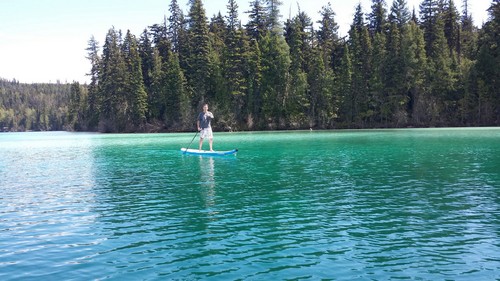 Stand up paddleboarding - Johnson Lake, BC
• Head north off Highway #1 at Squilax/Adams Lake exit located between Chase and Sorrento
• Travel 10 km to the south end of Adams Lake
• Travel 19 km along the gravel road, heading north on Adams Lake West Forest Service Road to Agate Bay Road and turn left at the stop
• Travel 9 km on the paved road to the Minova Road turnoff and turn right
• Travel 16 km along the gravel road, and another 6 km past the Johnson Lake Resort turnoff until you reach the campsite/small parking area



Johnson Lake BC is a beautiful lake and a wonderful day trip on a sunny day -  we hope you safely enjoy your day trip from Sun Peaks.

See the Kamloops Trails Johnson Lake BC website for local area trail information
Book your Sun Peaks Resort accommodation

Return to Camping near Sun Peaks Resort

Return to Best Sun Peaks Summer Activities
Return to Best Sun Peaks Standup Paddleboarding rentals for your SUP
Return to Best Sun Peaks home page