Sun Peaks Wildlife - So Many Varieties of Animals To See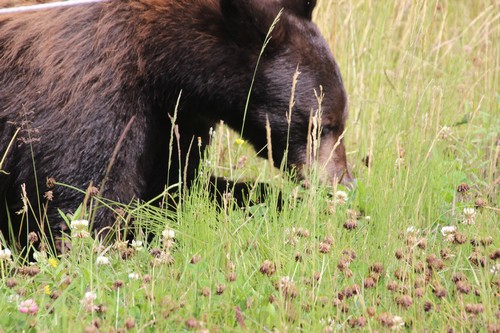 Sun Peaks Wildlife - bears and so much more!
There is lots of Sun Peaks wildlife all around you all year long – whether you see it or not!  The resort is, after all, located quite far from any large cities, and is surrounded by beautiful wilderness mountains, lakes and forests.
While a majority of the animals that can be found at Sun Peaks are generally only visible from spring through fall seasons for obvious reasons, some can be found year-round, if you look close enough, that is.
From largest to smallest, here are some varieties of Sun Peaks wildlife that you might encounter while exploring our beautiful wilderness resort:
---
Moose (largest of the Sun Peaks wildlife):
While always on the lookout for moose while we hike, mountain bike or paddleboard around McGillivray, Heffley or Morrisey lakes, we have not encountered any yet but we know they are around.  While both sexes are as big or bigger than a horse, the male, or bull moose is the one with the large horns that grow each year and that they are famous for.  Moose have been seen quite often down the hill near Whitecroft (where the Sun Peaks waterfall is) and fingers crossed we see one in Sun Peaks one day.  Remember though, that these are powerful animals that can be unpredictable and aggressive, especially during mating season – so be respectful and keep your distance!
---
Sun Peaks Bears: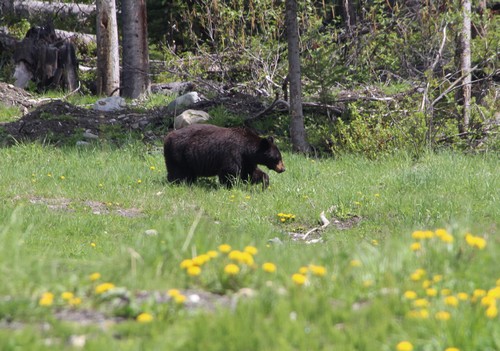 Be Bear Aware - Sun Peaks Bears are everywhere!
Yes indeed – many bears have made Sun Peaks their home.  Thankfully, all we have encountered so far are black bears (no grizzly bears!) and they generally mind their own business as long as you give them their space. In the spring through early-summer season, it isn't totally unusual to see up to a dozen bears (usually a mother, or sow bear, along with her 1-3 cubs) enjoying the new foliage roadside on the way up or amid the groomed, wide-open ski runs.  They tend to hide during the hot, busy summer months, and then can sometimes be seen filling up with mushrooms, grass and/or berries before they hibernate.  They come in various sizes and shades – from very black, to cinnamon and white.  We even saw one with a white stripe that we thought may be a grizzly, but the face, ears and snout shape convinced us it was just a black bear, thankfully.  Please be Bear Aware as you hike or bile the trails, and give the Sun Peaks bears the respect they deserve.  We love all our Sun Peaks wildlife, and remember a human-fed bear, will soon become a dead bear which we don't want!!
---
Mule Deer: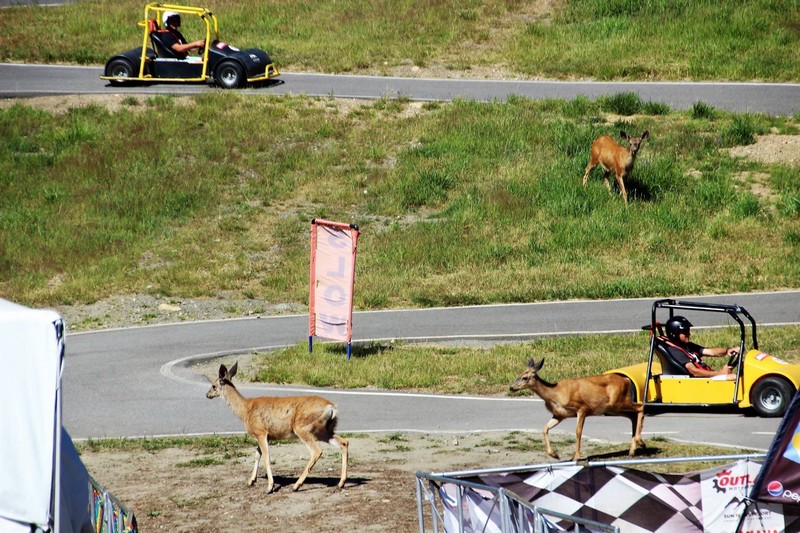 Oh Deer - Traffic jam at the Go Kart track
Watch out while driving up the hill to Sun Peaks since mule deer are everywhere, and quite often like to suddenly jump out of the woods to get to the other side.  Why, we're not sure, but quite possibly they have a cougar checking them out!  We have also seen them looking up at us while enjoying our golf course view from our Stone's Throw condo, checking out the exciting Sun Peaks Go Carts, or even swimming across to one of the little islands in McGillivray Lake.  They are easily identified by their large, mule-like ears and white butt.  As mentioned above, cougars are not their friends!

---
Cougars (aka Mountain Lions):
Elusive, fast and very powerful, cougars have been spotted down by Whitecroft and we would expect they also travel up to Sun Peaks. There are no-known attacks in or near Sun Peaks though, but you must always be on your guard. 
They are big fans of all the mule deer that live in the area, but these big pussycats are not to be messed with. If you come across one, make yourself as big as possible, make lots of noise, and back away carefully.  If you no longer see it, don't assume it is isn't seeing you!

---
Red Fox (no, not the comedian for those who remember him!):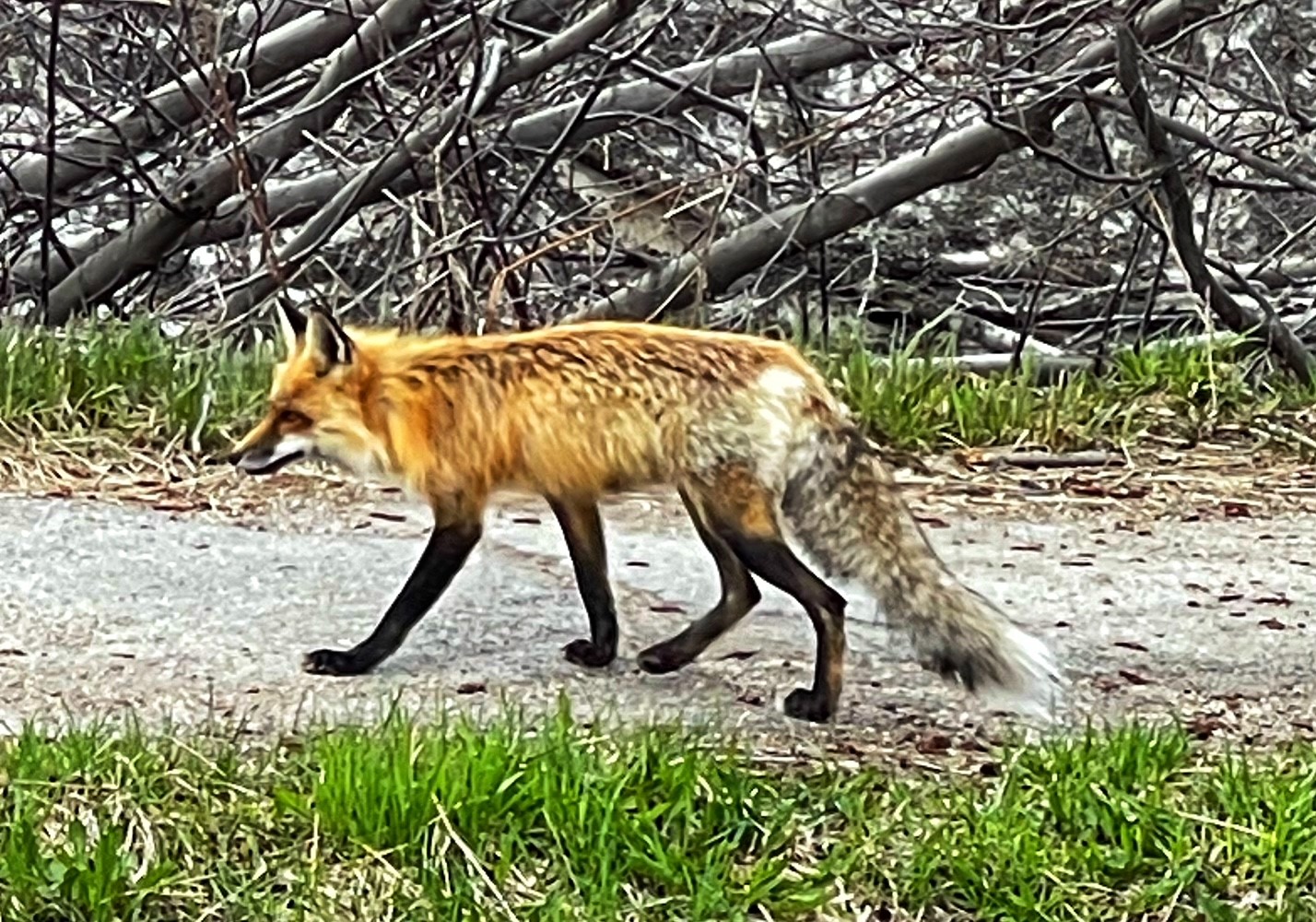 Sun Peaks Red Fox cruising the neighborhood
While generally quite shy, we have seen a fair number of red fox patrolling the resort – running beneath us as we head up the Sunburst chairlift to enjoy some hiking, snacking on the cute l'il Columbian Ground Squirrels that can be seen popping up all around the Sun Peaks Golf Course driving range, at the top of the Sunburst chairlift, or even casually strolling through our Trapper's Landing complex.  There are at least several known fox dens located around the resort, and they can sometimes even be seen with their kit of cute pups. As we said, Sun Peaks wildlife can be seen everywhere if you're looking (and lucky!)

---
Wolves & Coyotes:
While some irresponsible dog owners like to blame all the Sun Peaks wildlife like wolves and coyotes for the piles of doggie doo doo that can at times be found on the trails, we have yet to see one wolf or coyote in the area. 
However, it is wilderness and full of yummy food choices for both species, so we are sure they may be around.  While it is a bylaw that all pets must be on a leash, it's also a very good idea for this very reason!

---
        Canadian
Lynx (aka Bobcat):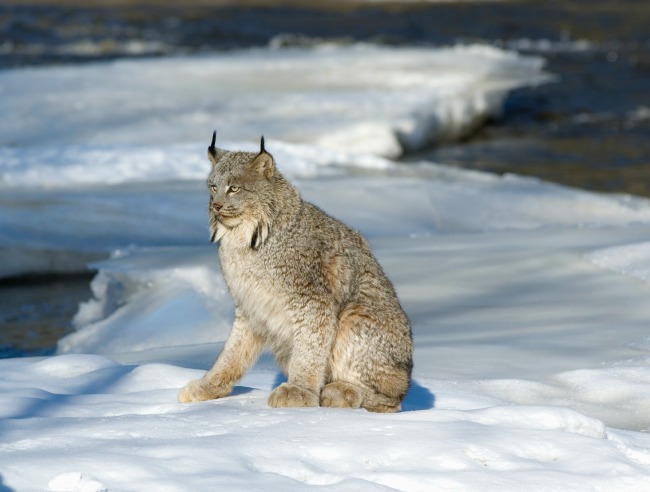 Lynx can be found around Sun Peaks
Very elusive, very attractive cats that are known to frequent the area.  We were lucky enough to see one at dusk one night while heading up to the resort.  It was on the side of the road and the large tufts of hair on its' ears were very distinctive. 
They are nocturnal hunters, so you probably won't run into one while looking for Sun Peaks wildlife and enjoying the many trails surrounding Sun Peaks.  However – perhaps during a Valley of the Lynx Snowshoe Tour during winter season!?

---
Beavers:
Sun Peaks Beaver dam on Little McGillivray Lake
The whole Kamloops/Thompson/Okanagan area, full of First Nations history, was discovered by the Europeans back in the fur trade days when the Hudson Bay Company and the Northwest Company were battling it out for dominance in the fur trade business.  Tales of beaver tails can be yours as you join in on a Sun Peaks Voyageur Canoe Tour on one of the lakes near Sun Peaks, and who knows, you may spot one of these Canadian icons while out paddling.  We once saw a beaver dragging a large branch on the surface of McGillivray Lake, and a very large beaver dam can be seen in the middle of nearby Little McGillivray Lake.

---
Raccoons and Skunks:
Yup – just like in the city, Sun Peaks wildlife isn't complete without these cute-looking masked bandits being around.  As adorable as they may look, they can be quite vicious and may even carry rabies, so lock away your food and garbage, and don't approach them.
And Skunks - Yes, apparently those too.  We haven't seen any in our travels there, nor do we want to.  Yet another good reason to keep kids close by and pets on a leash (as per the bulaws).
---
Snowshoe Hare:
With pure white fur in the winter and brown fur in the summer, these big-back footed, large spoon shaped ear hares are very fast and quite elusive. 
We did see one while heading out to Morrisey Lake one day though, and at times they can be seen while out Nordic skiing or snowshoeing in winter.  

---
Ground critters: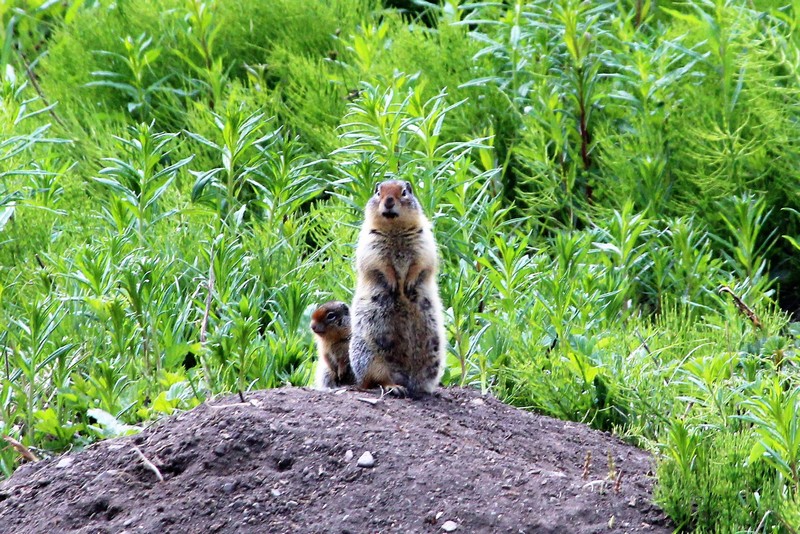 There are too many different types of ground critters here to list separately.  Cute little Columbian Ground Squirrels can be seen (and heard) scurrying around at the base of the hills, near the driving range, at the top of the Sunburst chair, and along the hiking and biking trails.  Chipmunks, Red Squirrels, marmots, and other types can also be seen on the ground or in the trees.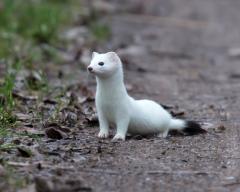 Ermine or stoat
And while we've never heard of these guys before, Nancy saw a pure white Ermine while out on the trails recently. 
They are also known as short tailed weasels or stoats in the summer when they have brown and white patches on their fur.

---
Birds & the Bees: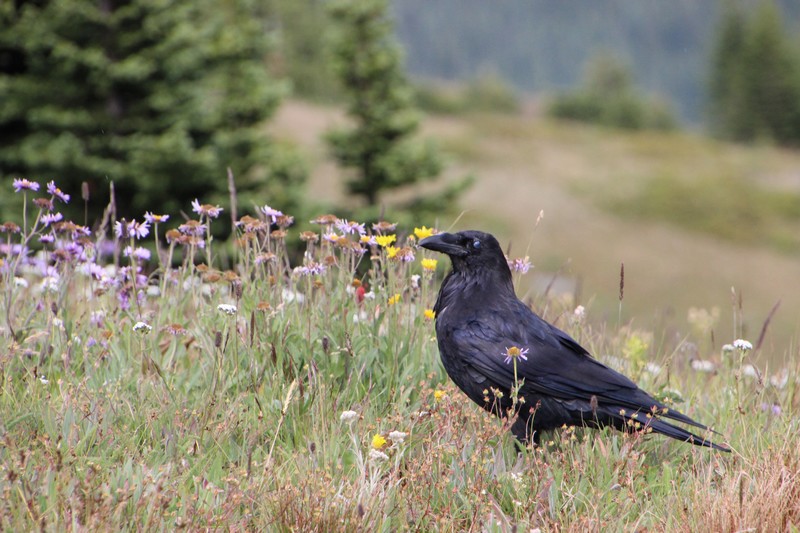 Raven among the wildflowers
Many types of birds can be found in the area, from large predatory birds like Bald Eagles, to cute little Hummingbirds.  We have seen numerous types of birds ourselves while exploring the area, including:
• Bald eagles
• Ospreys (Peregrine Falcons)
• Hawks (Red Tailed)

• Loons (with their haunting cries) and other ducks

• Woodpeckers
• Blue (Steller's) Jay
• Grey (Whiskey Jack) Grey
• Ravens and crows
• Owls (Great Horned)
• Grouse
• Chickadees (Black and Capped)
• Hummingbirds
And yes – with so many spectacular, colorful wildflowers in the alpine areas during the summer, there are bees busily collecting pollen so watch out when you get in close to smell the beautiful wildflowers!
---
Amphibians and Fish: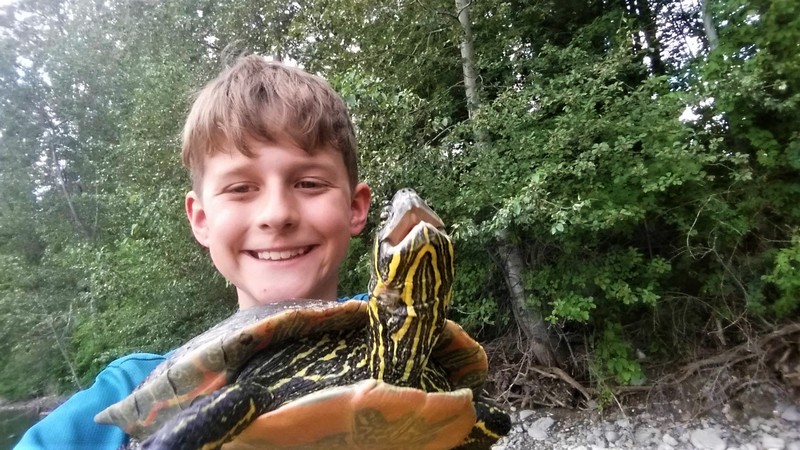 Turtles on Heffley Lake
The lakes near Sun Peaks are full of life.  Huge batches of tadpoles can be seen in the spring, frogs and toads can be seen and heard spring through fall, newts and salamanders can be seen if you look close enough, and the lakes are stocked full of trout and turtles. 
Fly fishing is popular in the summer, and Sun Peaks Ice Fishing Tours are a very popular Sun Peaks winter activity.
---
Sun Peaks is a wonderful wilderness resort, and Sun Peaks wildlife abounds. 
How many different types have you seen during your Best Sun Peaks vacation?
Please remember to respect this beautiful area – take only photos and memories, and leave only footprints!  Please do not smoke, litter, or otherwise destroy our beautiful wilderness or impact our Sun Peaks wildlife!
View the Sun Peaks Wildlife Fauna & Flora page
Return to McGillivray Lake
Return to Heffley Lake
Return to Best Sun Peaks Winter Activities
Return to Best Sun Peaks Summer Activities
Return to Sun Peaks Bears
Return to Sun Peaks Spring Activities
Return to Sun Peaks Fall Activities
Book your Best Sun Peaks Accommodation