Lakes Near Sun Peaks for water activities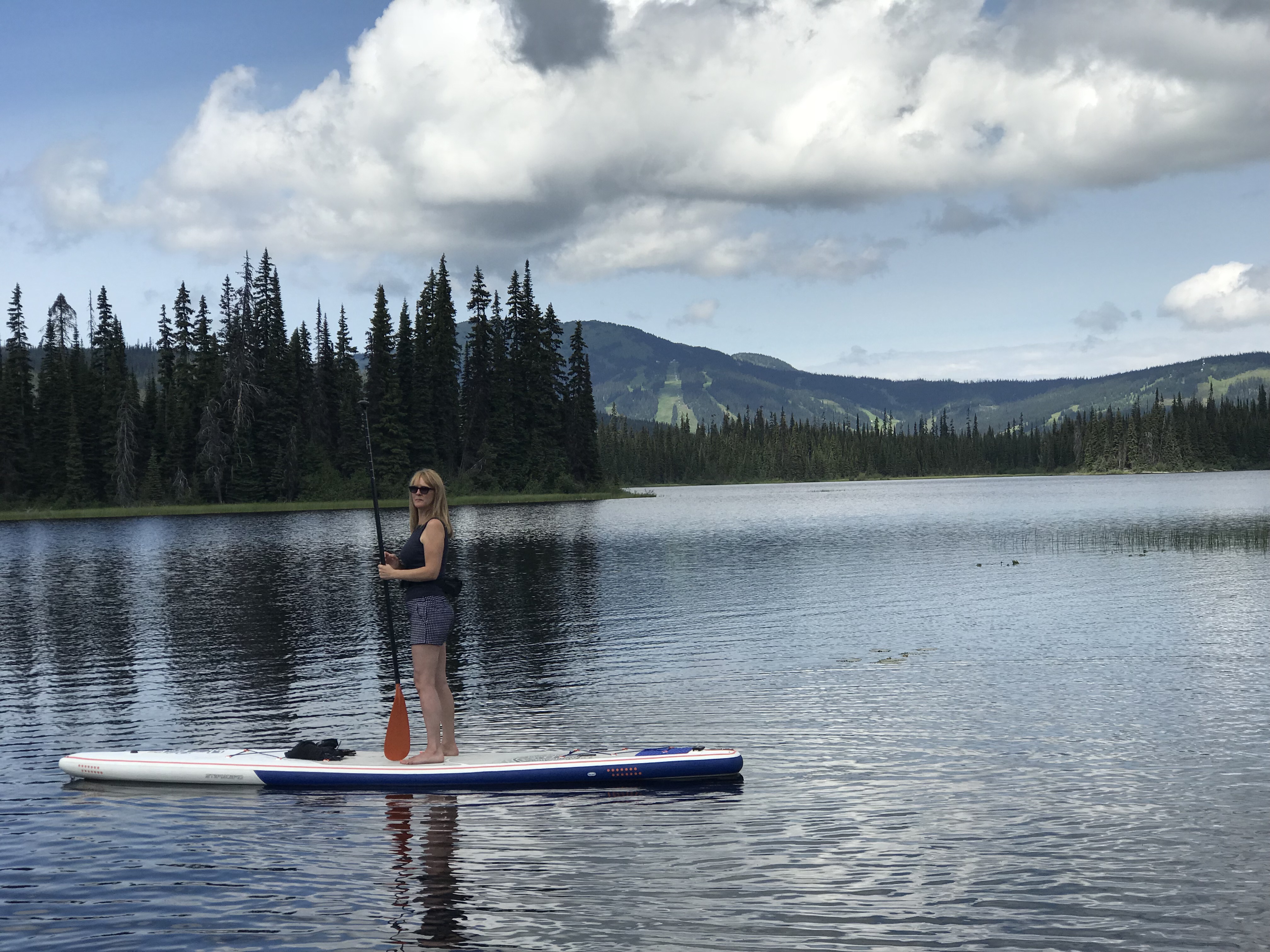 Lakes near Sun Peaks - Beautiful McGillivray Lake with Tod Mountain in behind - just minutes from Sun Peaks Resort
There are a number of lakes near Sun Peaks where visitors can enjoy summer water sports, swimming and fishing in the summer, or use as a winter-sport and activity destination or ice-fishing location in the winter.
British Columbia is known for having many beautiful wilderness lakes, and those near Sun Peaks don't disappoint.
So which is the best Sun Peaks lake for your activity?
---
Heffley Lake: Best Sun Peaks Lake For Swimming and Paddling
Heffley Lake near Sun Peaks is great for water skiing, tubing, canoeing, kayaking, fishing and stand-up paddleboarding
Heffley Lake is one of the best lakes near Sun Peaks for swimming. Located just about 15-20 minutes down the hill from the resort on the main road to/from Sun Peaks, Heffley is a nice, clean lake that offers many recreational activities for all ages to enjoy, including:
- swimming, wading, paddling and floating on your air mattresses and tubes (small, gravel area though, not sand)
- stand up paddleboarding (see Paddle Surfit on Heffley Lake for lessons and rentals)
- fishing (all seasons including ice fishing) for the elusive Kamloops Rainbow Trout
- a few picnic tables, day camping sites and 28 nearby overnight camping for tents, trailers, and rv's
- canoeing and kayaking
- boating and water skiing (with a gravel boat launch) and even jet skis can be seen on Heffley Lake
- and even some nice nearby hikes (such as the Embleton Mountain hike which is directly across from the lake)
Heffley Lake is easily accessible from the main paved road up from Kamloops/Heffley to Sun Peaks Resort. There is a gravel road leading from the main paved road, parking and a gravel, beach-like area at the main recreation/boat launch area, several picnic tables as well as a couple of outhouses at the northern end of the lake closest to Sun Peaks, and is one of the few lakes near Sun Peaks that is suitable for launching small water-ski boats and jet skis.
Right near Heffley Lake you will also see Little Heffley along the road, but it is too small for much besides fishing and some ice skating in the winter.
For directions and more information about Heffley lake, click here.
---
McGillivray Lake: fishing, kayaking, canoeing, and Voyageur tours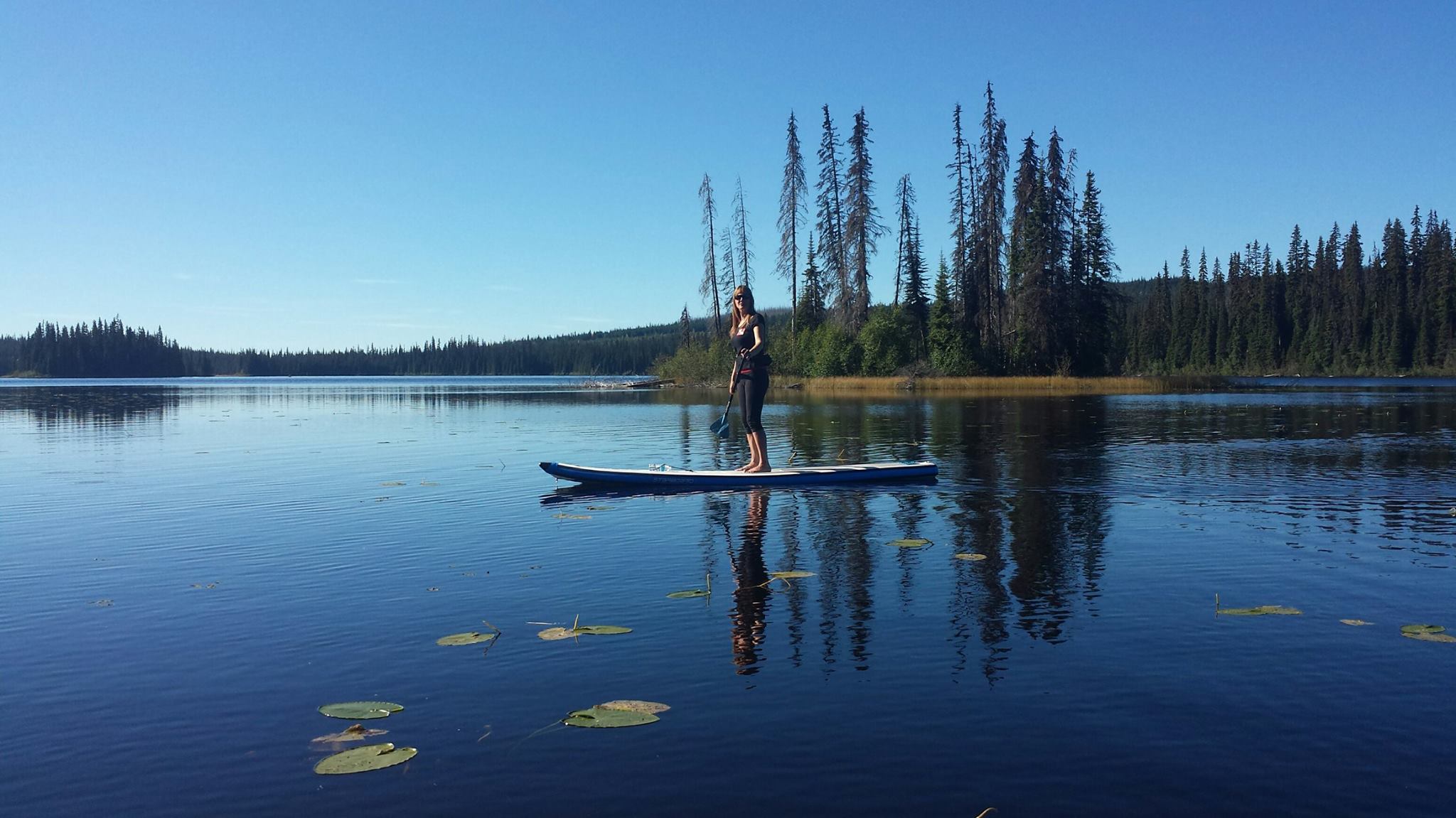 Scenic wilderness surrounds McGillivray Lake near Sun Peaks
McGillivray Lake is another of the popular lakes near Sun Peaks and is only about 6 km. and 15-20 minutes away from Sun Peaks Resort.  It is the destination for numerous recreational activities at Sun Peaks in the spring, summer, fall and winter.  McGillivray is about 2 km. long and quite shallow in most places, especially near the shoreline and islands where you have to watch out for fallen trees, rocks and branches rising quickly from the lake floor.
It isn't the crystal clear alpine lake near Sun Peaks that many dream about, but it is a fairly high elevation lake (1,400 meters/4,600 feet) surrounded by wilderness and great views of nearby Tod Mountain. There are also a few forestry camping sites with no services.
The trail through the forest to McGillivray Lake is a favorite cross-country skiing trail in the winter, and walking/mountain biking trail in the summer.  There is a secondary route along some logging roads that provides an easy (although sometimes bumpy and dusty) route to McGillivray Lake.
Car-top boats, inflatable dinghy's, kayaks, canoes and stand-up paddleboards are popular ways to fish or explore on McGillivray.
For more information and directions to McGillivray Lake, click here.
---
Morrisey Lake (East and West) - another of the lakes near Sun Peaks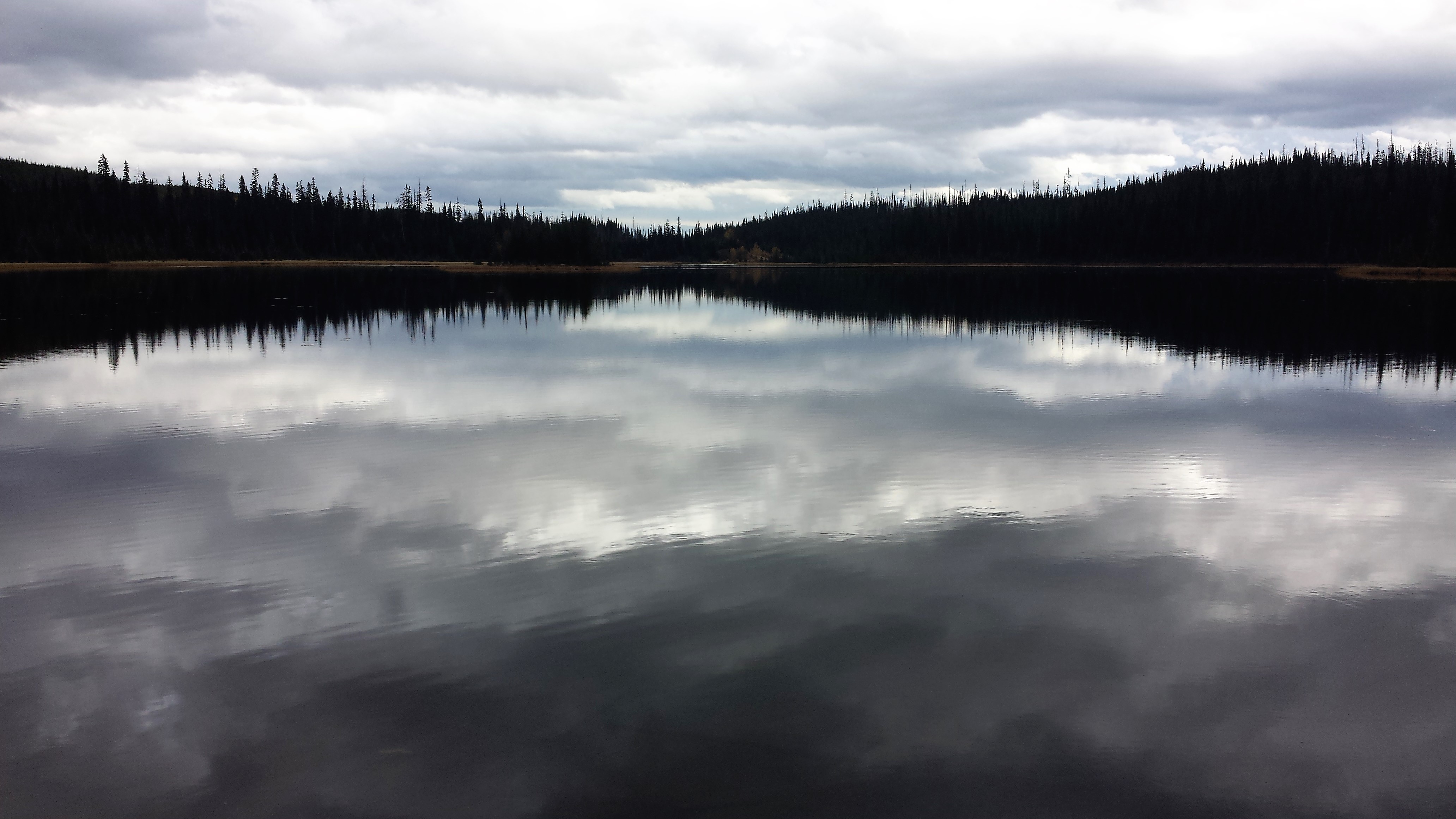 Morrisey Lakes are another of the lakes near Sun Peaks for some water sports, but is lesser known and not as popular since they are quite shallow.
Access to the lakes is just before the turn-off to McGillivray Lake, and is a fairly narrow and bumpy gravel road leading to lake access as well as a few forest service camp sites.  They are very basic and don't offer any services besides firepits.  They make for nice stops if you are out enjoying the bike trails between the various lakes near Sun Peaks.
---
Johnson Lake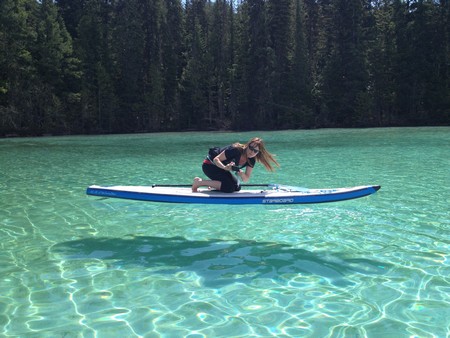 Johnson Lake is about an hour and a half away from Sun Peaks that is well known for its' clear turquoise-colored water and limestone bottom which makes it appear almost tropical. 
It is an isolated mountain lake with a long, bumpy logging road as the only way to access it. 
While there are several forest service camp sites at Johnson Lake available on a first-come, first-served basis, it has become very busy, over-crowded and popular so we no longer recommend it as a day trip from Sun Peaks.
---
Adams Lake
Adams Lake, about 50 minutes from Sun Peaks, is a large lake that is (Source Wikipedia) 63 km (39 mi) long and between 1.6 kilometres (0.99 mi) and 3.2 kilometres (2.0 mi) wide. Adams Lake is very deep; with a mean depth of 299 metres (981 ft) and maximum depth of 457 metres (1,499 ft) it is the second deepest lake in British Columbia (next to Quesnel Lake, which has a maximum depth of 511 metres (1,677 ft)) and 6th deepest lake in the world by mean depth. Water flows into the lake though many tributaries (most notably the Upper Adams River, Momich River, and Bush Creek). The water drains from the lake as the Lower Adams River which is home to a very large and famous Adams River Sockeye Salmon Run which attracts many visitors to the region each year.[2] From there the water flows into Shuswap Lake, and down the Thompson River.
Though a few villages exist along Adams Lake, the vast majority of the lake is undeveloped. The lack of development is partially due to the nature of the shoreline, which is mostly sheer rock faces or steep, stony beaches. Few recreationally suitable beaches exist naturally on the lake. Some man-made sandy beaches have been constructed for public use in Adams Lake Provincial Park. 
---
Best Beach Area Near Sun Peaks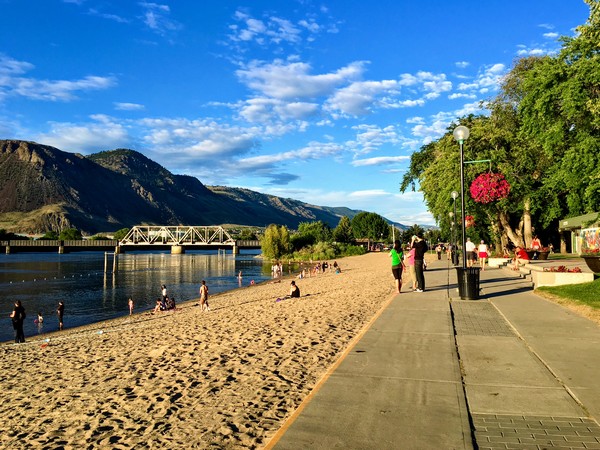 Riverside Beach near Kamloops (photo Jeff Putnam)
While there is a very small gravel area and a few picnic tables near the boat launch for Heffley lake, and the water is clean and refreshing for a swim, it really is best to head down to Riverside Park in Kamloops if you're looking for a nice family spot to relax, picnic and swim.
Riverside Park is a beautifully maintained family park located near downtown Kamloops (and some good brew pubs and wineries) on the shores of the historical Thompson River (where the South and North Thompson Rivers meet), and offers many family-friendly amenities.  To learn more about Riverside park, click here.

---
As with anywhere in the outdoors, please respect all of these beautiful locations!  Take only photos, leave only footprints, enjoy the memories. Wear a life jacket or PFD - play safe!
Return to Best Sun Peaks Summer Activities
Return to Best Sun Peaks Winter Activities
Return to McGillivray Lake
Return to Heffley Lake
Return to Johnson Lake
Return to Sun Peaks eBike rentals
Return to Best Sun Peaks Home page
Book your Sun Peaks Accommodation Direct from Owners