Sun Peaks Camping - at Sun Peaks Resort Village
Sun Peaks Camping Options (photo - Sun Peaks Resort)
There are a few Sun Peaks camping options for those who wish to set up a tent or park their RV or trailer at or near beautiful Sun Peaks Resort.
With many very affordable Sun Peaks summer accommodation options available during this slower but equally as fun season at Canada's 2nd largest ski resort, including our Best Sun Peaks condo, Best Sun Peaks townhouse and other lodging options, some prefer to camp at Sun Peaks, mainly because they are already traveling with their trailers and want to spend time exploring this beautiful alpine village and surrounding area.
Crawl out of your sleeping bag and instantly be just moments away from so many activities including:
• Walking and hiking trails
• World-class cross-country and downhill mountain bike trails
• Lakes for fishing, canoeing, kayaking, stand-up paddleboarding and water skiing
• An 18 hole golf course 
• An emerging winery tourism industry and craft beer industry
• North America's first gravity-fuelled mountain cross go karts
• Tennis courts, playing fields
• Horse trail and carriage rides
• Weekend farmer's markets
• Spas, massage and other pampering options
• Free summer concerts, music festivals and family entertainment
• And of course, Canada's Alpine Village with a variety of restaurants shops, tours and other summer activities


Sun Peaks Resort On-site Campsite
Just minutes away from the Sun Peaks Pool (opening again soon)
In the fall of 2016, a new, NHL sized skating rink with an in-ground refrigeration system, was built where Sun Peaks previously offered a converted parking lot (#4) for tents, campers and RV's.  And with the Village Walk townhouse complex being built where camping was moved to in 2016, the new Sun Peaks camping area is now very close to the village and chairlifts, in the #2 parking area (P2) which is just before the Sun Peaks Day Lodge (click for Sun Peaks Camping village map.)
Summer 2023 camping is scheduled to be open from May 15 to October 9th.  There are 45 sites that are available - reservations required, at a cost of around $25/night for an RV and $15/night for a tent (summer only).  Fees are paid by visiting Guest Services in the Village Day Lodge between 9:30 am and 4:30 pm daily.  They do not have water or electrical hook-ups, there is access to waste disposal in summer only, and RV's must be self-contained.  During summer, amenities include:
 
- A picnic table at a gravel base site in summer
- Washrooms (excluding showers) available in the Annex (formerly Bentos Day Lodge)) from 7:30am to 11:00 pm
- Access to potable water via the east and west end of the nearby Annex   
- Space for one vehicle and one tent, one vehicle and a trailer, or one self-contained RV.
- No long term stays - 7 night maximum
- Max. of 4 people aged 16 and older, or 8 people if 4 are 15 or under.  At least one person needs to be a responsible adult and the maximum stay is 7 nights
Regular camping rules and courtesies apply, including:
- Noise restrictions between 11 pm and 8 am
- Proper storage of food and beverages and disposal of garbage and recyclables in bear-proof containers to keep away all the various types of wildlife around Sun Peaks
- No campfires, except for portable and contained fires and stoves
While we love Sun Peaks resort and the many amenities and attractions, Sun Peaks on-site camping may not be for everyone.  There are, however, other nearby Sun Peaks camping options just minutes away.....
For Sun Peaks camping questions, please contact Guest Services at (250) 578-5474.
View the official Sun Peaks Camping information site.
Heffley Lake Forestry Campsite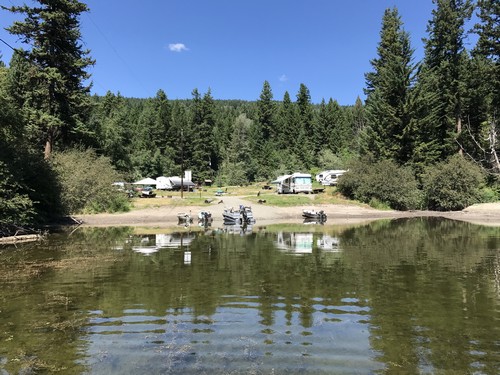 Heffley Lake Camp Site
The Heffley Lake Forestry (Government of BC) campsite is located just off the main (paved) road up to Sun Peaks Resort.  It is about 40k from Kamloops and 15km down the hill from the resort.
There is a good gravel road leading down to the day parking/boat launch/small (very) small beach area, as well as to the 28 (19 plus 9 new spots added in 2018) site campground with another small, car-top boat launch.  They provide tables at each site, there are outhouses, and the contractors do a pretty good job of maintaining the site.  There is a roughly $12/night charge from May to October.
Heffley Lake is the best lake in the Sun Peaks camping area for swimming (nice and clean) and boating activities like water skiing and tubing, is the home of Sun Peaks/Paddle Surfit Stand up Paddleboard lessons and rentals, and has great trout fishing, canoeing, kayaking, and nearby hiking and biking trails.  There can be plenty of birds and other wildlife on and along this 7 km (4.5 mile) long lake to enjoy as well.
Sites are first come – first served however which makes it hard to plan, and rumor has it a number of rv's pull in early in the season and stay for a nice, extended vacation which makes things even tougher!  The entrance is just past the Lakeside Heffley Hideaway (formerly Hitch 'n' Rail) family resort though (see below), where you can make reservations.
Click for the Heffley Lake Campsite Government Recreation website
Click for a map of Heffley Lake and campsite area.


Johnson Lake Resort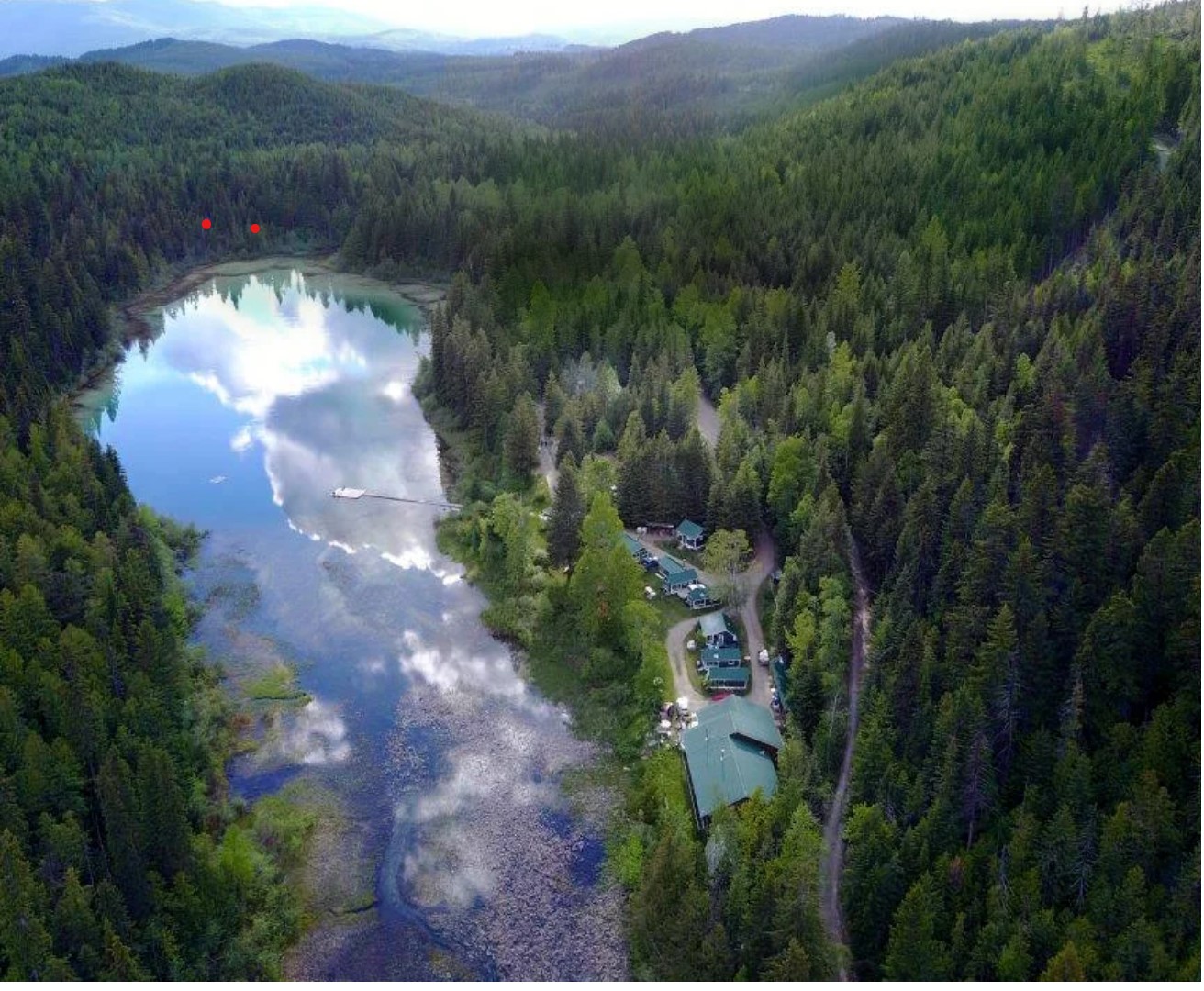 Johnson Lake Resort was first opened in 1952 and is situated on Little Johnson Lake. The resort consists of a lodge, six cabins, and eight privately situated campsites, all of which have access to the central shower house. A Pelton Wheel on a nearby creek provides limited power to the lodge, and lights to the shower house and one cabin. The resort is otherwise off-grid, with no cell service, internet access, or tv. There is a satellite phone system available at the lodge for a nominal charge. There is a boat launch and dock available for registered guests only, for boats up to 16' and with a 10 HP motor or under. No ski boats or jet skis are allowed as large wave action can damage the delicate shoreline. There are also 9.8 hp motorboats, canoes, kayaks, and paddle boards available to rent from the resort.  In 2022 the resort was purchased by a First Nations group and is in the process of being re-opened under new ownership.

For more information about the resort, please visit their website at www.johnsonlakeresort.com
---
Sun Peaks Camping – Lakeside Heffley Hideaway (formerly Hitch 'N' Rail Resort)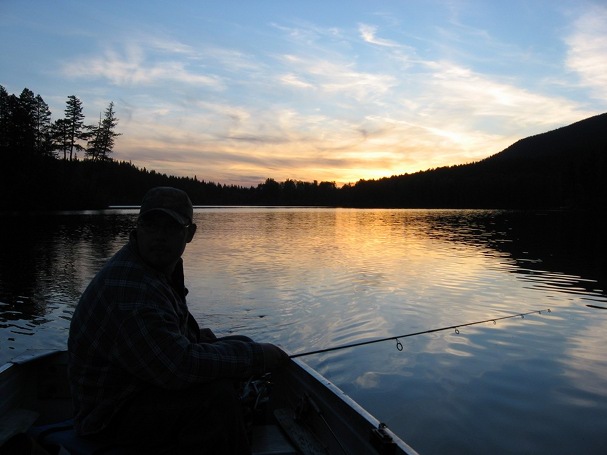 Camping and fishing on Heffley Lake near Sun Peaks
Just 10 minutes down the hill on beautiful Heffley Lake (so you pass it on the way up while driving the main road to Sun Peaks) is the locally owned and operated, family-friendly Lakeside Heffley Hideaway (formerly the Hitch 'N' Rail Resort which was bought in 2022)  
Heffley Lake is home to great trout fishing, swimming, water skiing, kayaking, canoeing, and highly recommended StandUp Paddleboard lessons, rentals and retail sales.
There are 4 self-contained cabins, around 18 camp sites of various sizes either lakeside or very near the lake, most have water nearby and/or power, their own sani-dump on site, as well as on-site restaurant which is open in the summer months.

Sun Peaks Camping – McGillivray Lake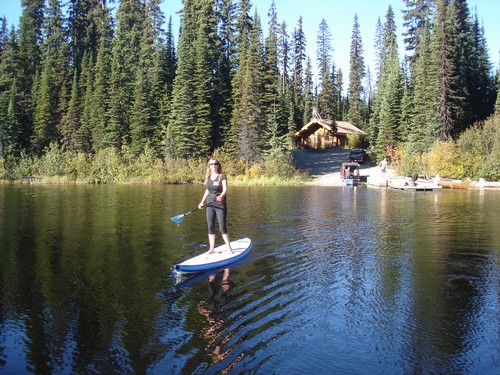 McGillivray camp sites right beside boat launch ramp
A popular destination for Sun Peaks hikers, bikers, snowshoers, Nordic skiers, trout-loving fishermen, wildlife viewers, canoers, kayakers and even us Stand Up Paddleboarders is nearby McGillivray Lake where there is a small forestry services campground with 5 free, first-come, first served sites.
It is here where the Sun Peaks Voyageur Canoe tours happen, as well as the summer canoe and kayak rentals.
The Sun Peaks camping sites are right across from the winter warming hut, and offer shade, picnic tables, firepits, and nearby outhouses. 
There is a dock there in summer which allows for car top boats to be launched, for those coming to motor around the shallow lake or to fish for trout.  Wildlife can typically be seen along the way or the shoreline.
To get to this free Sun Peaks camping site, stay on the main paved road and drive though the Sun Peaks Resort on Creekside Way. Turn right on Village Way and then left on Sun Peaks Road. You are now going northerly up a hill.
Watch for a gravel road leading off on your right - and watch for signs.  Go slow as there are some large potholes, as well as other traffic and wildlife along this 6km stretch of gravel road (click for McGillivray Lake map).
Click for more information about McGillivray Lake near Sun Peaks.
So whether you choose to stay at the many wonderfully located Sun Peaks hotels or owner vacation rental condos, townhouses and chalets, or partake in some Sun Peaks camping, head up and enjoy this wonderful family summer resort destination.



Sun Peaks Area Camping - Knouff Lake Resort
Knouff Lake Camping near Sun Peaks Resort
The Knouff Lake Resort is another four-season, family-friendly campground/resort for Sun Peaks camping that offers record-breaking fly fishing for Rainbow Trout and lots of other family recreational activities.
This Sun Peaks area campground offers a selection of cabins, modern washrooms and showers, large campgrounds, year-round RV Sites, and boating facilities including a launching ramp and boat rentals, laundry facilities, an 'unusual' wood lodge/store, and a sani-dump.  Pretty much everything you need for a nice camping visit while still being about 20-30 minutes away from Sun Peaks.
While they do have a website, they insist on making all reservations by phone so keep that in mind when trying to book.
As you are driving up the hill towards Sun Peaks Resort, travel around 8 km (5 miles) east on the Heffley-Louis Creek Road to the top of the hill and then turn left onto Knouff Lake Road at the signs. Travel north 12 km (8 miles) along a smooth but gravel road where you will come to the Knouff Lake townsite. Continue north on the west side of Knouff Lake until you arrive at the resort on the north side of the lake.  Note - the gates are locked at 10 pm and don't open again until 8 am.

No matter where you camp or stay, have a BestSunPeaks vacation!


Return to Best Sun Peaks Summer Activities
Return to Sun Peaks Owner Vacation Rental Options
Return to Best Sun Peaks Home page

View Best Sun Peaks discounted Vacation Rental options through Top of the Mountain