Sun Peaks Horse Rides, Lessons and Tours

Sun Peaks Horse Rides and sleigh rides for year-round family fun
Sun Peaks horse rides are a fun, family friendly way to explore Sun Peaks Resort and the surrounding areas.
And if you're lucky like we were, Rebecca and/or Robert from Sun Peaks Stables will take you for a ride right through the village or right past your Sun Peaks accommodation!
They have been operating at Sun Peaks since 2013 and bring many years of excellent customer service and their love and passion for horses along on every trip.  
With their stable of friendly and well-mannered Percheron draft horses, they provide a number of Sun Peaks horse rides and other options to suit everyone.


Types of Sun Peaks Horse Rides and Lessons
---
Sun Peaks Horse Riding Lessons
New in 2017 was the Sun Peaks Horseback Riding Lesson Program. Riding lessons are one hour each and include the basics of grooming, horse care and English style riding, and will commence in early May as weather permits.  Lessons will take place in the new riding ring near the Burfield Stables, and riders must be five years of age or older.
Group riding lessons, with a maximum of four riders, are available with set times and days throughout the summer and off-peak availability may vary (generally available May through October).
Private lessons (1-4 riders) are also available outside of the regularly scheduled group times, and are suitable for a variety of riders wishing to learn or improve upon their horse riding skills.
Prices subject to change - contact Sun Peaks Stables for details. Waivers and helmets are mandatory. Consent forms must be completed to participate.

---
Sun Peaks Trail Rides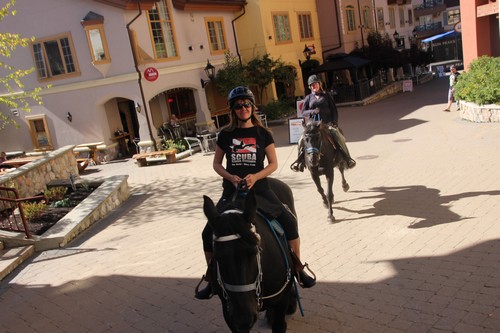 Nancy enjoying a horse ride through Sun Peaks
Trail rides are a great 'green' way to tour Sun Peaks Resort and the surrounding areas.  Small groups, families and others can enjoy a guided, scenic tour with up to 5 guests and let these gentle giants show you a different perspective of the tranquil resort area.
Trail rides vary from 90 minutes to 3 hours and are subject to weather and safety conditions and availability.  
2 hour Village and Valley View Trail rides with beautiful scenery and perhaps wildlife sightings and a 4 hour Mt. Morrisey Summit trail experience are available - Check with Sun Peaks Stables for pricing and availability.  You will enjoy, golf course, village and valley views and will enjoy the beautiful nature and perhaps wildlife that surrounds Sun Peaks.

Riders need to be 10 or older, but kids from 6-9 may be able to join on a guide-lead horse, and at least 2 riders are needed to go out (max of six guests per group).  Custom trips and routes may be arranged as well - contact Sun Peaks Stables with the form below to inquire.
Helmets are mandatory, and closed toe shoes are required (runners are fine) and long pants may be desirable.
Available spring, summer and fall, weather and trail conditions permitting.


---
Sun Peaks Carriage Rides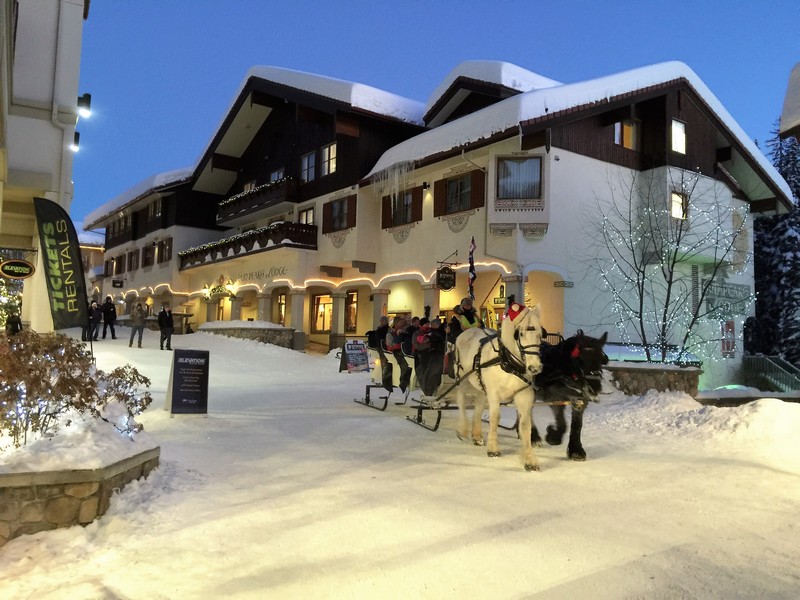 Wonderful sleigh rides at Sun Peaks
Dashing through the snow…..No matter the season, custom private Sun Peaks carriage rides are available for either just the two of you for a little romance, or for you and up to 8 additional friends or family members, or maybe a few of each.
Wheels are used on a carriage/wagon in the summer, and snow runners are added as soon as there is enough fresh Okanagan POW on the ground.  This is a great add-on for any of your special event while up at Sun Peaks.
During peak winter season, you can either do a private tour or join a regularly scheduled horse drawn sleigh ride which is available as well for individuals and others.  Winter sleigh rides depart from just outside the Village Day Lodge, and wind through the village and surrounding area with sleigh-bells jingling.  Tours are 30-40 minutes in length, and seating is first come, first get to enjoy with up to three people per bench.  Contact Sun Peaks Stables using the form below for pricing and availability.
Private winter sleigh rides can be arranged - Inquire for details and availability.
Do you need more horsepower?  How about a Sun Peaks Snowmobile tour then?


---
Sun Peaks Trolley Tours
There is also the option of a 20 passenger horse drawn wagon ride through Sun Peaks Resort.  Just like the Sun Peaks Stables sleigh rides, their beautiful Percheron draft horses will take your large group for a beautiful trolley ride around the resort and perhaps even through the village.  Large group wagon rides are available for charter all year-round, and are a fun way to get the whole gang together to enjoy and remember the simpler days.  Submit the form below for pricing and availability.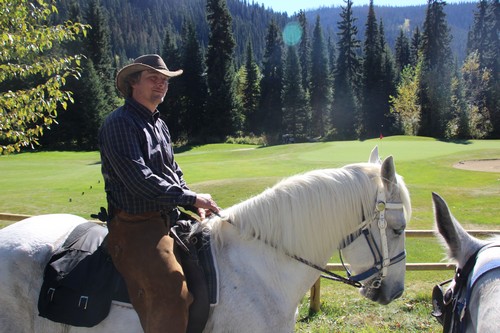 Our guide - Robert from Sun Peaks Stables
---
All of these various Sun Peaks horse rides are typically available daily by special request, but be sure to book ahead to avoid disappointment.  Rebecca and Robert are great hosts and you will have a great time, just as we did!
Yet another fantastic family friendly activity at Sun Peaks Resort.
For more information about Sun Peaks horse rides or lessons visit Sun Peaks Stables or complete the form below.
And book a stay at our beautiful Best Sun Peaks condo in Stone's Throw, luxurious Best Sun Peaks Trapper's Landing Townhouse, or one of many other wonderful Sun Peaks vacation rentals direct from the owners.



Robert from Sun Peaks Stables also hand-creates custom Sun Peaks signage using his iron forge.  From business signs to souvenir coat racks and other items, Robert is very creative.  Check out his various custom woodburned signs.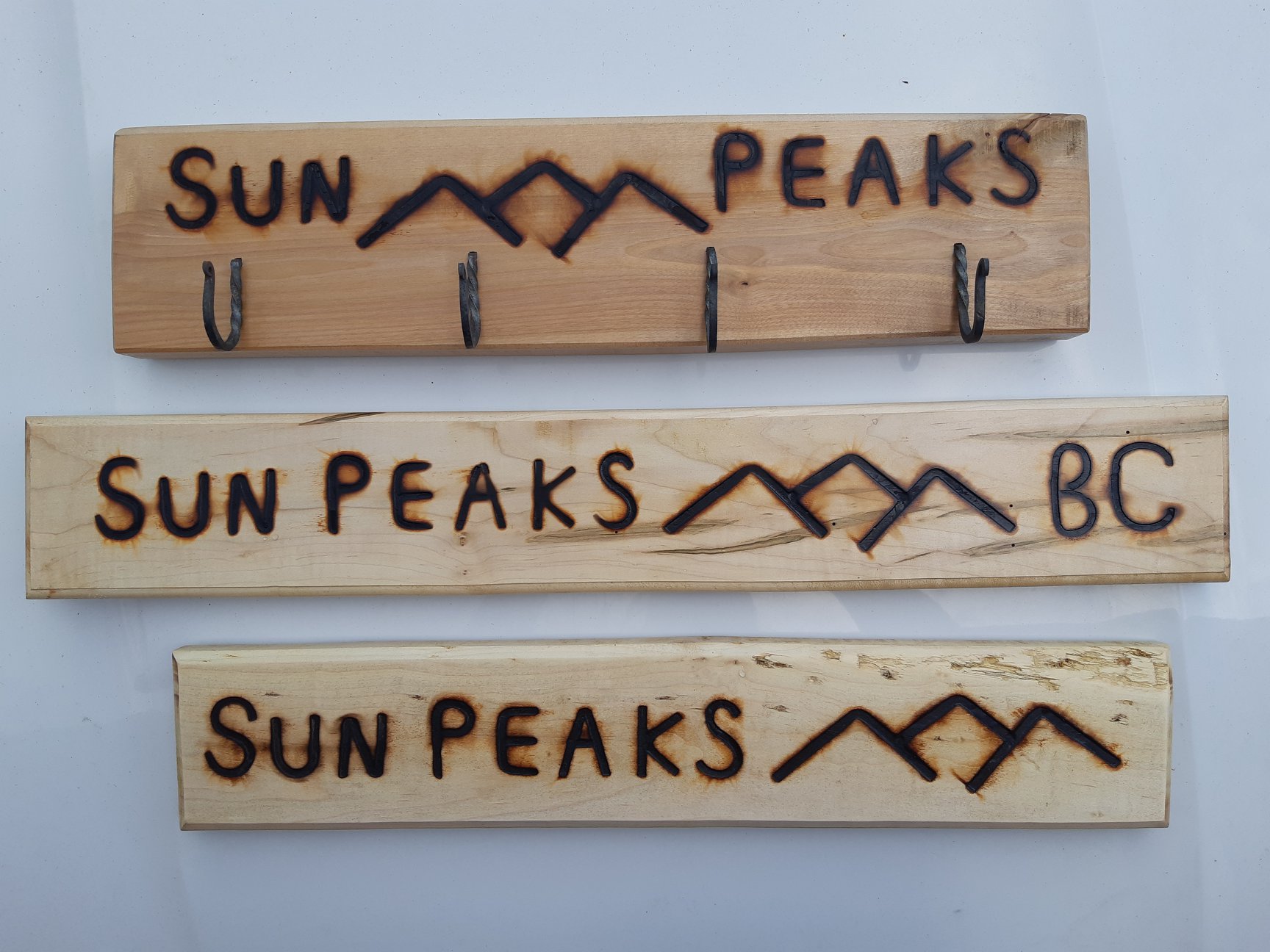 Custom wood signs created by The Forge at Sun Peaks Stables

Return to Best Sun Peaks Winter Activities
Return to Best Sun Peaks Summer Activities
Return to Best Sun Peaks Fall Activities
Return to Best Sun Peaks Spring Activities

Return to Best Sun Peaks Home page