Sun Peaks Snowmobile Tour - Scenic, Fast and Fun!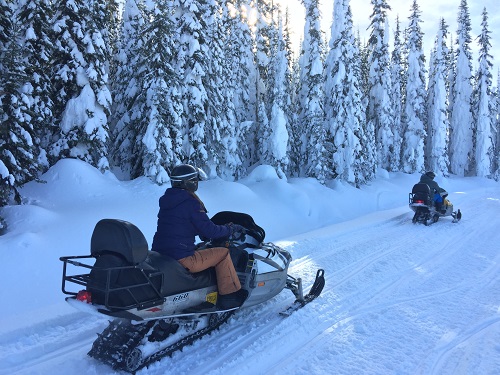 Sun Peaks Snowmobile Tour - awesome adrenaline inducing fun!
Sun Peaks Snowmobile Tour – awesome fun at Sun Peaks for those with a need for speed!
These adrenaline-powered tours are a favorite Sun Peaks winter activity for everyone – skiers and boarders who want to give their legs a  rest, or non-skiers who want to explore and see the beautiful snow-covered mountains around Sun Peaks Resort. 
Enjoy the beauty and perhaps even the virgin powder that covers everything in sight.  Make fresh tracks or follow the leader!  It's all good!
Pre-scheduled 2 or 4 hour tours go out daily, as well as evening tours and wiener roast at McGillivray Lake adventures.  Trips can be tailored to suit the needs of the guests, and custom family tours or thrill-seeker tours can be arranged. 
You can also include an hour long wiener roast at McGillivray Lake as part of your tour, or add on an extra hour to your snowmobile tour.
Check out the fun and spectacular snow covered scenery in this video and imagine flying along :)


These exciting tours head out and away from Sun Peaks and into the scenic back country, down open logging roads, through snow-covered trees, into select bowl areas and onto wide open frozen lakes where you can let loose your need for speed! 
Speeds can hit 60 kph (38 miles/hour) and the smiles last for hours after the tour :)
You need a valid driver's license to operate a snowmobile, or you can hop on as a passenger.  Kids are of course welcome, but must be approved by your tour guide first to ensure safety for all.
Safety gear and protective, warm covering is available (except gloves) and you should book in advance to ensure your spot on these popular winter tours. 
Adrenaline pumping fun for the whole family or for your group of excitement seekers!


Cost of a Sun Peaks Snowmobile Tour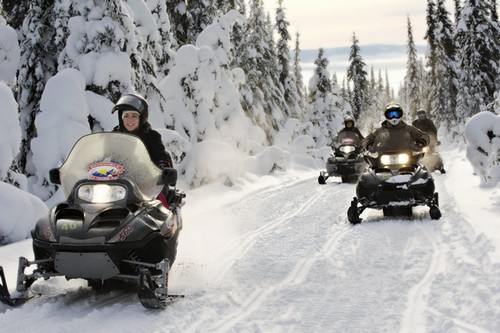 Snowmobile Excitement at Sun Peaks (Photo by Adam Stein)
Cost for a 2 hour snowmobile tour is around $225 for the operator/$83 for a passenger (taxes and $25 mandatory insurance extra) and depart daily at 8:30, 11:30 and 2:30
Cost for a 4 hour tour is around $325 for the operator/$120 for a passenger (taxes and $25 mandatory insurance extra) and depart daily at 8:30 and 11:30
Cost for the 2 hour evening snowmobile tour and wiener roast at Sun Peaks is $198/snowmobile (for one or two people/machine, plus insurance and tax) and depart daily at 5:30
Inquire for custom tours and extras.
Complete the online form below to get in touch with Sun Peaks snowmobile tours or visit the Adventure Centre located in the Village Day Lodge.
Gravity fed Sun Peaks ski-bikes are also great for speed-lovers!

If a slower speed is more your idea of fun, consider a Sun Peaks Snowshoe tour or Horse drawn sleigh ride around Sun Peaks.

Return to Best Sun Peaks Winter Activities
Return to Best Sun Peaks Horse Rides
Return to Best Sun Peaks Snowshoe Tours
Return to Best Sun Peaks Skiing and Snowboarding

Book luxurious accommodation at our Best Sun Peaks condo,  Best Sun Peaks townhouse or Sun Peaks Vacation Rental

Return to Best Sun Peaks Home Page