Fun-Filled Voyageur Canoe Adventure Tours at Sun Peaks - UNFORTUNATELY STILL CLOSED SUMMER 2022
Experience the fun and excitement of Sun Peaks Voyageur Canoe Adventure Tours at Sun Peaks Resort this summer.
Cut-throat competition, intimidation, corporate espionage, and the building of our beautiful nation - all part of what you will learn about during this popular, safe and fun Sun Peaks summer activity.
Learn all about the local First Nations people and how the voyageurs and fur traders explored and settled the Sun Peaks area back in the late 1700's while you gently paddle your guided, authentic Voyageur style canoe on beautiful McGillivray Lake, one of the many scenic lakes that surround Sun Peaks Resort.
Keep your camera handy and be on the lookout for some of the local area wildlife that may be watching you from the shore, including perhaps: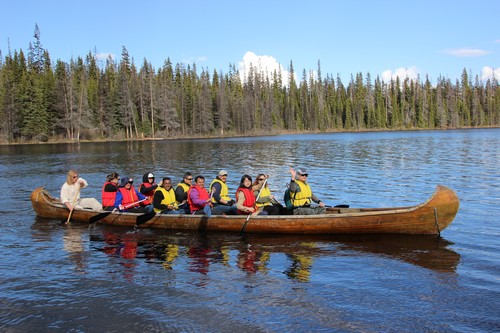 Guided Voyageur Canoe Tours at Sun Peaks
Wolves
Coyotes
Moose
Mule deer
Cougars
Canadian Lynx
Beavers
Red Fox
...and more

And listen carefully during your guided canoe wilderness tour and you may hear the haunting cry of a loon, or the hair-raising sounds of a Bald Eagle or Osprey soaring overhead looking for a meal from the trout-filled lake below.
We had an awesome time and you can read our Sun Peaks Canoe Tours Review here.


Delicious Voyageur Canoe Adventure Tours and Meals
Speaking of a meal, you can add-on a delicious, authentic Voyageur lunch or dinner, created by one of the best restaurants at Sun Peaks - the Voyageur Bistro.
Their meals are based on traditional French-Canadian cuisine and are prepared by your guide during your informative show-and-tell session during your shore stop.

These scenic, guided, non-strenuous eco-adventure tours are fun and safe for all ages and depart daily as long as there are enough paddlers so get your whole group together. 
Private canoe tours and Voyageur meals for your Sun Peaks group can also be arranged with sufficient notice.
Prices range from only around $16.75 for a child (6-9 years of age) to $45 for adults.  Toddlers 5 and under are free and a Family Pack (2 adults and 2 youth) can be purchased for only $109.95 *See Note
Delicious and traditional Voyageur style 3 course lunches can be added-on for only around $25 or 4 course dinners are only $45 per person (check with them for most up to date pricing).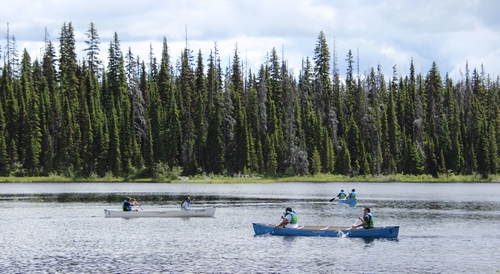 *Note: Prices are plus applicable taxes; rates are in Canadian dollars; availability and prices may be subject to change without notice;departures are dependent on minimum group size. Some restrictions may apply.


For more information about these guided scenic Sun Peaks Canoe Tours on McGillivray Lake, visit the Sun Peaks Adventure Centre located in the Tourism Sun Peaks office or simply complete and submit the form below.
It is best to contact them well in advance with your requested dates to ensure a tour can be arranged for you - just send in the form below.
And please send us your review after your tour.  Bon voyage!

Book your Sun Peaks vacation accommodation at our Best Sun Peaks condo, Best Sun Peaks townhouse, or other Sun Peaks vacation rentals

Return to Best Sun Peaks Summer Activities
Return to Best Sun Peaks Home page