McGillivray Lake at Sun Peaks - A Popular All-Season Sun Peaks Vacation Destination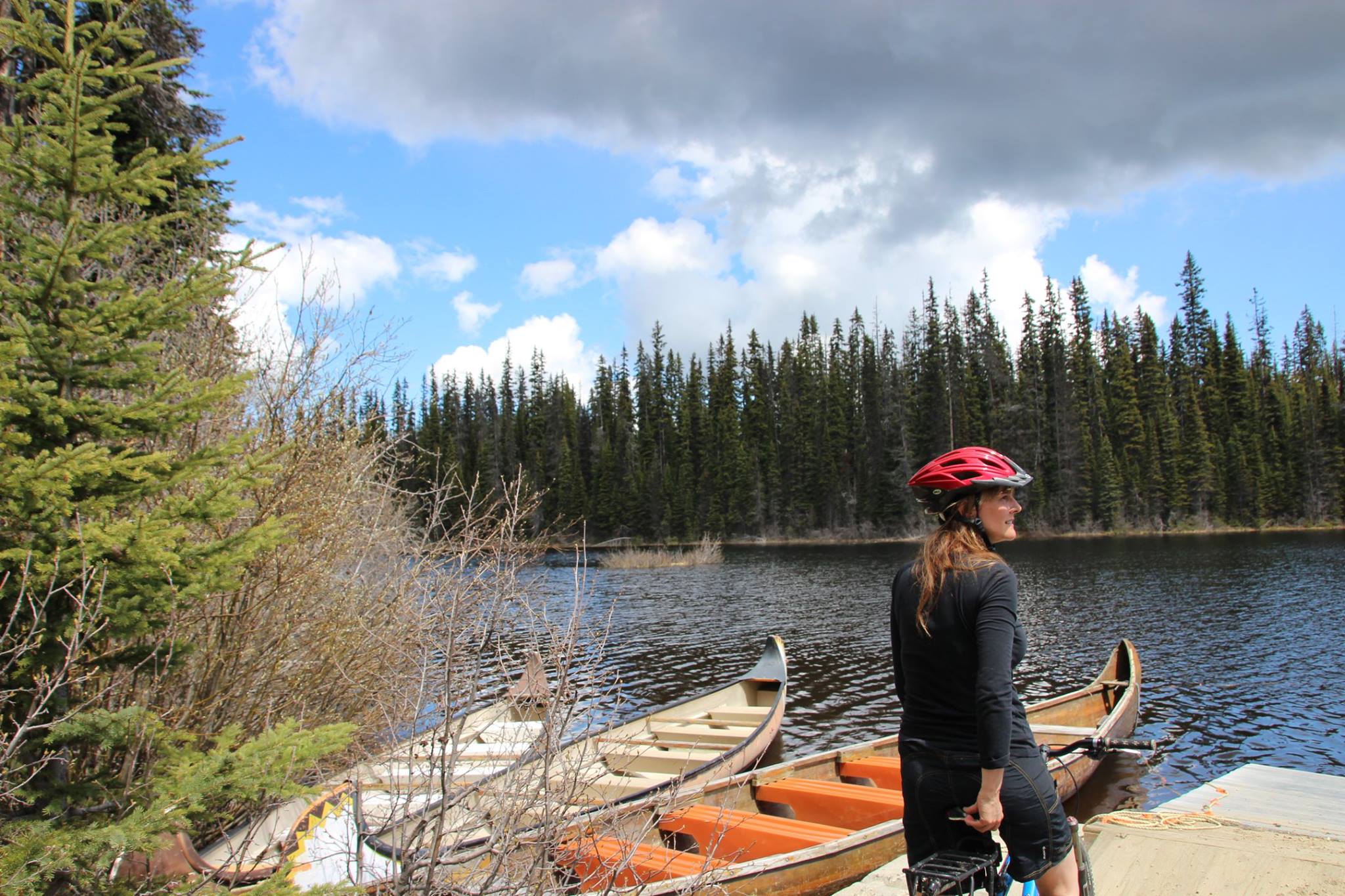 Nancy checking out McGillivray Lake after a bike ride
McGillivray Lake is near Sun Peaks, is only about 6 km / 15-20 minutes away from Sun Peaks Resort and is the destination for numerous recreational activities at Sun Peaks in the spring, summer, fall and winter.  It is about 2 km. long and quite shallow in most places, especially near the shoreline and islands where you have to watch out for fallen trees, rocks and branches rising quickly from the lake floor.
It isn't the crystal clear alpine lake near Sun Peaks that many dream about, but it is a fairly high elevation lake (1,400 meters/4,600 feet) surrounded by wilderness and great views of nearby Tod Mountain.  
With an elevation climb of around 150 meters (490 feet) from nearby Sun Peaks Village, the trek to McGillivray Lake also provides for a fair workout for pretty much anyone and by many different means.  And even though so many activities utilize the lake, it is typically very quiet and offers the chance to see all sorts of Sun Peaks area wildlife and animals along the way.  
There is a small forestry services campsite, a winter outpost/warming hut (open 9-3:30 in winter), small gravel boat launch, small dock, and outhouse there for guests to use.
We believe the lake also feeds the Little McGillivray Lake (just a short distance away) and then the Sun Peaks/Whitecroft/McGillivray waterfall, located about a 20 minute drive down the main road from the village and a short hike in.

As with anywhere in the outdoors, please respect this beautiful location!  Take only photos, leave only footprints, enjoy the memories. 

McGillivray Lake in Winter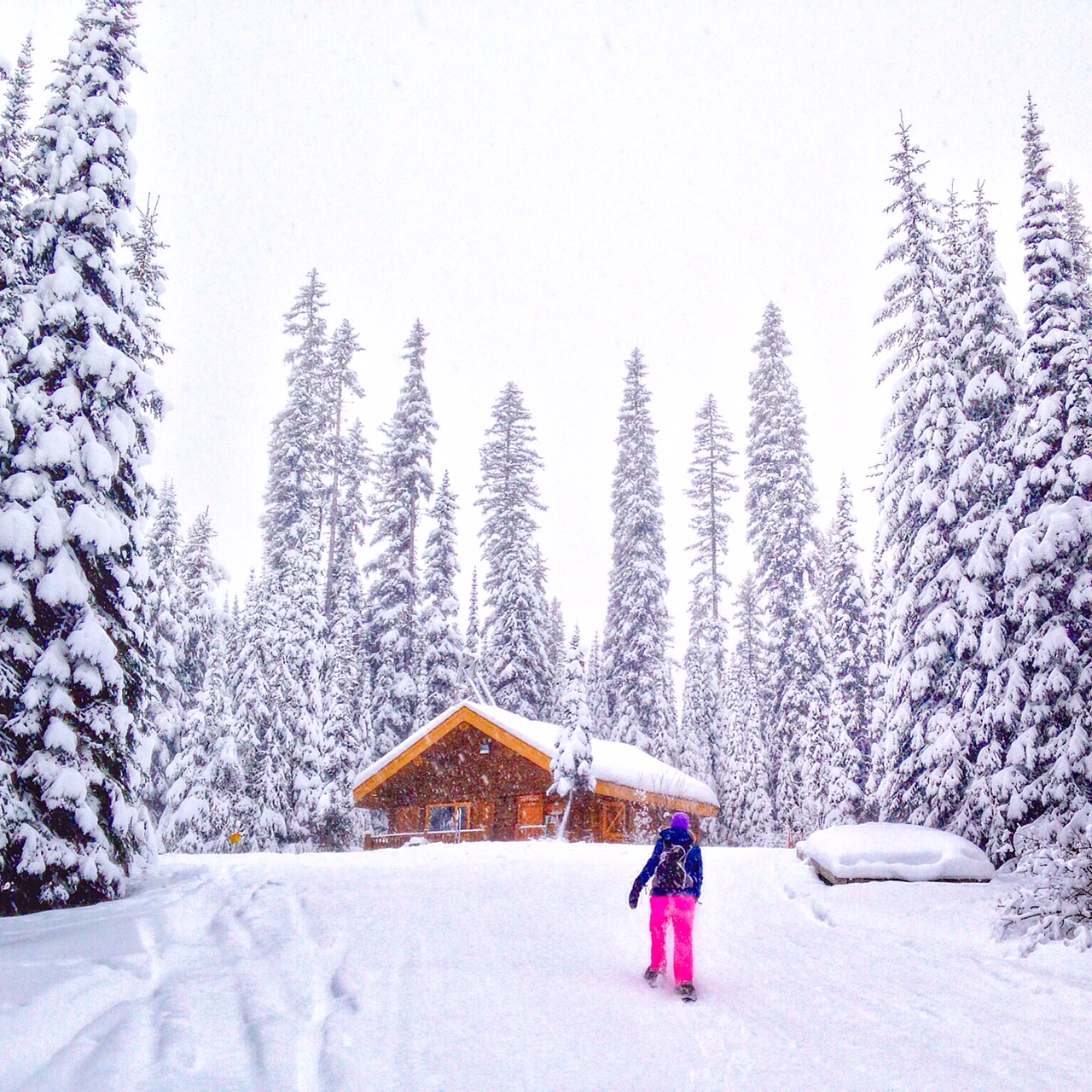 Snowshoe to McGillivray Lake Outpost - photo by @Putsky88
The gravel Forest Services Road to McGillivray Lake is covered in snow during the winter, and is not driveable.  But there are many other exciting ways to get out to explore the frozen lake:
Showshoeing - Two of the five marked Sun Peaks snowshoe trails are out to/from the lake, where there is a rustic warming hut for snowshoers to rest and warm up, before beginning the return trip to the village.  Both trails are about 3km each way but one is advanced and one is expert. Both can be reached by taking the Valley Intrepretative Trail or the Morrisey Ridge Trail from the village, which when combined, makes it about a 12 km. return trip from the village with a fair elevation change.  
Snowshoe trail maps are available when you buy your trail pass (around $5), and snowshoe rentals and guided tours are available in the village Adventure Centre.
Nordic Skiing - A popular, family and dog-friendly cross-country/nordic ski trail takes you from the Nordic Centre near the village out to McGillivray Lake where you rest and warm-up in the warming hut. Free Nordic ski trail maps are available throughout the village in hotels and where you buy your Nordic Trail pass or get your nordic rental skis.
Guided daytime and evening tours are available through the Adventure Center, as are nordic ski lessons. 
Snowmobiling - Visitors with their own snowmobiles, as well as Sun Peaks guided snowmobile tours end up at McGillivray Lake, where the wide-open frozen lake makes for some adrenaline-pumping excitement for those with a need for speed, or a great place to warm up or enjoy an evening campfire and wiener roast.
Watch out for wildlife along the way, including snowshoe hares, deer, moose, or perhaps even a Canadian Lynx (and yes, maybe a cougar).  Once there you will probably have chance to meet and talk with others from around the world and maybe see people enjoying Sun Peaks ice fishing tours in search of a delicious, fresh rainbow trout.
Sun Peaks Summer Activities at McGillivray Lake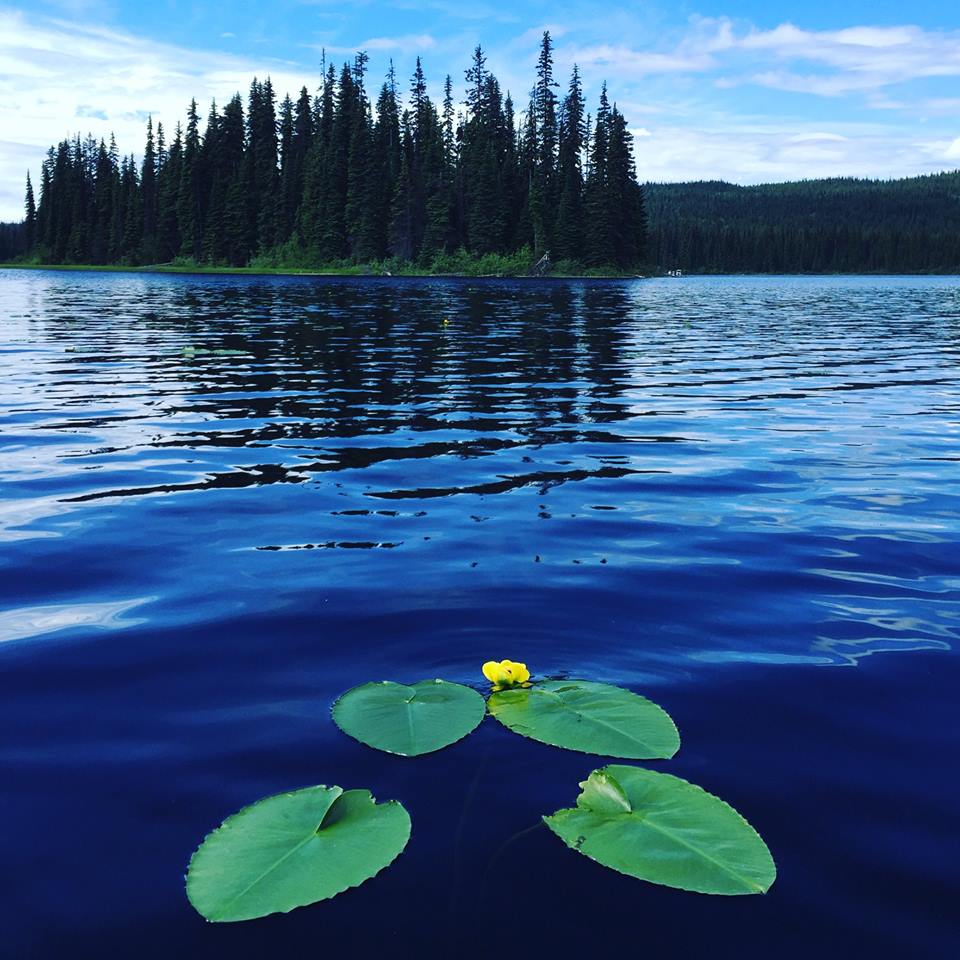 Water lilies on McGillivray lake in Summer
McGillivray Lake can be busy in summer, with people arriving there by many different ways to enjoy many popular Sun Peaks summer activities.
The access/logging road gets a bit dusty and sometimes quite bumpy with potholes and ruts created by the melting snow, but it is easily driveable if you take it slow. 
One helpful hint though is to bring sunscreen and bug spray as you will probably need both!
The trail network, formerly nordic ski trails, fat tire bike trails, or snowshoe trails in the winter, become popular cross-country mountain biking trails, horse ride trails, or even just walking trails in the summer.
Either bring your own bikes up to Sun Peaks or arrange for a mountain bike rental in the village.  Not a biker - how about enjoying a Sun Peaks E-Bike - go faster, go further, and explore more while having fun!  Mention BestSunPeaks when you book at McSporties to get a 10% discount.
Visitors of all ages and athletic abilities head to McGillivray Lake to enjoy the tranquility and many different recreational activities at this popular alpine lake near Sun Peaks.

Please respect this beautiful location!  Take only photos, leave only footprints, enjoy the memories. :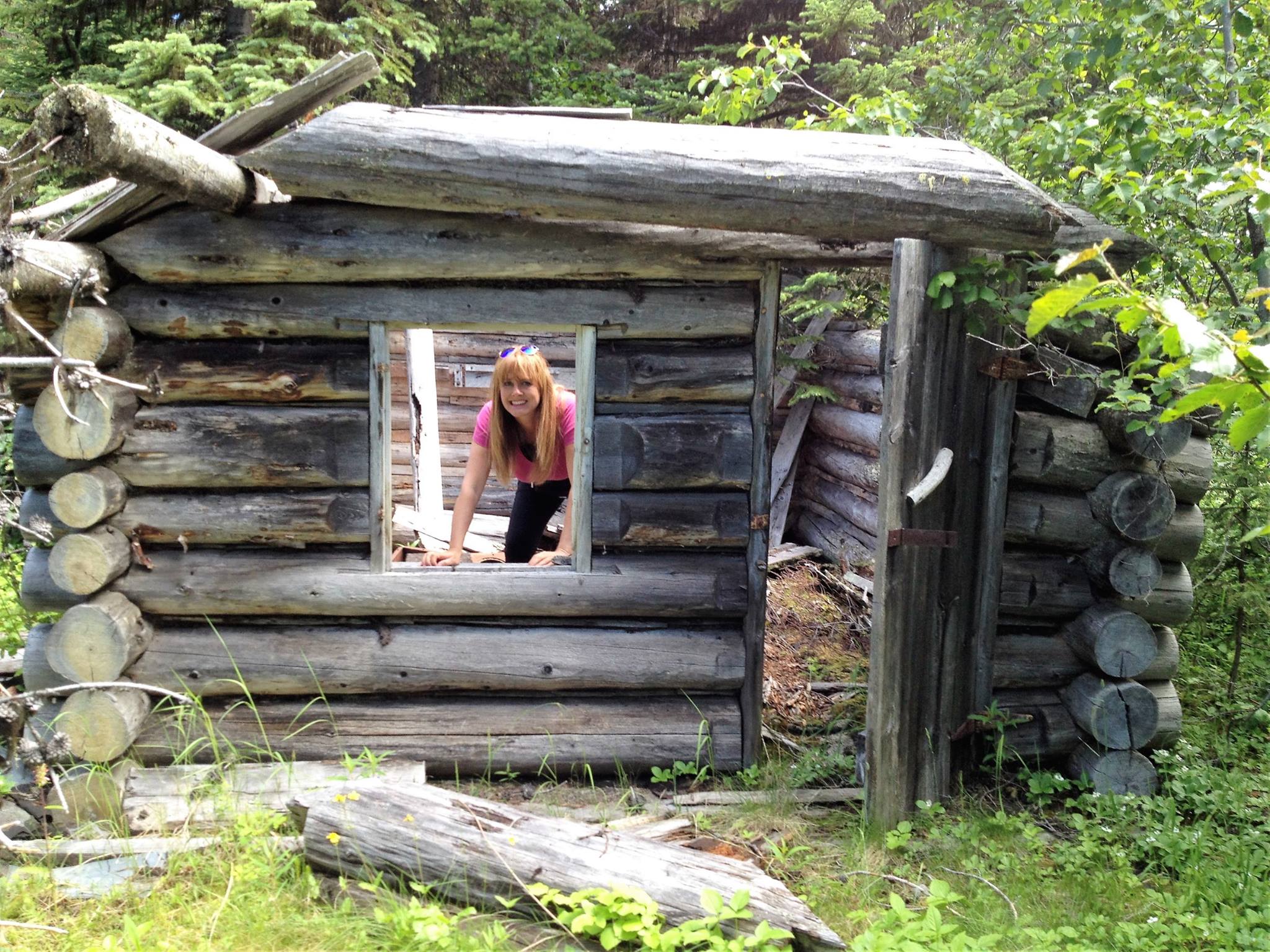 Nancy exploring Old Trapper's Hut on McGillivray
Stand up paddleboarding is one of our favorite activities on the lake.  We have our own boards now, but Sun Peaks SUP rentals and lessons are available from Paddle Surfit on nearby Heffley Lake.  Launching is easy using the small, floating dock, and you can easily paddle the length of the scenic lake while watching out for ospreys, hawks, loons and eagles overhead, and perhaps deer, beaver, moose, bears and other Sun Peaks wildlife on the shoreline.  
You may even find the over-grown path to the remains of an early explorer or trapper cabin.
Canoes and Kayaks can often be seen paddling around the lake, with this being the home of Sun Peaks Kayak and Sun Peaks Canoe Rentals.  Arrange for your rental in the village, and then make your way out to enjoy this tranquil, alpine lake.  Paddle through the patches of water lilies that are reaching towards the sun, while watching out for the frogs and trout that can often be seen below.
Voyageur Canoe Tours are a very popular way to explore the lake. Safely paddle along with up to 15 other 'guest explorers' with a Voyageur Canoe guide who will recant tails of how the area was first opened up by Voyageurs from out east looking for furs.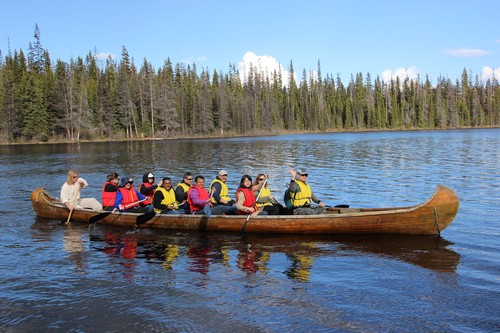 Voyageur guided canoe tours
A bus will bring you from village and all safety gear is provided.  You can even add-on a traditional west-coast Voyageur meal in the McGillivray Lake Outpost, professionally prepared by one of the best Sun Peaks restaurants - the Voyageur Bistro.
Starting in the spring of 2017, Sun Peaks Stables will offer scenic back-country trail rides out to the McGillivray Lake Outpost as well.

A few Sun Peaks Camping spots can be found here, at the small McGillivray Lake forestry campground located right near the boat launch, warming post (typically closed in the summer) and outhouse.  Sites are on a first come first served basis.
Fishing boats (car-toppers, or small-trailered boats) can often be seen motoring along, with patient fishermen hoping to catch some of the elusive rainbow trout that can be found here and in nearby Morrisey Lake. Check ahead of time to ensure fishing is in season and bring your fishing license, and watch for shoals and shallows, logs sticking up, and rocks on the bottom.

As mentioned the lake is quite shallow, and as a result has lots of algae and vegetation on the bottom so we don't recommend it for paddling or swimming.  
Head down to nearby Heffley Lake if you want somewhere to swim or cool-off in the summer months.
And if you're looking for the best beach area near Sun Peaks - we recommend Riverside Park.


Spring and Fall at McGillivray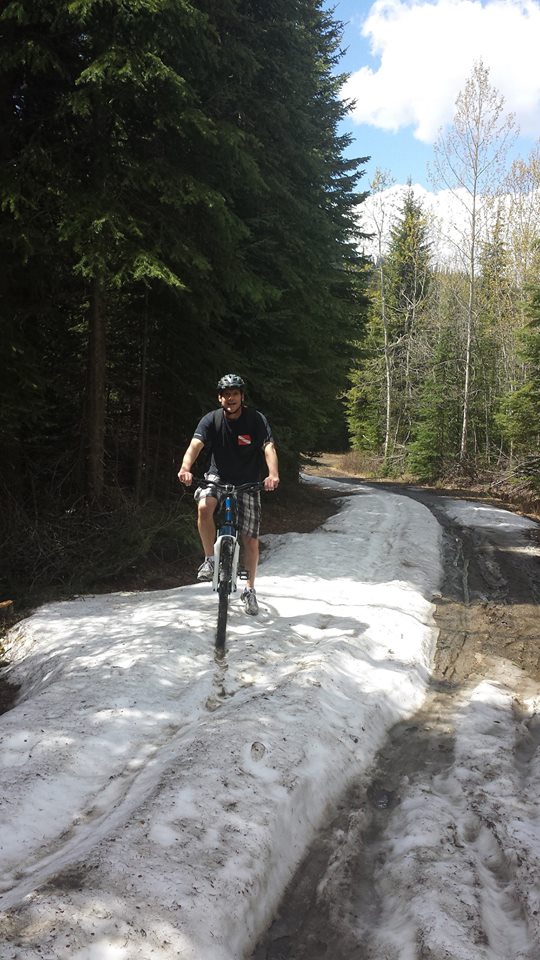 Snowy but fun spring ride to McGillivray
Shoulder seasons like early spring and fall at Sun Peaks are quiet yet very enjoyable times.  
Before the snow arrives in the fall, or fully melts in the spring, we love to bring our cameras along and ride our mountain bikes from the village, or bring our inflatable paddleboards out for some beautiful views and aromatic, fresh mountain air.
The trails may be a little muddy but the ride is great exercise and loads of fun.  And the pints in the village afterwards make it totally worth the effort.  
6 hour trail rides can also be arranged through Sun Peaks Stables in the spring through to the fall.

Wildlife can often be seen (watch out for bears!), and the views of and from the water can be beautiful.  One time when we were there, we were following a swimming branch which was very cool (beaver towing a branch for a nearby beaver dam.)



Getting To The Lake From Sun Peaks
The bike/snowshoe/nordic ski trails are quite well marked, and in summer months the driving route along the gravel road is easy to follow. Drive past the village on Creekside Way and turn right at the 'T' by the Kookaburra Lodge, onto Village Way. Soon after turn left up Sun Peaks Road, and follow along to the right where you will soon be on the gravel road.  
Watch for car or ATV/dirt bike traffic coming the other way, drive slow and avoid the possible wildlife, large potholes and ruts.  Further up, you meet with a logging road so be on the lookout for fast moving trucks.  
One road before you'll see the wood sign for McGillivray Lake on your left, there is another road that leads you to  another alpine lake and camping area - Morrisey Lake West and East.
Click for a general map to McGillivray Lake.
Continuing past the turnoff to the Lake will get you to the town of Chase in the summer, which is where you can try the zipline adventures.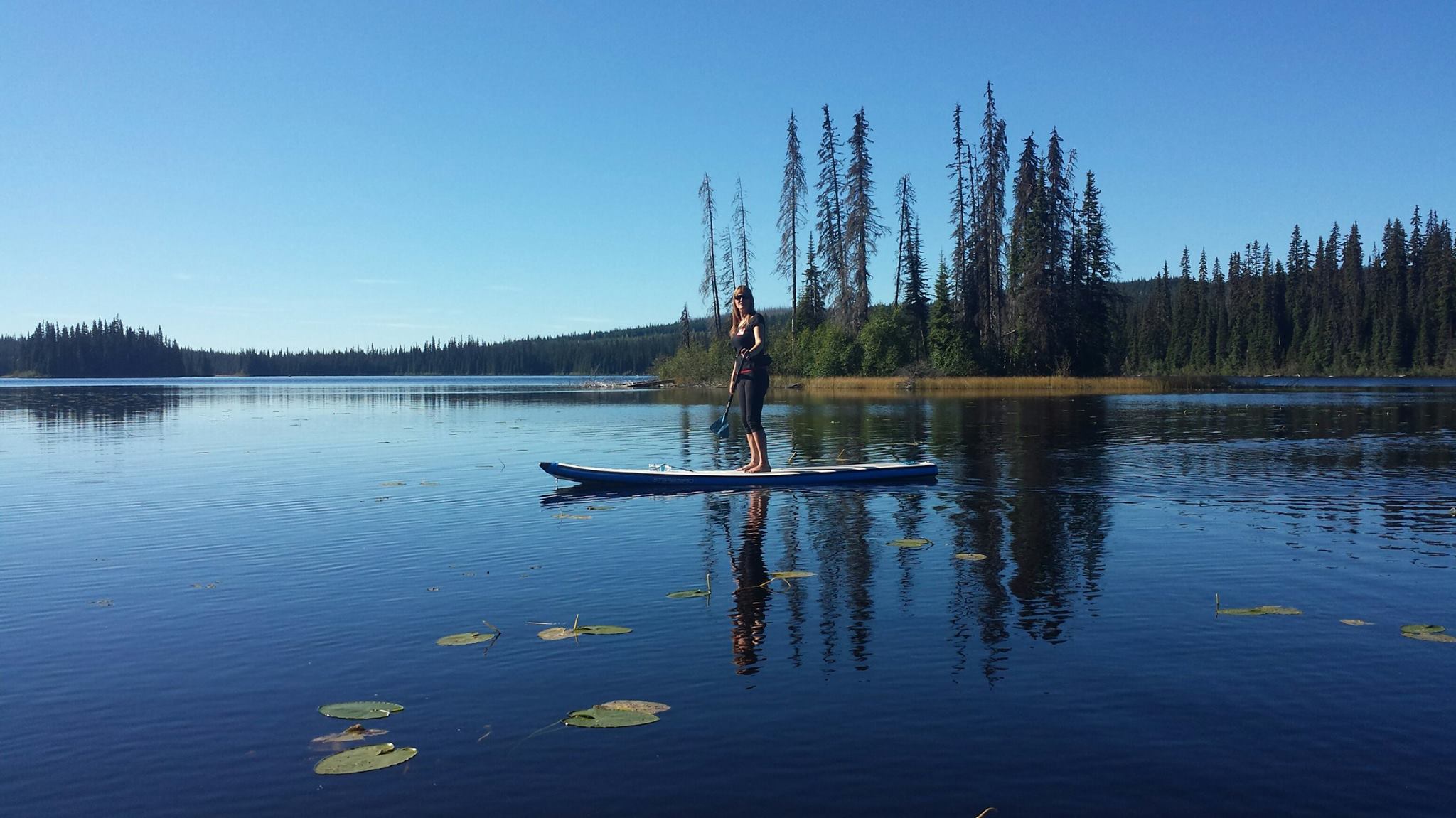 Nancy enjoying some Standup Paddleboarding on beautiful McGillivray Lake
Arrange your Best Sun Peaks accommodation
Return to Heffley Lake - best beach for Sun Peaks swimming
Return to Sun Peaks Summer Activities
Return to Sun Peaks Winter Activities
Return to Sun Peaks Spring Activities
Return to Sun Peaks Fall Activities
Return to Best Sun Peaks Home page.