Sun Peaks Canoe Tour Review - Fun Experience For All!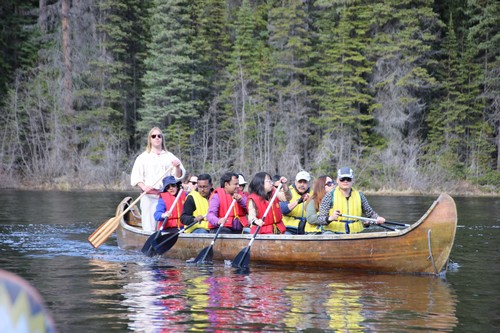 Our Best Sun Peaks Canoe Tour Review began last fall while enjoying a very nice dinner at the Voyageur Bistro, located in the Kookaburra Lodge across from Sun Peaks Village (possibly one of the Best Sun Peaks Restaurants - to be determined)

We told our server about our website and our quest to experience 'the best of Sun Peaks' and she proceeded to tell us about the excellent Voyageur Canoe Tours that the bistro owner, Kevin Tessier operated. 
Shortly after, Kevin arrived at the restaurant and briefly introduced himself to us before turning his attention to his group of hungry Voyageurs who had just arrived back (with huge smiles on their faces) from a late fall Sun Peaks canoe tour.
After hearing about the tour, Nancy and I vowed to be back soon!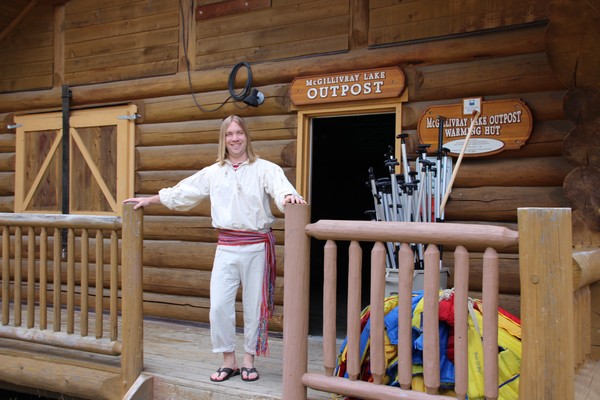 So in early spring, once the ice had melted on nearby McGillivray Lake and the spring rain storms halted, we booked ourselves a Sun Peaks Voyageur Canoe Tour, and we loved it and now consider it a Best Sun Peaks Summer activity!
Our journey started in Sun Peaks village where their rustic bus picked our group up and took us for the 10 minute drive along the back-country forestry road to the Sun Peaks warming hut/McGillivray Lake Warming hut (for Nordic skiers and snowshoers during the winter season at Sun Peaks).
Our eager group was comprised of early season visitors from around the world, including Germany, Japan, China, India, and some British Columbians were mixed in amongst the crowd.
After the usual waivers, safety speech and donning of life jackets, we grabbed our paddles and set out on our Voyageur canoe adventure across the lake (thankfully minus the three tons of cargo that the real voyageurs could carry).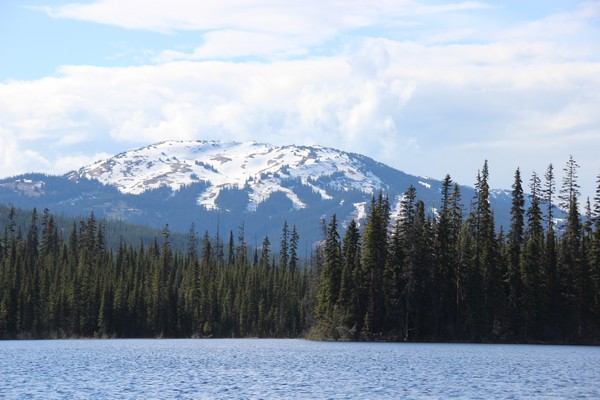 'Voyageur Derek' quickly had our group paddling the custom, 16 passenger replica canoe in unison across the 3 km long (1 km wide and shallow so don't worry) lake with ease. 
Along the way, Derek recanted tales of long-ago corporate battles and takeovers, greed, adventure, the expansion by the fur traders to the rugged west coast of Canada, and how the insatiable demand for beaver pelt hats back in Europe almost wiped out the entire population of Canadian Beavers - forever.



        About the Sun Peaks Canoe Tours....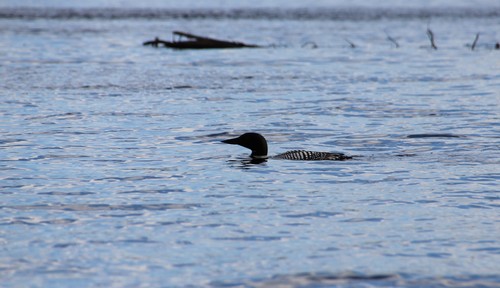 In addition to passing a pair of fishermen hoping to land some of the many trout that can be found in McGillivray Lake, we experienced lots of local wildlife such as bald eagles flying overhead, loons landing and diving under the surface as our canoe approached, a pair of mule deer swimming from the shore to a small island, calm waters, and beautiful scenery including an impressive view of Tod Mountain which still had snow at the very top in late May.
The Sun Peaks Canoe tour was low-to-no-exertion, informative, fun, and you could drift back in time to where the early explorers came in search of wealth, power and furs in this untamed land we now call home, and easily earned a 4 ½ star review. 
For us, the only thing that might make it even better would be a bit more of an adrenaline rush from paddling through some white-water rapids or approaching the Sun Peaks waterfall, but we highly recommend the canoe tour to everyone.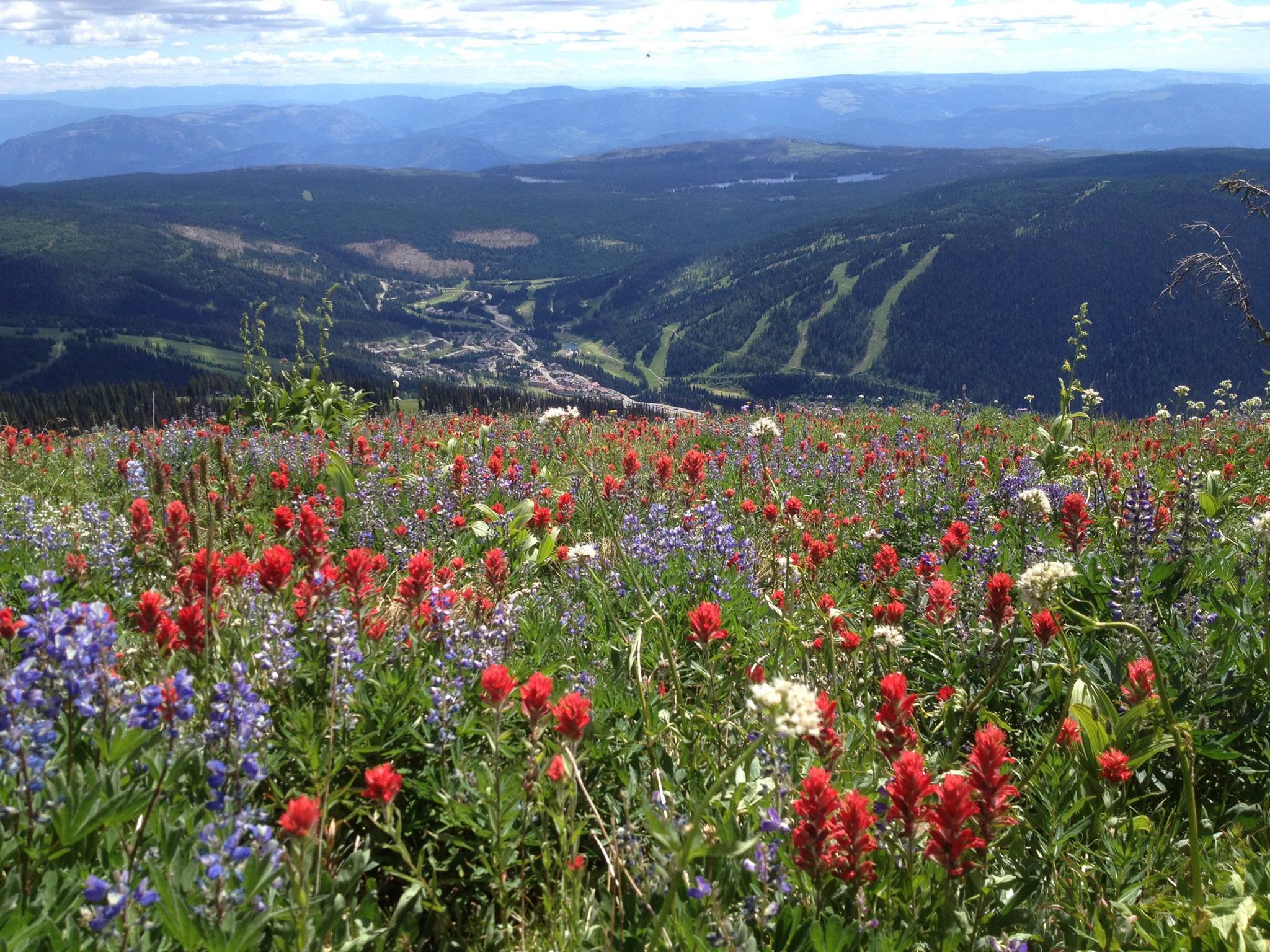 Our tour ended with a spontaneous "three cheers for Sun Peaks and Voyageur Tours" from the group, and then they all prepared for the delicious add-on 4 course dinner prepared by the Voyageur Bistro staff but we had already planned another Sun Peaks adventure for right after the 90 minute canoe tour.
Recommended for: Pretty well anyone who appreciates beautiful natural surroundings, a little fun and history while being out on the water, and the chance of encountering some of the various wildlife in the area, including perhaps a lynx, moose, deer, bear or even an elusive ( justifiably so! ) beaver.

If you prefer to rent your own canoe and paddle around McGillivray Lake, you can do that too!

Helpful hint: Bring your camera, sun-screen, and perhaps some bug spray depending on the season.
Other Best Sun Peaks Vacation Planning tips...

To book a trip or to request more information, visit our Sun Peaks Voyageur Canoe Tour page or complete and submit the form below.
And please feel free to send us your Sun Peaks Canoe Tour Review on our Best Sun Peaks Submission page.



Book your Best Sun Peaks Condo, luxurious Sun Peaks townhouse accommodation or one of many wonderful Sun Peaks accommodation options available at discounted rates.

Return to Sun Peaks Canoe Tours
Return to Sun Peaks Best Summer Activities
Best Sun Peaks Home page