Adams River Salmon Run and Sun Peaks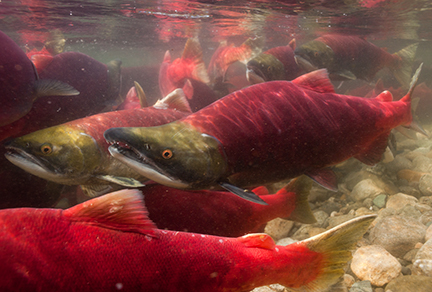 Beautiful Adams River Sockeye Salmon - photos by Jett Britnell
Spectacular Adams River Salmon Run viewing near Best Sun Peaks. 
When late summer/early fall of 2022 descends upon Sun Peaks Resort, millions and millions (and millions) of British Columbia's famous Sockeye Salmon are expected to be returning to the nearby Shuswap and Adams River Salmon run in what is known as a dominant year.

Drive yourself or get a group together and book an escorted tour from beautiful Sun Peaks Resort or Kamloops and be sure to experience this amazing display of sheer will power and determination as these bright red, prized Sockeye Salmon provide spectacular viewing opportunities along the rivers and in nearby Roderick Haig-Brown Provincial Park.


Adams River Salmon Run - The Life Cycle
Millions of sockeye expected - photo by Jett Britnell
The spawning cycle is still a bit of a mystery, but it is known that baby salmon (fry) spend 1-2 years in the rivers and lakes near where they are born, and then are drawn down the Fraser River to the Pacific Ocean where they spend another 1-2 years before being called home.
And soon, millions of brilliant red salmon will begin their final, desperate 2-3 week journey from the ocean, up the Fraser River against the current, overcoming natural and man-made barriers and obstacles, to reach their birthplace where they will finally spawn and die. 
The life cycle repeats itself, while the dead salmon provide food for the local wildlife and nutrients for the lakes, rivers, and surrounding areas.
Peak cycles are every four years, and 2022 is expected to be great year for salmon viewing.

Hundreds of thousands of visitors and media from the surrounding areas and from around the world will be descending on the surrounding area (including Sun Peaks Resort) to take in this spectacular event.  While some are already here, most will arrive during the 'Salute to Sockeye Festival' which takes place in Roderick Haig-Brown Provincial Park (about an hour from Kamloops) between September 30 -  October 23, 2022 (note there is a nominal fee to enter the festival to support ongoing efforts and projects - around $5/car).  Similar dates in other years but not as busy as the dominant years.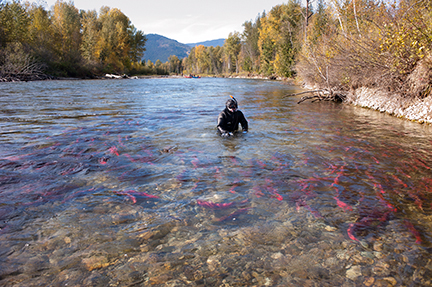 Jett Britnell (with permit) snorkeling with Adams River Sockeye Salmon
The park is in the wildly popular Shuswap lake area of the interior, which is a popular summer recreational area with numerous lakes, beaches, campgrounds, and more.  And nearby Kamloops offers beautiful scenery, golf courses, wildlife parks, First Nations history, new wineries, craft breweries, and more.  And of course, nearby Sun Peaks Resort offers an amazing array of recreational activities year round.
Walking paths and viewing areas/platforms are available, however for our scuba diving friends, snorkeling and scuba diving during the Adams River Salmon runs are not permitted (without  special media permits from the government) in the spawning areas in order to protect the spawning salmon.  However many experienced divers head to the Adams Lake or mouth of the Adams River to observe this amazing spectacle.
This is amazing to see and experience and is a wonderful addition to a fall getaway to Sun Peaks Resort and/or the Kamloops area – not to be missed! 
Great and very reasonable accommodation is available at Sun Peaks, where wonderful getaways can still include some Sun Peaks golf, hiking and mountain biking, Stand Up Paddleboard lessons and rentals, horseback riding, North Thompson and Shuswap winery tours, voyageur canoe tours, and many more fall activities.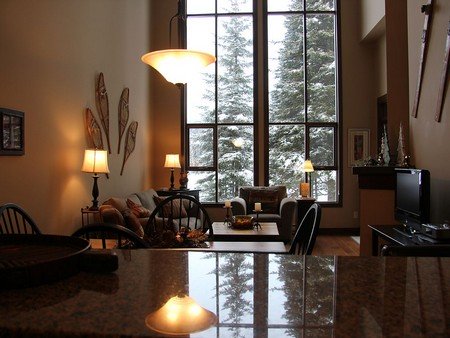 Fall discounts at our Best Sun Peaks Stone's Throw condo
Fall discounts are already in effect at our Best Sun Peaks condo in Stone's Throw and Best Sun Peaks townhouse in Trapper's Landing, as well as other Best Sun Peaks accommodation, and guided, escorted tours (including stops at wonderful local Shuswap wineries) can be arranged for your family or group.  And besides the crimson red of the Sockeye, the fall colors are naturally spectacular!
For more information about Sun Peaks fall activities, tours, or excursions to the Adams River salmon run, complete and submit the form below.
Click for more information about the Adams River Sockeye Run 'Salute To Sockeye Festival'.

Thanks to Jett Britnell for the beautiful Adams River sockeye salmon photos
Return to Best Sun Peaks Home page
Return to Best Sun Peaks Summer Activities
Return to Best Sun Peaks News and Special Offers page