Sun Peaks Shuttle Bus & Taxi Options
Looking for a Sun Peaks shuttle bus? 
There are a number of options available, depending on where you want to go and how fast you want to get there.
From the free ski-season shuttle bus that loops around the resort from 8:15 til 4:30 each day (plus evenings starting in 2018), to luxurious shuttle buses and limos to take bring you to Sun Peaks, take you back to the airport, or bring you to or from other British Columbia ski resorts..
Free Intra-Resort Sun Peaks Shuttle Bus
Sun Peaks Shuttle Bus - free from Dec-Apr.
There is a convenient shuttle bus that operates from early December til the end of the ski season, and provides an easy way to get around Sun Peaks Resort without the need for a car.
Starting with the 2018/19 winter season, the free intra-resort shuttle will operate daily from 8:00 am to 4:30 pm, December 1 to April 14th.  A new evening service will also run from 4:30 pm to 10:00 pm, December 14th to March 31st.
It starts each morning at the main parking area/Village Day Lodge, then heads to the east end of the resort by the dog sled entry/overpass area, followed by the intersection of Valley Drive and Lookout Ridge Drive above Parking Area 6 (P6).
The bus then returns (with stops right out front of our Stone's Throw condo, Trapper's Landing Townhouse, and near Trail's Edge and Timberline Village, to the west end of the resort, making a stop at the Day Lodge before proceeding down Fairways Drive and Burfield Drive (where skiers who went down some of the new runs on Morrisey will get picked up). 
Sun Peaks Free Shuttle Bus Loop Map
From Burfield Drive, the bus then returns to the Village Day Lodge on Sun Peaks Road. 
Keep a lookout for thin red signs that simply state 'Bus Stop.' The entire loop takes around 30 minutes.
Click to see the schedule for the main bus stops, as well as to view all the bus stop locations on the village map.
Click for more information and a larger Sun Peaks Free Shuttle Bus Route Map.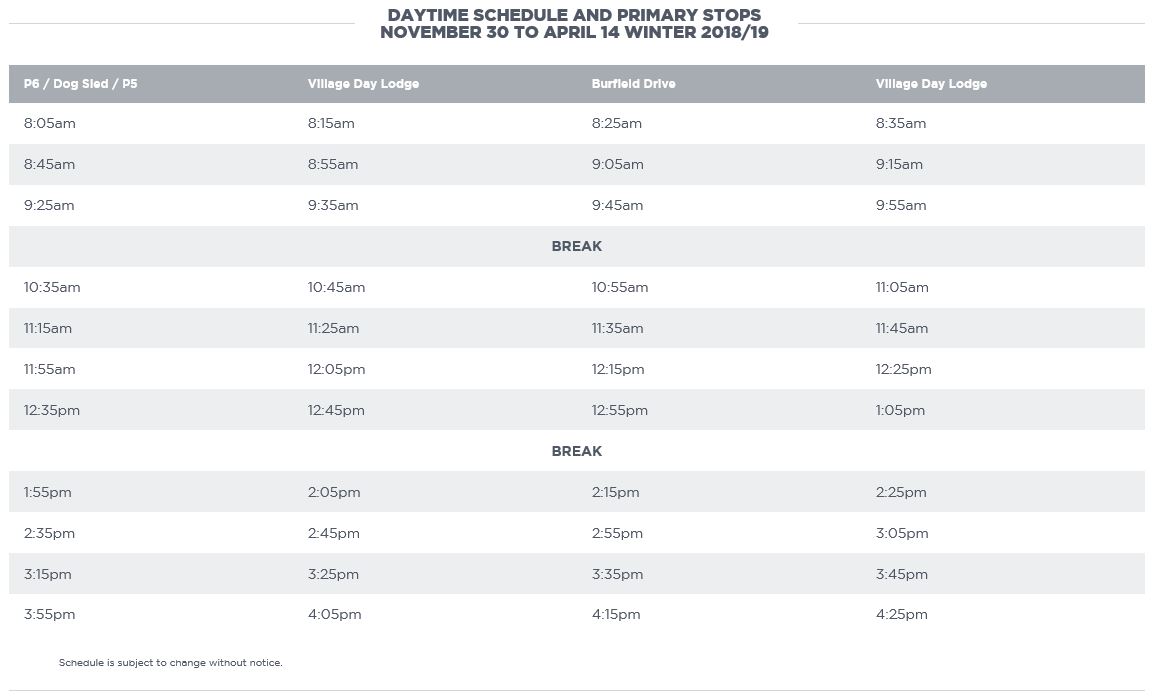 Sun Peaks Free Shuttle Bus Daytime Schedule
Sun Peaks Free Intra-Resort Bus - Evening Schedule 2018/19
---
Sun Peaks to/from Kamloops Airport  (YKA) Shuttle Service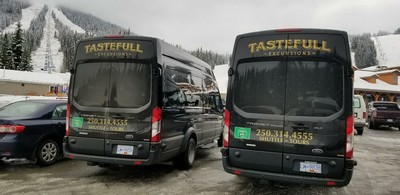 Sun Peaks / Tastefull Excursions new shuttle buses
One of our preferred Sun Peaks Winery and Tour operators, Tastefull Excursions, became the official Sun Peaks Shuttle Bus provider on Nov. 1, 2017.
They have a fleet of new, luxurious, Ford Transit  14 passenger vans, and will be offering daily shuttle service to/from Kamloops Airport (YKA).  Other custom charters are available too.  
Complimentary water, cell phone chargers, pillows, blankets and WiFi (where available), are included for your journey. 
Prices subject to change, particularly during the non-winter season periods, but are around   $15 for a tot (0-5), $30 for a child (6-12), and $50 for adults (each way).
Airport Shuttles and Group Charters are booked through Sun Peaks Central Reservations. Call (250) 578-5399 ext. 1, toll free 1-800-807-3257 ext.1 or email transportation@sunpeakstourism.com.

Hours of Operation - 9:00am to 5:00pm
There is also a Sun Peaks Taxi Service now for Kamloops and even YVR pick-ups.
---
Vancouver to Kamloops Charter Bus Service
EBus replaces Greyhound on Vancouver to Kamloops route (photo Vancouver Courier)
Safely travel the Coquihalla from Vancouver to Kamloops via a new regularly scheduled bus service.  When Greyhound left B.C. in November of 2018, Ebus took over the popular route.  Ebus has been servicing Alberta since 2011 and with their sister brand Red Arrow, the only luxury coach service of its kind in Canada, has been connecting people and communities in Alberta for almost 40 years.

They will be operating daily round-trip charters between Kamloops and Vancouver, with stops along the way in Abbotsford, Chilliwack, Hope and Merritt. 
From there you can take the Kamloops/Sun Peaks shuttle (see above) bus or arrange for a Sun Peaks taxi to take you up to the resort.
Click for EBUS Vancouver to Kamloops route and ticket information.
---
Sun Peaks Grocery Shuttle & Delivery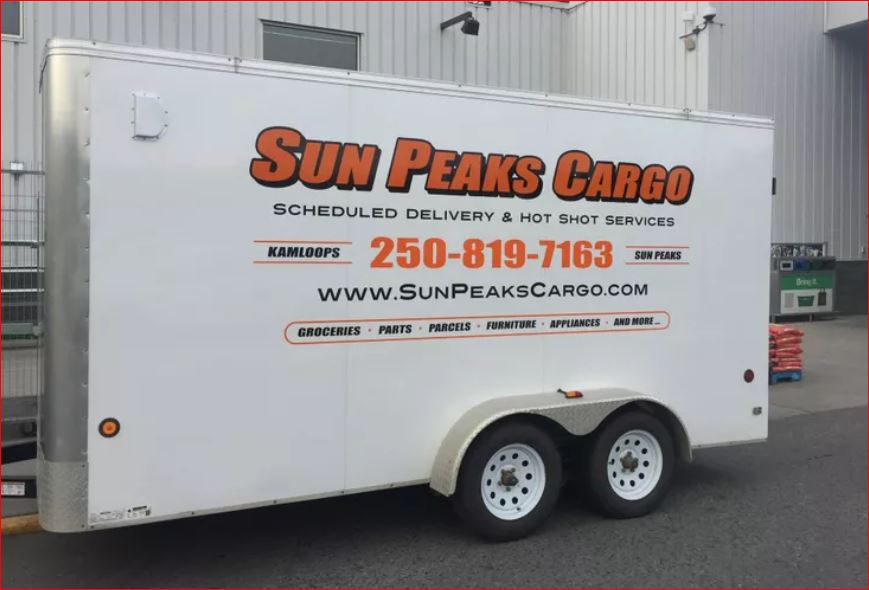 If the above options don't work but you still want to get some groceries, you can use Sun Peaks Cargo.
Sun Peaks Cargo is a fantastic and convenient new Sun Peaks Service that allows anyone coming to Sun Peaks to shop online for all their groceries ahead of time, and have their Sun Peaks groceries delivered right to their accommodation in Sun Peaks.  For a small surcharge, they will even load up your fridge/freezer items and leave the other groceries on the counter for you. Their prices are very reasonable and their service is great!
They also pick up furniture, large and small parcels, ski equipment that is shipped to/from Sun Peaks before/after your holiday, etc. which is a very convenient service for locals as well as visitors to Sun Peaks.
---
Limousine Services to Sun Peaks
Kamloops Limousine Sun Peaks Shuttle
With Sun Peaks being just 45-50 minutes away from Kamloops Airport, some like to travel in even more style than the new Sun Peaks shuttle buses offer, and choose to hire a limousine to take them to/from the resort no matter the season they come to visit.
Kamloops Limousine frequents the resort and is equipped to travel safely during the winter, as well as in the summer. 
---
Sun Peaks Taxi Services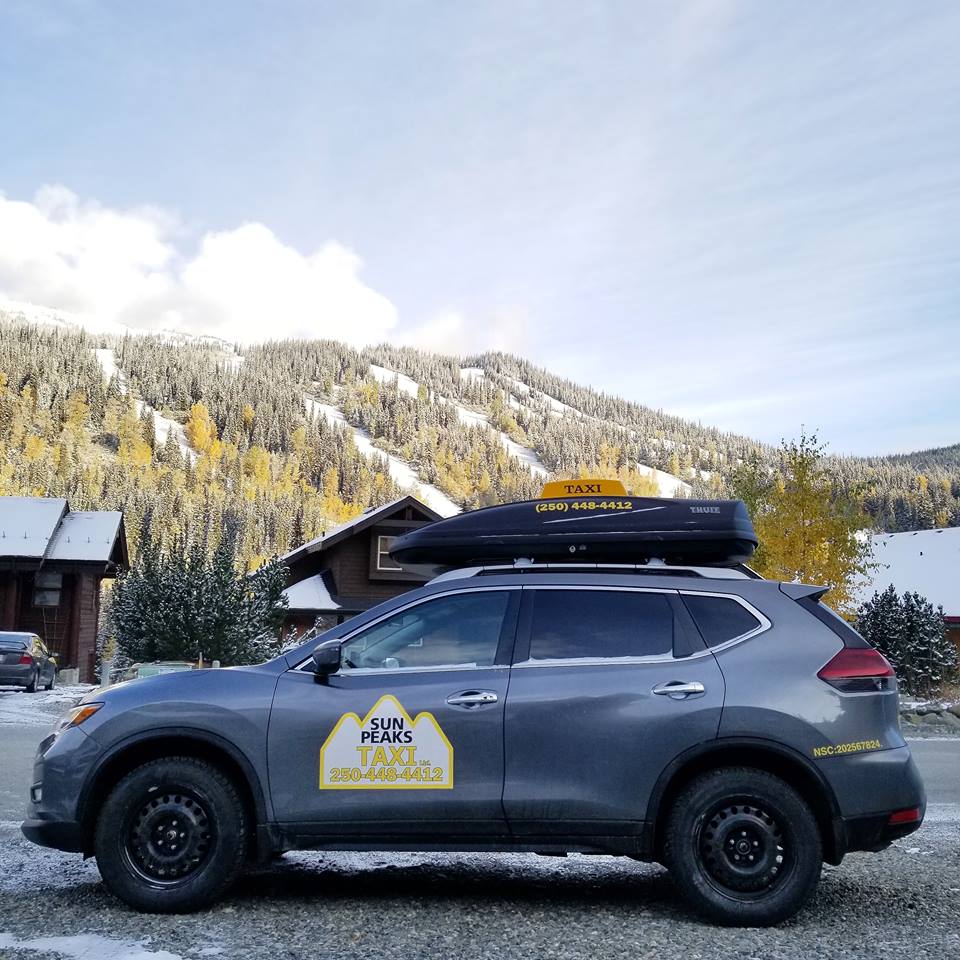 Sun Peaks Taxi Ltd. is now up and running with a 4 passenger all-wheel drive SUV taxi that will be operating year-round, and a 6 passenger all-wheel drive van that will be operating October 1 to April 30 each year – each equipped with a roof rack for skis, boards and gear.
Their operating license is somewhat unique, in that they are allowed to pick-up and/or drop-off anywhere in British Columbia.  So they will be operating in and around Sun Peaks Resort on a regular basis, but can also be hired to pick passengers up at Kamloops or YVR/Vancouver Airport, take passengers to/from Whistler or another ski resort, or just about anywhere in BC.
With only one and sometimes two taxis to start, be sure to book a taxi in advance, and be sure to support these locals so they continue to grow!
---
        Sun Peaks Shuttle Bus or Taxi To Other Ski Resorts
Sun Peaks to Big White, Silverstar, Whistler or heli-skiing (map from Sun Peaks Resort)
Return to Driving to Sun Peaks page
Return to Vacations in Sun Peaks page
Book your Sun Peaks Vacation Rental direct from owners to get the best rates
Return to Best Sun Peaks Home page
Book your discounted Sun Peaks Lift and Rental Equipment packages