Driving to Sun Peaks Resort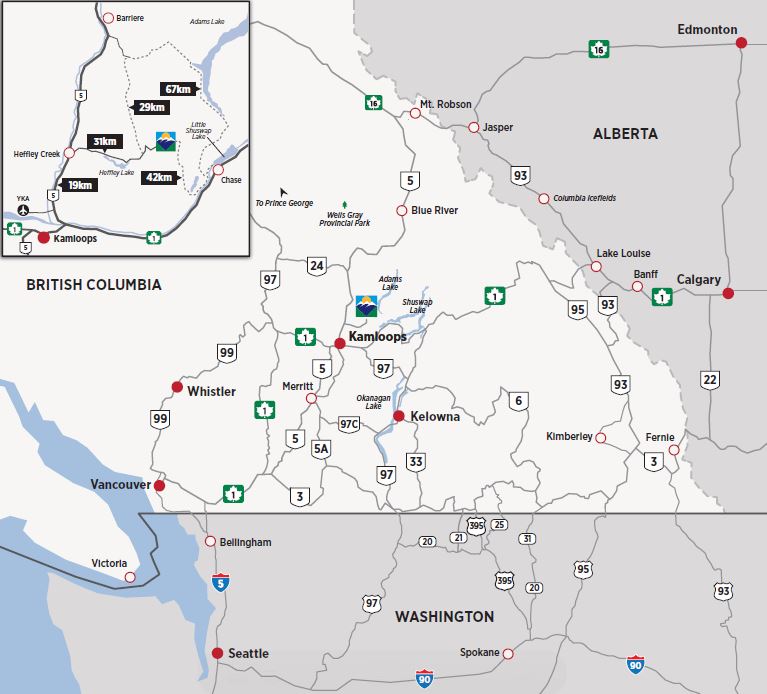 Driving to Sun Peaks Resort - Beautiful and increasingly popular, Sun Peaks is the closest resort in the interior of British Columbia from the Lower Mainland.
And  once at Sun Peaks Resort, everything is so close by – park your car at your Sun Peaks accommodation, and you probably won't need it during your Sun Peaks vacation until the holiday is over and it is time to return home.
There are a number of Sun Peaks shuttle bus services available to get you from Kamloops upto the resort, and once in the  resort, there is a free Sun Peaks shuttle bus during the main ski season (Dec-Mar).
Click for a PDF of the Driving to Sun Peaks map (courtesy Sun Peaks Resort).


Click for up-to-date Coquihalla Highway webcams and road conditions for Driving to Sun Peaks Resort.


---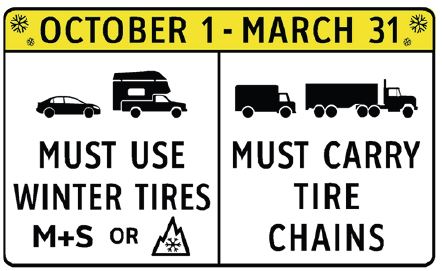 ---
WINTER DRIVING SAFETY TIPS:
The snow has begun to settle on the peaks of Tod Mountain, Mt. Morrissey and Sundance Mountain and also on the Coquihalla and other mountain passes to the interior, and the excitement will be building as the Sun Peaks winter season quickly approaches.
We want all our guests to drive and arrive safe and sound, and would like to share the following driving to Sun Peaks safety tips:

- No matter the season, always be aware of the road and weather conditions, plan ahead and be prepared.
- Make sure your car has proper tires with good tread, and possibly consider having chains in the trunk. During the period October 1 through March 31 (and possibly beyond), winter tires with the mountain snowflake logo or M+S tires with a tread depth of at least 3.5mm all over can be used.   
- Fill your windshield washer bottle and ensure your headlights and tail lights are all working – and turn them on! Don't just rely on your daytime running lights.
- There are no gas stations on the Coquihalla so ensure your car has a full tank of gas before you begin. Fill up in Hope/Merritt before heading over.  You never know when a breakdown or accident will leave you stranded for prolonged periods and you will want to keep warm.
- Be prepared with warm clothes, gloves, hats and blankets, flashlights, and candles, as well as some food and water.
- Check the DriveBC website for road conditions and webcams before you leave, and tune into the posted travel or local area radio stations when available.
- Ensure your cell phones are fully charged.
- Let others know your travel time and expected arrival time, and make plans for when/how to follow up on late arrivals.


---
Other Tips For Driving to Sun Peaks
Your GPS or Smartphone device may suggest an alternative dirt back-road route off of Highway 1 near Pritchard, BC, and Chase, BC. This route is not recommended for winter travel.
The best, easiest, and most direct route for driving to Sun Peaks Resort is via Highway 5 North, exiting at Tod Mountain Road by Heffley Creek, BC. 
Snow tires or chains are mandatory from October 1 to March 31 each year.
And if you are driving up to Sun Peaks Resort from the USA, please remember you will need your passport to enter Canada.




---
Driving to the resort from the Lower Mainland of British Columbia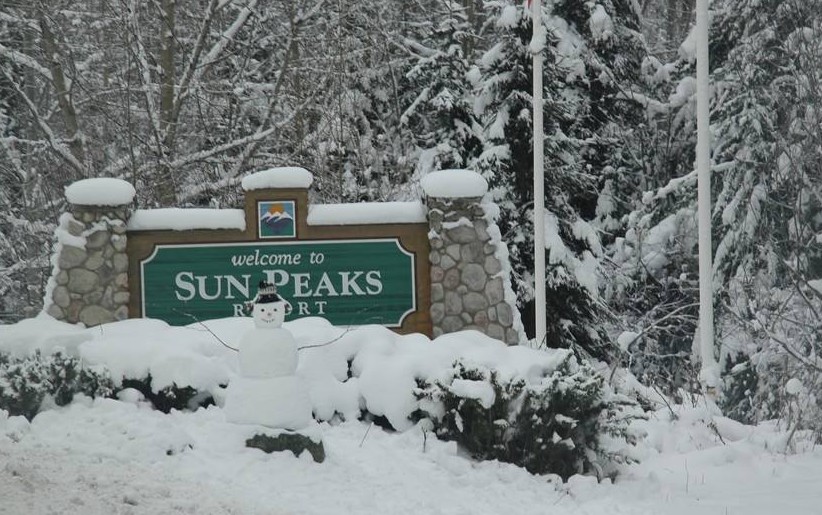 • Your trip will take around 3.5 – 5 hours, depending on your point of departure, travel conditions, the time of day and day of the week, etc.
• Please remember you will be driving through high-altitude and weather conditions that are subject to sudden changes, and of course winter driving conditions during ski season.  Ensure your vehicle is properly equipped with snow tires and/or chains, and adapt to your driving conditions no matter the season!
• We also suggest ensuring you always have plenty of gas for driving to Sun Peaks Resort – have enough before you leave the Lower Mainland, and fill-up in Hope or Merritt along the way. Gas may be cheaper out in the Fraser Valley as well – Chilliwack, Abbotsford, etc.
• Drive East on Highway #1 to Hope – around 120 km/75 miles (watch for speed/radar traps near Hope, Merritt and Kamloops)
.  During the summer months, consider a stop to explore the scenic and historical Othello Tunnels
• Follow the signs and take the Coquihalla Highway (Highway #5) from Hope to Merritt – around 120 km/75 miles
• Continue on Highway #5 past Merritt and through Kamloops – around 95 km/60 miles
• Look for the Sun Peaks Resort Area sign and Exit 374 signs towards Jasper and take the off-ramp and continue on Highway #5 North
• After around 15 km/9 miles, you will see a Petro-Canada gas station on your left.  This gas station and a small one at the Heffley General Store (up ahead) are the closest to the resort. There is NOT a gas station at Sun Peaks Resort, so fill up ahead of time.  The Petro-Canada is open the longest hours so we typically fill up there.
• After another 8 or 9 km/5 miles, you will see a turnoff from Highway #5 to Sun Peaks Resort area, and very shortly after you will have to turn left at the Heffley General Store to go up Tod Mtn. Road.
• Watch out for Sun Peaks Wildlife on the way up (or down) - various animals could quickly dart out in front of you

• Continue driving to Sun Peaks Resort for approximately 32 km/20 miles to Sun Peaks.  If you want to have some fun or take a break along the way, consider stopping in at one of the new Kamloops wineries (but drink responsibly) or stop and enjoy the short walk to the Sun Peaks Waterfall which is about ½ way up the hill.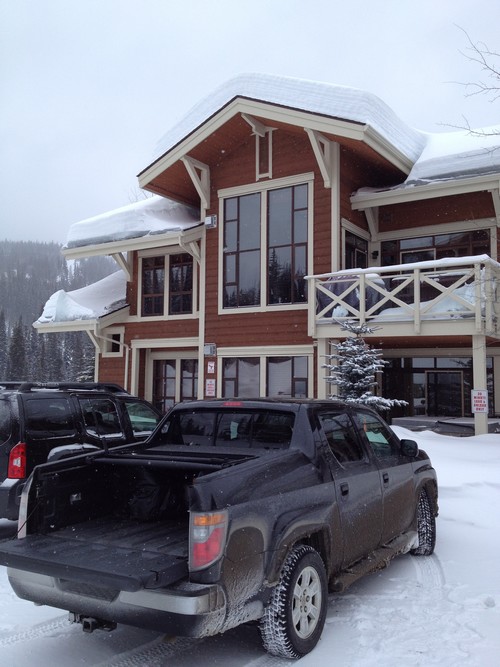 You are here - Sun Peaks Resort!
Shortly after entering the resort area and passing the Welcome to Sun Peaks Resort sign, you may notice the name change from Tod Mtn. Road to Creekside Way. 
The day lodge and main day parking area closest to the village  is on your left, and if you carry on driving in behind the village, you will come to a 'T' intersection, with the Remax office and Kookaburra Lodge on the right, and the community Sports Centre (with pool, hot tub, and tennis courts) straight ahead. 
• From here, follow along the directions you would have received to your Sun Peaks Vacation rental or Sun Peaks Hotel, park your car, and have a wonderful time!!

• If you are staying at our Best Sun Peaks condo, turn right at the 'T', carry on past the townhouse complexes (or stop at our Trapper's Landing townhouse), past the Morrisey Express chairlift and the new Orient chair which will be on your right, over the Morrisey Connector, and the first (beautiful) complex on your left is Stone's Throw which is where your Best Sun Peaks rental condo is.
Pull into one of our two secure, underground parking spots or pull into one of the above ground temporary loading/unloading zones (pictured on the right) and begin your holiday - we hope you love it here as much as we do!?
If you happen to be towing your trailer or driving to Sun Peaks Resort in your RV, there are a few Sun Peaks camping options.

---
Driving Times and Distances to Sun Peaks Resort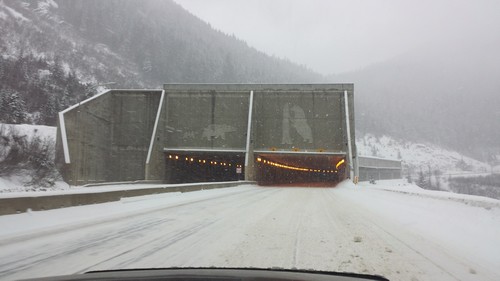 Driving Time to Sun Peaks       Distance to Sun Peaks
Kamloops, BC  45 minutes         50 km / 31 miles
Vancouver, BC  4.25 hours       407 km / 235 miles
Whistler, BC  4.50 hours           355 km / 221 miles
Hope, BC  2.50 hours               260 km / 162 miles
Kelowna, BC  2.75 hours          246 km / 153 miles
Jasper, AB  5.00 hours             449 km / 279 miles
Banff, AB  6.00 hours               557 km / 346 miles
Calgary, AB  8.00 hours           675 km / 421 miles
Edmonton, AB  9.00 hours       813 km / 505 miles
Seattle, WA  5.50 hours            518 km / 322 miles


---

Return to Best Sun Peaks Home page
Book your Sun Peaks Vacation Rental direct from the owners
Return to Sun Peaks Shuttle Buses page
Return to Best Sun Peaks Winter Activities
Return to Best Sun Peaks Vacation Planning Guide