Trails Edge 15 - Beautiful, Family Friendly 3 Bedroom Sun Peaks Townhouse For Rent By Owner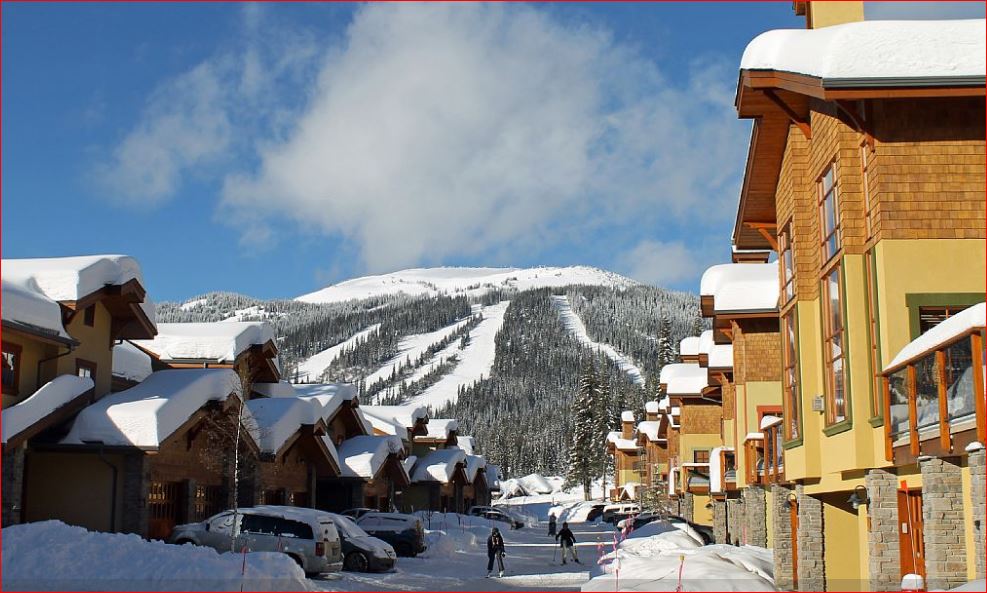 Beautiful Trail's Edge Sun Peaks vacation rentals - great location!
---
Trails Edge 15, Family-Friendly Townhouse with 3 Bedrooms, 3 Bathrooms + Lower Games Room, Sleeps Up to 12, Private Hot Tub and Barbeque, Close to Sun Peaks Village, With Easy Ski-in/Ski-out 
---
This beautiful Trails Edge 15 townhouse is back in the Sun Peaks Vacation Rental pool as of August 2016 with caring and attentive new owners who strive to ensure your family loves this Sun Peaks townhome as much as their family does.
Trail's Edge Sun Peaks is a much sought after townhouse development due to the convenient location close to the slopes and the European-style village, and because of their easy-living designs. 
It is a lovely 1,800 square foot, 3 bedroom and 3 bathroom townhouse, and is great for either a large family, or for even two families, since it sleeps up to 12 people. It includes a games room on the ground floor, with a large flatscreen tv, games console, and foosball table to keep the children occupied and happy after a tiring day on the slopes or trails.
The main floor of Trails Edge 15 features a well-equipped kitchen, comfortable living room with flatscreen tv, pullout couch, vaulted ceiling with high windows and beautiful mountain views, and a dining room that can comfortably sit 8 at the table and more at the elevated kitchen bar.  And the kitchen and dining room have heated tiled floors, of course!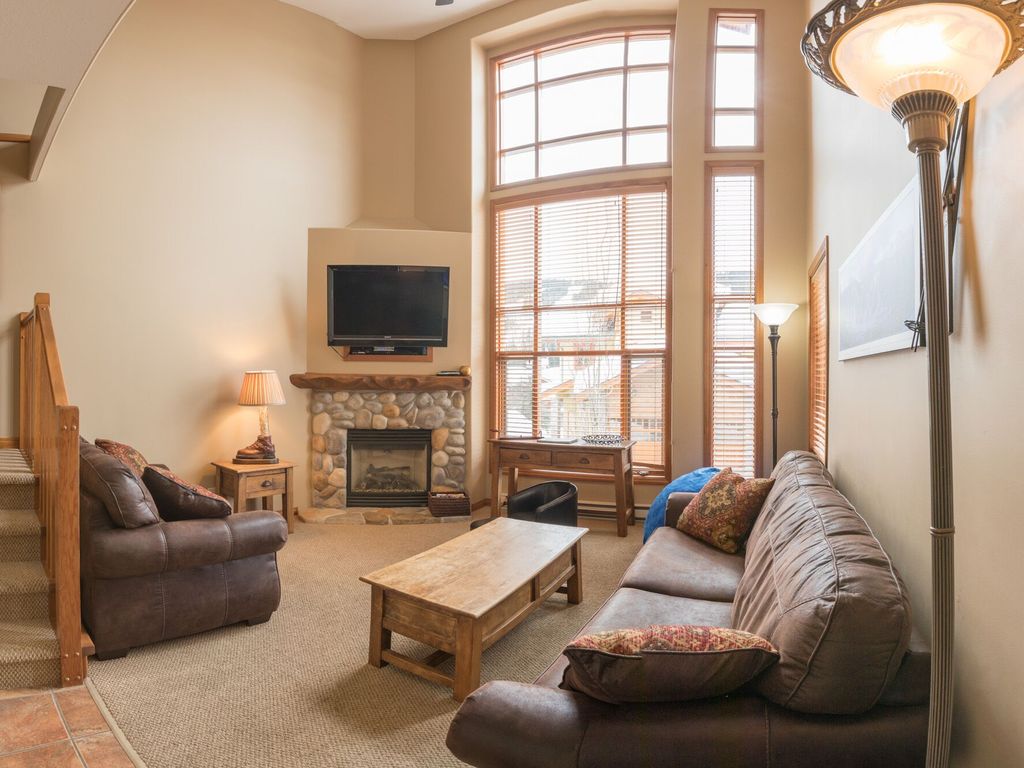 Trail's Edge 15 Living Room
There is also a main-level bedroom, with a twin over queen bunk-bed and 3 piece bathroom right across the hall. The private hot tub and barbeque are also easily accessed right from the walk-out door in the kitchen, and the spacious front sundeck has a patio table with umbrella, seating for 6, and more great mountain views. Grab a book, play some board games, watch a movie, do a puzzle, or just relax after a great day exploring the Sun Peaks area no matter the season.
The new couch also has a pull-out bed included for some extra sleeping space.

Each of the Trails Edge #15 bedrooms on the top floor has an ensuite - huge bonus!  The master has a comfy queen size bed and a twin trundle/pull-out bed just in case the little one wants to be close.  It also has a large tv, dresser, 4 piece ensuite with heated tile floors, and your own balcony with mountain views.
The second bedroom has a queen size bed, tv and its' own spacious, 4 piece ensuite with heated floors!
This Sun Peaks vacation rental property provides a lovely home-away-from-home with everything a family would want, including a garage that fits one car with space out front for another.  Guest parking is also available throughout the Trail's Edge development on a first-come, first-served basis.
Ski-in/ski-out is easy via the Morrisey Express Chairlift or the new Orient Express chairlift .
Trails Edge 15 is listed on Homeaway/VRBO for those who prefer to book through an online booking service and don't mind paying VRBO their new 5-10% service fee.  But for best Sun Peaks pricing, inquiries, or for extended stay discounts, contact the owners directly using the contact form below.
Sorry but absolutely no pets and no smoking.
Click for Trails Edge 15 Guest Reviews

Click for Trail's Edge 15 Photos
Click for Trails Edge 15 Rates
Click for Trail's Edge #15 Availability Calendar
Click to contact Trail's Edge 15 Owners
---
 Trails Edge 15 Townhouse Reviews
Trails Edge 15 has new owners who we have met and are doing a fantastic job of ensuring you have a wonderful vacation.  They are managing the townhouse directly so you don't have to worry about dealing with a busy property manager.
Below are some of their recent Trail's Edge #15 reviews:


 Jacqueline was a super host! We had a wonderful time in her Trail's Edge home and all the caring extra touches she put into the house made a great house superb. The house was clean and we were very grateful for the wine, chocolate, popcorn and hand warmers - thank you!!! The kids loved the play room in the basement and for the adults the apres ski jacuzzi was the best part of each day. We loved that it was a true ski in ski out house - even for our kids. And the kitchen had every appliance/pot/container we could ask for. Thank you so much. Jacqueline even went out of her way helping us with booking accommodation at the beginning of our trip and letting us use the garage to store our bags on our last day. We will be recommending your house to all our friends!". Lee, Dec. 2018


Trails Edge 15, is a beautiful, well maintained and extremely clean home. There was plenty of room, as advertised, for our large group during the BC Family day long weekend. We loved the separate sleeping areas, (3 bedrooms plus a spacious family room on the lower level) and 3 full bathrooms. The young people in our group were excited to play XBOX one, enjoy movies on the big screen using Netflix and playing foosball. The kitchen, dining and living areas on the main floor were very roomy, and had everything you could ask for. The hot tub was awesome at the end of the day and is well maintained and very clean. All the furniture was extremely comfortable. There were many extra nice touches such as goodies, hand warmers, well stocked condiments, complimentary coffees and tea. Additionally, there were plenty of towels, for both the hot tub and bathing, we never ran out! Skiing in and out was very easy and convenient. What we most appreciated was our hostess, Jacqueline, who was very accommodating and sincere in her concern as we had very treacherous driving conditions that weekend. Half our party was not able to make it until a day later, she offered us a late check out and the option to move our dates forward a day. Thank so much Jacqueline for sharing your home with us, we hope to be back soon.  Suzie Z, Feb. 2017


 We truly appreciated having separate bedrooms and bathrooms for each of us. The owner was very responsive to our needs and the unit was extremely well equipped - including little things like handwarmers. The owner also allowed one of our members to arrive early with our groceries as the unit was not occupied the day before our scheduled arrival. We would most certainly return to this unit and would not hesitate to recommend it to others. John C, Jan. 2017


This Trail's Edge unit was beautiful and well equipped with everything we needed. We cooked many of our meals there and everything we needed was found in the well stocked kitchen (also just a 5 minute walk to the village for dinner - Vogageurs and Powder Hounds were top picks). We appreciated having a selection of DVD's to watch and games/puzzles we could use. The mudroom with boot dryer in the entry was very helpful for keeping organized and drying out our stuff after a busy day on the hill! Jacqueline was very professional to work with. Emails were answered promptly and special requests accommodated - I felt very comfortable right from our initial email and would not hesitate to rent this unit again. This home was just as described. Clean, spacious with plenty of room for the family. Sun Peaks itself was a great family ski hill and I would highly recommend the hill and this unit. Kath G, Dec. 2017


---
Trail's Edge Sun Peaks #15 Photos
Click the image below to view our Best Sun Peaks Trail's Edge photo album.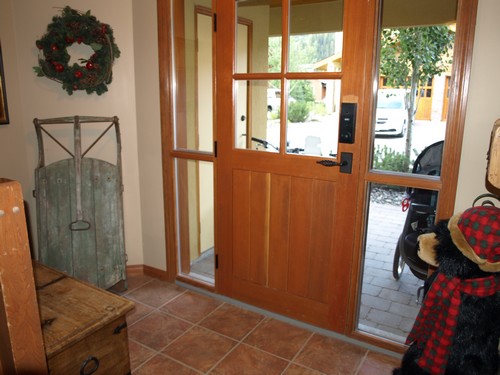 - Welcome to Trails Edge 15 at Sun Peaks Resort - a beautiful, family-friendly, ski-in/ski-out townhome!
- Spacious, heated tiled entrance way
- Bench to welcome your aching muscles after a great day outside or to help you prepare to begin your adventure
- Adorable stuffed bear waiting for your family to return home after a wonderful day out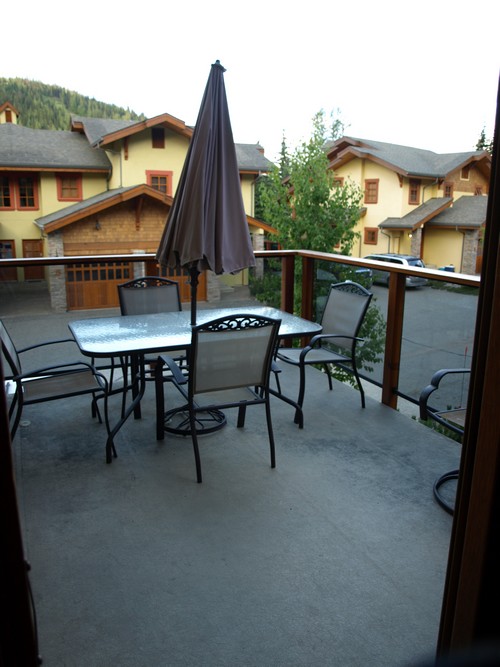 - Spacious sundeck with patio table, sun shade, and seating for 6.  Access is from the living/dining room area
- Mountain views from Trails Edge 15 - watch the skiers head down Morrisey or perhaps the bears foraging for a meal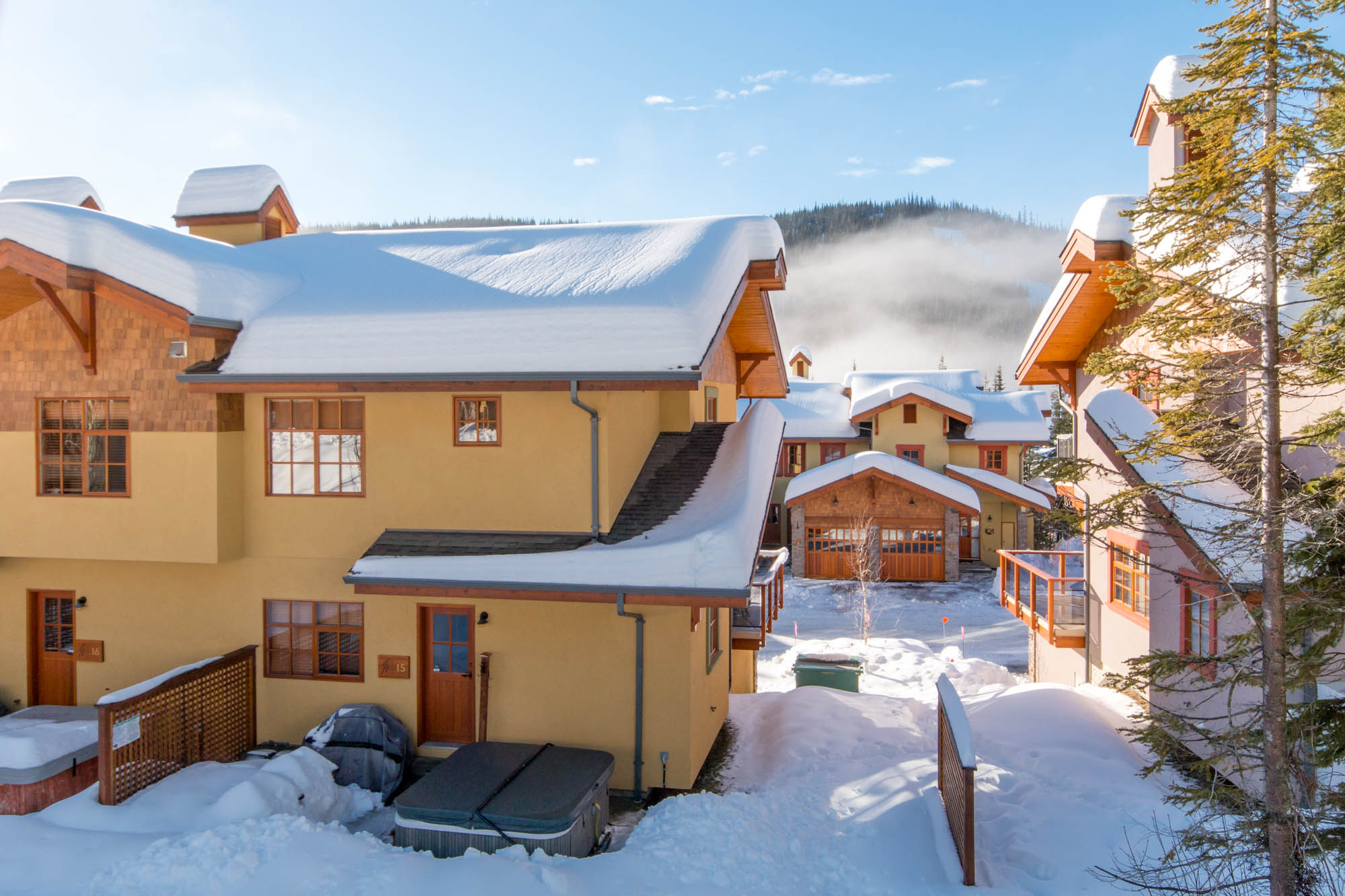 - Out back of this Trails Edge Sun Peaks townhouse (with access from the kitchen area) is the private barbeque and private hot tub which makes multi-tasking a breeze!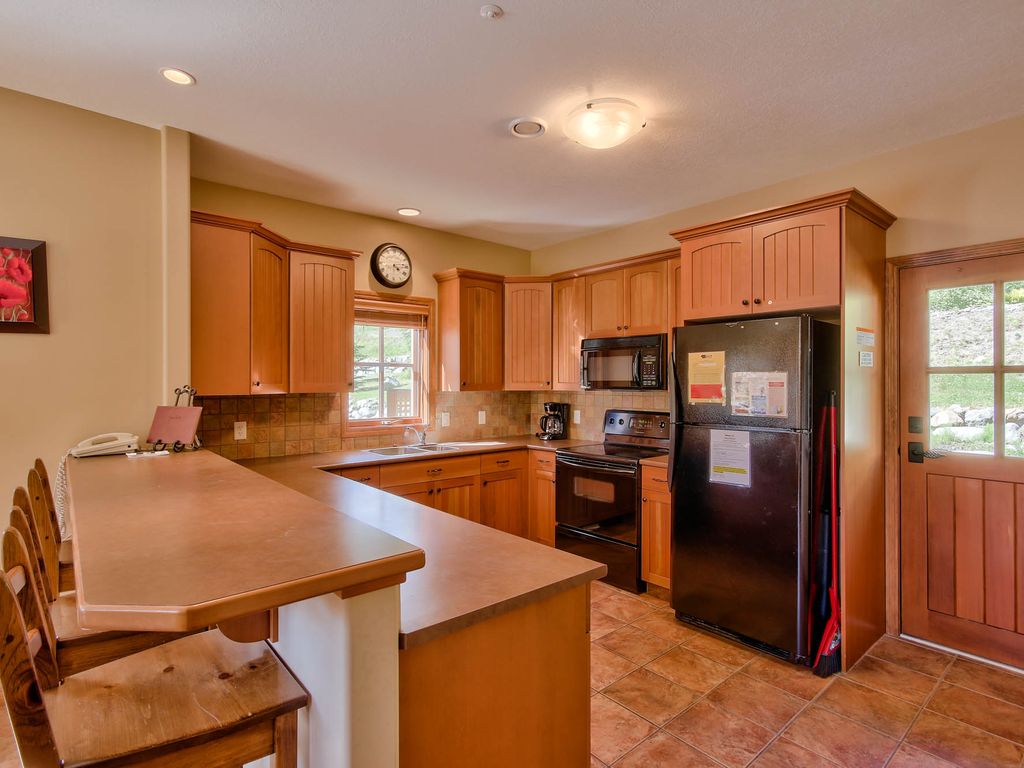 - Spacious kitchen with heated tile floors and stocked with all the conveniences of home
- Or if you don't feel like cooking, you can arrange for gourmet, catered meals to be delivered and served by talented red seal chefs from Bottoms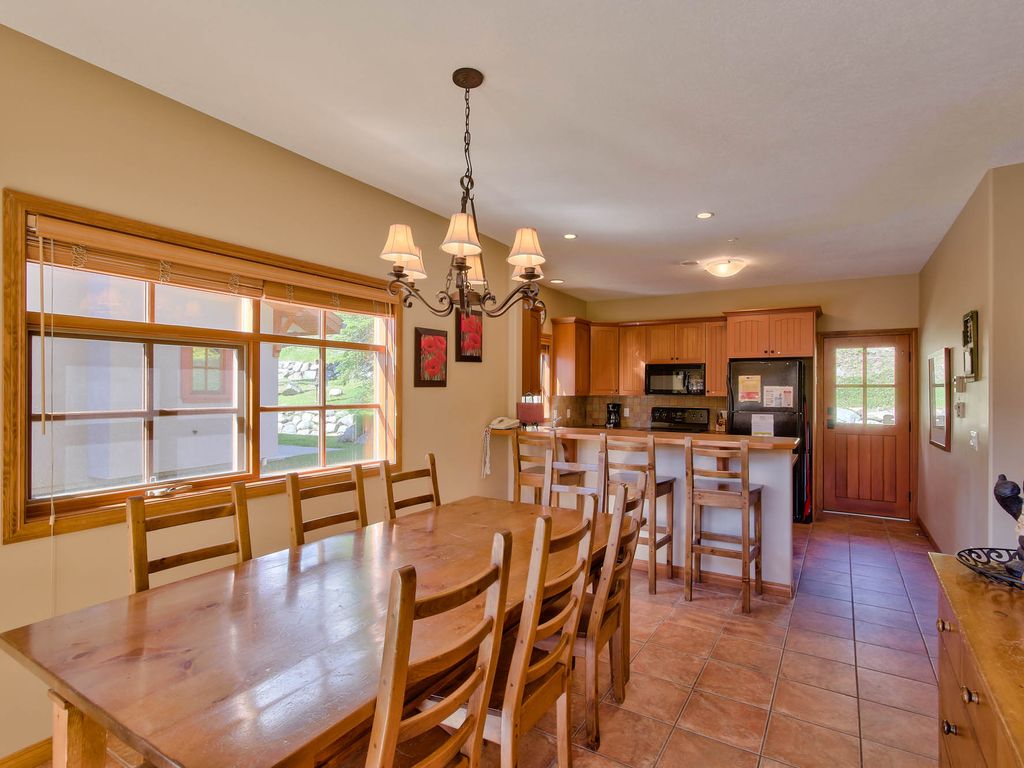 - Spacious dining room with seating for 8 plus counter seating for 4 more
- Bright and cheery with access to the sundeck 
- Heated tiled floor for your comfort and to make cleanup super-easy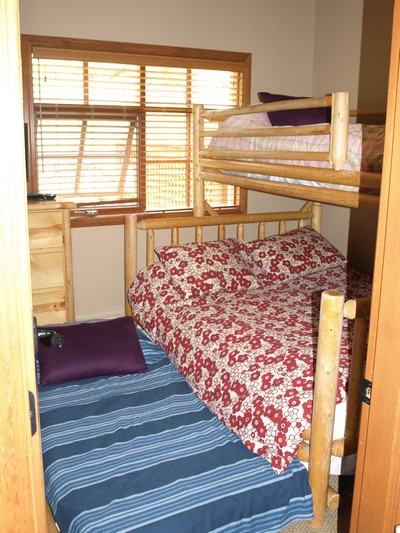 - Trails Edge 15 has a third bedroom on the main floor 
- Twin over queen bunkbed with a pull-out trundle bed if you need to add in more kids
- 3 piece bathroom opposite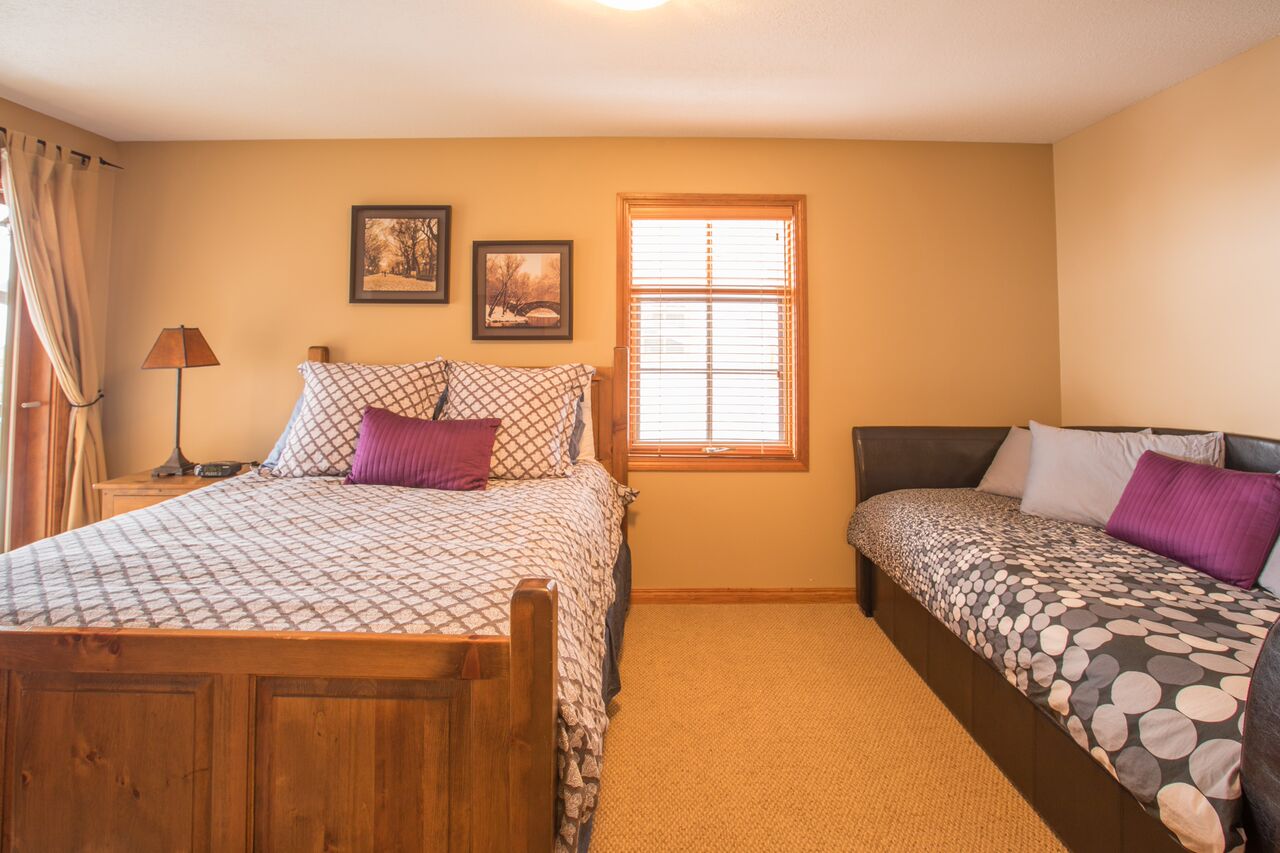 - Spacious and bright master bedroom on the top level
- Queen size bed with an additional twin trundle bed available if needed 
- large tv and dresser
- Private balcony with mountain views
- spacious 4 piece ensuite with heated floors
- Full size closet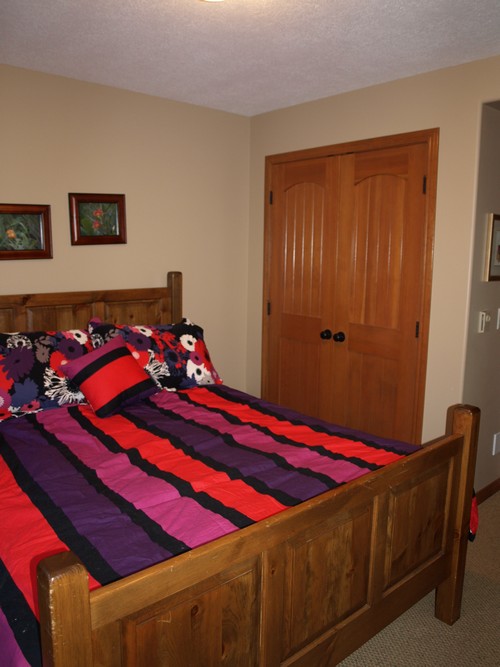 - 2nd Master bedroom has a comfortable queen size bed and full-size closet
- tv
- 4 piece ensuite bathroom with heated tile floors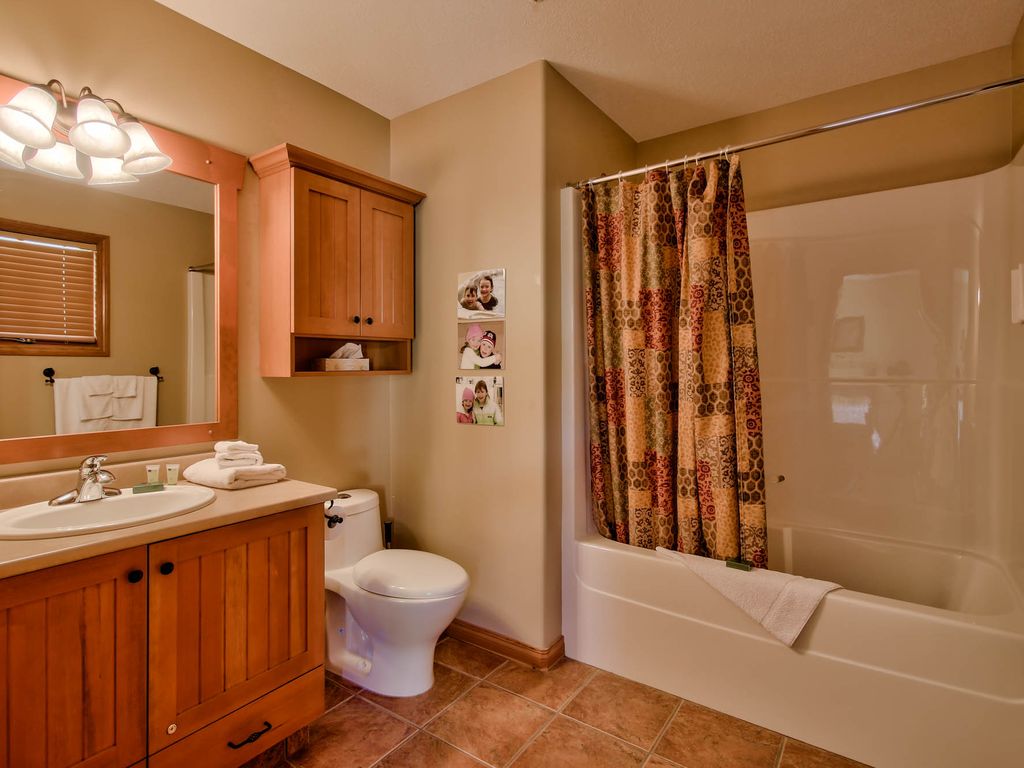 - Second bedroom has a spacious ensuite as well
- heated tile floors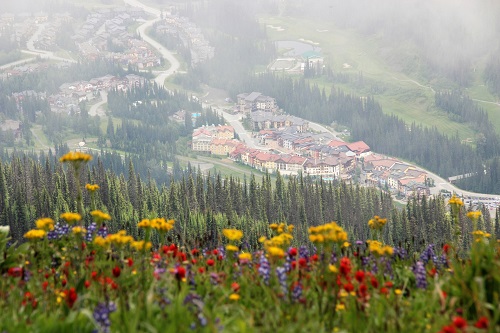 - Beautiful, quaint European style village nestled at the base of 3 mountains
- Ski-in/ski-out/ski-through pedestrian only village
- Affordable and very family friendly village
- Four season recreational paradise
- shops, restaurants, pubs - all within easy walking distance from Trails Edge 15 townhouse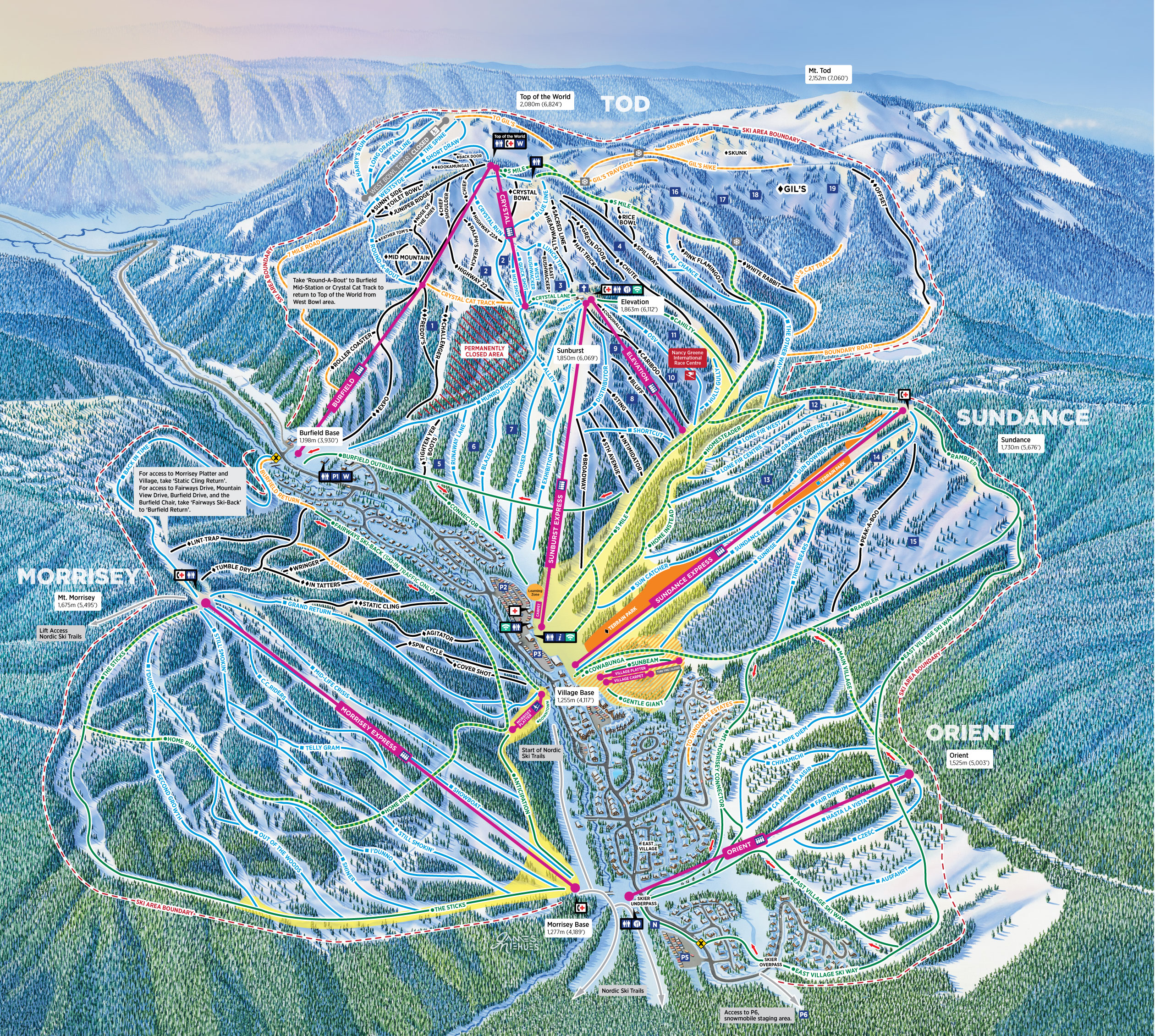 Orient or Morrisey Express - both lifts just across from Trail's Edge
- 4,270 acres of skiable terrain, 2nd largest alpine ski area in Canada
- 2,800+ feet of vertical
- 2000+ hours of sunshine and 230+ inches of famous champagne powder each year
- affordable lift passes, multi-day passes and season tickets
- 138 trails and growing, including 19 gladed areas, 13 lifts, 2 alpine bowls and minimal line-ups
- Many winter activities for all levels of skiers and for non-skiers
- four season outdoor paradise with many spring, summer and fall activities as well
---
Typical Trails Edge 15 Rates
The Trail's Edge 15 Townhome rates are quoted in Canadian dollars and do not include any special pricing or promotions that may be in effect.  There are additional taxes, and a fully refundable $300.00 damage deposit.
Spring through fall 2023
April 11-Nov 19, 2023
3 night minimum $325/night

2023 Early Ski Season
Nov 20-Dec 14, 2023
3 night minimum $395/night

2023 Early Holiday Season
Dec 15-23, 2023
5 night minimum $625/night

2023/2024 Christmas Holiday Season
Dec 24-Jan 1, 2024
7 night minimum $1125/night

2023 Prime Ski Season
Jan 2 - February 15, 2024
4 night minimum $595/night

2024 Presidents Week/Family Days
February 16 - February 24, 2024
5 night minimum $1125/night

2024 prime Ski Season
Feb 25-March 7, 2024
4 night minimum $545/night

2024 Spring Break
March 8 - 23rd, 2024
5 night minimum $695/night


2024 End of Season
March 24th - April 7, 2024
4 night minimum $395/night
If your desired dates are not available, complete the form anyways as we know many other wonderful Sun Peaks vacation rental owners and will do our best to try and help you.

For an exact quote or to check availability for Trails Edge 15, please complete and submit the reservation quote form below, and Jacqueline will be in touch as soon as possible.
---
Calendar & Availabillity
---
If your dates are unavailable, or if you are looking for something a little different, check out these other Best Sun Peaks options:
 - Best Sun Peaks Townhouse in Trapper's Landing - new to the rental pool in the fall of 2016.
- BestSunPeaks condo in Stones Throw
Or click if you wish to look at other options where you can save up to 10% on other Sun Peaks rental condos, townhouses or chalets.
Return to Best Sun Peaks Vacation Rentals
Return to Best Sun Peaks Home page