Important Sun Peaks 2020 Ski Season Changes
The Sun Peaks 2020 ski season will hopefully be another snow-filled, exciting winter, full of wonderful family activities, adventures and excitement. 
However, due to COVID-19, as with everywhere else, Sun Peaks will be operating a little differently this winter season in order to keep staff and guests safe. 
Following a busy and successful summer season where many new and returning guests were able to safely enjoy the wonderful hiking, mountain biking, and other summer activities, the safety protocols and lessons learned by the resort during the summer and by other resorts already operating will be implemented. 
Here are some of the 2020 ski season covid-related changes that guests need to be aware of:
Sun Peaks 2020 ski season passes and lift passes: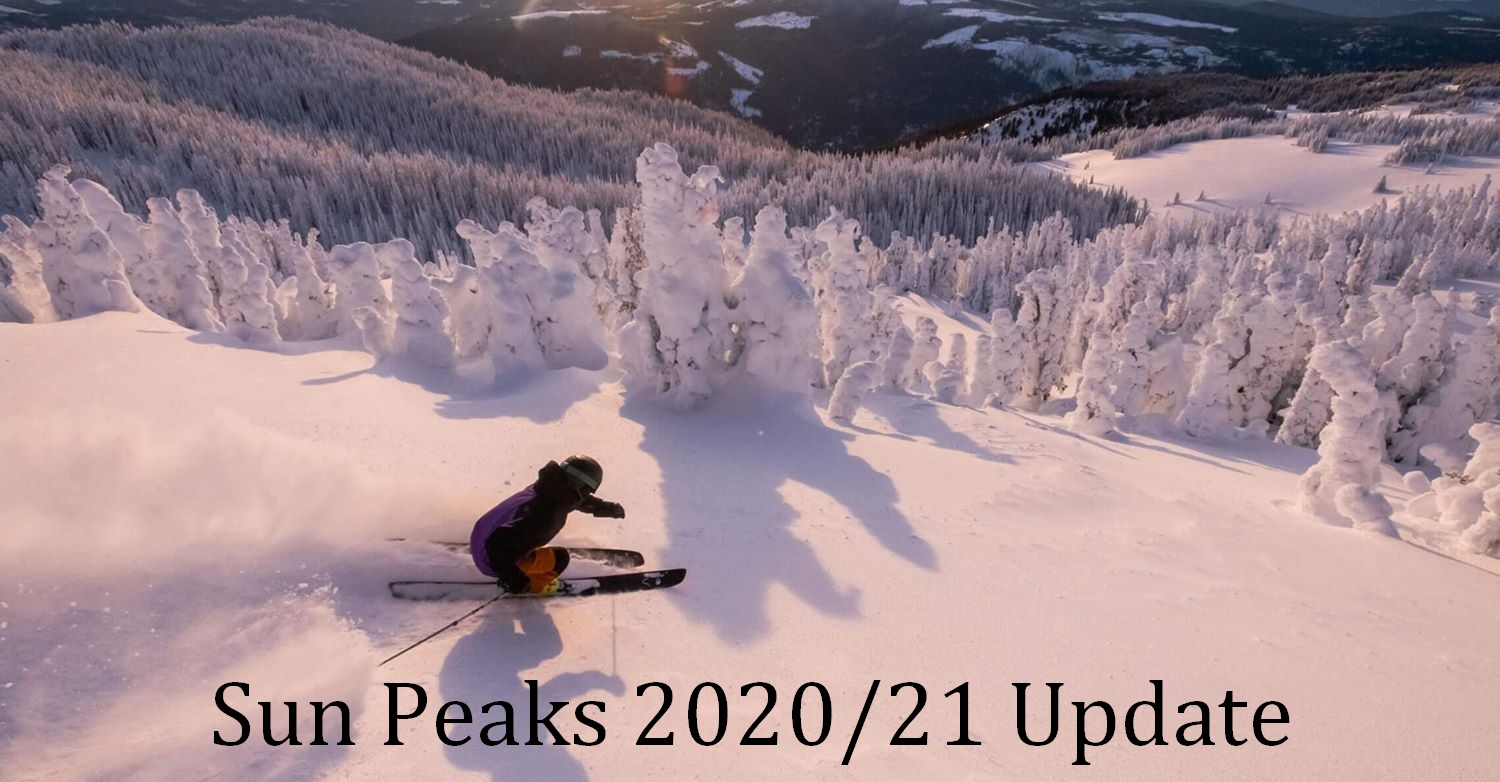 Sun Peaks 2020 Ski Season Update
The biggest change for the Sun Peaks 2020/21 ski season is the limited number of lift passes for alpine skiing and snowboarding that will be available. 100% of season passes were sold out by September 17th, and the Peaks 3 and 5 day cards will not be offered this season.  We also will not be able to offer discounted lift passes through Liftopia like we usually do.  Instead, there will be limited numbers of day lift passes available for each day that guests will need to pre-order online and ahead of time directly from Sun Peaks. 
There will apparently be discounts with more details to be announced.  A reservation system, like Whistler and other mountains have implemented, will not be in place in Sun Peaks.  Nordic ski passes will still be available.
Sun Peaks RFID Lift Passes: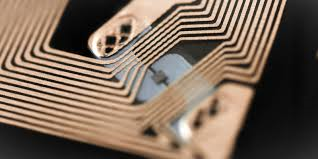 RFID lift passes now at Sun Peaks
Sun Peaks will be implementing an RFID (Radio Frequency Identification) system this winter to provide efficient access at all mountain lifts.
RFID passes will provide faster and easier access to the mountain for all guests while at the same time reducing close interactions with lifties and other staff to help promote safety and physical distancing, as well as better tracking if guests happen to get lost or encounter troubles. 
Sun Peaks Winter Activities:
Nordic skiing - few faces and wide open spaces (photo by Mary Putnam)
Some Sun Peaks winter activities are offered by the resort, and some by independent small business owners, and all need to operate with proper COVID-19 safety precautions in effect for the Sun Peaks 2020 ski season. 
The Sun Peaks sleigh rides might have to be reserved in advance by small families or groups, activities like the bungy zone may not be able to operate, etc. 
Other activities like nordic skiing and snowshoeing, that already enjoy very small crowds in beautiful places, will be operating pretty much as normal.  Please be understanding of the changes that are having to be made to keep everyone safe.
Sun Peaks Accommodation:
Spacious Vacation Rentals Available Direct from Owners
Instead of staying in Sun Peaks hotels like some guests have done before to be able to enjoy the prime village locations and the daily room cleans, more and more guests are choosing to reserve their own private vacation rental this year so there are less common areas and surfaces to touch, less chance of being in close quarters with strangers, and to have their own fully-stocked kitchen available so meals can be prepared and eaten in their own, safe, home-away-from-home. 
Few faces in comfortable places, and each with their own private hot tub, will be the theme for the 2020 Sun Peaks ski season.  Our true ski-in/ski-out vacation rentals are just a few steps from the village, but far from any crowds.
Sun Peaks Restaurants and Bars: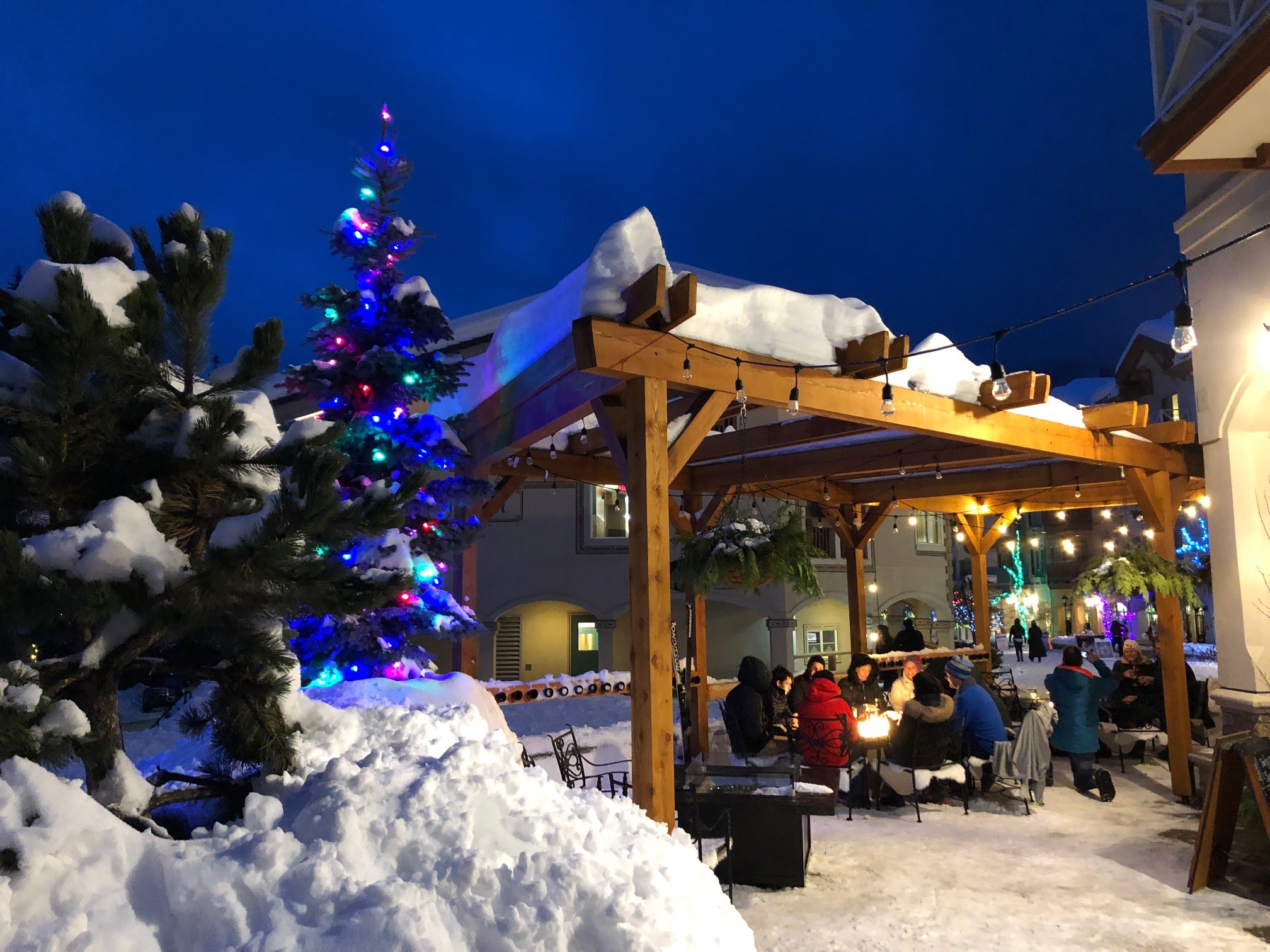 Sun Peaks Outdoor Patios for all-season fun
While summer business was great for the Sun Peaks bars and restaurants with their large outdoor patios, the 2020 Sun Peaks ski-season will have a few changes to deal with.  While some have been busy expanding and covering their decks to increase their capacity, they will all have to abide the orders put in place by Dr. Bonnie Henry.  This may include:
- limiting the group size to 6 people
- limiting the # of guests in the restaurant at all times
- banning of any alcohol sales after 10:00 pm
- forced closing by 11:00 pm unless they are offering full meal service
- other social distancing and hand sanitization policies will be enforced
Other meal options while at Sun Peaks includes arranging for Sun Peaks Grocery (and alcohol) delivery, arranging for Sun Peaks Catering meals, and picking up deli items and freshly prepared ready to heat meals from Ohana Deli  in Sun Peaks.
All just another reason why guests are choosing larger, comfortable Sun Peaks vacation rentals this year. 
Sun Peaks New Crystal Chair and West Bowl T-Bar Closure: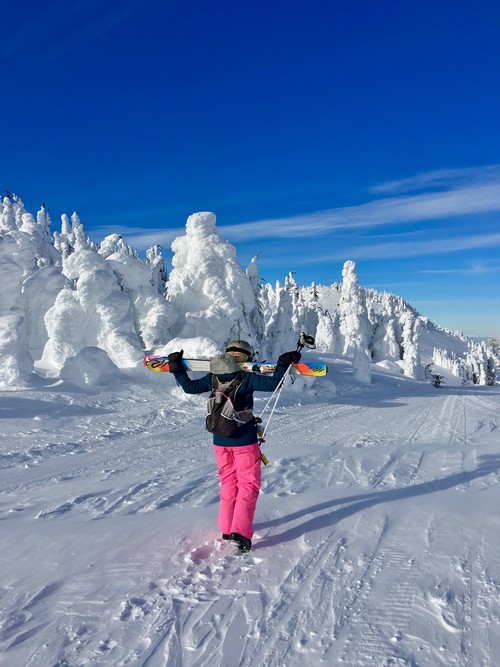 Construction of the new Crystal Chair went well over the summer, and the new lift, with increased capacity, and which will now take skiers right to the Top of the World, is expected to be open in time for the Sun Peaks 2020 ski season.  Off-piste skiing for experts in the Gils ski area will now be even easier.
Due to operational issues and concerns, however, the West Bowl T-Bar will not be running. 
The resort is looking at other ways to provide access to this popular area. 
Sun Peaks Daycare and Babysitting:
For safety reasons, the Sundance Sun Peaks Daycare will not be offering daycare services to guests during the Sun Peaks 2020 ski season, in order to keep the daycare staff safe, the local children safe, and guests safe as well.  When possible, Sun Peaks hotels as well as ourselves will try and keep a list going of possible Sun Peaks babysitters for your consideration. 
In addition, JetSitters may return to Sun Peaks in time for babysitting services during the Sun Peaks 2020 ski season.
It will hopefully be a wonderful and safe Sun Peaks 2020 ski season for all, but please be considerate of others, remain understanding, calm and kind to everyone, and keep safe, so we can all enjoy the Sun Peaks 2020/21 ski season the best we can.
Return to Best Sun Peaks News
Return to Best Sun Peaks Winter Activities
Return to Best Sun Peaks Alpine Skiing
Book your Best Sun Peaks Vacation Rental Direct From Owners