Best Ski-in Ski-out Accommodation Options at Sun Peaks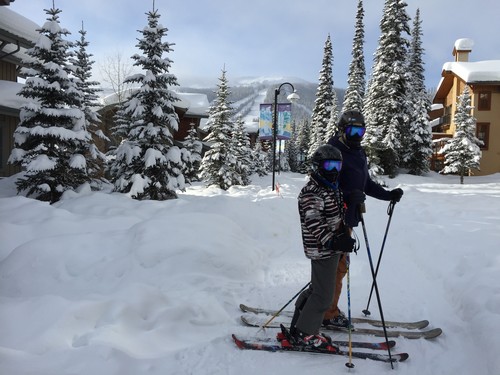 Ski-in ski-out with Trapper's Landing on the left and Trail's Edge on the right - choose Morrisey Express or the Orient
Sun Peaks ski-in ski-out accommodations are considered by various skiers to be some of the best in the world.
That isn't just by chance. Picturesque Sun Peaks Alpine village is purpose-designed and built as a ski-through, pedestrian-friendly (and horse drawn sleigh-friendly) village, with three mountains of four-season activities all leading back down towards the village with many ski-in ski-out accommodation options.
Most of the best Sun Peaks hotels are located right at the base of the runs, and guests can literally step out of their hotel, strap on their skis or snowboards, and ski out right to the chairlifts. 
And of course, it's just as easy to ski-in for a quick bite or at the end of a great day on the slopes.
While some of the older Sun Peaks chalets, townhouses and condos aren't ski-in and/or ski-out and where a bit of a walk or ride on the free Sun Peaks intra-resort shuttle bus is required, most Sun Peaks accommodation offer excellent ski-in and/or ski-out options. 

Fresh corduroy with Stone's Throw behind
Most Sun Peaks vacation rentals are also just steps away for cross-country biking and hiking trails and the Sun Peaks Resort Golf Course in the summer, and Nordic/cross-country ski and snowshoe trails and the Sun Peaks ice-skating rink in the winter. 
Guests can park their car and typically not need to use it for their whole holiday.
We love the awesome ski-in ski-out options from our Best Sun Peaks Vacation Rentals – to us and our guests – they are the best!
---
Best Sun Peaks Ski-In Ski-Out Options
Our Best Sun Peaks Stone's Throw condo and our Best Sun Peaks Trapper's Landing townhouse, are located on the 16th fairway of the Sun Peaks Resort Golf Course, which becomes the Morrisey Connector during winter ski season.
From here there are two fantastic ski-in ski-out options; walk behind Stone's Throw or Trapper's Landing, strap on your skis or snowboard, and ski down the Connector to the new in 2018 Orient Quad Chairlift, or continue on another hundred or so feet to the Morrisey Express chairlift.
With Trail's Edge being right behind Trapper's Landing and Crystal Forest being on the other side of Trapper's Landing, these popular Sun Peaks vacation rentals now have even better ski-in/ski-out options.
Click to see the Sun Peaks Alpine Skiing Trails and Chairlift map.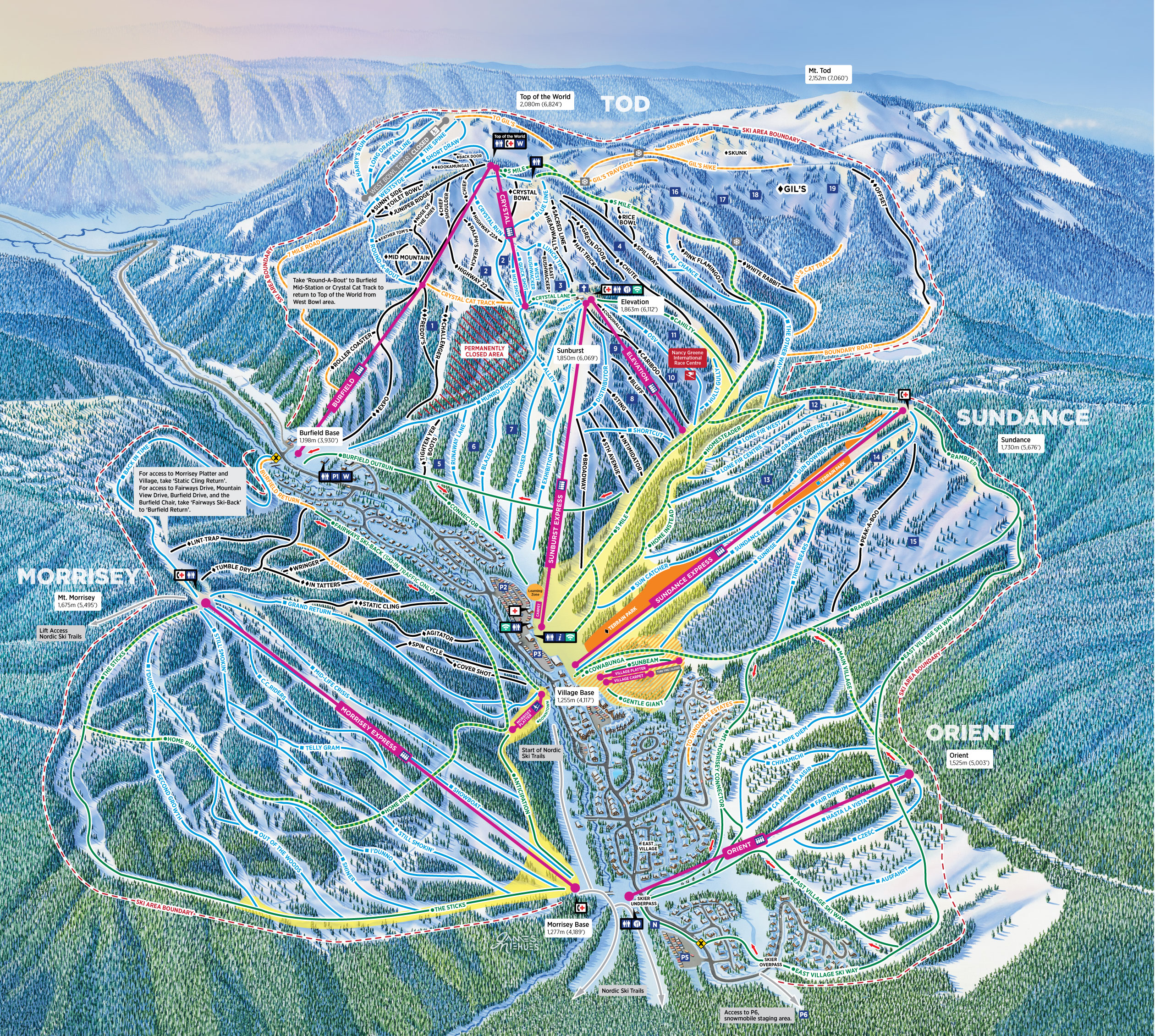 Awesome Ski-in Ski-out from Stone's Throw or Trapper's Landing - Morrisey Express or Orient chairlift
The new Orient chairlift takes skiers up Sundance Mountain, where the new Main Village Connector (green run) takes you on a gradual slope over to Rambler (also a green run), where you can now ski directly down to the main village.  Or skiers can take the new Czech extension or the new Hasta La Vista (both blue runs) and enjoy a variety of other blue runs to ski out to the East Village condos and townhouses or back to the Orient or Morrisey Express chairlifts.
The Morrisey Express chair is your other ski-out option, and takes you up the popular but less-used Mt. Morrisey.
Once at the top, skiers have access to cross-country/Nordic ski trails, and a great selection of green, blue, black or double-black diamond runs.  Some bring you back to the Morrisey and Orinet chairs, some bring you to the wooden bridge where you can cross the road to the main village, and some take you over to the West Morrisey area which isn't fully serviced by chair lifts yet (so check your map closely).  If you end up in West Morrisey, you can take the free shuttle bus back to the village.
Whichever lift you take, the ski-out options are awesome!
Sun Peaks ski-in/ski-out options from our other Sun Peaks Vacation Rentals By Owner, such as in Timberline Village or Village Walk Sun Peaks, are also great.
Gentle Giant (green run) on Sundance Mountain can be your ski-in option as well as your ski-out option, or you can walk across to the top of the village, clip in your skis, and ski through the village where you can take either the Sundance Express or Sunburst Express chairs up to the trails. 
The free Sun Peaks shuttle bus also stops near each of our Best Sun Peaks accommodation options as well so that is always an option too.
Such convenient Sun Peaks ski-in ski-out options means there is no need to drive and then look for somewhere to park.  Whether you rent a chalet, condo or townhouse, Sun Peaks is one of the best and we are proud to be able to offer your family this convenience.
Enjoy fresh tracks, groomed runs, the ability to return home to warm up or for a quick bite, or to hit your private hot tub at the end of the day. 
Our BestSunPeaks ski-in ski-out options make for an easy and perfect Sun Peaks Vacation.
Return to Sun Peaks Alpine Skiing
Return to Sun Peaks Nordic Skiing
Return to Best Sun Peaks Accommodation
Return to Best Sun Peaks Hotels
Return to Best Sun Peaks Home page