Sun Peaks Canoe Rentals for Family Fun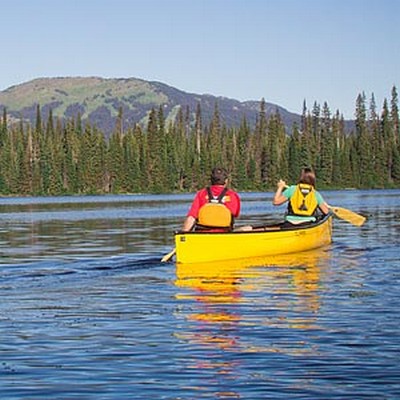 Sun Peaks Canoe Rentals
Explore nearby and beautiful McGillivray Lake with Sun Peaks Canoe Rentals from our friends at Discover Sun Peaks Adventures – another one of many Best Sun Peaks Summer activities.
Experienced canoe users can rent canoes and tour this picturesque lake for either a half day or full day(full day only while COVID in effect), and each canoe comes equipped with all the safety gear you require. For safety reasons, previous experience is required and users know the benefits of this fun, family activity, including being a low impact, aerobic, strength and flexibility increasing way to tour the beautiful lakes of the Sun Peaks Resort area.
McGillivray Lake is about 6 km away from the village (10-15 minutes along a gravel logging road) and is home to a small forestry services Sun Peaks camping site, the winter Nordic skiing and snowshoe warming hut, a small dock for launching car-top boats for fishers in search of rainbow trout, guided Voyageur Canoe Tours, Sun Peaks kayak rentals, and is also a great spot to bring your stand up paddleboard for a beautiful and serene paddle around the lake.
The trail to McGillivray Lake also makes for a nice walk or fairly flat Sun Peaks mountain bike ride - great to enjoy with a new eBike rental!



Sun Peaks Canoe Rentals - What To Watch For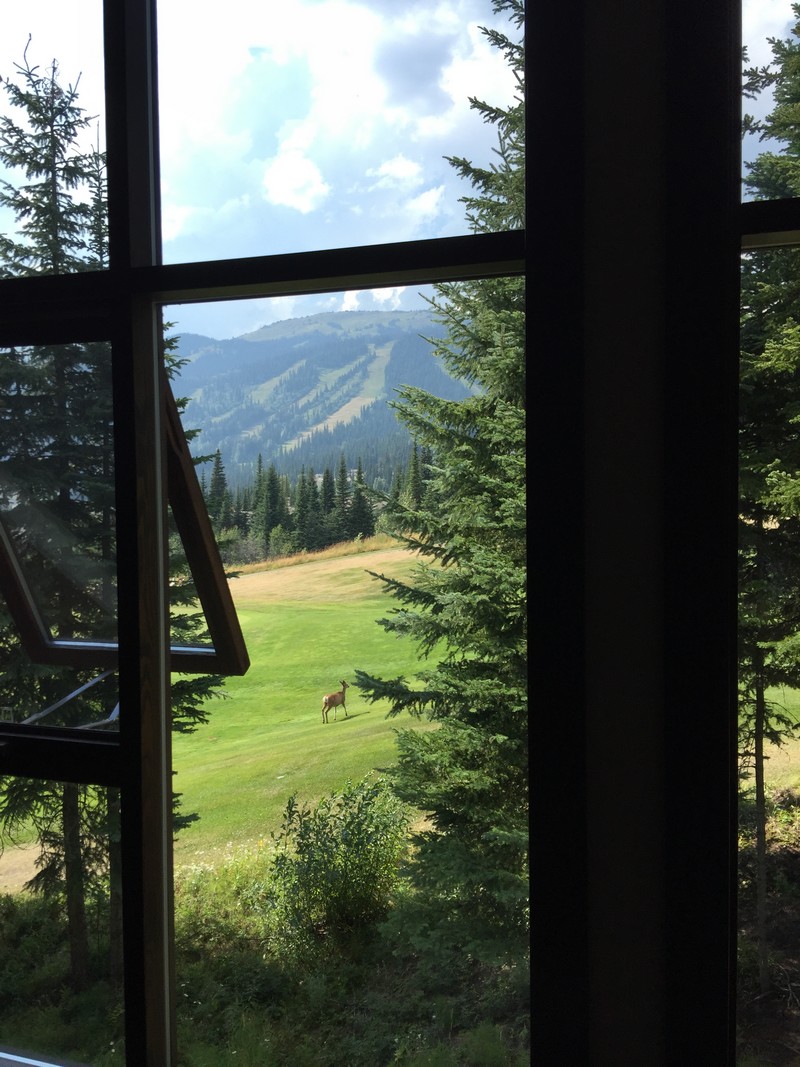 Watch and listen for the soulful cry of loons who frequent the lake, watch along the shoreline for Sun Peaks wildlife like deer (we spotted two mule deer swimming across to one of the little islands), moose, fox, beavers, and perhaps even a black bear or two, or look up to see Bald Eagles or Osprey soar effortlessly overhead in search of a trout for their dinner!

McGillivray Lake is surrounded by forests, provides beautiful views of Tod Mountain and the neighboring area, and is around 2 km long and quite shallow, with water lilies floating throughout. 
Bring your camera, some water, bug spray and sunscreen, even though the temperatures are moderated by the high elevation.
Fun family or group canoeing on McGillivray Lake
Sun Peaks canoe rentals are available from 9 am til 5 pm, and will only cost you around $65 for a 6 hour day, plus taxes, and includes all your safety equipment and everything you need.
It's best to reserve ahead of time by contacting Sun Peaks Canoe Rentals at Discover Sun Peaks Adventures. The kayak rentals operate daily in summer.  Guest Services in the main village day lodge (Open 9:30- 5:00 pm) is the best location to book, pick up the equipment (paddles, life jackets etc) and sign waivers.
Once you've checked in it's a 10-15 min drive out to McGillivray Lake where the kayaks are located.
Prior kayaking experience is required. If there are any minors under 19 they have to be in a boat with an adult.  They have standup paddleboards, canoes and kayaks.  
Check-in ahead of time at the Adventure Centre in the village and then drive to McGillivray Lake (click for directions) where your canoe will be waiting for you.
Discover Sun Peaks Adventures operates both the canoe and kayak rentals, and due to covid-related changes, it is best to contact them in advance at (250) 319-6064 or call the Sun Peaks Guest Services people at (250) 578-5474.

Play safe on the water and have fun!
        Health Benefits of Sun Peaks Canoe and Kayak Rentals
ability to enjoy the fresh mountain air and beautiful outdoors
increased cardiovascular fitness levels
increased muscle strength from paddling, including the back, arms, shoulders and chest, torso and legs
low impact and low wear and tear on the joints which is great for gracefully aging people like us!
peaceful and serene way to get in touch with nature

Return to Best Sun Peaks summer activities
Return to Sun Peaks Equipment Rentals page

Return to Best Sun Peaks Kayak Rentals
Return to McGillivray Lake
Arrange Sun Peaks Vacation Rental and Acommodation
Return to Best Sun Peaks Home page