Lake to Peak Adventure at Sun Peaks Resort (not currently being offered)

Sun Peaks Lake to Peak Summer Adventure
Try a Sun Peaks Lake to Peak Adventure package and experience two of our favorite Sun Peaks summer activities.
Begin your day just before at 9 am on beautiful Heffley Lake, just 10 minutes down the hill from Sun Peaks Resort, where expert Stand Up Paddleboard instructor, Bodie Shandro, will introduce you and your group/family to the fastest growing watersport around - Stand Up Paddleboarding.
Stand Up Paddleboarding is fun, safe, easy and excellent for conditioning for all ages and athletic abilities.


Lake to Peak - Stand Up Paddleboarding Excitement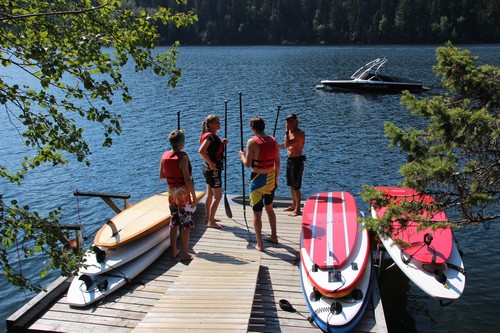 Professional SUP Lessons and/or Tour
Read our Paddle Surfit review and imagine the fun you and/or your family or group could have.  We took lessons with Bodie and then returned to buy stand up paddleboards for ourselves because we loved it so much.
Heffley Lake is a scenic, narrow alpine lake surrounded by trees, mountains, and beautiful surroundings. Be on the lookout for trout under your board too as the lake is famous for great trout fishing, and also lookout for wildlife along the shoreline or soaring above! 
At 11a.m., you will have to hop off your Stand Up Paddleboard and head back to Sun Peaks where you will have a $30 lunch credit at Masa's Bar & Grill waiting for you.  Relax, soak up the rays, enjoy the spectacular views at the base of Tod and Sundance Mountains, or people-watch as happy visitors return from enjoying any number of fun Sun Peaks summertime activities like hiking, biking, geocacheing, horseback riding, winery touring, canoeing, kayaking, fishing and more.  
You may even see people driving down the mountain in the exciting Sun Peaks Mountain Cross Go Karts!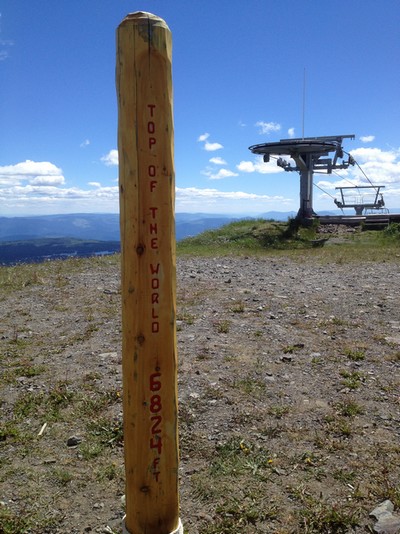 Top of the World at Sun Peaks
Also be on the lookout for bears at the top too since we often see them rambling across the upper, open ski runs while enjoying lunch and a beverage or two on the patios there.
Your Lake to Peak Adventure Package starts up again at 12:45 when you meet your friendly tour and hiking guide and load up for a scenic ride up the Sunburst Express chairlift to a beautiful alpine paradise for a leisurely Sun Peaks hike.
Your guide will tailor the lift-accessed hike to your abilities, but usually includes a hike to 'The Top of the World' which, depending on the time of summer, could be exploding with color from all the wildflowers that bloom from mid-July to mid-August.

From this easy-to-access vantage point, you will enjoy spectacular views of Sun Peaks village and the many beautiful mountains and lakes that surround the resort.  View some leftover relics from the early days and hear their story from your experienced guide.


Lake to Peak Spectacular Alpine Views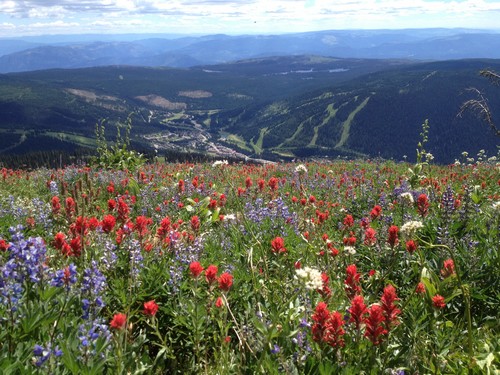 Top of the World and spectacular views

We do several hikes each year, and this Top of the World hike and the Tod Mountain Summit hikes are our favorite Sun Peaks hiking trails so far.
However your time will soon be up, the hike will be over, and you will be thinking ahead to your next Best Sun Peaks summer activity!  What to do next with so many choices?
Perhaps you will be able to take in one of the many free outdoor concerts that happen throughout summer and are always a huge hit.
From the spectacular alpine lakes to breath-taking alpine views, this is certainly a great way to enjoy your summer vacation destination at Sun Peaks and safely explore the surrounding natural beauty.
Cost is only around $140/person for this full day Sun Peaks summer adventure and we highly recommend it!
Contact us for more information, or visit the Sun Peaks Lake to Peak Summer Adventure page.


Please let us know how you enjoyed your day this summer – what was your favorite activity?



Check out some Best Sun Peaks accommodation options (with low summer prices)
Return to our Best Sun Peaks condo page


Return to Best Sun Peaks Summer Activities
Return to Sunpeaks summer page
Return to Best Sun Peaks home page