The Exciting New Orient Express Chairlift at Sun Peaks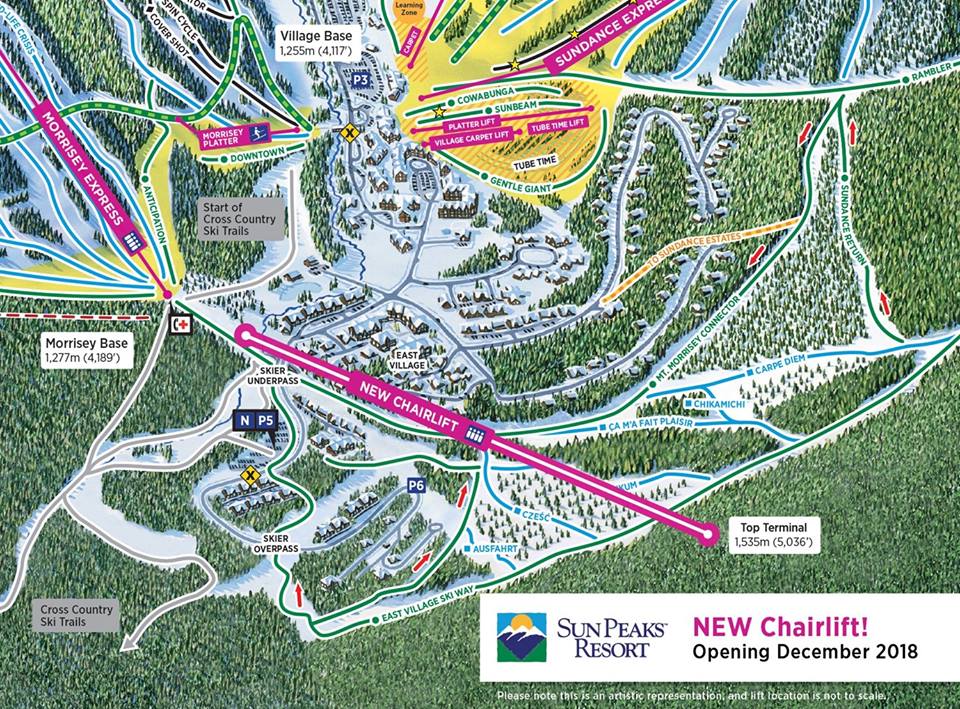 Fantastic ski-in/ski-out access via the Orient Express Chairlift
Construction of the new Orient Express Chairlift is set to begin as soon as conditions permit following the 2017/18 ski season, and is the next announced phase of the 2018 Sun Peaks expansion plan which will see over $30 million in new investment over the next 5 years. 
It comes with a cost of around $4 million and is expected to be operational by the end of December, 2018.
The new four passenger, fixed grip chair will be at the base of Mt. Morrisey near where the Umbrella Café sat, but will take skiers in the opposite direction, up and over the overpass, along the 16th fairway of the Sun Peaks Golf Course (Mt. Morrisey Connector route in winter) between Trapper's Landing, Stone's Throw and Trail's Edge, and arriving at a point above the East Village Skiway. 
From there, skiers will now have a direct route back to Sun Peaks Village via a green run that will lead either to the Rambler or Sundance Return Trails (final routes still to be determined at the time of writing this).
While it will start as a quad, there is an expectation that it may be extended in the future and changed to a 6 pack, all depending on demand.

Click for the official Sun Peaks Orient Ridge Chairlift announcement.
Stone's Throw with Mt. Morrisey behind
Skiers will also gain instant access to a number of relatively unused blue trails that frequently offer great stashes of pow along with gladed areas, such as Carpe Diem, Chikamichi, Ca M'a Fait Plaisir, Fair Dinkum, Czesc, and Ausfahrt. These trails lead to the Morrisey Connector, which then brings skiers back to their choice of the new Orient Express Chairlift or the Morrisey Express Chairlift – both great options.
This is fantastic news for guests of our BestSunPeaks Stone's Throw condo or our BestSunPeaks Trapper's Landing townhome, as well as those in Trail's Edge, McGillivray Creek, Settler's Crossing, Echo Landing, Woodhaven, Lookout Ridge homes, etc.
It will also make access to skiing much easier for day visitors who need to park in P5, which will see big increases as the number of skier visits continue to rise, and the new Sun Peaks hotel and commercial building begins construction in the parking lot in front of the Village Day Lodge.
Also in time for the 2018/19 winter season, will be the addition of additional chairs on the Sundance Express chairlift, increasing capacity by 30% to the great runs on that mountain, along with to the Rockstar Energy Terrain Park. 
More chairs will of course mean even less time spent waiting in line!
Orient Express Chairlift and the Sun Peaks Master Plan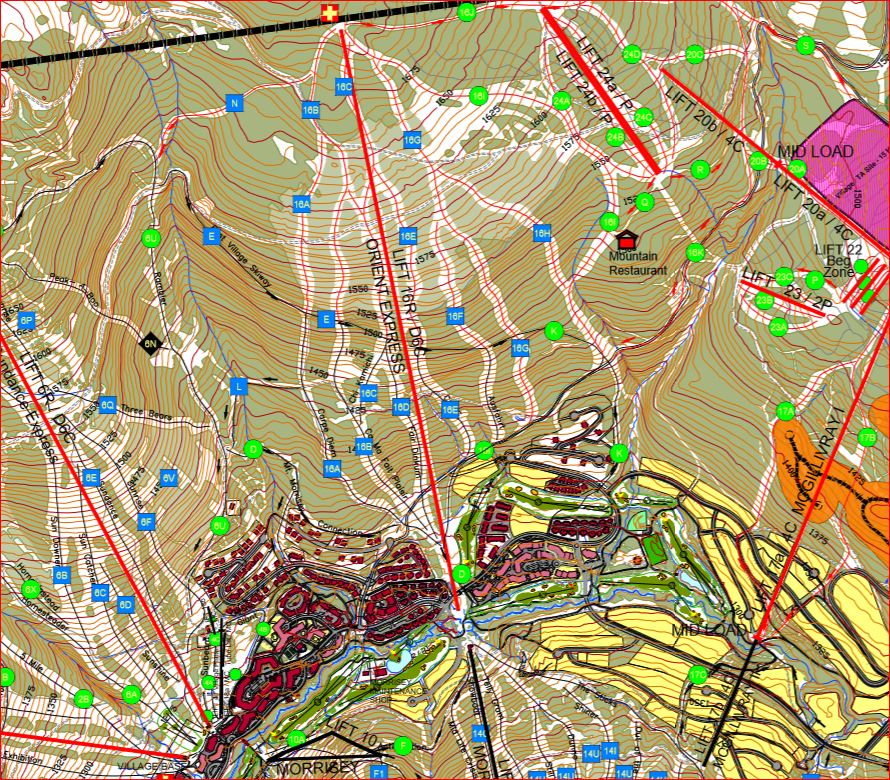 These improvements are all part of the Sun Peaks Resort Master Plan (above image copied from the Sun Peaks Master Plan) and are part of the Sun Peaks planned expansion of the East Village and related services.
With it will come additional Sun Peaks real estate options, new services, and more parking with easy access to the village.
Return to Best Sun Peaks Home page
Return to our Sun Peaks 2018 Expansion Plans page
Book fantastic ski-in/ski-out access with Vacation Rentals By Owners
Return to Mt. Morrisey page