Best Sun Peaks Hotels - which is the best for you?

Deciding which of the 7 or 8 different Sun Peaks hotels and lodges is the best is a tough choice for us, because we usually prefer the size, many amenities, quiet, home-away-from-home feel, and privacy that come with our wonderful Sun Peaks Instant Hotels. Or even one of our recommended Sun Peaks Vacation Rentals.
But if you prefer the convenience and amenities that come with one of the more centrally located hotels, then consider one of these many hotel and lodge accommodation options at Sun Peaks - virtually all with fantastic ski-in and ski-out ability.
There are also a few options if your want to camp in the Sun Peaks area.
We are always talking to our guests, Sun Peaks locals and regulars, and viewers on our Best Sun Peaks Facebook page to obtain feedback on their thoughts of the Best at Sun Peaks and to help with the rankings. 
Please use the Contact Us page or the form at the bottom of this page to give us your opinion on the Best Sun Peaks hotel based on your experience.


The Winner Of the Best Sun Peaks Hotel Goes To..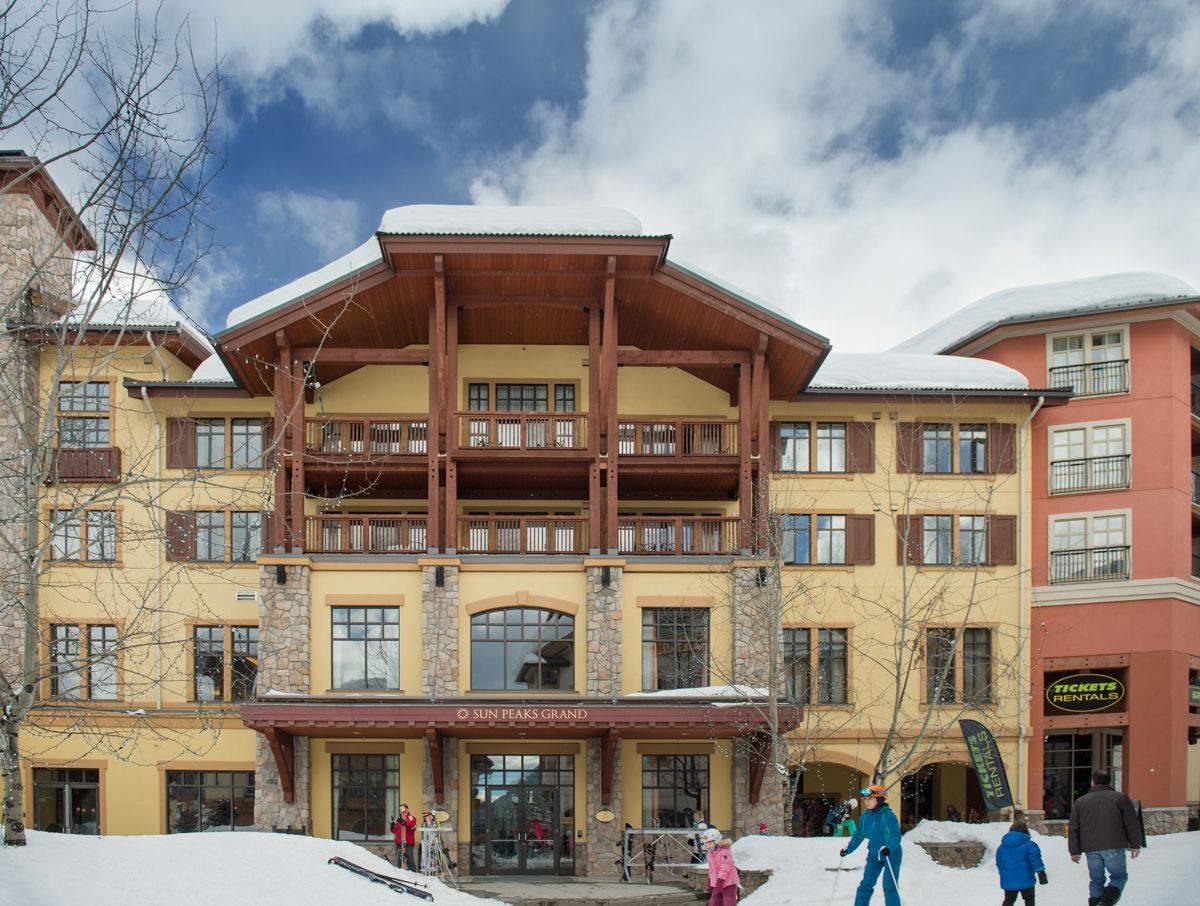 Sun Peaks Grand Hotel & Conference Centre - working to be the Best Sun Peaks Hotel (Photo-Sun Peaks Grand).
So for now, based on discussions with guests that have stayed at the various hotels, as well as our own stays at several of the hotels, we feel the Best of the Sun Peaks hotels is the Sun Peaks Grand Hotel and Conference Centre (formerly the Sun Peaks Delta Resort).

The Sun Peaks Grand Hotel & Conference Centre is indeed 'Grand' and provides a traditional, upscale hotel-style stay at Sun Peaks that offers a large building with a number of floors, elevators, an outdoor pool and hot tub, and a great location at the base of Tod and Sundance Mountains with easy ski-in/ski-out and village access.
In earlier years, the Sun Peaks Grand seemed to be hit & miss in terms of service and customer satisfaction.  But with the addition of Vivek Sharma as the new General Manager in 2015, the Grand has certainly stepped up its game.  Vivek brought many years of hotel experience earned at various locations from around the world, and joined with the goal of ensuring the Sun Peaks Grand Hotel was the Best Sun Peaks hotel, not just by virtue of its size and location, but also by the level of service and guest satisfaction that it provides.
And with the planned renovations and upgrades as part of the 2018 Sun Peaks Expansion plan, we feel the Grand will only get better.
If you want a more intimate stay, with a reputation for providing great service and don't mind being a few minutes walk away from the village, then we suggest you consider the Pinnacle Lodge.
Most of the Sun Peaks hotels, except for the Pinnacle Lodge, make up part of the intimate, European style village, with retail shops and restaurants on the main level and Sun Peaks accommodations on the upper levels.
Most of the other Sun Peaks hotel units are owned by individuals and managed by the Sun Peaks Resort or other management companies, so you may see quite a difference from unit to unit, and from shift to shift as various employees work to try and please their guests.
For best pricing, we suggest checking the hotel booking site (links provided below).
If you want a home-away-from-home for your stay, consider renting a wonderful Sun Peaks Vacation Rental By Owner or check out the 60 + Sun Peaks hotel-style rooms, Sun Peaks condos , Sun Peaks townhouses, and Sun Peaks luxury chalets offered with our 10% Best Sun Peaks Top of the Mountain discount.

For now we provide a brief summary of each of the Sun Peaks hotels and lodges, and will add additional pictures, information, reviews and perhaps even shift placements around as better intel becomes available.

And if you're thinking of investing in a hotel style unit at Sun Peaks, check out our Sun Peaks Real Estate page before you do.

(All opinions are the personal opinions of the authors and contributors only and are subject to change as new information becomes available.  We cannot be held liable if your experience differs in any way.)
Please share your thoughts on your 'Best' Sun Peaks hotel experience with us.


Sun Peaks Grand Resort and Conference Centre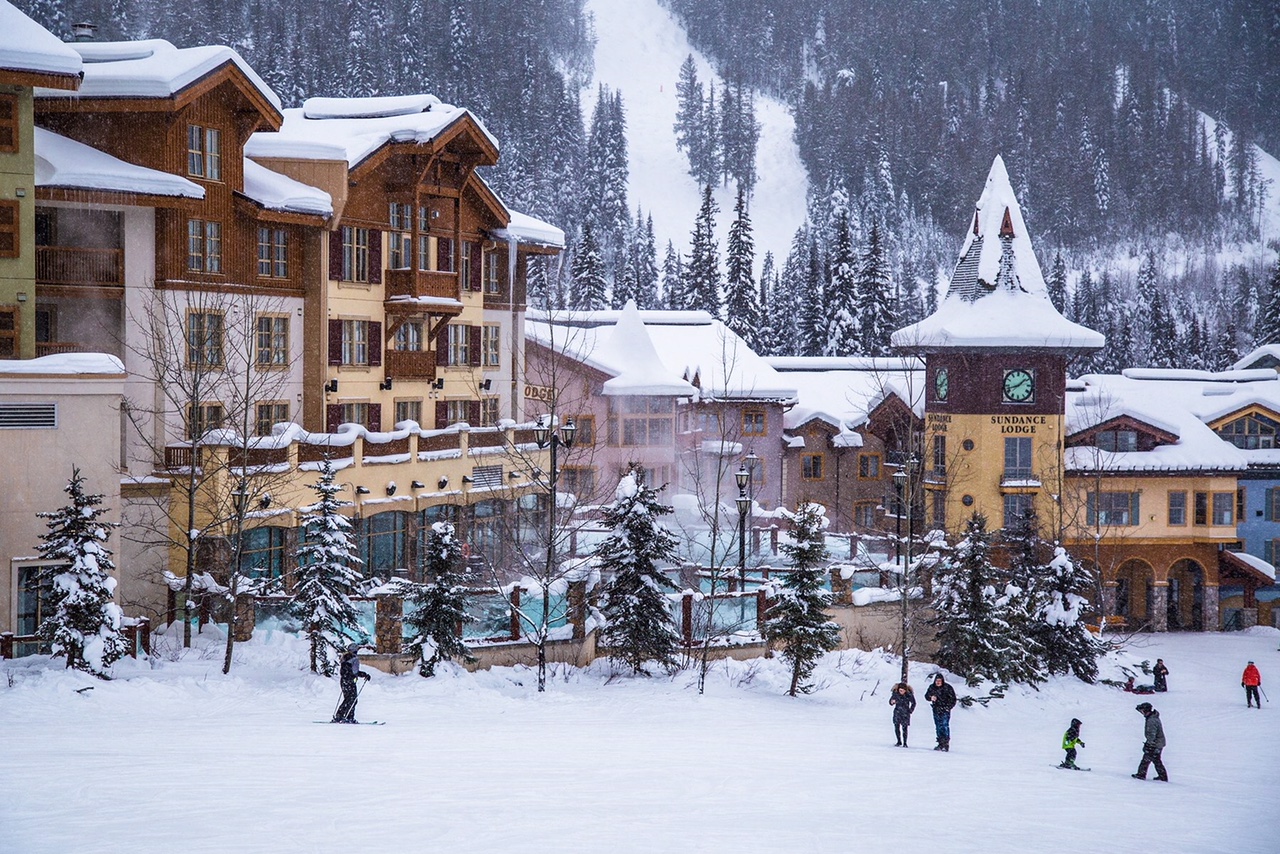 Steam rising from the Sun Peaks Grand pool (photo Sun Peaks Grand)
- 220 rooms (some with suites) over 5 floors
- 2nd floor is dog friendly
- Business centre, fitness centre, year-round pool and hot tub, on site pub and higher-end restaurant, elevators, wheelchair access, meeting rooms, ski storage area
- Free wifi and each unit has a small fridge and individual climate control
- Renovated in 2018

The Pros:
- Definitely the 'Grandest' of all the hotels at Sun Peaks, with a nice looking building and amenities, and full service facilities
- Location is wonderful, ski-in and ski-out right at the base of Tod Mountain and at the core of the village
- Large variety of rooms and suites, with a 'premium' floor for those with a little more money
- Generally very good service levels
- offer different types of venues, meeting rooms, wedding planning services, etc.


The Cons:
- considered by many to be one of the best Sun Peaks hotels
- Some rooms need refreshing (planned for 2018)
- Service not always great – we have been disappointed a number of times in their restaurant but they are working on making that better
- With the location being at the core of the village, and with a nightclub below that operates sometimes, it can possibly be quite noisy at times

Helpful hints:
- Be specific on the type of room you want.  Make sure your upgraded mountain-view room is an 'unobstructed' mountain-view; face the mountain if you are concerned about noise; ask for a recently refreshed room; hallways can be long so if walking is a concern ask to be near an elevator.
- And if you're not a fan of dogs, ensure they don't put you on the second floor.

Check our Best Sun Peaks Hotel Pricing for the Sun Peaks Grand Resort


Sun Peaks Pinnacle Lodge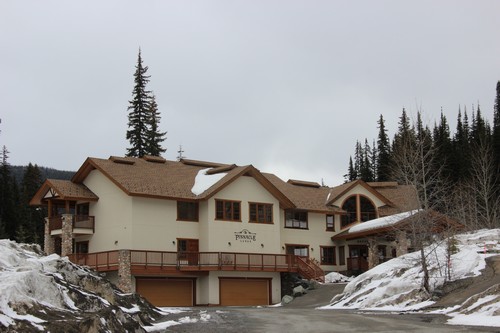 - Built in 1998 with 20 guest rooms spread over 2 buildings, a common hottub, sauna and fitness area, coin laundry and a spacious, open dining area.
- A mandatory $16 resort fee/guest over 12 years of age gets you wifi, access to some sports equipment, and continental style breakfast and afternoon tea
- Self-serve parking area above ground as well as a designated smoking area

The Pros:
- The Manager, Richard, has the same attitude as us – "do whatever you can reasonably do to ensure your guests enjoy their best possible Sun Peaks vacation".  He has been known to go well above and beyond the call of duty on many occasions.  However when we tried to email him, we never received a reply back.
- Smaller, more relaxed and intimate setting which puts guests at ease and makes for some very sociable gatherings
- Nice size, very clean and refreshed rooms
- Great staff who share Richard's passion for excellence in customer service

The Cons:
- No useful website or contact information available until you book through Vacation Internationale or an online booking agency
- You need to walk to the village to be able to ski, but can ski back to the lodge
- No kitchen amenities (except bar fridge and coffee maker); however there is a common area with a fridge, microwave, sitting area, etc.
- No elevator
- Walls a little thin, and can hear people climbing stairs with bags and gear as well as the door slamming shut
- Pay parking for underground (above ground is first come first served but free)


Helpful hints:
- You may want to consider walking into the village for breakfasts
- Apparently room #3 is right beside the stairway – avoid if possible
Check for Best Sun Peaks Hotel pricing for the Sun Peaks Pinnacle Lodge.



Other Hotels and Lodges in Sun Peaks
If your budget doesn't allow one of the two best Sun Peaks hotels but you still want to be in the heart of the village, close to all the action, and be able to ski-in/ski-out and ski-through the village, then consider one of these other Sun Peaks lodgings.
These are the units that large groups usually get, Sun Peaks special offers typically apply to, and were all built around the same time and have the same issues with potential thin walls, service that is sometimes great and sometimes not, and some people love and others don't.
Because of the in-depth rental covenants, these may not be the best Sun Peaks real estate investment for you, so you may find owners don't put as much into them as Sun Peaks vacation rental condo and townhouse owners do.
However, being at Sun Peaks, you are assured of value for the dollar and a great time as long as you relax and enjoy the hills, many amenities and activities no matter the season!
We will list them in a general order of preference.


Hearthstone Lodge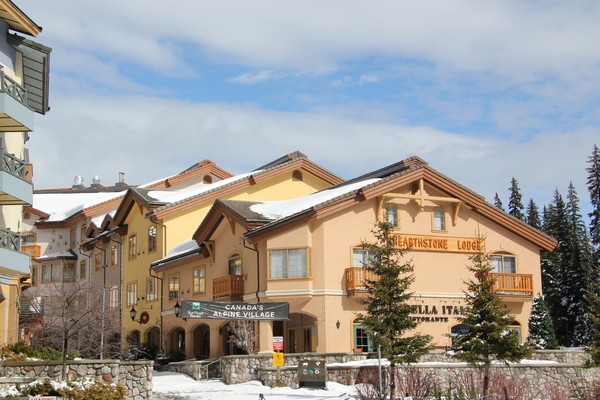 - 70 suites ranging from studios to a 3 bedroom, with a fireplace and kitchen facilities in each room
- Pet friendly and wheelchair accessible rooms are available
- Free wifi, fitness room and outdoor hot tub
- Coin laundry, underground heated parking and ski storage area
The Pros:
- Previously had pretty good service, but the Hearthstone is under new management in 2014
- Very central ski-in/ski out location close to many shops and restaurants
- Clean and comfortable rooms each with kitchen facilities

The Cons:
- Haven't heard too many, except to be careful in the winter since the fireplace serves as a heater and can come on automatically

Helpful hints:
- The front of the Hearthstone is right on the village stroll and above the popular pizza restaurant so can be noisy and perhaps a little appetizing with the smell of pizza.  Think about asking for a higher level unit at the back facing Mt. Morrissey.

Check for our Best Sun Peaks hotel pricing for the Hearthstone Lodge
Nancy Greene's Cahilty Lodge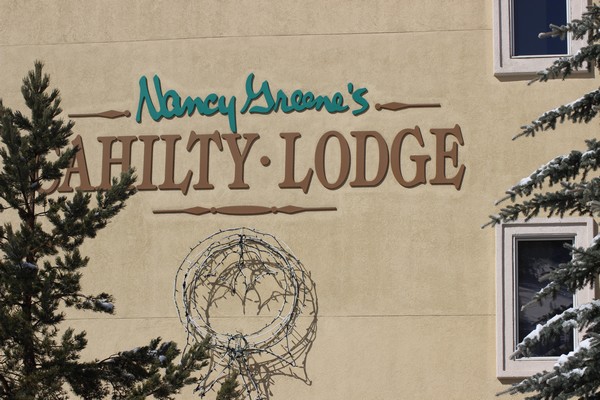 - Winter home of Canadian Olympic medal winner and Sun Peaks Ambassador Nancy Greene and her husband Al Raine (who is the Mayor of Sun Peaks)
- Condo style hotel with individual owners of the 175 rooms which range from small lodge-style suites to 3 bedroom units
- Inside and outdoor hot tub, sauna room, and fitness area, coin laundry, free Wifi, pet friendly rooms, slopeside ski storage area

Pros:
- Good ski-in/ski-out location
- Right next door to the community recreation facility
- Large variety of rooms and prices

Cons:
- Mixed reviews about level of cleanliness
- Larger hotel means more people and more chance of noise
- Somewhat small and basic rooms
- Pay parking or park in one of the free lots several minutes away

Helpful hints:
- Request slope side if you can
- Avoid dog rooms if you aren't a dog lover
- Be specific about the size/type of room you want and kitchen amenities you need so you're not disappointed

Check our Best Sun Peaks hotel pricing for the Cahilty Lodge



Coast Sundance Lodge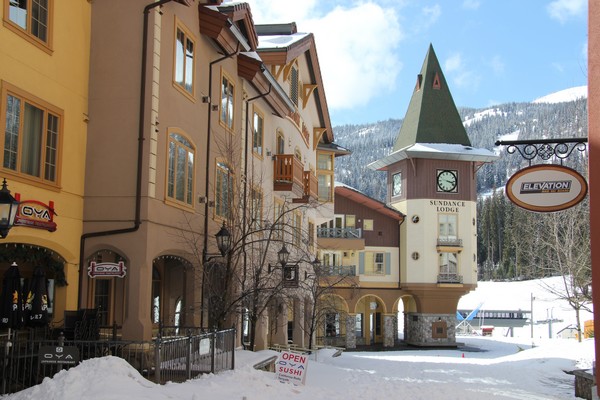 - Easily recognizable with the trademark clock tower right at the base of Tod Mountain
- 84 rooms, from basic with two double beds and mini kitchenette to 2 bedroom condo suites with a kitchen
- Free Wifi, outdoor hot tub, fitness room and coin laundry
The Pros:
- Great location – closest ski-in/ski-out hotel to the bottom of Tod and Sundance Mountains
- Good variety of rooms, some with great views, windows that open and some form of kitchen amenities
- Reasonably priced
- Pretty big parking area

The Cons:
- Small ski storage area on main floor
- Service levels seem hit and miss
- Older rooms in need of refreshing
- Only one small, slow elevator
- Front side may be noisy, especially around pub closing time and snow removal time early in the winter morning
Helpful Hints:
- Request a higher up unit facing the mountain (even numbers) for best view and reduced noise levels.  Room 221 was very noisy with snow removal work starting very early next door at the day lodge, food delivery truck arriving very early and running motor right outside our room....
Check our Best Sun Peaks hotel pricing for the Coast Sundance Lodge



Sun Peaks Lodge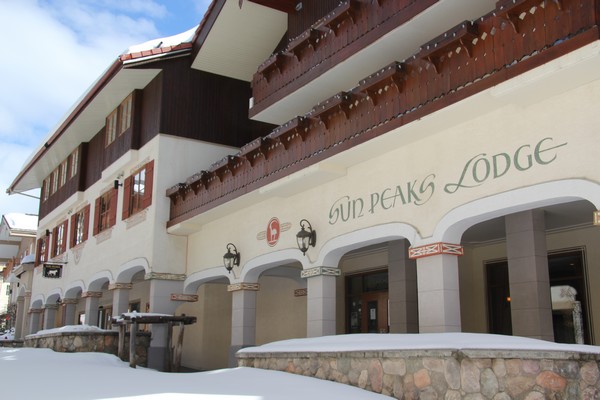 - 44 rooms, with 9 king basic rooms, 34 double queen rooms, and 1 Jacuzzi (for 2) suite with a king-size bed
- Small indoor hot tub, dry sauna and steam room area (but only available during ski season!?)
The Pros:
- As with all the basic hotels, location is within the village and is pretty much ski-in/ski-out
- Reasonable prices and special offers from time to time
- clean, with security cameras on all floors

The Cons:
- $10 pay parking with not many spaces
- Small ski lock room in the basement and you need your own lock
- Fairly small rooms and somewhat dated
- Not enough parking spots for all the rooms.  Assigned on a first-come, first-serve, but always specify you want a parking spot directly with the hotel when you book.  If you book via an on-line service, call the hotel to ask for parking.

Helpful hints:
- Front rooms face another hotel, back rooms may overlook the road but have a nicer view and tend to be quieter

Check our Best Sun Peaks hotel pricing for the Sun Peaks Lodge


Heffley Boutique Inn
- Small, budget Inn, 26 rooms with different configurations available from 2 to 10 guests

Pros:
- Location (just a little further from the lifts from the other hotels) and price
- Right across from the Sun Peaks Spa Express, Rocky Mountain chocolate and ice cream store, and the Sun Peaks cold beer & wine store

Cons:
- Pay parking ($17 inside, $10 outside) with limited spaces on a first-come first-served basis
- Rooms somewhat dated and basic but not bad.  Quite spacious compared  to some.
- Website - needs a little work!
Check our Best Sun Peaks pricing for the Heffley Boutique Inn



Sun Peaks Accommodation Options
Wherever you book at Sun Peaks, whether in a higher-end or budget Sun Peaks hotel or lodge, fully appointed condo, ski chalet, townhouse or single family vacation home, our luxurious Best Sun Peaks condo or larger Trapper's Landing townhouse, or even a luxury Sun Peaks chalet, there is something nearby for all interests and all levels of activity to enjoy.
Fast becoming recognized world-wide as one of the best ski-in/ski-out, four-season ski resorts in North America, come and experience our little piece of paradise.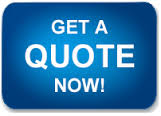 Please click the quote button to get a quote on our spectacular Sun Peaks Best rental accommodation condo or townhouse at Sun Peaks, as well as other options.

And when you do, please let us know your favorite and Best Sun Peaks Hotels, Lodges, Restaurants, Activities………



Return to Best Sun Peaks Lodging
Return to Best Sun Peaks condo
Return to Sun Peaks Vacation Rental Properties

Return to Sun Peaks Real Estate Options

Return to Best Sun Peaks Home page