Mt Morrisey Sun Peaks Resort - The Other Best Mountain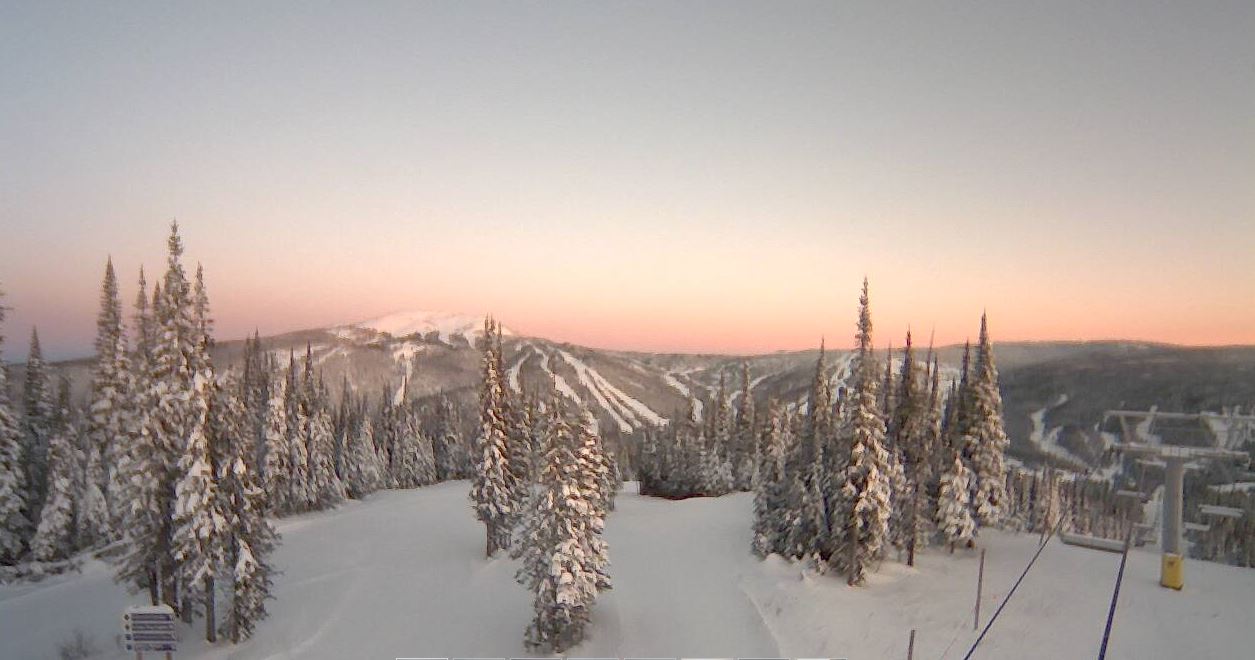 Webcam View from top of Mt Morrisey Sun Peaks looking at Tod Mtn.
Another insider info tip is how wonderful Mt Morrisey Sun Peaks is for so many reasons:
All of the 'village people' line up first thing in the morning (ok - so a Sun Peaks Line-up is like 10 minutes max!) at Sunburst or Sundance, while we step outside our Stone's Throw Best Sun Peaks Condo or Trapper's Landing luxurious townhouse, strap on our skis or snowboard, and glide down the Morrisey Connector and right onto the Morrisey Express Chair Lift (or as of Dec. 2018 we can also choose the new Orient chairlift instead).  These beautiful Sun Peaks vacation rentals offer some of the best Ski in Ski out in Sun Peaks!
You can buy your ski passes at the Morrisey Express chair - however we suggest buying your Sun Peaks Lift passes online in advance for the best Sun Peaks ticket pricing (up to 42% less!)
Most people that start on Mt. Tod, stay on Mt. Tod, so it tends to be busier and the powder tends to get used up faster. 
Mt Morrisey Sun Peaks offers a great selection of green and blue family friendly runs that are braided with islands of trees, making for fun and scenic runs back down to the Morrisey Express lift or over towards Sun Peaks village. 
There is also the "Washing Machine area" with single or double black diamond runs and great powdery moguls.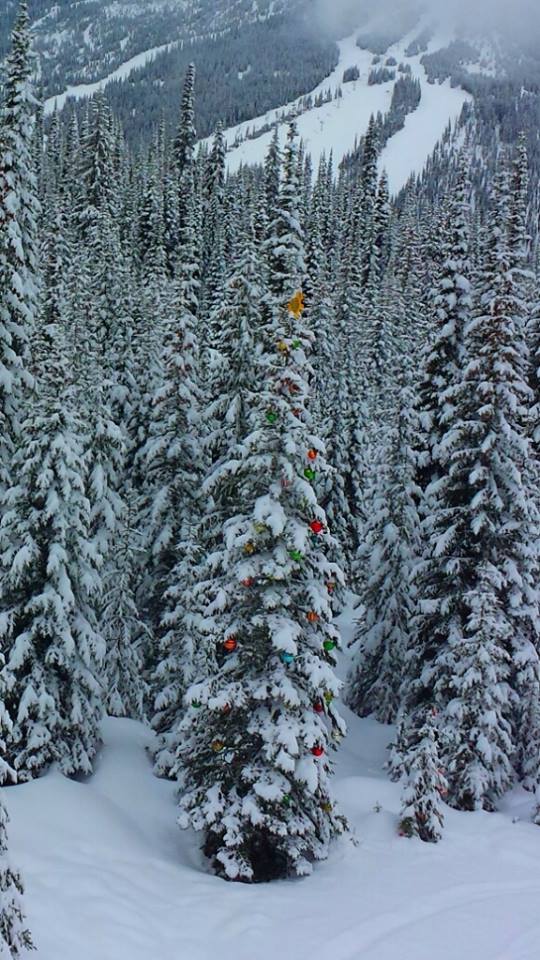 Look for the decorated Christmas trees while heading up the Morrisey Express, which takes you up 398 meters or 1306 feet vertical. 
Even if you do head over to Tod or Sundance, if snow conditions get tired, head back to Morrisey where the lighter used snow and afternoon sun make for more enjoyable conditions. 
Mt Morrisey Sun Peaks is a perfect family mountain offering something for everyone and every level. 
The upper Nordic/Cross Country runs are also on Mt. Morrisey and are accessed via the Morrisey Express chairlift. 
Guided snowshoe trails take you up this way as well.
The free toboggan hill is located at the base of Mt. Morrisey as well.
The Summer of 2014 included an expansion of Mt Morrisey Sun Peaks ski runs in the West Morrisey area which will be expert ability runs and will use the same aspect as the 'Washing Machine' area, and provide even more awesome terrain which makes Sun Peaks the second largest ski resort in Canada.
The Gils back country area (over at the top of Mt. Tod) will also see the area's vertical double with the creation of a lower ski out.
Click to view the interactive Mt Morrisey Sun Peaks map.
Click to read about some of the best runs on Morrisey.
Mt Morrisey Sun Peaks view shot on Mid-Life Crisis
Skiing on Mt. Morrisey Sun Peaks
We love skiing on Mt. Morrisey!  There are a good variety of fun runs for all levels, there are generally no line-ups at all to worry about, and a lot of times when it is socked in and/or windy over on Tod or Sundance mountains, Morrisey is clear and sunny.
The development of the first 20 runs on Mt. Morrisey happened in 2000, as part of Phase 2 of Sun Peaks's growth plan after the 1992 initial purchase by Nippon Cable,
There were initially and still are currently two lifts on Mt. Morrisey - the Morrisey Express chairlift, and the Morrisey Platter, which is located over near the wooden bridge to/from the village base.  The Sun Peaks Master Plan, as well as the 2018 Sun Peaks Expansion Plan and the 2020 Updated Master Plan, refer to a new lift being installed to better service the West Morrisey area.  We can't wait for this to be installed, but for now, the Orient chair ended up being the first of the new lifts to be installed in 2018/19.
Morrisey Platter J Bar Lift
located near the wooden bridge leading to/from the main village area
Doppelmayr built, constructed in 2001
base at 1,277 meters
top station at 1,372 meters
elevation gain of 95 meters
distance 420 meters
speed 2 meters/second
capacity of 800 skiers/hour
takes skiers from the base up to Home Run where they can ski down Anticipation to the Morrisey Express or the Orient chairlift.


Morrisey Express chairlift
located in the East Village area by the overpass, across from Stone's Throw, Trapper's Landing and Trail's Edge vacation rentals (awesome ski-in/ski-out choices)
4 person, high speed detachable

Doppelmayr built, constructed in 2002
base at 1,277 meters
top station at 1,675 meters
elevation gain of 398 meters
distance 1,790 meters
speed 5 meters/second
capacity of 2,800 skiers/hour
Transit time of around 6:30 minutes
takes skiers from the base up to the top where skiers can choose nordic trails, or a selection of green, blue black or double-black trails leading back down Morrisey, or across and down to the wooden bridge to the main village area 


Mt. Morrisey Sun Peaks Ski Run Gradients
With no claim to being 100% accurate, and with Sun Peaks currently working on upgrading their trial maps and their Master Plan, this is the best information we could gather from the current Sun Peaks Master Plan. 
Where no data exists, the trails weren't in place when the last master plan was updated so we could not get the proper numbers.
---
Our Favorite Mt Morrisey Sun Peaks Ski Runs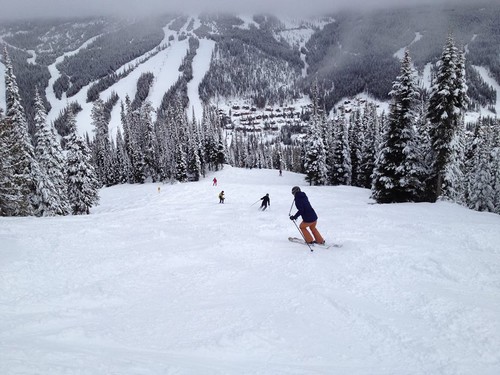 We actually enjoyed "The Sticks" for a warm-up run even if it is an easy and beautiful green run back to the Morrisey Express.  There are numerous snow covered islands of trees which provide for some great in-and-out turns to get warmed up for a fantastic day of skiing.  It is fairly wide, very scenic, and actually gets you moving at a fair clip (for a green run).
For blue runs, we like Mid-Life Crisis, Showboat, and Back in Time.
When it's time to head to Sun Peaks village or to Tod or Sundance Mountain, we enjoyed the Grand Return that will take you right down to the wooden bridge to the village.
We haven't tried them yet, but when we met the Sun Peaks Ambassador and Olympic Gold Medal Champion Nancy Greene, she told us that the 'Washing Machine' area can be pretty intense, with Static Cling, Agitator, Spin Cycle and Cover Shot being cool single or double black diamond runs. 
Like we said, something for everyone and all levels of skiers, and so close to our Best Sun Peaks condo at Stone's Throw and our luxurious Trapper's landing townhouse!
More about Best Sun Peaks Skiing and Snowboarding.

What is your favorite ski run - let us know?
Want more tips for your Best Sun Peaks Vacation?


Book your Best Sun Peaks Vacation Rental (with options right across from Morrisey).
Return to the new Orient chairlift page
Return to Best Sun Peaks Winter Activities
Return to Skiing and Snowboarding at Sun Peaks

Return to Best Sun Peaks Home Page