Sun Peaks Pickleball Courts Are Now Open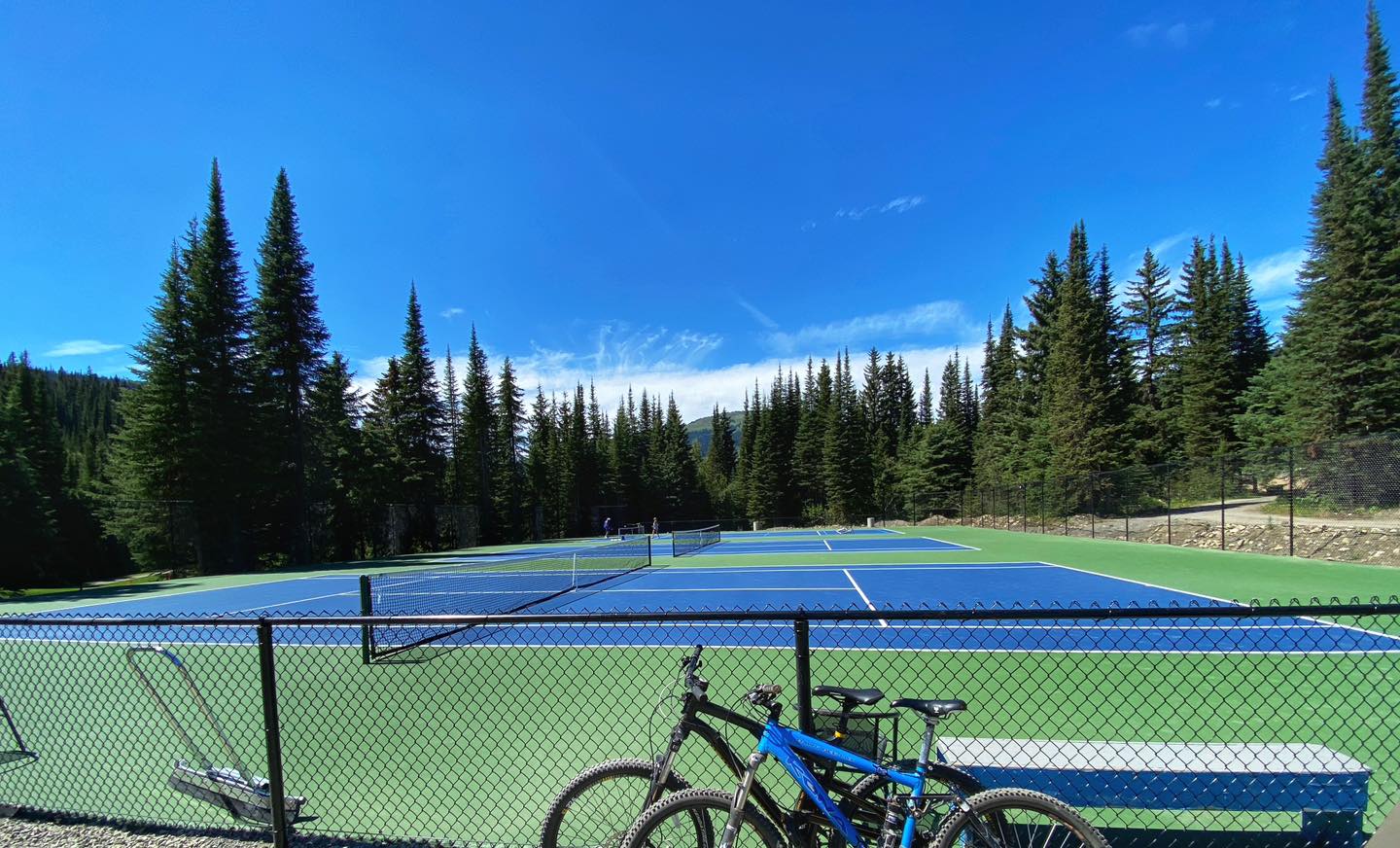 Sun Peaks Pickleball is now available for guests and locals to enjoy.
Along with moving the Sun Peaks tennis courts to a beautiful new location in order to make way for the new Community Plaza area by the Sun Peaks skating rink (and EV charging stations), we now have two new Sun Peaks Pickleball courts.
Now before you say Pickle ball is just for old people, you need to know that it is actually a fun-for-all-ages sport that is quickly growing in popularity with about a third of players being under the age of 60, and with more and more young people getting involved all the time. Two thirds of players are male and pickleball is a great low-impact way to socialize and meet new people, both locals and guests from around the world.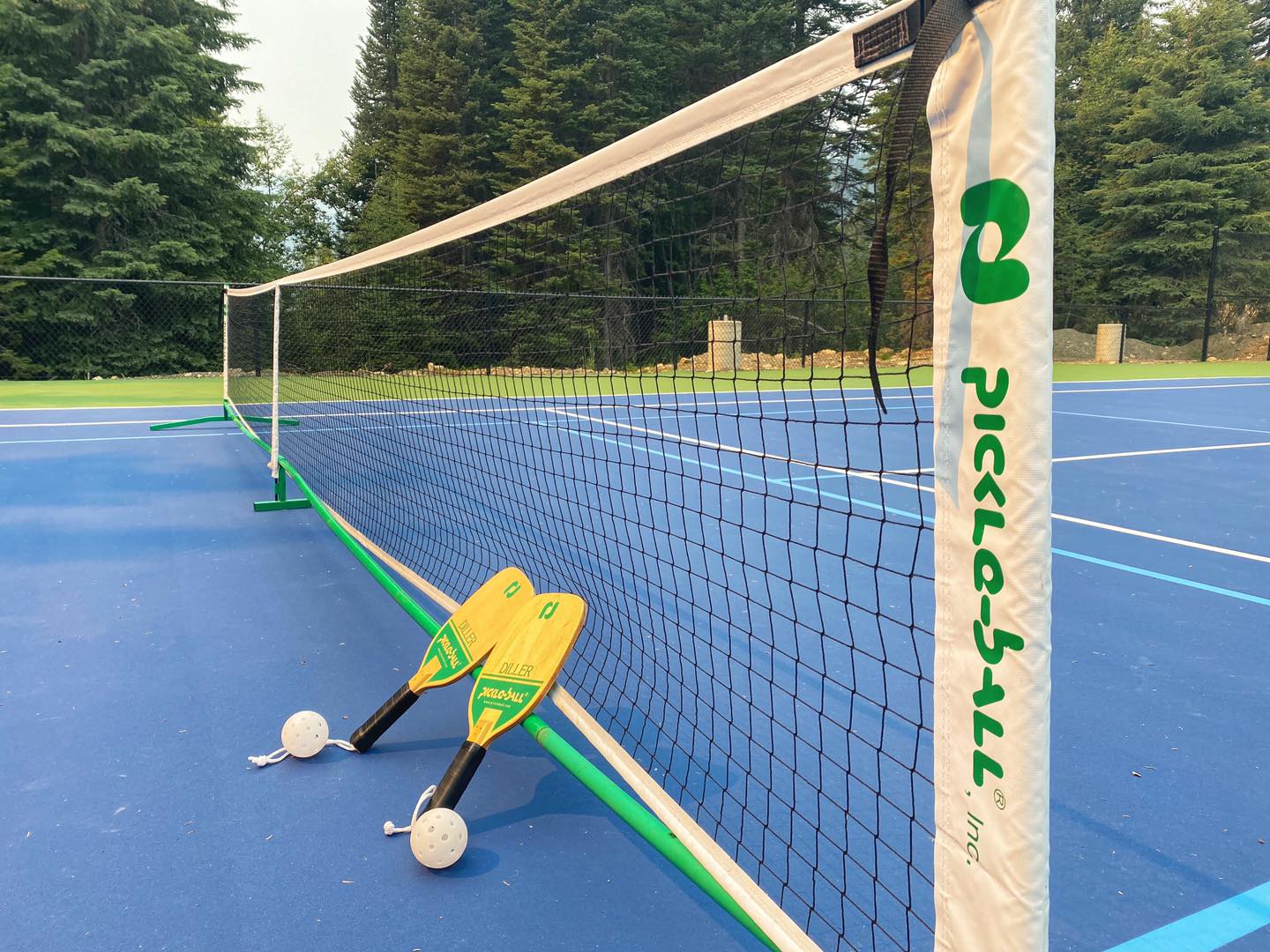 While Sun Peaks Pickleball can be played indoors or out, it has similarities to tennis, ping pong and badminton. As mentioned it is a great way to get some exercise and is easy on the joints given it is low-impact. It is played on a 20 foot by 44 foot court, and it is a lot easier to jump over the net after kicking your opponent's butt given the net is only 34 inches high.
While there were previously some faint pickleball lines on one of the old tennis courts, the new outdoor court area has two dedicated tennis courts, with a third tennis court being clearly marked out as two pickleball courts. The courts and surface were new in the summer of 2023, and our only complaint is that the third court is also painted to match the other two tennis courts, instead of clearly painting the colored surface to completely match in with the painted pickleball court markings.

Location of the new Sun Peaks Pickleball Courts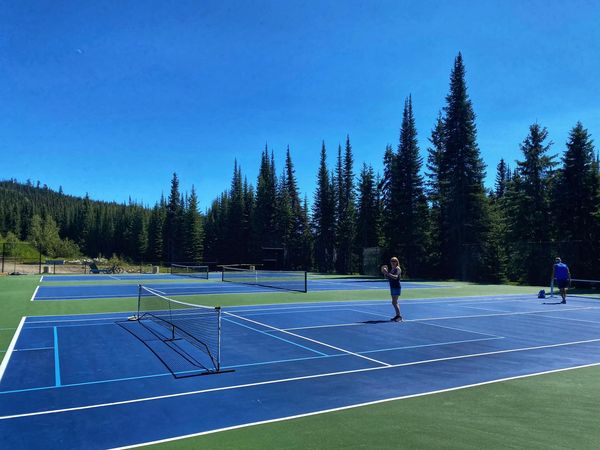 In July of 2023, the Sun Peaks tennis and pickleball courts were moved to a picturesque new location which is east of the main village area. They are located at the east end of P5 (overnight parking lot 5), behind the new Sun Peaks school portables. There is a short path from the gravel parking lot area to the courts, which are partially hidden in behind the trees.
The 11th hole of the Sun Peaks Golf Course can also be seen between the trees while you're playing tennis or pickleball.
While anywhere in Sun Peaks is really within walking distance of your Sun Peaks accommodation, dedicated tennis and pickleball fans may want to stay in the following vacation rental complexes that are just a 'stone's throw away:
- Trapper's Landing
- Trail's Edge
- Stone's Throw
- Settler's Crossing
- Echo Landing, or
- Woodhaven
And because the Sun Peaks Pickleball courts are located in behind the school portables and a line of trees, that annoying 'ting, ting' sound that is causing problems at many urban courts is not really a problem given this great new location.
While rental paddleball rackets are currently not available, guests of our nearby Stone's Throw 3 bedroom condo or our Trapper's Landing 4 bedroom townhouse will be able to use our 4 player Pickleball racket set that we recently purchased for our guests to enjoy.
Return to Best Sun Peaks Summer Activities
Return to Best Sun Peaks Free or Low-cost Activities
Return to Stone's Throw 3 bedroom Vacation Rental
Return to Trapper's Landing Vacation Rental
Save on Sun Peaks Accommodation
Return to Best Sun Peaks Home page