Sun Peaks Tennis & Pickleball Courts - To Love

Enjoy the 'free-to-use' Sun Peaks tennis courts with beautiful mountain views
There are 2 Sun Peaks tennis courts (side by side) that are available for locals and/or guests to use.  They are located right beside the new Sun Peaks Sports Centre by the new covered Sun Peaks skating rink (2020)  and pool (when it is open), and just across the road from Sun Peaks village and the Village Walk townhouse complex.  Timberline Village is also right next door for guests that are staying there.
The courts open up early in the spring and remain available up until the snow flies in the fall.  They are free-to-use but on a first-come, first gets to serve basis.  If others are waiting for a court, please be courteous. If you do want to be able to enjoy the Sun Peaks tennis courts at a specific time, you can book via Sun Peaks Alpine Fitness for a cost of $15.00.  It's best if you have your own tennis rackets and balls (we leave some for our Trapper's Landing guests to use) , but you can also rent them from Alpine Fitness for $20.00 (for 2 rackets and balls) and if you pay cash, $5 is returned once you bring back the equipment. 
Sun Peaks Tennis and Pickleball courts too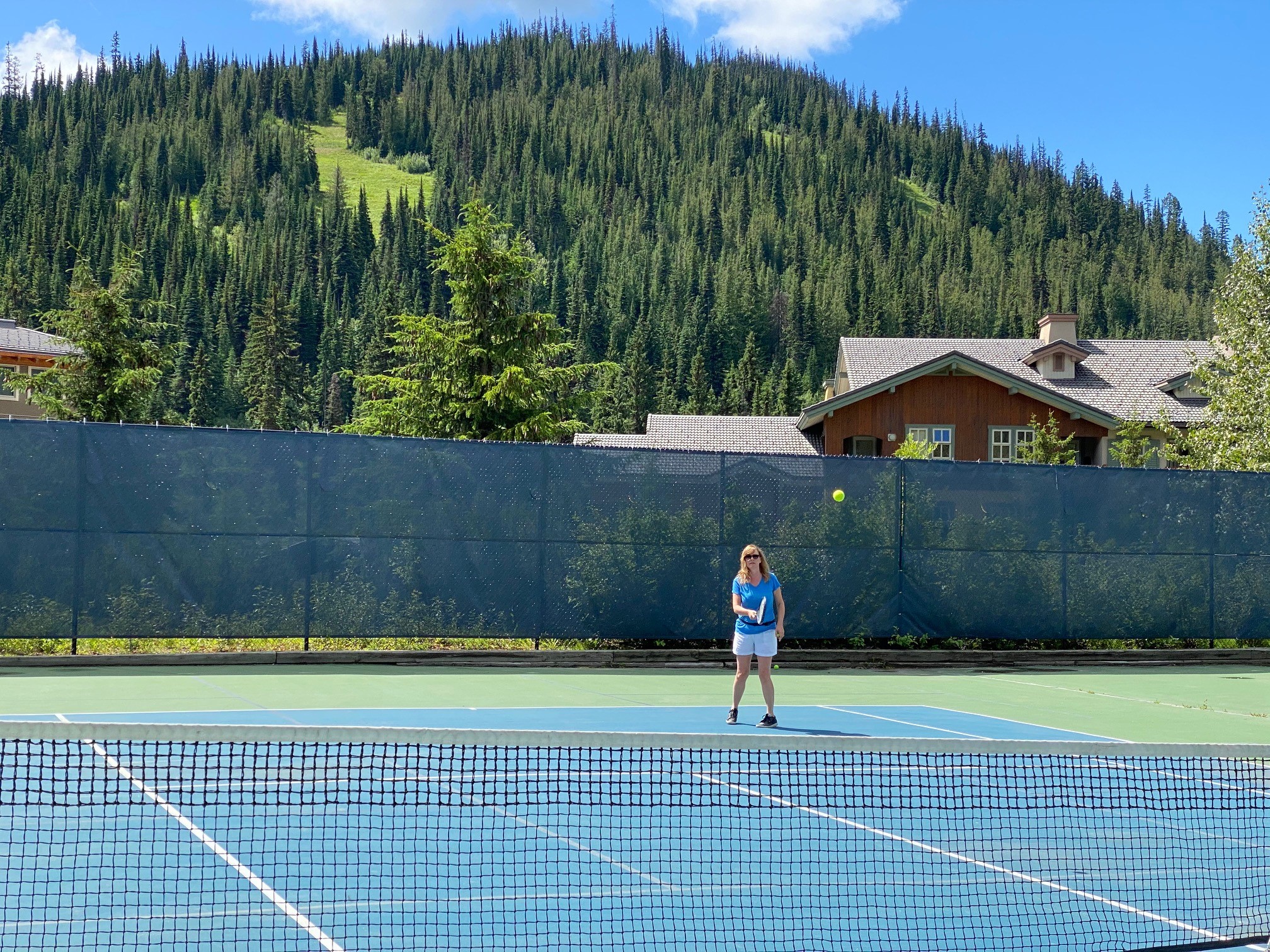 Pickleball is also growing in popularity, and there are faint lines painted on the Sun Peaks tennis courts for those who want to play that.  There are also portable pickleball nets available, and the rackets/balls can be rented from Alpine Fitness at the same rates as the tennis equipment listed above.  A group of Sun Peaks locals is currently rallying the municipality to repaint the pickleball lines again, or even better, create separate pickleball courts.  Hopefully they can find the funding soon for this popular sport.
The location of the tennis courts is very central to both the village and the east village accommodation area, and offers beautiful mountain views while you play.  Enjoy a game and then head across to the village to enjoy a Best Sun Peaks restaurant or Best Sun Peaks patio.
The operating hours for Alpine Fitness vary depending on the season, so if you want to reserve a Sun Peaks tennis / pickleball court or have any questions, be sure to call or email them ahead of time at (250) 572-5136
Book your Best Sun Peaks Accommodation near the tennis courts
Return to Best Sun Peaks Spring activities
Return to Best Sun Peaks Summer Activities
Return to Best Sun Peaks fall activities
Return to Best Sun Peaks FREE activities