Beautiful Settlers Crossing Sun Peaks 2 Bedroom, 1 Bathroom condo with private hot tub and easy ski-in/ski-out

Beautiful Settlers Crossing Sun Peaks 2 bedroom ski-in/ski-out condo with private hot tub
---
2 Bedroom, 1 Bathroom Sun Peaks Condo in Settler's Crossing, Excellent Ski-in/Ski-out Location, Tree-Filled Views, Private Hot Tub, Family-Friendly Vacation Rental, Sleeps 4


---
#7 Settlers Crossing Sun Peaks is a wonderful & cozy 2 bedroom, 1 bathroom condo in such a great location that you will always want to return here both again and again in summer and in winter!   It is quiet, private and surrounded by nature, yet just a 15 minute stroll (or free winter shuttle bus) to the main village along the pretty Valley Trail tree-lined, lit path.  
Situated just east of the main village and right across from the free toboggan hill, snowshoe trails, nordic ski centre, mountain bike trails and both the Morrrisey Express and the Orient chairlifts, this is a dream location for those who want immediate access to the hills. 
Step out of your Settlers Crossing Sun Peaks front door, grab your skis or snowboard from your exterior ski locker, walk past the trees, strap on your gear and ski right down to your choice of ski lifts both of which will give you easy access to the main village. 
This Settler's Crossing Sun Peaks condo offers so much more than just punching in a code and walking into a property. A small gift of essential items will welcome you on arrival, property information will be sent to you five days before your check in, and the friendly owners are always available via phone or email to answer all of your questions. Local tips are provided to help you make the most of your stay, and the condo is fully stocked and set up by caring people who have spent a lot of time personally living in it before opening it up for vacation rentals.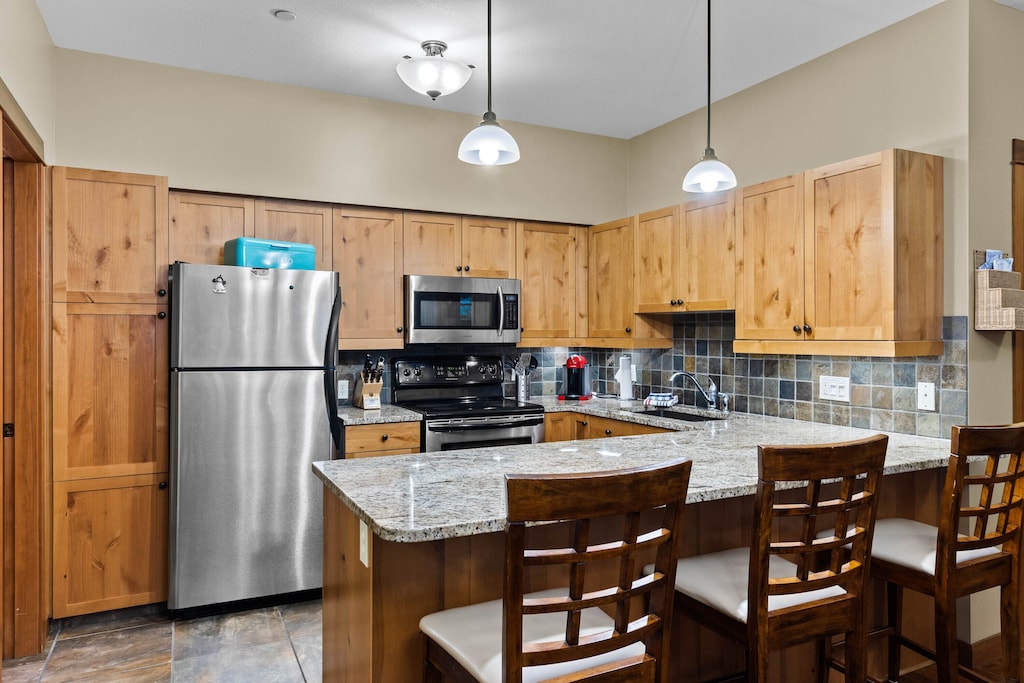 Well-stocked Settler's Crossing kitchen
For those who like to cook while enjoying beautiful Sun Peaks Resort, the kitchen is fully stocked with all of the appliances you might need, including a Kitchen Aid mixer for you to make all that delicious bread you perfected during Covid. What's more, there is a grocery delivery service in Sun Peaks that will drop off all of the ingredients you need for your recipes (or the drinks you need for enjoying while preparing your great meals) . For the mornings, you have a choice of a drip coffee machine or a Nespresso Vertuo machine with a few complementary pods on arrival. If cooking isn't your thing, we can recommend many nearby local Sun Peaks restaurants and a wonderful deli that makes delicious meals for you to heat up and enjoy at home.  They also provide an air fryer, slow cooker/crock pot, and plenty of everything else you need in the kitchen
This Settlers Crossing Sun Peaks condo is very private and has a good amount of tree screening you from the adjoining Sun Peaks Resort Golf Course, which turns into your ski in ski out path over winter. Relax and enjoy the snow settling on the pine trees or watch the widescreen television while sitting in front of the natural gas fireplace.  This is a true ski in, ski out location, and it is a really beautiful trip off Sundance Mountain, down Rambler, the East Village Ski Way and right to your front door. Securely tuck away your ski gear in the private ski storage locker prior to hopping into your private hot tub!
Super convenient and easy ski-in/ski-out right at your front door - there's no diving through trees and cross country involved. If they can do it, trust us - you can too!
A washer/dryer is also provided for your convenience, and their slopeside home is stocked with everything you need for your family to enjoy a wonderful Sun Peaks Vacation.
A secure underground parking spot is reserved for you, and there is also a secure bike locker to safely lock away your mountain bikes while recharging and getting ready to hit the amazing wildflower-filled alpine slopes again.
Owners Bianca and Daniel have ensured their Settlers Crossing Sun Peaks condo is well stocked & family-friendly, and as always with BestSunPeaks, offer excellent service to their guests.  Their second, larger property in Settler's Crossing is also available for rent and will be listed here soon.
Enjoy the private tree-filled views from your private Sun Peaks slopeside hot tub
Their 2 bedroom slope-side condo offers one secure underground parking spot and additional over-height and/or over night parking is available across the street in the P5 parking area.

The village is just a leisurely 10-15 minute stroll away along the Valley Trail network and the free ski shuttle bus stops right out front during the main ski season. 
Sorry no pets, and there is no smoking in the condo or anywhere in the Settler's Crossing complex.
The owners of this beautiful Sun Peaks condo are very responsive and have made sure it is well-stocked and family-friendly.
The open floor plan condo comes fully stocked with everything needed to ensure you have a 'Best Sun Peaks' vacation! 
For Sun Peaks summer vacations, Settler's Crossing is also located on the 16th fairway of the Sun Peaks Resort Golf Course, which boasts of having the highest elevation tee in BC.
Book this Sun Peaks Settlers Crossing condo direct with the owners through BestSunPeaks for Best Sun Peaks pricing and save 10-20 % or more compared to the VRBO or Airbnb pricing on this wonderful 1 bedroom condo - see the Settler's Crossing contact form below.
---
---
  Settlers Crossing Sun Peaks Condo - Guest Reviews Coming Soon
This wonderful 2 bedroom Sun Peaks Settler's Crossing vacation rental was just added to the rental pool during the summer of 2023 - great reviews will be coming soon.

For more up-to-date reviews once they are added, see below:

---
Sun Peaks Settler's Crossing Condo - Photos
Click on the area below to view the full Sun Peaks Settlers Crossing condo Vacation Rental photo album on Houfy, or scroll down to see additional photos of this beautiful condo.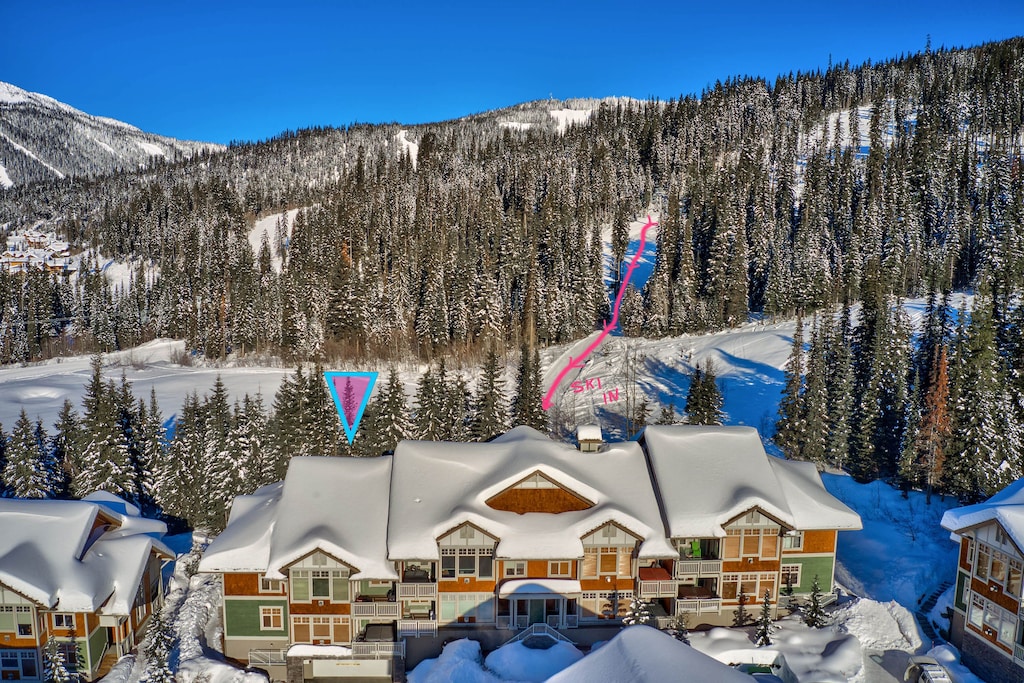 View of Sun Peaks Settler's Crossing condo & ski-in/ski-out location
- family-friendly 2 bedroom Sun Peaks Settler's Crossing condo - ski right to/from your front door!
- beautiful mountain views with privacy provided by a row of trees 
- free underground parking space, ski storage locker right by your front door and secure bike storage below
- just steps from the slopes, free toboggan hill, nordic ski centre, snowshoe trails & mountain bike trails
- private hot tub between the trees and the slopes
- Just steps from the village but close to everything
Bright & comfortable living room - watch the fireplace, tv, or snow settle on the trees outside your front door
- wonderful open concept living room with plenty of room
- access to your private hot tub 
- warm, filtered light through the many windows behind a line of trees providing privacy
- gas fireplace
- flat screen television and entertainment area

- comfy leather furniture




Settler's Crossing open concept kitchen and living area
- well-stocked kitchen with plenty of cupboard space
- bar counter with seating for 4
- dining room table for 4 (picture coming soon)
- supplied with all you need to prepare amazing meals and great coffee
- open concept with tile floors in the kitchen and hardwood in the living room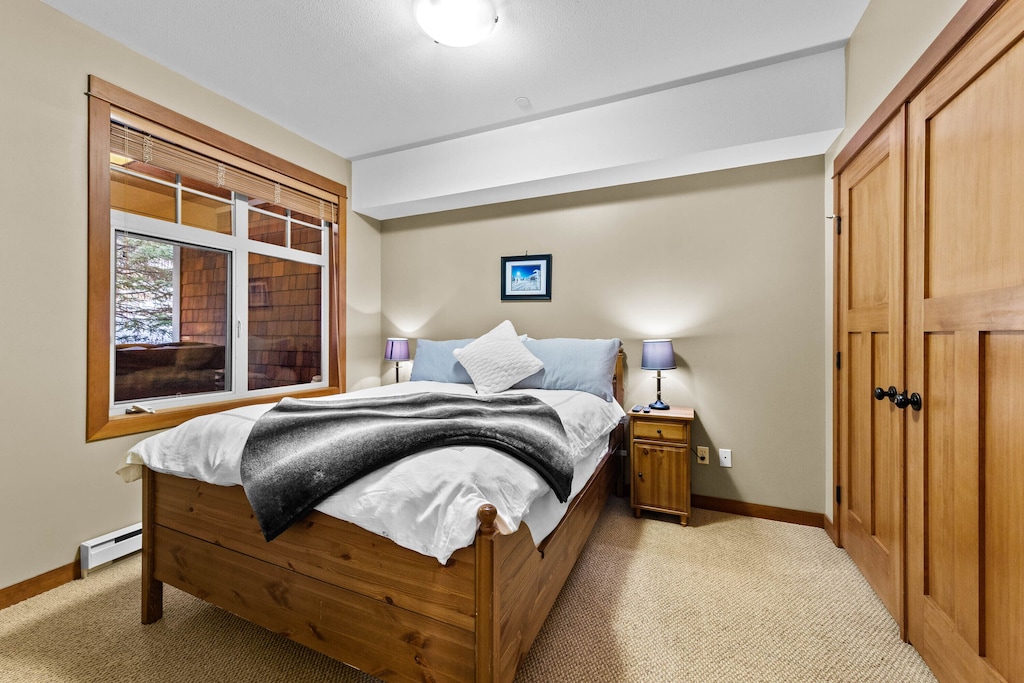 Settler's Crossing Primary bedroom with queen bed & hot tub views
- spacious master bedroom with queen size bed 
- comfy mattresses & pillows with high-quality linens
- views of your private hot tub 
- warm lighting with tree-covered mountain views
3 piece master bedroom ensuite
- 3 piece bathroom with access from the master bedroom or the living area

- tile floors
- insuite laundry (in the 2nd bedroom)
- soaker bath tub and shower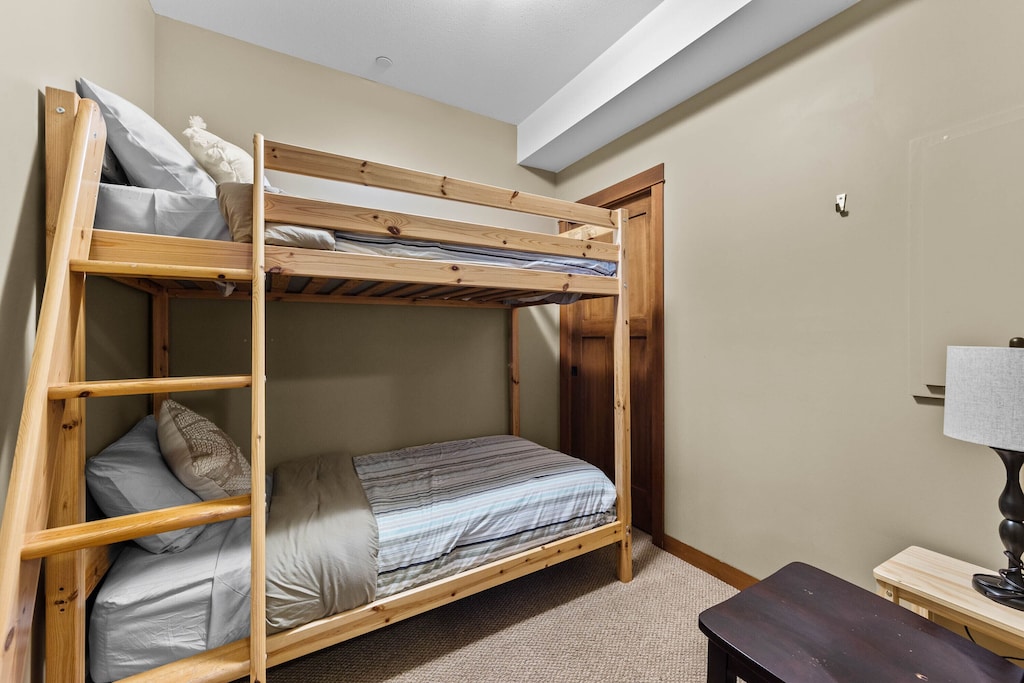 Settler's Crossing 2nd bedroom with twin bunk bed
- comfortable 2nd bedroom with twin bunk bed
- soft carpeting
- nearby 3 piece bathroom
- comfortable mattress and pillows with luxurious new linens
- washer & dryer provided behind the sliding door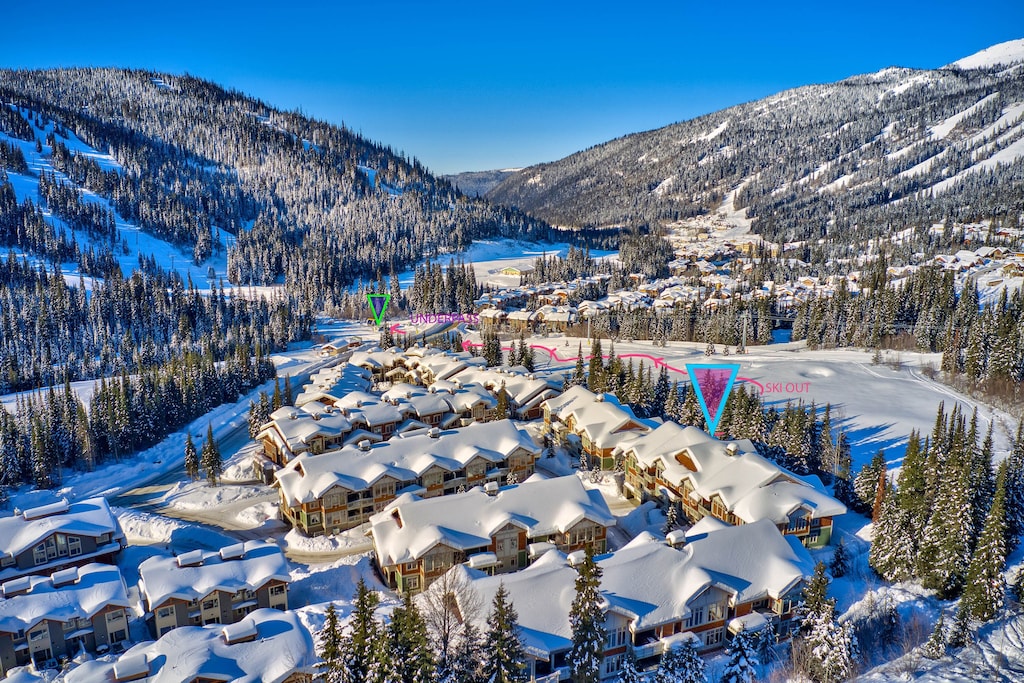 Ski-in/Ski-out can't get any better than this!
- exterior ski/snowboard ski locker
- secure bike storage locker in the underground parking area
- access to the Orient and Morrisey chairlifts is just steps from your Settlers Crossing Sun Peaks front door
- easy access to the main village with a free shuttle bus provided during the main ski season

- Great East Village location - just steps from the village but close to everything!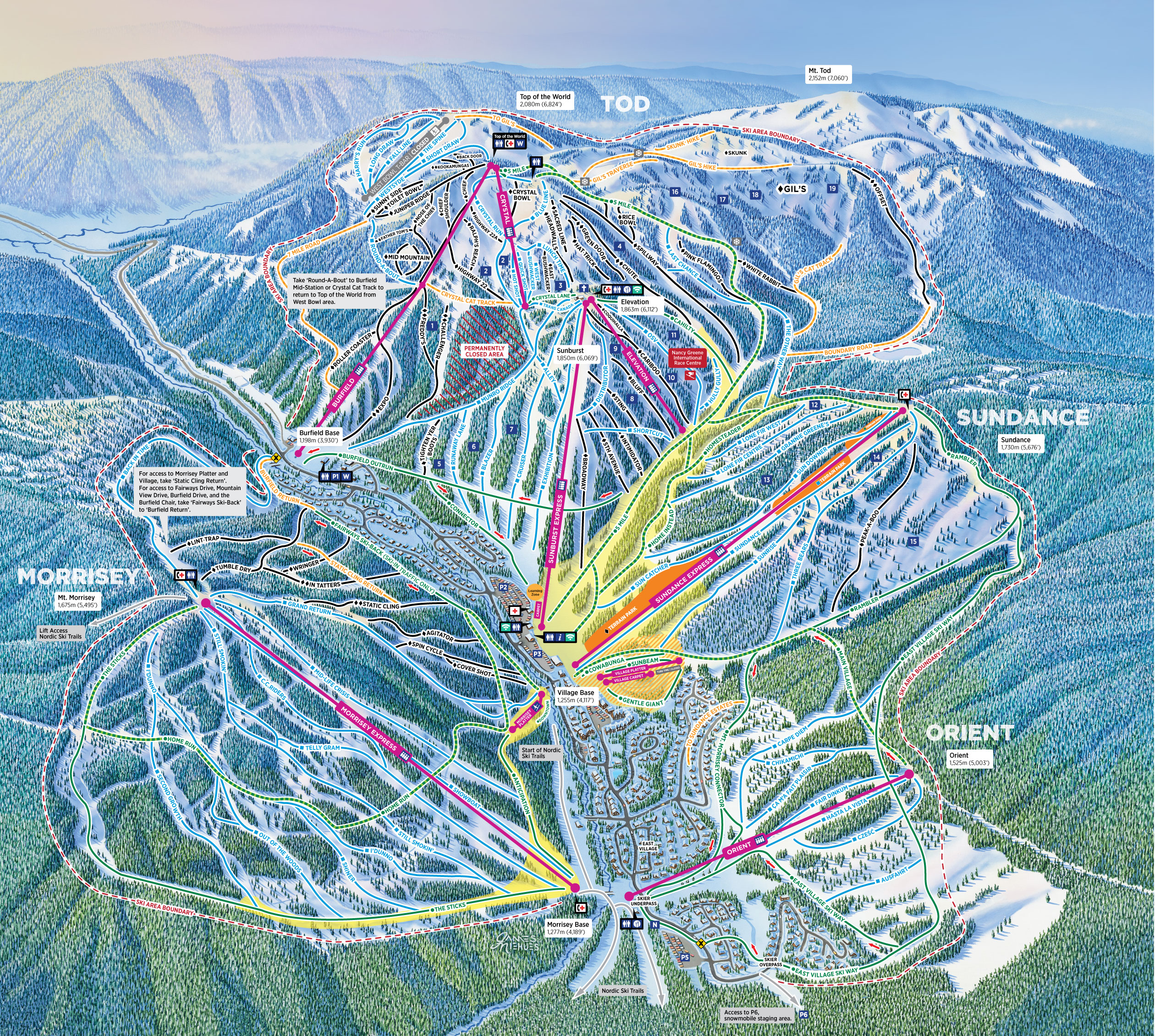 - easy access to ski-in/ski out routes (ski right to your door at the end of the day)
- 4,270 acres of skiable terrain, 2nd largest alpine ski area in Canada
- 2,800+ feet of vertical
- 2000+ hours of sunshine and 230+ inches of famous champagne powder each year
- affordable lift passes, multi-day passes and season tickets
- 138 trails and growing, including 19 gladed areas, 13 lifts, and minimal line-ups at any time!
- Many winter activities for all levels of skiers and for non-skiers
- four season outdoor paradise with many spring, summer and fall activities as well
---
Settler's Crossing Sun Peaks Nightly Rates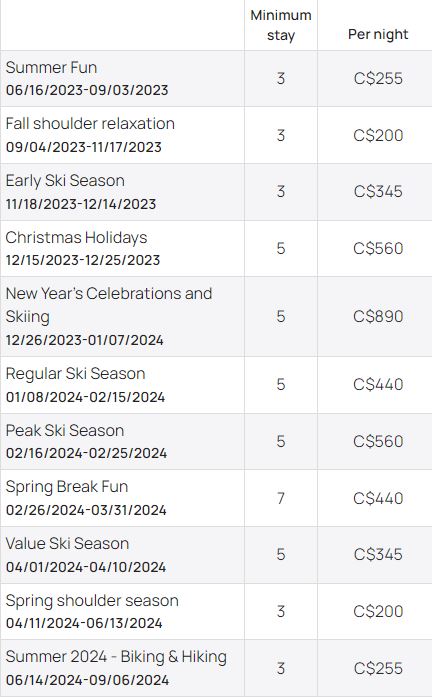 Guests may book direct with the owners for best rates and will avoid having to pay the hidden VRBO and AirBnb booking fees that saves you 10-20%. 
All prices are per night. Plus applicable Taxes

2 Nights minimum stay except as noted above
Weekly discount 10%, monthly discount 10%
Cleaning Fee $150/stay
Damage Deposit - refundable $ 500
Prices and availability are subject to change and can only be confirmed once you complete and submit the Sun Peaks Settler's Crossing Condo inquiry form below for final pricing and availability inquiries direct from the owners of this beautiful condo.
25% deposit required to confirm the reservation, balance is due 30 days prior to arrival.
No smoking, no large gatherings or parties.
No pets
Cancellation policy: Full refund for cancellations up to 30 days before check-in. If booked fewer than 30 days before check-in, full refund for cancellations made within 48 hours of booking. After that, 50% refund up to 7 days before check-in. No refund after that.

NO OTHER SERVICE FEES APPLY  FOR THIS VACATION RENTAL (such as on VRBO and AirBnb)
NOTE: If you need an additional and/or larger home in Settler's Crossing for your family or group, ask us about renting our second property - #27 - which is just a 2 minute walk (or less) along a side path from #7.
---
---
---
Settler's Crossing Sun Peaks Calendar & Availability
---
Sun Peaks Settler's Crossing -  Houfy Vacation Rental Site
We are pleased to have this beautiful slopeside 2 bedroom Settler's Crossing Vacation Rental listed on a new site called HouFY (House For You), which provides an easy to use, unique and enhanced experience to list or find vacation rental properties.  It is similar to VRBO/Homeaway and Airbnb, except better since there are no booking fees or communication restrictions, which will save you 10% or more. 
Houfy is easy to use and you can save money on many properties around the world and book your vacation rental direct with the verified owners using this growing rental community platform.

Contact the owners directly for information on this condo using the contact form.  If you require other quotes too, we are happy to help.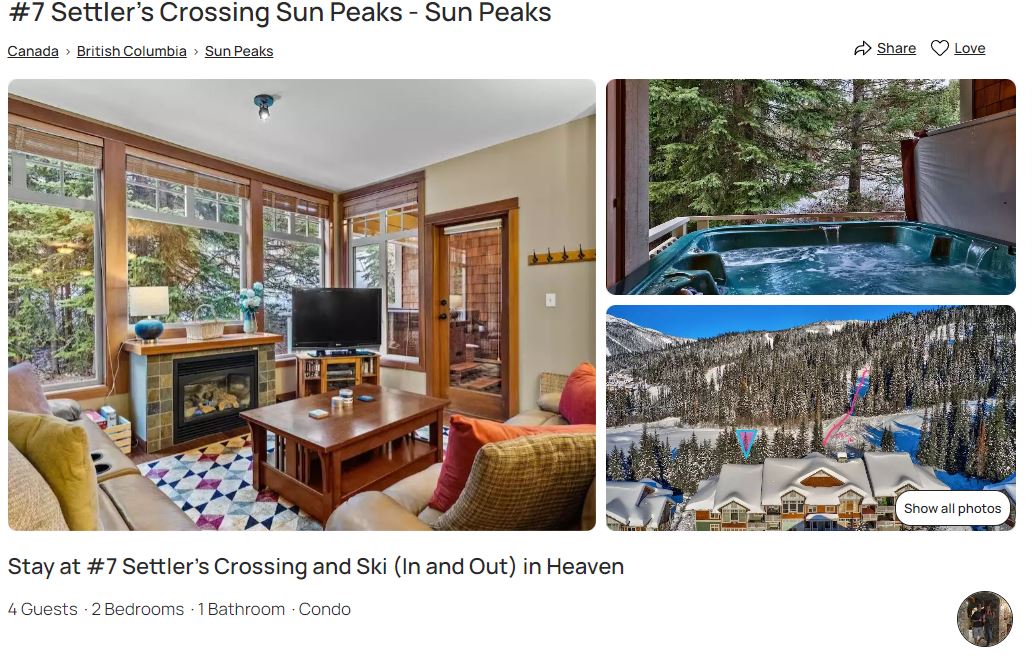 View the Slopeside condo on Houfy - no booking fees
Contact us if your preferred dates are unavailable, or if you wish to look at other options where you can save up to 10% on dozens of other Sun Peaks rental condos, townhouses or chalets managed by Top of the Mountain.
We work with other Sun Peaks Vacation Rental by Owners as well - contact us with your accommodation needs and we will do our best to help.
Return to Best Sun Peaks Vacation Rentals

Return to Best Sun Peaks Home page