Sun Peaks Spring Skiing – it's the most wonderful time of the year!  Or is it?
Best of Sun Peaks Spring Skiing with Nancy at the Umbrella Cafe
To some, Sun Peaks Spring Skiing brings sadness, knowing that another most amazing Sun Peaks ski season is drawing to a close.  That the wonderful champagne powder that they have been within fall and skiing on for the past 5 months will soon be melting away and flowing into the reservoir to top up the resort water supply, or will be flowing into the creek and downhill to the Whitecroft waterfall and beyond.
But to others, it is indeed a fun and exciting time!  There are still more days to enjoy some incredible turns; many popular Sun Peaks winter activities, like snowshoeing, tobogganing, dog sledding and snowmobile tours can still be enjoyed; treasures can be found (and turned in to guest services) as the snow slowly recedes under the chairlift where phones, ear pods, wallets, keys and more can be found. 
And it's also an exciting time of renewal – with the melting snow comes an explosion of life as colorful wildflowers being to awaken in readiness for another spectacular summer wildflower display, and the grass on the Sun Peaks Golf Course, long dormant, begins to grow and return to 50 shades of green.
And Sun Peaks wildlife begins to emerge – bears will awaken soon where they can then be seen enjoying all the fresh grass down low before heading up high as summer guests begin to arrive for some incredible outdoor fun.  The birds and the bees begin to happen – our resident foxes will soon emerge with their kits in search of those tasty ground critters, and deer will once again be roaming the hills and the streets.
Sun Peaks Spring Skiing is also the time to shed a few layers of your well-worn ski gear.  A time to remember to slather on your sunscreen and massage your lips with SPF lip balm, and clean off your Ray-Bans  in readiness for the warm, afternoon sun spent enjoying the early afternoon apres-ski on your favorite Sun Peaks patio.
---
5 Best Reasons To Love Spring Skiing at Sun Peaks
1 - The weather! More sunshine and bluebird days to enjoy during Sun Peaks spring skiing.  Lose the many layers of clothes that you need during the winter.  No need to use hand warmers or toe warmers, and no need to rush into the lodge to warm up or go for hot chocolate, unless you want to of course. Longer days also means better light on the runs, followed by beautiful apres-dinner sunsets.
2 - The prices - the savings!  Sun Peaks Accommodation is discounted - same great places with hot tubs but priced to attract more spring skiers.  The local retailers begin their end of season sales - great deals for upcoming birthday gifts, early Christmas shopping, or to be ready and looking good for the next ski season.. Purchase your Best Buy season pass as soon as they are released and start using it for spring skiing, then summer hiking, then for the whole next ski season.  Besides the great price, there are lots of other perks to being a season pass holder.
3 - The line-ups!  Or lack thereof. Get more turns for your dollar with short to no lift lines during Sun Peaks spring skiing and have the runs to yourself as you continually ski top to bottom and fine-tune your skiing or boarding skills.
4 - The snow.  March usually brings more snow.  Not the big dumps of champagne powder that may come during the winter, but nice top-ups of 3-10 cm each night that falls on top of the newly-groomed runs.  Given the possibility of melt and freeze cycles, the groomers do a fantastic job overnight of getting the fresh corduroy ready for the early-risers.
5 - The ski resort vibe!  Goggle tans.  Everyone sitting in t-shirts on the patio, sunglasses on, enjoying a frosty beverage or two and enjoying the countdown to Sun Peaks summer golf, hiking and biking at the resort.  The Sun Peaks spring skiing sunshine brings great people watching opportunities and ear to ear smiles with friends & family.
---
        Other 
Sun Peaks Spring Skiing Tips:
No matter whether you are happy or sad about Sun Peaks spring skiing, it's best to follow these simple spring skiing tips to make the most of these glorious, sunny, bluebird ski days before they are gone!

-          Come on up!  Like we said above, Sun Peaks accommodation providers have discounted their rates to attract spring skiers, and the hot tubs are still ready to enjoy at the end of your great day of spring skiing.
-          Remember sunscreen and lip balm, or pop into one of the retailers or stores like the Bluebird Market if you forgot yours.  The reflection of the sun on all the remaining blow will fry your virgin skin to a crisp in no time!
-          Check out the local  Sun Peaks retailers, like McSporties, Jardines and Freefall, for special offers with big discounts on ski gear and winter clothes.  Support your local small business!
-          The cold mountain nights and warm, sunny afternoons that Sun Peaks is famous for (2,000+ hours of sunshine each year) tend to create quite the freeze/thaw cycle, so be careful in the morning as you walk to your car, through the village and along the trails, and when you hit the slopes.  
-          Even with the freeze and thaw cycles, the Sun Peaks groomers continue to do an amazing job with whatever snow there is.  Remember to check the online list of freshly groomed trails before starting your day, and get your turns in before the snow is turned to slush by the crowds. 
-          Consider refreshing your wax – the slush is not fun to ski on if your skis are not ideal for the conditions.
-          Think about where to ski and when.  As the sun warms up the face of Tod and Sundance Mountains, Morrisey remains in the shade so many locals head over to enjoy the many snow-filled and wonderfully gladed runs over on the 'dark side.'  But sshhhh – don't tell anyone.
-          Skiing in spring (maybe icy, maybe slushie, maybe corn-type snow, or maybe all) conditions can be different than you're used to so consider a spring skiing session with a certified Sun Peaks instructor.
-          Locals know their local hill.  And Sun Peaks has a lot of locals that know where the best spots to ski are at the best times.  And best of all – Sun Peaks Sun Hosts are available free of charge to show you the best places to enjoy spring skiing in Sun Peaks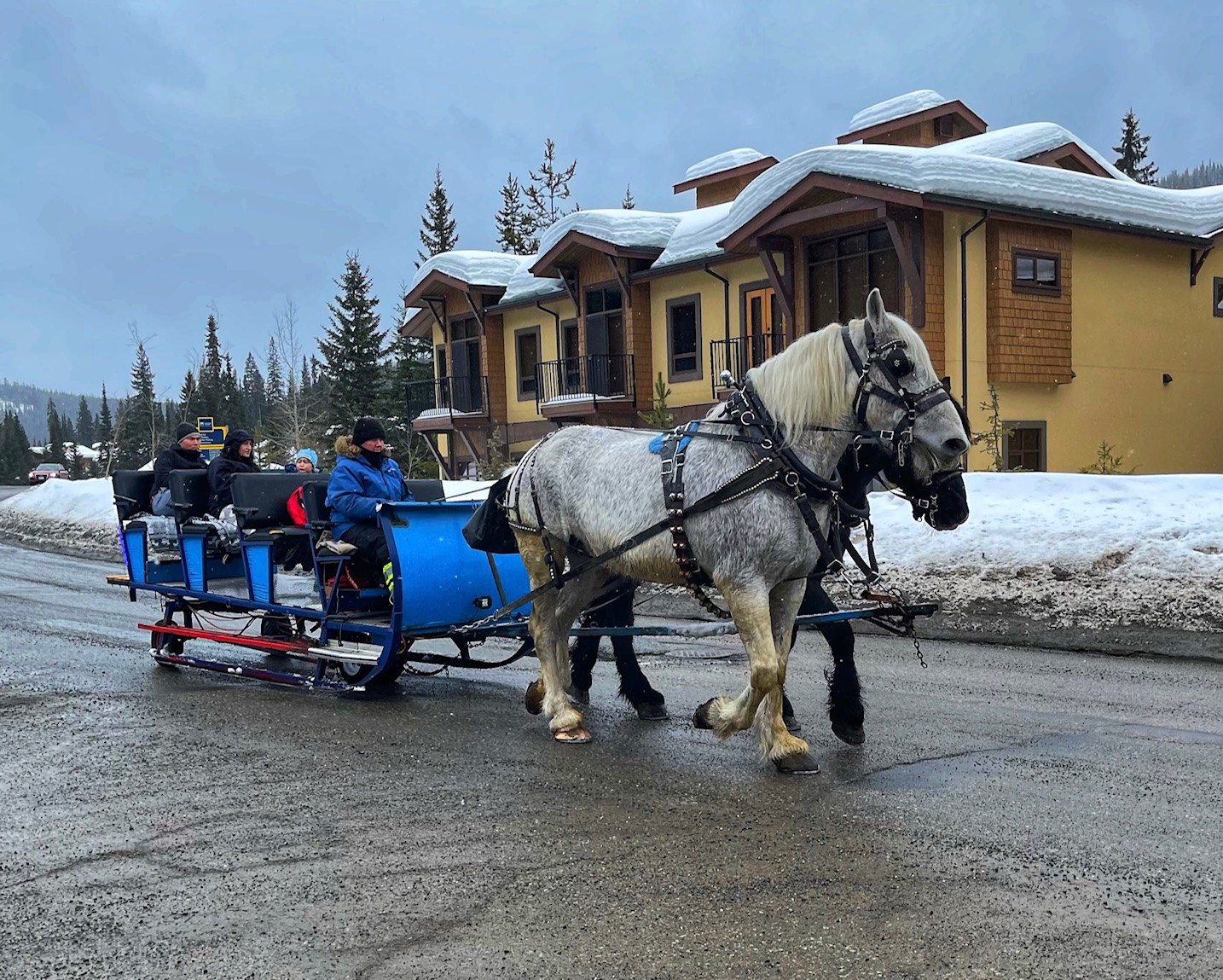 Sun Peaks Spring Activities keep operating for as long as they can!
While you're over on Morrisey, don't panic if the roof of the Umbrella Café seems to be missing – its' a convertible! 
The umbrella roof is lowered on beautiful bluebird days so everyone can enjoy the sun during Sun Peaks spring skiing!
And remember, as the snow slowly (or quickly) disappears, and the resort slows down in preparation for the awesome summer season, there are still many Sun Peaks Spring Activities to enjoy!
Back to Sun Peaks Best Spring Activities

Plan your Sun Peaks Summer Vacation – golf, bike, hike, SUP, Sip, water activities and more
Book your Best Sun Peaks Accommodation
Return to Best Sun Peaks Home Page.