The Sun Peaks Valley Trail Network
Valley Trail Signage near the Umbrella Cafe
The Sun Peaks Valley Trail Network is a low grade, lighted trail network that includes both mainly paved and some unpaved sections and is shared by walkers, joggers, cross-country bikers, Sun Peaks hikers, horse riders, sleigh and carriage riders, Segway riders, snowshoers, geocachers, golfers, and even babies being pushed in strollers.

This 6 km loop, highlighted in orange on the map, is the simplest of the many Sun Peaks cross-country trails and winds its way throughout the village area, from Parking Lot #5 across from Stone's Throw and Settler's Crossing, out to Burfield Drive just past the main entrance to Sun Peaks Resort.


Locals and visitors are urged, very strongly urged in winter, to use the Valley Trail to walk to/from the village instead of walking on the road.  Especially after having a few drinks! Safety first everyone!!

It is a very nice trail, which frequently passes by streams, trees (covered in snow during the winter time), golf tees, and smiling people and pets (please clean up after your pet) out enjoying the beautiful outdoors surrounding Sun Peaks. You may even spot some of our local wildlife, so always be prepared.



Sun Peaks Valley Trail Access For our Guests in Stone's Throw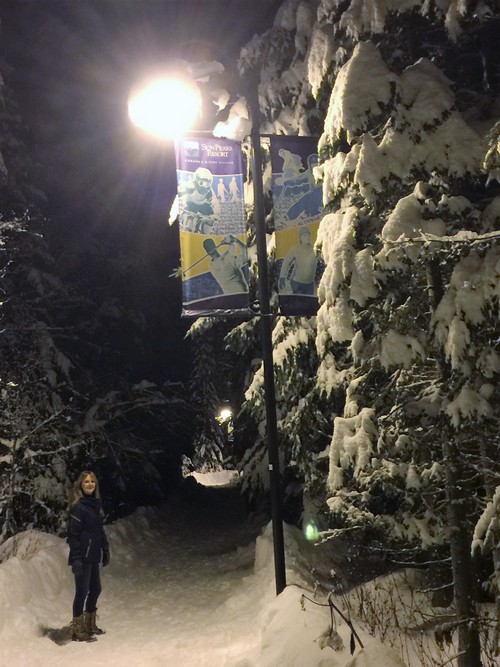 Nancy enjoying the Valley Trail at Night
For guests of our Best Sun Peaks condo, and others in the Stone's Throw and Settler's Crossing area, entry to the trail is found right by the village side of the overpass, by the 16th tee, Morrisey Connector pathway to the Morrisey Express chairlift, Orient chairlift and the Umbrella café. 
Look to your left and you will see the signpost, directly across from the stop sign.
It winds along behind the McGillivray Creek townhouses (which are directly across from our Trapper's Landing townhouse, along the golf course and comes out by the Kookaburra Lodge – right beside one of our favorite Sun Peaks restaurants – the Voyageur Bistro.

From there you can continue past the Kookaburra Lodge to the street, cross over and head into the village, cross over and check out the stores in the Fireside Lodge and then enter the village, or carefully make your way down to the Sun Peaks Village Day Lodge – easy in summer but not so much in winter when snow covers the pathways.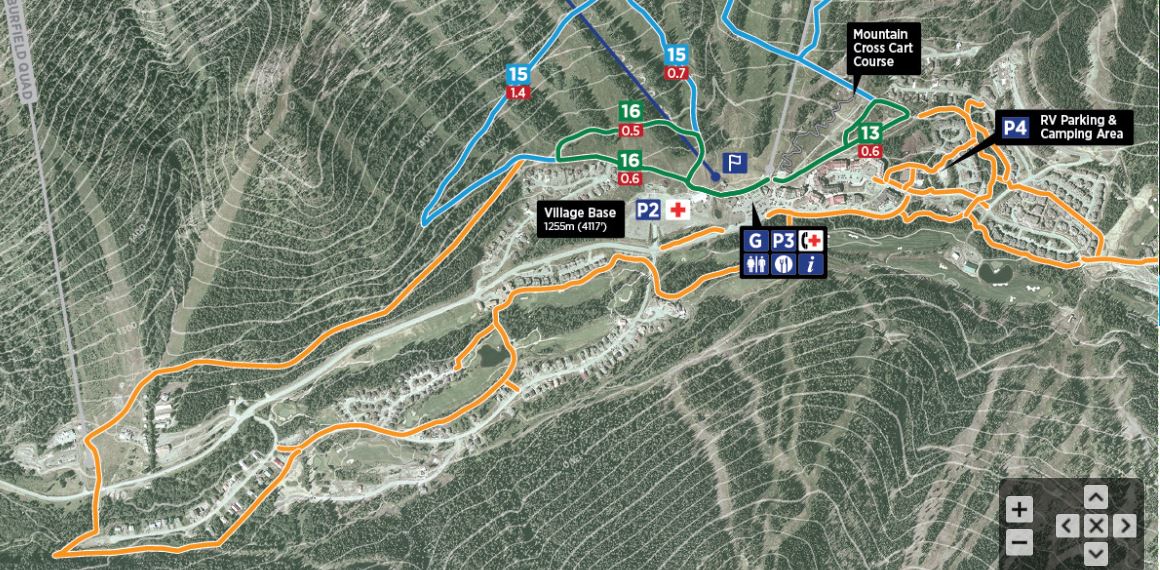 Travel the Sun Peaks Valley Trail network

Click for an interactive map of the Sun Peaks Valley Trail, as well as access to information about the other hiking and mountain biking trails at Sun Peaks.

Return to the Sun Peaks Hiking Trails page

Return to our Best Sun Peaks condo page

Return to Best Sun Peaks Home page