Beautiful Trails Edge Townhouse #4 at Sun Peaks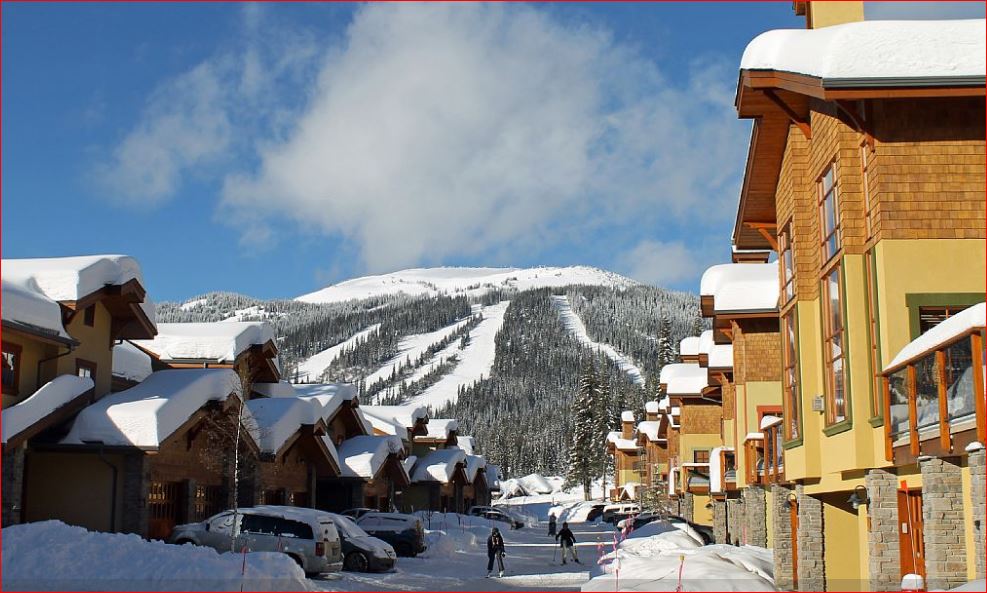 Immaculate Trail's Edge Townhouse At Sun Peaks Resort
---
Immaculate Trails Edge Townhouse with 2 Bedrooms + Den, Sleeps 9, with 2.5 Bathrooms, Luxury Upgrades, Private Hot Tub, Private Garage, Patio with Barbeque, Family-Friendly and Ski-in/Ski-out


---
This family-friendly, 3-level, ski-in & ski-out luxury Sun Peaks townhouse provides another wonderful location for your Best Sun Peaks vacation no matter the season.
Located in the popular Trail's Edge townhouse complex, these townhomes were built in 2003 and are just minutes away from the quaint ski-through village at the base of Sundance Mountain and Mt. Morrisey.  This unit is owned by friends of ours, and take as much pride in ensuring their guests have a wonderful vacation as  we do.
It is immaculately maintained, and with 1,400 square feet comes fully equipped with everything you need - elegant furnishings, gourmet kitchen, gas fireplace, private parking garage, private hot tub, a barbeque, and much more.
The entry level includes an in-unit washer and dryer and a den with a television and 2-sets of twin bunks (4 beds).
The second level has a door to your front deck with beautiful mountain views and a private back porch with a bbq and hot tub. Warm and welcoming, this floor features a 2-piece powder room, fully equipped kitchen, dining area and great room with a flat screen TV, gas fireplace and comfy pull-out couch.
The third floor has 2 bedrooms, one with a queen bed and ensuite, and the second bedroom offers a twin over queen bunk bed. Both rooms have televisions, dressers and clothes closets. There is a second full bathroom on this level.
All bathrooms, the kitchen, and entrance all feature heated tile floors and beautiful fir cabinets and doors.

Ski-in/ski-out is easy with a quick walk or walk then ski down to the Morrisey Connector and Morrisey Express chairlift, or to the new Orient Express chairlift (Dec 2018) which provides even easier access to Sun Peaks Village.  And a quiet, meandering 5-10 minute walk through the tranquil Valley Trail network (which is well-lit at night) gets you safely to the village.
The outdoor Sun Peaks heated pool and tennis courts (open in summer) and new skating rink are also just a short walk away.
For the comfort of all guests, this Trail's Edge townhouse is smoke-free and pet-free.
Click for Trail's Edge Guest Reviews
Click for Trails Edge Townhouse Photos
Click for Trails Edge Townhouse rates
Click for Trails Edge Calendar and Availability
Click to save money and contact the owners directly - discounts for longer stays will be applied



---
 Trails Edge Townhouse Reviews
We do realize that you can't please all of the people all of the time, but the owners of this Trails Edge townhouse promise to do their very best to ensure you are happy.  They have tried to think of everything that you may need, and also listen carefully and respond to the feedback from their guests. As a result, they have many Five Star reviews from their happy and satisfied guests.
A few excerpts follow, and full, detailed reviews can be provided upon request.  Book direct with the owners (see bottom of page) and save the online booking fees.


This unit had plenty of room for our family of 6. It was beautiful and well equipped with everything we needed. We cooked all our meals there and everything we needed was found in the kitchen. We appreciated having a selection of DVD's to watch and games/puzzles we could use. There were lots of sleds for the kids to toboggan with. Mary was very professional to work with. Emails were answered promptly. A few days before our stay, we were emailed info about the condo ( access code, etc). I felt very comfortable right from our initial email and would not hesitate to rent this unit again. This home was just as described. Clean, cozy with plenty of room for the family. I would recommend this place to families.  Juwol - March2016


Thank you Mary and Jeff! We really enjoyed our stay at your Trails Edge townhouse - everything was perfect for our family group of 9. Great location, clean and cozy, plus... the skiing was excellent! Another memorable vacation!.  Colleen L. - March 2016


We are a large family of eight, and we felt right at home in this well-appointed unit. The place was extremely neat and tidy -- just as in the photos -- and the heated floors kept us cozy and warm. The kids were excited to find plenty of games, movies and puzzles as well as TVs in every room. Mary was an excellent host, providing information about our accommodation and local amenities via email prior to our arrival, and checking in with a phone call to make sure everything was satisfactory once we had settled in. The hot tub was clean and hot -- quite private compared to some -- and the fireplace worked wonderfully.  Our stay at Trail's Edge #4 was everything we had hoped for and more! We will definitely recommend this Trails Edge townhouse to friends.
 Anonymous- January 2016


---
Trail's Edge Sun Peaks Photos - Comfortable Homeaway Vacation Rental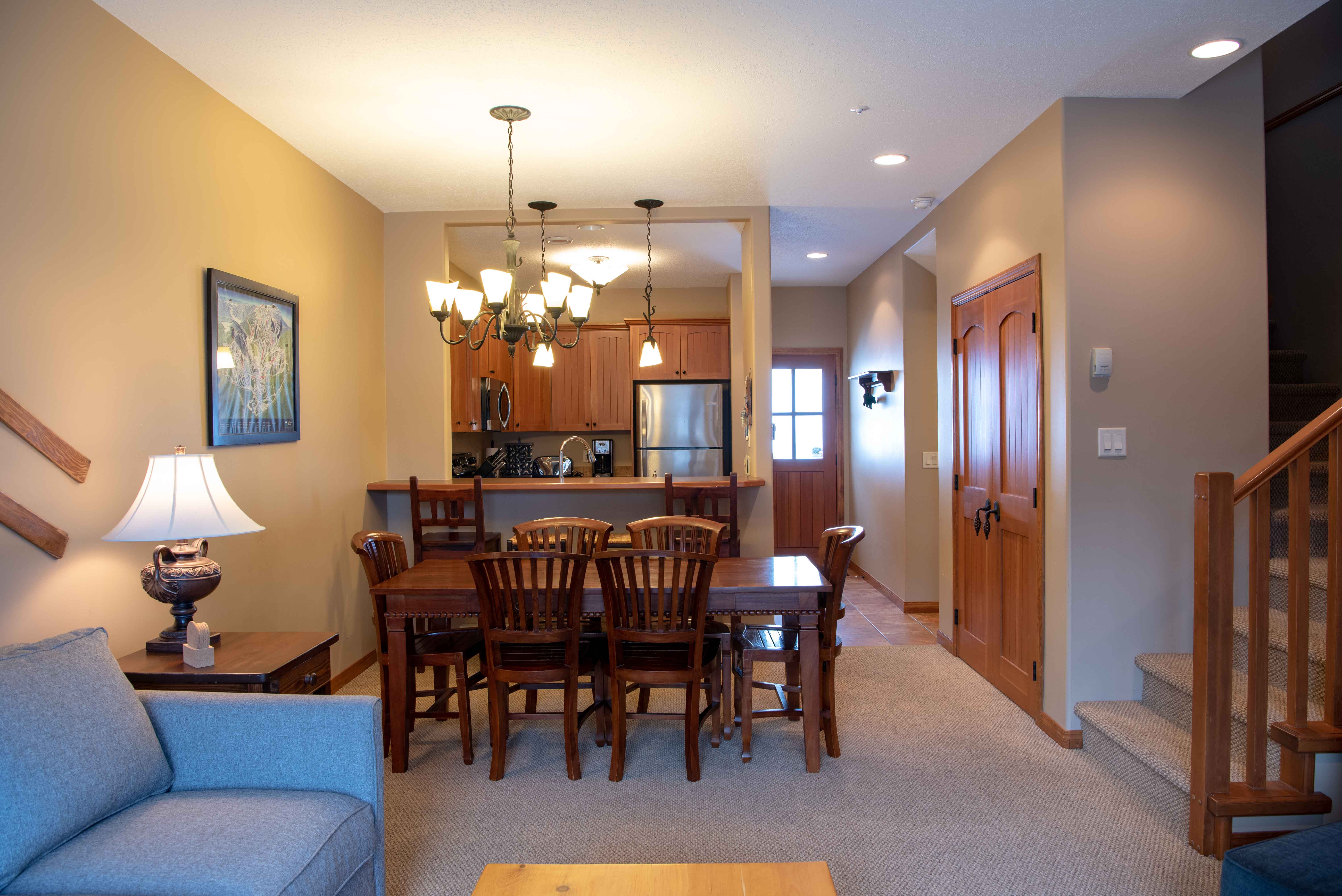 Trail's Edge spacious living room & dining area
- Popular, luxurious Trails Edge Townhouse complex
- Centrally located between Sun Peaks Village and the proposed East village with easy access to the Valley Trail Network, the Morissey Express chairlift, nordic trails, and hiking and mountain biking trails
- Beautiful views of Sundance Mountain and Mt. Morrisey

- Quiet location with mountain views from every window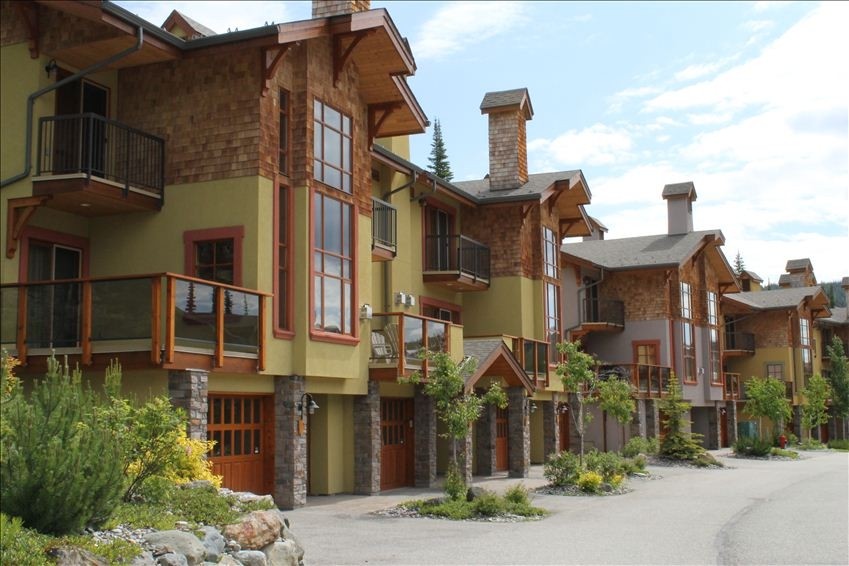 Trail's Edge Townhouses - Sun Peaks Resort
- Ski-in/ski-out via the Morissey Express or the new Orient chairlift, very near this vacation home, where the line-ups are minimal, and the skiing is typically quiet and wonderful
- Pull into your private garage and leave the car for the duration of your Best Sun Peaks vacation since everything is within easy walking distance 
- Tall windows, spacious designs, sun deck and private patio with hot tub and barbeque out back make this Trails Edge townhouse a great choice for your Sun Peaks vacation.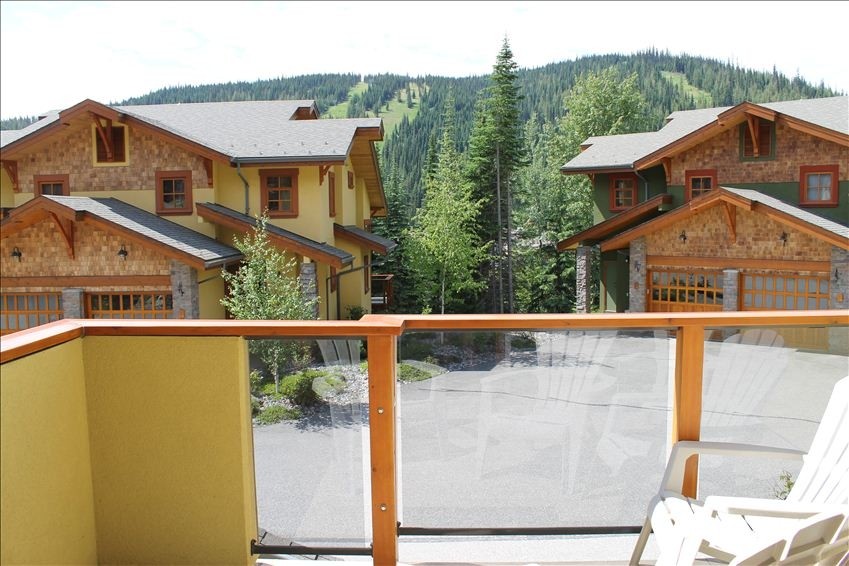 Great views off the living room deck
- Spacious sundeck, beautiful views, and wonderful fresh mountain air

- Heated tile floors in all bathrooms, kitchen and bathroom areas

- two large flat screen tv's with free movie channels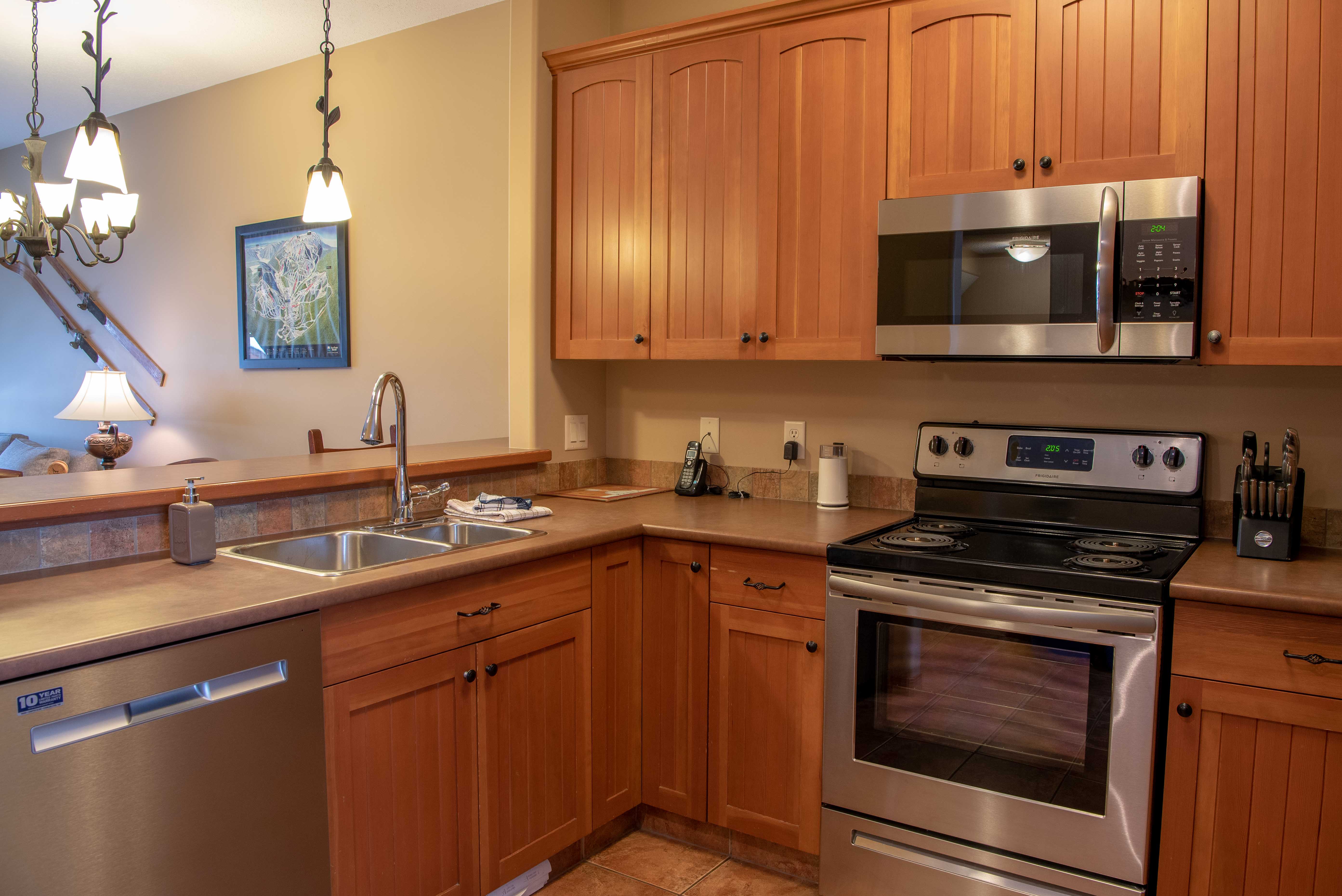 Trail's Edge clean & well-stocked kitchen
- The Trails Edge Townhouse kitchen comes fully stocked with plenty of everything - enough to prepare the simplest or the finest of meals

- Or if you don't feel like cooking, you can arrange for gourmet, catered meals to be delivered to your Trail's Edge townhouse and served by talented red seal chefs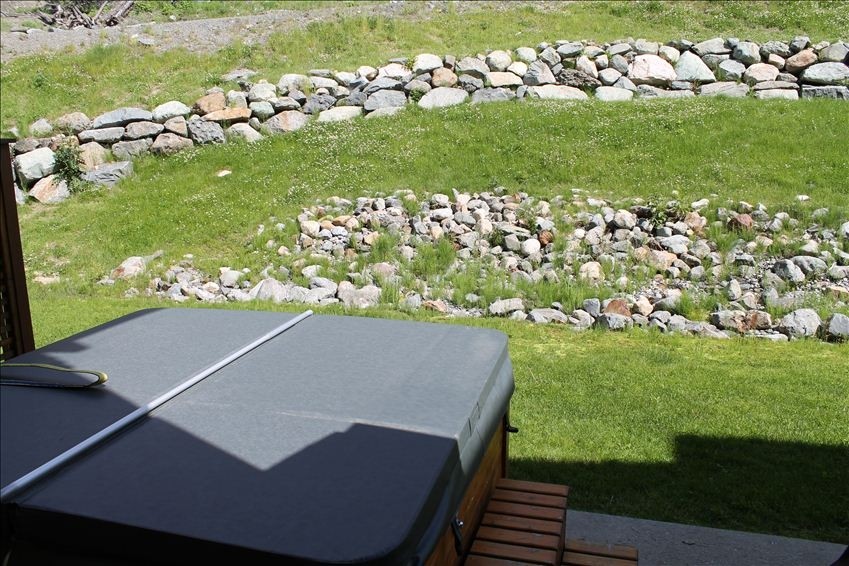 Private hot tub at your Trail's Edge townhouse
- The back patio features a wonderful, private hot tub as well as a bbq which is always a family favorite

- Relax after a fantastic day on the slopes, golf course, or a day of just taking in all the natural beauty that surrounds you in this Trails Edge townhouse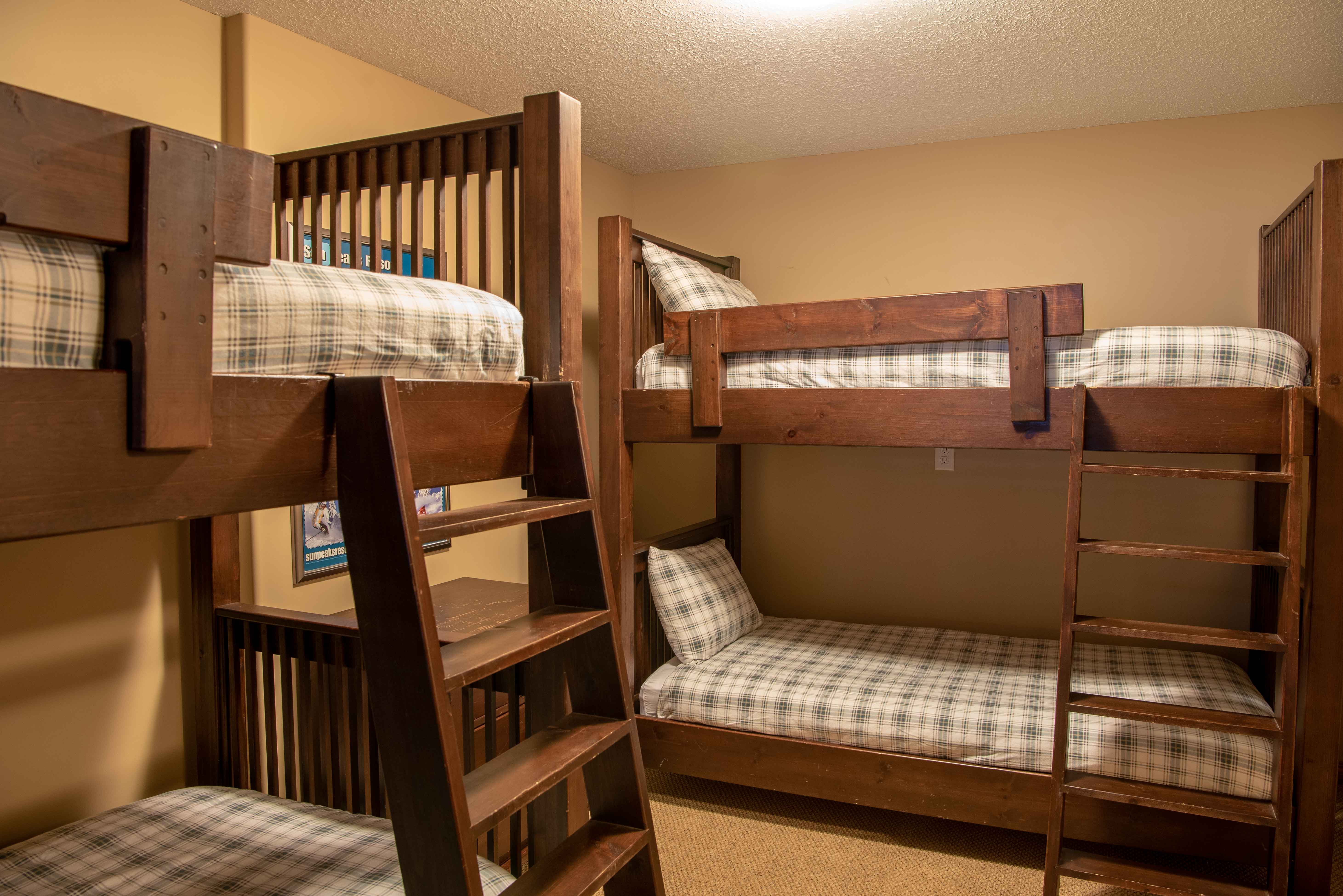 Main-level den area has 2 sets of bunks
- The Trail's Edge den is a big hit with kids of all ages (and for parents who love having the main floor area all to themselves)
- Two sets of twin-size bunk beds, tv, and privacy and quietness for all - very family-friendly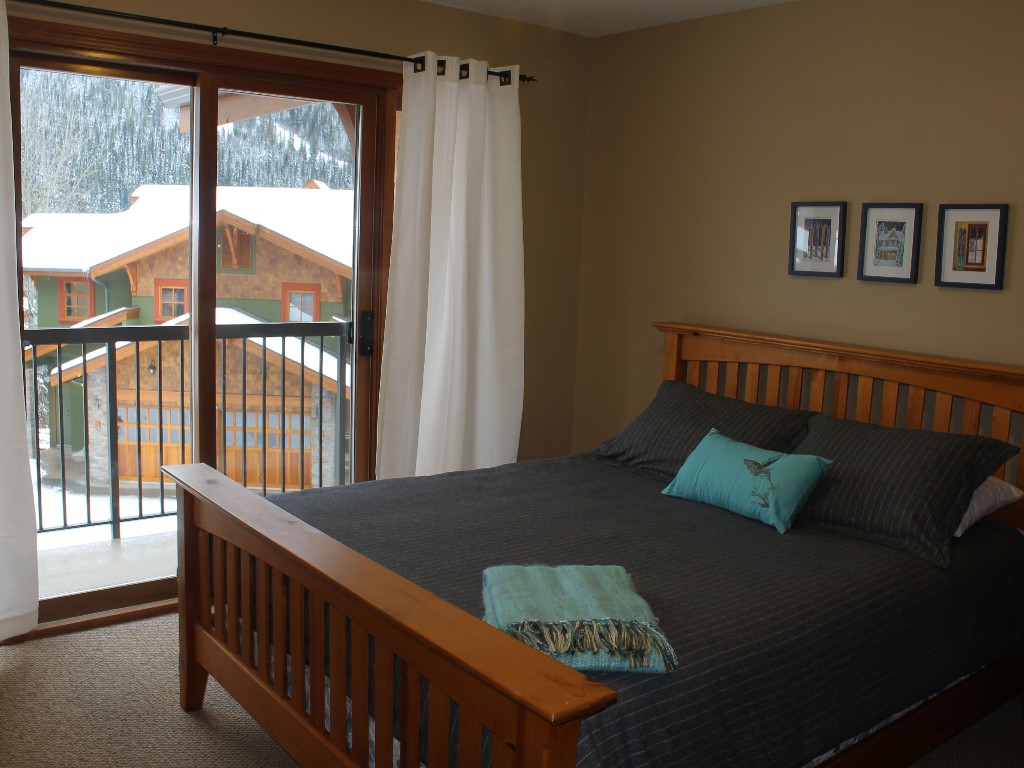 Spacious master bedroom
- Master bedroom on the third floor has a comfortable queen size bed, cupboard and flat screen tv

- Sliding, screened patio door to the spacious sundeck
- 4 piece ensuite bathroom with heated slate floors

- Large closet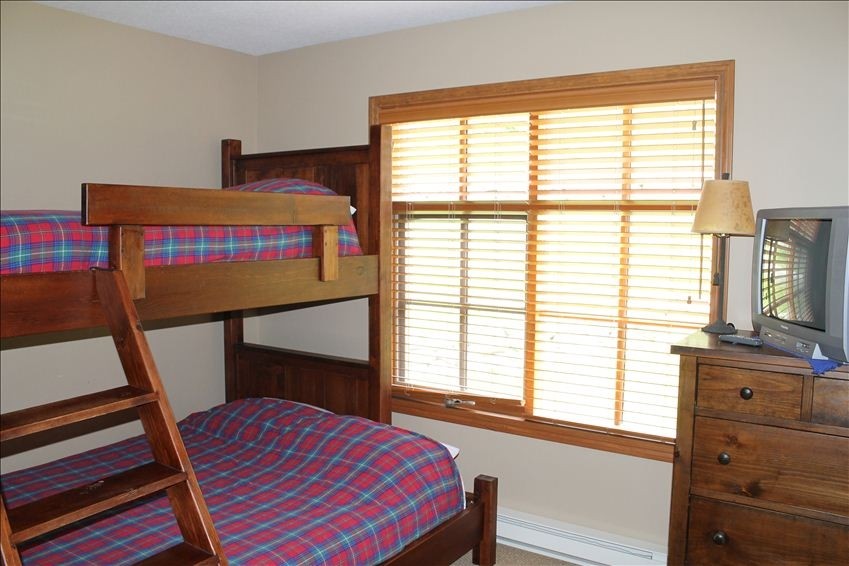 Twin over queen bunk in 2nd bedroom
- Second bedroom has a very comfortable twin over queen bunkbed
-  television
- 4 piece bathroom opposite
- Full-size cupboard and drawers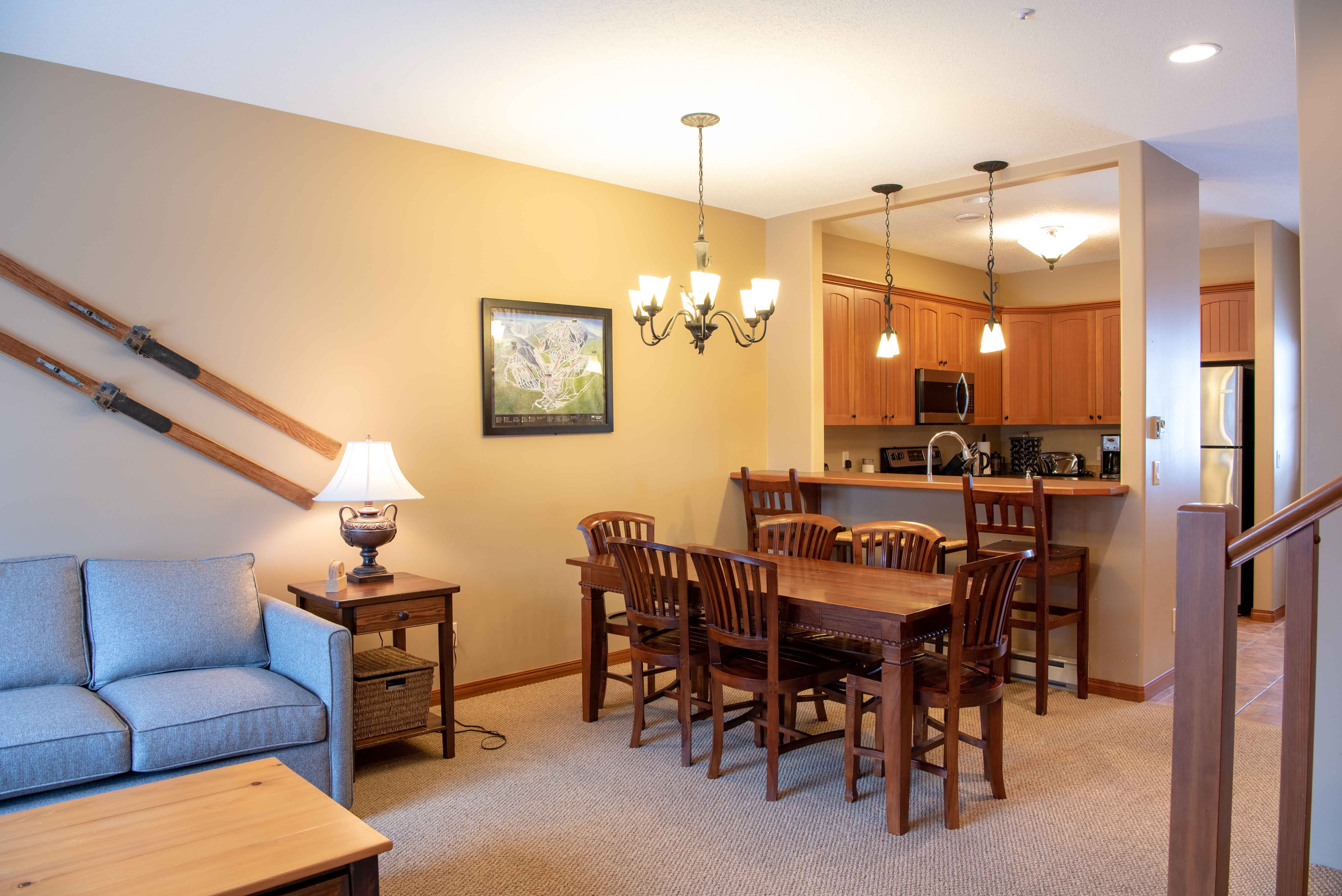 Great layout for family entertaining
- Spacious living room
- Propane, river rock fireplace
- Flat screen television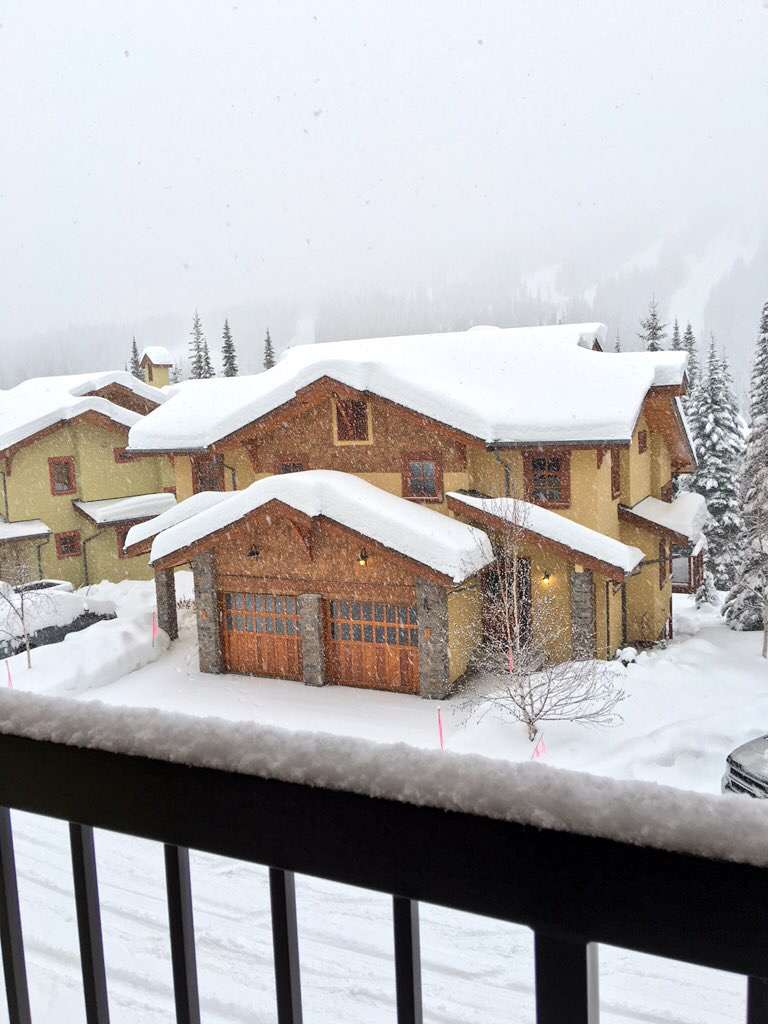 - Beautiful Trail's Edge townhouse complex 
- Large upper patio with mountain views

- Private garage
- Central location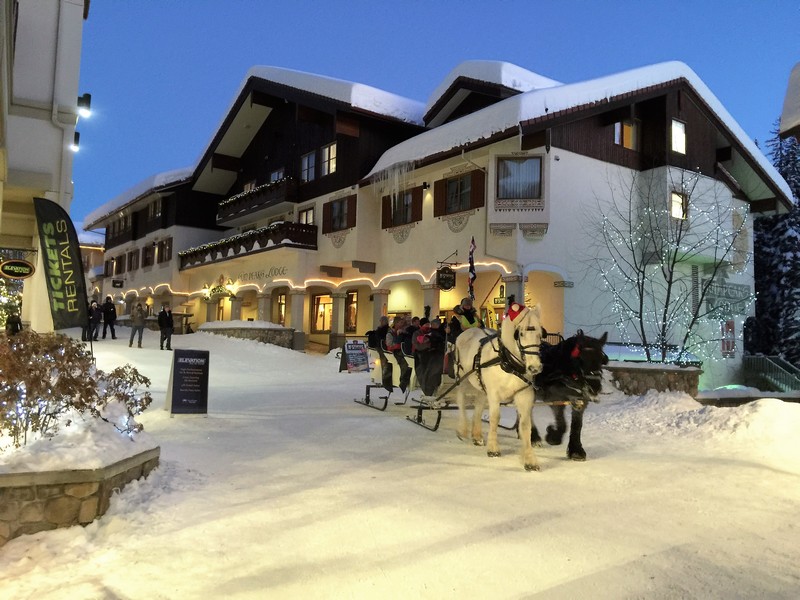 Beautiful, quaint, family friendly village
- This Trails Edge townhouse is located very close to the beautiful, quaint European style Sun Peaks village
- Ski-in/ski-out/ski-through pedestrian only village.  Easy access to Morrisey Express or the new Orient chairlift
- Affordable, family and dog-friendly village
- Four season recreational paradise
- Shops, restaurants, pubs - all within easy walking distance from this Trail's Edge townhouse
- Very friendly locals and resort staff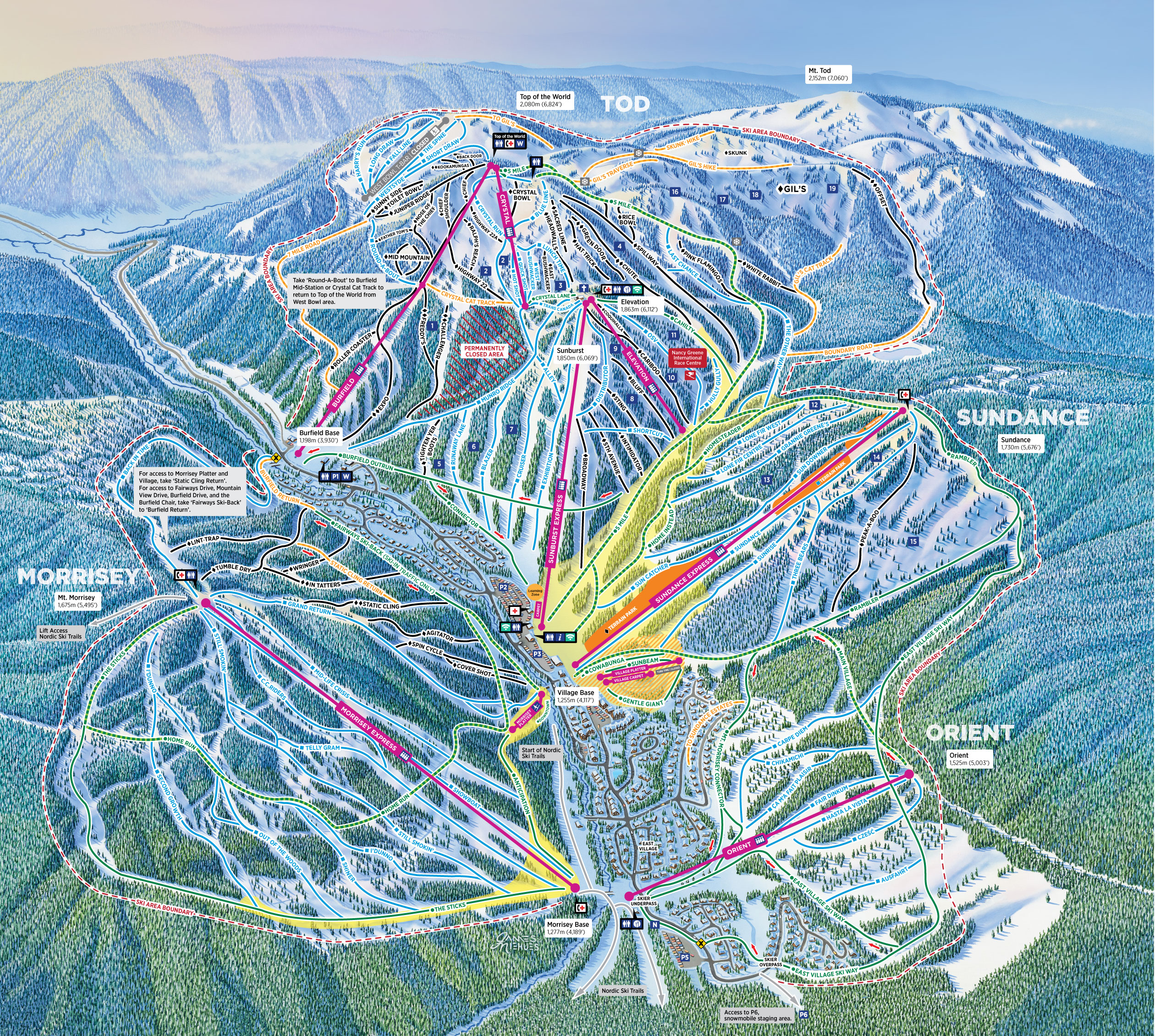 - 4,270 acres of skiable terrain, 2nd largest alpine ski area in Canada
- 2,800+ feet of vertical
- 2000+ hours of sunshine and 230+ inches of famous champagne powder each year
- affordable lift passes, multi-day passes and season tickets
- 138 trails and growing, including 19 gladed areas, 13 lifts, 2 alpine bowls, and minimal line-ups
- Many winter activities for all levels of skiers and for non-skiers
- four season outdoor paradise with many spring, summer and fall activities as well
- Temperatures are around 10 degrees cooler than nearby Kamloops in summer making for a very comfortable holiday

- Weekly music events in summer, farmer's markets on Sundays, hiking, biking, gravity-fuelled mountain go carts, paddleboarding, fishing, winery tours, canoeing, photography experiences, wildlife viewing, and so much more for all ages and abilities
---
Current Trail's Edge Townhouse Rates - contact owners for best rates
These Trails Edge townhouse rates are quoted in Canadian dollars and do not include any special pricing or promotions that may be in effect - ask owners for best rates.  There is  a fully refundable $500.00 damage deposit and a $100 cleaning fee may apply.  
Guests may book direct with the owners (credit card via PayPal or etransfer) for best rates plus save the online booking fee which averages around 10% - contact owner via the form below for more details.


Summer through Fall rates, Apr.6 - Nov.17, 2022

4 night min stay C$ 300 per night 
Early 2022 Ski Season rates, Nov. 18 - Dec.15, 2022

4 night min stay C$ 580 per night 
2022/23 Holiday Season rates,  Dec.16, 2022 - Jan. 1, 2023

5 - 7 night min stay C$ 900 per night 
2023 Regular Season rates, Jan.2 - Feb 17, 2023

4 night min stay C$ 580 per night 
2023 President's Week, Feb 18-25, 2023

5 night min stay C$ 780 per night 
2023 Remaining Season rates, Feb 26 - Apr.10, 2023

4 night min stay C$ 580 per night 
Summer through Fall rates

4 night min stay C$ 300 per night 
For a current quote or availability inquiries, please complete and submit the form below and the owners will be in touch.

---
Calendar & Availabillity
---
Click if your preferred dates are unavailable, or if you wish to look at other options where you can save up to 10% on other Sun Peaks rental condos, townhouses or chalets.
Return to our BestSunPeaks condo in Stone's Throw page

Return to see other Best Sun Peaks Vacation Rentals
Return to Best Sun Peaks Home page